Spirit CRW800 Rower Review
The Spirit CRW800 is a rare type of rowing machine in that it's part air/part magnetic, which refers to the type of resistance used. In this way, you can slow down the rowing pace without reducing the resistance.
I own an air rower but have used the CRW800 when training a client. I liked it a lot. In fact, it felt a lot like rowing on my Concept2.
In short, the CRW800 is a great commercial-grade rower that comes with a good warranty and several unique features like the addition of magnetic resistance and a monitor with built-in controls on the handle. Downsides include availability and price.
I mention price as a downside because you could get a Concept2 for less (full review here), which is the industry gold standard for indoor rowing as a hobby. I.e., the one you'll use in commercial gyms, CrossFit studios, and when competing.
But if you'd prefer an air/magnetic rower, the CRW800 is one of the best! Right now, it's not widely available at major retailers where it would likely be found on sale and/or with free shipping. But you can find it in some smaller retailers like Fitness Direct.
Check out all the pros and cons of the Spirit Fitness Rower to see if this model is the right fit for you. If not, I provide a few other great options in my final review section.
Spirit Fitness CRW800 Commercial Rower with Handle
RESISTANCE: Air and magnetic resistance (16 levels) for smooth and consistent operation. Built-in generator, no plug required.

REMOTE HANDLE CONTROLS: Wireless remote handle controls allow quick changes to resistance. Commercial grade handle strap is both smooth and reliable allows you to adjust resistance on-the-fly with just your thumbs on the pull handle..

MATERIAL: Durable stainless steel fan cover. Solid steel frame with aluminum monora
Table of Contents
(click a title to jump ahead!)
1. Resistance Type
2. Monitor/Control Panel
3. Build Quality
4. Comfort
5. Storage
6. Capacity
7. Dimensions
8. Assembly
9. Pros and Cons
10. Consumer Reviews
11. Warranty
12. Price
13. Overall Review
Resistance Type
The Spirit CRW800 Rower is a combination air & magnetic resistance rowing machine.
Meaning, you get the best of both worlds! Let me explain how.
Air resistance operates by first performing a rowing stroke, which spins a fan attached to the handle. As the fan spins faster, it must displace more air, thus creating more resistance.
We call this "variable" resistance because the faster you row, the more resistance you create!
Magnetic resistance works a bit differently. First, you set the resistance level, which determines how close a magnet is to the flywheel (which is lined with metal). The magnet reacts with the metal on the flywheel to create the resistance.
When you increase the resistance, you move the magnet closer to the flywheel and create stronger resistance. This is why we call it "adjustable" resistance.
You can read more about how the different resistance methods work in my breakdown article here.
Here is a great video to visually show how magnetic resistance operates:
Air and Magnetic Resistance Benefits
Once you learn about how air and magnetic resistance work, you can visualize how they can work together!
One of the main benefits is getting the low-end resistance benefits of magnetic and the high-end resistance benefits of air!
Meaning, when you row slowly on an air rower, you won't feel very strong resistance. This doesn't bother most people because rowing is supposed to be a higher-paced exercise. However, some older individuals, or strong people, like to row slowly at higher resistance. This is a great feature of magnetic rowers!
On the other hand, magnetic-only rowers are not great for rowing at high stroke rates, which is why you don't see them used in Olympic training facilities or Crossfit gyms. This is where air rowers rule the game!
So by combining both resistance types, you can essentially get the best of both worlds.
Plus, the Spirit CRW800 Rower has 16 levels of adjustable resistance, so I don't think you will ever top this machine out.
Another great benefit of the Spirit Fitness Rower is you can control the resistance using the up and down buttons on the handle. More on this below.
Lastly, air & magnetic combination rowers can be fairly quiet, which is a great benefit. Air-only rowers can be a bit noisy for some people, but with the addition of magnetic resistance you won't have to row as fast, thus creating less noise!
Air and Magnetic Resistance Downsides
While there are many upsides to combination rowers like the CRW800, there are also a few downsides.
Oddly enough, the downsides are also considered benefits!
While you do get the high-end resistance benefit with air and the low-end resistance benefit of magnetic, you won't get the true resistance feeling of rowing on water.
Rowing on the water is most similar to rowing on an air-only rower because it is "variable" resistance. The faster you row the boat on the water, the more resistance you will feel. With the addition of magnetic resistance, this feeling will be slightly off.
On the flip side, some people want a virtually silent rowing machine, which is why they choose magnetic-only rowers. With the addition of air resistance, the rowing machine will not be virtually silent and will make some noise.
Resistance Overall
Overall, the resistance on the Spirit CRW800 Rower is excellent. It is smooth, strong, quiet, and strong enough for all fitness levels.
The benefits of air & magnetic resistance, combined with 16 resistance levels, means it can be used by anyone!
Monitor/Control Panel
The CRW800 Rowing Machine comes equipped with an advanced 5.5″ blue backlit LCD monitor. You can adjust the monitor angle and arm to fit different users.
Plus, it has the following programs:
Manual
Distance
Time
Calories

Set a number of calories to burn

20/10 Interval

20 seconds of higher resistance and 10 seconds of lower resistance

10/20 Interval

10 seconds of higher resistance and 20 seconds of lower resistance

Custom

Set your own interval of high and low resistances

Fat Burn

Quick progression up to the maximum resistance level

Cardio

Quick progression up to near maximum resistance level

Strength

Gradual progression of resistance up to 100% of maximum effort that is sustained for 25% of workout duration

Game

Rowing quicker can boost you as you attempt to avoid oncoming blocks on the screen
As you can see, this monitor has a ton of features, many of which I won't be able to touch on in this review.
Looking at the photo above, you can see the monitor is bright and easy to read. Plus, it has a ton of features and is fairly easy to use!
The monitor does require a 120-volt power adapter (included) to operate, which can be seen as a downside. Mainly because it needs to be near a power outlet and if the monitor breaks, you cannot control the magnetic resistance.
On the bright side, the handle has monitor controls so you can control the resistance as you are rowing! No need to stop and reach up to the monitor.
Just hit the up or down button on the handle and you're good to go!
Heart Rate Monitoring
Polar H7 Bluetooth Heart Rate Sensor & Fitness Tracker (Black, X-Small/Small)
HEART RATE MONITOR: Provides live, accurate heart rate to compatible mobile training apps through Bluetooth Smart technology

FITNESS TRACKER: Waterproof heart rate sensor compatible with all Apple iPhone, iPads, and Android Devices

STRONG BATTERY LIFE: For optimal battery life, detach transmitter from chest strap after every use

ADVANCED TECHNOLOGY: Gym Link connects Polar heart rate monitors and activity trackers with compatible gym equipment

CALORIE COUNTER CAPABILITIES: For those who want to count the calories they burn and get basic heart rate-based features to keep their fitness training sim
Last but not least, the monitor can sync with chest strap heart rate monitors to record heart rate. This is a great feature for people who love heart rate training.
Here is a great compatible Polar H7 heart rate monitor to use with this model.
Monitor Overall
Overall, the monitor is very good with a lot of great features. There are a ton more that would just take too long to review here.
If you have any additional questions about the monitor feel free to leave a comment below and I'll try to answer it!
Build Quality
The Spirit CRW800 Rower is considered a commercial-grade rowing machine. The frame is constructed from high-strength steel with durable powder-coat paint.
The powder-coat paint ensures the paint won't chip, wear away, or rust over time.
The monorail is aluminum to ensure a smooth gliding rowing stroke that is also quiet.
A strong commercial-grade strap is also used to connect the handle to the flywheel, which ensures a quieter rowing experience. The strap showed no signs of wearing or fraying over time.
As you can see from the above photo, there are 3 points of ground contact for the Spirit Fitness Rower, which ensures a stable machine that doesn't move during a vigorous workout!
The rower also comes with 4 stabilizers on the front and back supports to ensure the rowing machine is always level. This is great for people who want to put the CRW800 in the basement or garage.
There were no build quality issues mentioned and most users felt all the parts were high quality and commercial-grade.
Check out the video below for a full breakdown of how the Spirit CRW800 Rower operates.
Comfort
Comfort is a key feature you need to think about when purchasing a rowing machine. If a rower isn't comfortable enough to row on for 20-30 minutes, then you will never use it!
Luckily, the CRW800 Rower has a ton of great comfort features.
The seat is soft enough to prevent butt pain but firm enough that you don't feel stuck to the surface. It also glides smoothly up and down the monorail on commercial-grade ball-bearing rollers.
A 20.0″ seat height is also a bit taller than the average rowing machine, which makes it nice and easy to get on and off. A great benefit for people with joint issues!
The padded handle has a slight bend to allow for a comfortable grip due to the natural curve of your wrists. It also has a built-in monitor so you won't have to stop to change the resistance settings.
Each footrest is adjustable and is very similar to many of the other high-end rowing machines on the market. The footrests can fit any shoe size and are easily adjusted by moving the plate up or down and pulling the straps over your feet.
I couldn't find any reason why the CRW800 would be any less comfortable than the other high-end rowing machines available!
Storage
Even though The Spirit Rowing Machine is fairly large in size, it still comes with storage capabilities.
The monorail on this model can fold up in a few simple steps:
Turn the knob under the rail counterclockwise
Fold the seat rail up
Tighten the knob
That's it! Plus, you can grab the middle support, lean it forward, and roll it on the 2 front caster wheels.
Just be careful when moving the rower because it is a bit heavy! Oh, and don't forget to unplug the monitor!
Capacity
As I mentioned, the Spirit Rower is quite a large rowing machine so it can fit almost any user.
There is a 450 lb. weight capacity which is higher than most rowing machine models but a bit lower than others in this price range.
It also has a 54″ monorail so it can be used by people up to 6'8″ tall. Maybe even taller but I would call the manufacturer to ask!
There are also no lower-end height limitations, so if you are short it will work just as well!
Plus, the monitor arm and angle can be adjusted for anyone's height.
Dimensions
One thing you will want to check is the dimensions and the room you have for your rowing machine. You wouldn't want to buy it only to find out you don't have the space!
Assembled Dimensions (L x W x H)
Assembled Weight:
Seat Height:
Monorail Length:
Folded Dimensions (L x W x H):
Shipping Weight:
Assembly
Assembling a rowing machine can sometimes be a pain, so just make sure to take your time and have enough space.
Always lay out the parts and make sure you have everything you need. All the tools required for assembly are included so no need to have anything prepared.
There are 4 steps to assembling the unit and this can take anywhere from 30-45 minutes depending on your assembling skills.
As I said, just take your time, stay organized, follow the steps, and everything should go smoothly!
Pros and Cons
Pros:
16 levels of dual magnetic & air resistance
Resistance suitable for all fitness levels
Built-in handle monitor
Commercial-grade build quality & comfort
Foldable storage
Advanced monitor with adjustable arm
Large height & weight capacity
3 points of ground contact for extra stability
Great warranty
Cons:
Resistance is controlled by electricity so you must be near an outlet.
Rowing machine is large & heavy.
Price can be considered high.
Other great options are available at a lower price point.
Monitor is not as accurate as other monitors in this price range
Consumer Reviews
The Spirit CRW800 Rower is fairly new to the market so there are not a ton of consumer reviews. Luckily, one of my readers was able to give me some feedback after buying. They felt overall it was a great rowing machine with commercial-grade quality. It is a big rowing machine but if you have a large space it isn't an issue. Every feature is solid and the overall experience is pleasant.
Some of the downsides are the cost and other rowing machines in this price range being a bit more popular. When a model has fewer reviews, it usually means consumers are purchasing other products, which means less feedback. I make a few other suggestions in my "Overall Review" section below.
You can check out any consumer reviews on the Spirit CRW800 Rowing Machine here.
Average Rating: 4.4
Warranty
The Spirit Fitness Rower does have two different warranties that I list but you will only need to focus on the residential warranty.
Commercial Warranty:
FRAME:
ELECTRONICS:
PARTS:
LABOR:
Residential Warranty:
FRAME:
BRAKE:
PARTS:
LABOR:
Spirit CRW800 Rower Price
The price of the Spirit Fitness CRW800 is one of the biggest determining factors of this model. It is in one of the higher price ranges, which can sometimes deter some consumers. If you are looking for a commercial-grade rower with a great warranty, then this could be a great option.
I tend to recommend larger retailers since shipping is usually free which saves hundreds on large, heavy products.
Overall Review
Overall, the Spirit CRW800 Rower is an excellent choice for a rowing machine. It comes with all the great features to get an excellent workout and the quality to last a lifetime. It provides 16 levels of adjustable resistance and the added benefits of air resistance.
The few downsides to consider are the price and that other options may offer the same benefits at a lower cost.
One such option is the #1 bestselling rowing machine on the market. The Concept2 Model D is usually priced a few hundred dollars cheaper than the CRW800 with a lot of the same great benefits. It is an air-only rower but it is the #1 choice by professional rowers and Crossfit athletes.
Plus, the monitor is super accurate and it is the only rower that can be used to compare times for athletes around the world and track world records. It is also featured the most times in training programs and YouTube tutorials. If you want you can check out my full review here. It is my #1 recommended rower!
If you are looking for something a bit quieter, you can check out water rowing machines. They're also of the variable-resistance type but will have a beautiful wooden design and excellent build quality. The monitors are also highly accurate. Check out one of the most popular WaterRowers here.
If you are set on having a combination air & magnetic rower there are also a few other options. You can check out the LifeCore R100 Commercial Rower or the BodyCraft VR500 Rowing Machine. Both will be in the higher price range.
To save a few bucks, you can also check out another really popular combination rower that is seen in a lot of fitness centers. It's called the Sole SR500 Rower and it has received a lot of very positive reviews.
I hope my Spirt CRW800 Rower review has been helpful and has provided you with enough information on making an educated decision. If you have any questions please leave them in the comment section below!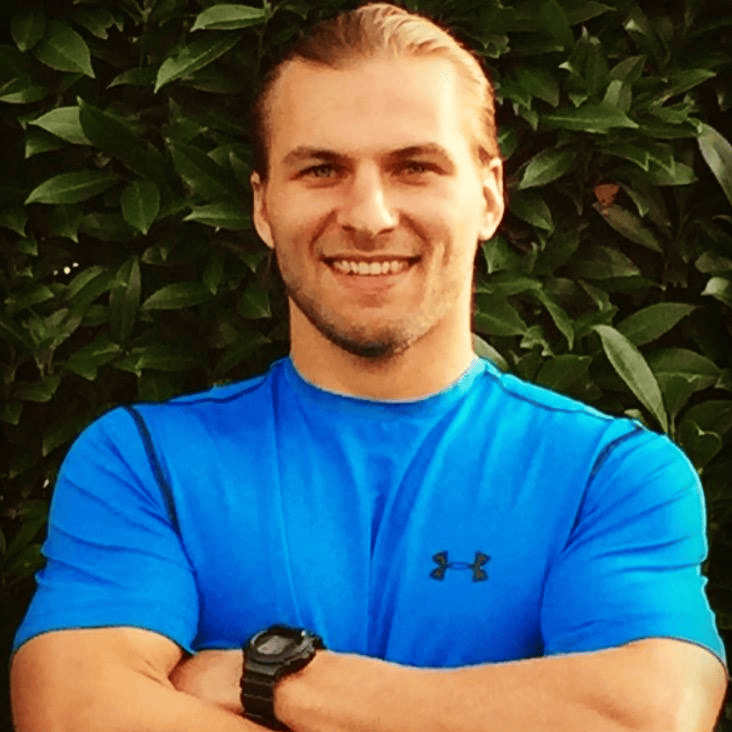 Rowing Machine King Founder and Author.