Lanos Hydraulic Rowing Machine Review
Today, we're reviewing the Lanos hydraulic rowing machine. While not ideal for the hobby of indoor rowing, a lot of folks are just looking for a cheap piece of cardio equipment that fits in a small space.
I remember using my dad's old hydraulic rower back in the 90s and remember getting a pretty good workout. So, I wanted to find a good model to recommend. I had a chance to try the Lanos rower, so I decided to write this review.
In short, the Lanos hydraulic rower is a good option for those who want a cheap, minimalist piece of cardio equipment that offers a full-body workout. It's inexpensive, non-electric (only batteries for the monitor), and fits in small spaces.
So, it has several advantages over conventional cardio equipment like treadmills.
However, as a rowing machine, it's not a great choice given other options available at around the same price. The resistance is limited and rowing stroke is far from natural. Also, the monitor doesn't count strokes or track distance. For a better rower at a similar price point, see the Sunny Health magnetic rowing machine review.
If the rowing part doesn't matter and you just want a cheap cardio machine that fits in a closet, the Lanos is a great option. For the lowest price, choose a place that offers free shipping.
Resistance Type
The Lanos Hydraulic Rower uses a single hydraulic piston mounted beneath the rowing machine's seat to provide the resistance.
The fluid within the hydraulic piston determines the level of resistance. This machine uses a dial or knob to adjust how much hydraulic fluid moves in and out of the piston, which in turn raises or increases the level of resistance.
See my article for an in-depth explanation of how hydraulic piston resistance works.
Resistance Benefits
The main benefit is cost. Hydraulic pistons are typically cheaper to manufacture than magnetic flywheels, air wheels, or water tanks.
This means hydraulic piston rowers cost significantly less than other types of rowers—as you'll see reflected in the rock-bottom price tag on the Lanos Hydraulic Rower.
Space saving is another benefit because the only mechanism required to generate resistance is the single-piston mounted beneath the seat, hydraulic rowing machines are also usually more compact and occupy less space than other types of rowers.
(You can find out more in our "Storage" section below.)
Hydraulic piston rowing machines offer adjustable resistance, which you can increase or decrease using the provided knob or dial.
Best of all, they're typically very quiet, generating far less noise than water, air, or even magnetic rowers. This makes them ideal for using next door to a sleeping child. The low noise level also allows you to watch TV or listen to music while you work out.
Resistance Downsides
One of the biggest drawbacks of hydraulic piston resistance is the resistance. The cylinders don't generate much resistance, at least, not what you'd get with other types of rowers.
I can say from using the machine, that the Lanos is no different. You can get a decent cardio workout by going faster and faster, but the muscular endurance component of the workout doesn't amount to much.
Another is that you can only adjust it before you start rowing. Or, if you want to adjust it mid-workout, you'll have to stop rowing completely and give the hydraulic fluid some time to settle before you can increase or decrease the difficulty.
What single-piston machines like the Lanos Hydraulic Rower gain in size efficiency, they lose in intensity.
The pistons are small which limits the resistance, so you won't get the same level of intensity available with other types of rowers. Essentially, this makes them great for beginners, but less so for professional athletes or competitive rowers.
Also, the rowing stroke isn't as natural as with other rowing machines. The arms move independently of each other, similar to the movement of oars, but your upper body ends up doing most of the work, with very little effort required of your lower body.
It's a smooth rowing stroke, but much more focused on your arms and shoulders with minimal leg muscle engagement.
The pistons themselves can also overheat. Really, any workout longer than 20 or 25 minutes is likely too long for a hydraulic piston machine. And if you're not careful, you can accidentally burn yourself if you touch the piston before it cools down.
One final drawback that's often experienced with hydraulic piston rowers: the fluid within the piston can get very hot after a long period of working out, and it may actually leak out.
It is rare, but it is known to happen. For this reason, I recommend keeping the Fold-to-Fit Folding Exercise Equipment Mat underneath the rower, just in case.
Monitor/Control Panel
The monitor has the features you'd expect and want from most cardio machines but lacks a few key metrics important for rowing like stroke count and rate, and distance. Rowing-related metrics are not important for getting a good workout.
The Lanos Hydraulic Rowing Machine comes with a simple built-in LCD monitor that displays the basic workout metrics:
Scan
Time
Count
Calories
Total Count
The monitor itself is very basic, with none of the more complex functions you might want out of an advanced interface (pre-set workout programs, SPM, distance, etc.).
However, this is pretty standard for rowing machines on the low end of the price range.
The numbers are large and easily visible, so you'll always be able to see your workout progress at a glance. And, with the Scan button, you can set the monitor to auto-cycle between various data points.
The screen is small enough that it only requires one AA battery to power it (though the battery isn't provided). You can row away without worrying about plugging it in or being close to an electrical outlet
One thing to know: like most low-cost rowing machines, the calorie tracker isn't going to be highly accurate. It's based on the "average" user (height, weight, heart rate, BMI, etc.), so it won't give you an exact count of how many calories you specifically burn.
But you can use the calorie counter to compare your various workouts. The more calories the machine registers as burned, the higher the intensity of your training session. It's a workaround of sorts that makes up for the lack of complex data tracking.
At the end of the day, the Lanos Hydraulic Rowing Machine's built-in monitor is exactly what you'd expect for the price.
If you want a rowing machine with more advanced workout-tracking capabilities, check out my recommendations in the final section.
Build Quality
The Lanos Hydraulic Rower is built with a solid steel frame, two sturdy bases, and durable steel arms. Most low-end rowing machines are built with a tough-and-rugged frame—it's usually the ancillary components that tend to break more quickly.
I noticed one issue with the plastic nut that connects the hydraulic piston to the frame. Using a plastic nut rather than a metal nut certainly seems an odd choice, given that it's supposed to hold one of the most critical components.
I'm not the only one to have this issue. I found an owner who said they had to bend back the yoke and buy a new metal nut in order to rebuild the machine after it broke.
Another said that after the second use, a piece (of the foot straps) snapped off.
So, as expected for a rower in this price range, the Lanos hydraulic rowing machine may have some quality control issues with the plastic components.
Check out this video to see it in action!
Comfort
The times I tried the machine, I found the Lanos Hydraulic Rower to be pretty comfortable even after half an hour of rowing.
First off, it features an extra-large seat with contoured padding that keeps your butt firmly planted in place as you row. For larger users, the oversized seat is an absolute win comfort-wise.
Second, the footrests are actually designed to pivot. This is great for anyone who has reduced mobility in their hips, knees, or ankles. The two strap positions will let you choose where exactly on your foot you want to clamp it down tight, and it's great for feet of any size.
The arm bars are also designed to bend and pivot smoothly. You'll find you get a surprisingly comfortable, natural-feeling movement.
Finally, the easy-grip padding on the handles will reduce wrist strain which should help protect against carpal tunnel syndrome over time. The handles are sized to be easy and comfortable to grip throughout the full stroke.
Finally, as with most hydraulic piston rowing machines, I found the Lanos to have a quiet operation, which is great for watching TV and not bothering others. You'll hear the glide of the seat sliding back and forth along the rail and that's it.
Storage
Storage is where single-piston machines like the Lanos always shine.
Because the piston is mounted directly beneath the seat, there aren't any bulky mechanisms at the front of the frame like a magnetic flywheel or water tank).
This means the front of the frame is as compact as the back (with the seat and base) and thus easier to fit in tight spaces.
If you look at the images below, you'll see how small the Lanos Hydraulic Rowing Machine can fold up.
It takes a bit of practice to get the hang of folding down the arms, but once you master it, it's a pretty simple task that takes just a few seconds.
It will stand up on the front base and stay firmly in an upright position. It's safe and stable and won't tip over, making it suitable for rooms where kids play or pets run around.
When folded up, the Lanos Hydraulic Rower is just 23 inches wide, 20 inches deep, and 49 inches tall. Small enough to fit in a closet or tucked out of sight behind your furniture. It's a great choice if you only have limited space for your workout machines.
The whole machine weighs just 34 pounds. Sadly, it doesn't include caster wheels to let you roll it around, but it's light enough that you can move it by hand without struggling.
Capacity
I was pretty impressed here. Despite being a compact, lightweight machine, the Lanos Hydraulic Rowing Machine has a surprisingly good weight capacity of 330 pounds.
Heavier rowers will find that the extra-wide seat accommodates their weight and size with ease, making for a more comfortable rowing workout.
Taller rowers will also want to give this hydraulic rowing machine a try. The manufacturer states that it's sized for users up to 6'7", which is rare for any rowing machine.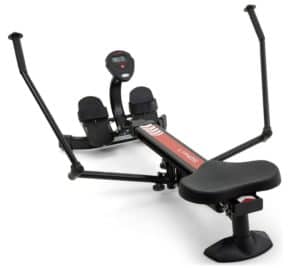 Smaller users, of course, will also be able to fit. According to the manufacturer, anyone over 4'2" will be able to comfortably use it.
This height range is in reference to the seat, but the arms are where taller or shorter users may struggle a bit more.
For very short rowers, the independently moving arms may be too long. And, as expected, very tall users may find the arms are too short.
One extra-tall owner said that they swapped out the arms from their old rowing machine because the arms provided with the Lanos were too short.
The mounting hardware is compatible with a wide range of hydraulic piston rowing machines, so that may be an option to consider if you want a machine that can accommodate your height.
Dimensions
Assembled Dimensions (L x W x H):
Storage Dimensions (L x W x H):
Assembled Weight:
Shipping Weight:
Assembly
The vast majority of reviews regarding the Lanos Rowing Machine's assembly commented on just how easy it was to put it together right out of the box.
The majority of the components arrive pre-assembled, so all you have to do is lay out the various pieces, then put them together in what the manufacturer claims is a simple four-step process:
Assembly time on average was between 15 and 30 minutes from the moment users opened the box.
Based on the reviews, I can safely conclude that the Lanos Hydraulic Rower is a good option even for those who are less-than-handy with tools. All of the pieces fit together easily, the process is simple, and the provided instructions make the process beautifully simple.
Assembly Downsides:
There have been several complaints over the years about the Lanos rowing machines arriving with broken, defective, or missing parts.
One user had to request a replacement frame because it was bent and couldn't attach to the front base.
Another had to send for another LCD monitor. Some users spoke of plastic components arriving cracked and missing hardware.
Quality control is always an issue with low-budget rowing machines, something to be aware of if you're considering the Lanos Hydraulic Rower.
Overall, though, based on the ease of assembly and the build quality (as I talked about above), the Lanos is still a good option to consider.
Pros and Cons
Pros:
Inexpensive
Quiet operation
Compact, stores in very small places
Lightweight but sturdy
Cons:
Suffers quality control issues
Simple monitor not suited for serious indoor rowing
Resistance is light, not suitable for competitive athletes
Unrealistic rowing motion
Consumer Reviews
Looking at the 1,000+ reviews posted on the Lanos Hydraulic Rowing Machine, the sentiment is mostly positive.
Reviewers seem to agree that it's a good machine for the price. Aside from a few issues that we've already discussed, it appears the Lanos rowing machine delivers decent quality compared to most models in the extremely low-end range.
Reviewers who were unhappy either received a defective or broken part or found the resistance was just too light for their fitness level.
You can research more in-depth about the Lanos Hydraulic Rowing Machine by reading user reviews here.
Average Rating: 4.4
Warranty
Unlike all the other rowing machines I've reviewed, I can't find any information from the manufacturer on the warranty for the Lanos Hydraulic Rowing Machine.
The only mentions of warranty are in reviews (where one user complained that the product broke quickly after the "short warranty period" ended) and in third-party review sites (which mentioned that the "machine warranty is not valid in Canada").
Even after doing a deep dive through Google, I can find no warranty information for the parts, frame, or labor. I believe there is a warranty (likely 90 day for frame and parts only, like most competing machines in this low-end range), but there is no information available online about it.
Lanos Hydraulic Rowing Machine Price
You can usually find it in the $200 range, which would be about the total cost (minus taxes) if shipping were included. If shipping is extra, you might pay up to double which would cancel out the savings.
This puts it in the lowest price category for indoor rowers, which is sub $250. The next level up is $250 to $500 followed by $500 to $1K and then >$1K.
Far better rowers exist in the $200 to $250 which is why I don't recommend the Lanos if you want to get into the sport, enjoy a more realistic rowing motion, and track important performance metrics.
Overall Review
There you have it.
The Lanos Hydraulic Rowing Machine is a decent option for anyone who wants a budget rower that fits in tight spaces. Downsides include lack of resistance, unrealistic rowing motion, simple monitor, and the quality issues typical of rowers in this price range.
Size-wise, it's great for small apartments and living spaces, offers moderate-intensity workouts, and is totally affordable for anyone. Sure, it's got a few issues, but that's common with most rowing machines, even those in the mid-to-high price ranges.
If you want to check out some other hydraulic-piston options, I would look at the Stamina 1215 Orbital Rower and the Stamina BodyTrac Glider 1052.
If you are interested in an air rower then read my Stamina 1399 Rower review or my Sunny SF-RW5515 Magnetic Rower review for magnetic resistance.
I hope you found my Lanos Hydraulic Rowing Machine review helpful! If you have any thoughts, questions, or feedback, feel free to leave them in the comments below.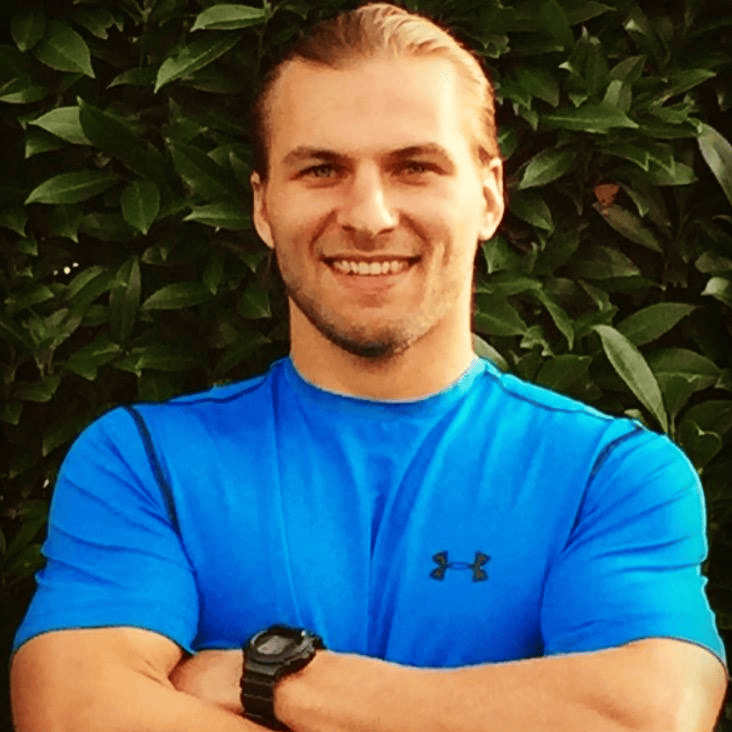 Rowing Machine King Founder and Author.