Sunny Health & Fitness Squat Assist Row-N-Ride Review
It's not an exaggeration to say the Sunny Health & Fitness Squat Assist Row-N-Ride is like no other rowing machine I've reviewed.
Mainly because it's not technically a rowing machine as much as it's a squat assist machine!
In short, the Sunny Health and Fitness Squat Assist machine provides a great rowing-like workout, while helping you take your leg conditioning and bodyweight squats to the next level. While you don't lift your entire body weight when using the machine, you can add resistance via elastic cords for more intensity.
Not only do you maximize your rowing form and strength, but you can encourage better mobility through your upper and lower body with every movement.
I think that once you get a better understanding of the Sunny Health & Fitness Row-N-Ride, you'll come to realize that it's a workout machine that offers quite a number of unique benefits.
So let's dive right in with this Sunny Health Row and Ride review to see if it would be a good purchase for you!
Resistance Type
Unlike a regular rowing machine, the Row and Ride Machine doesn't include any sort of magnetic, air, water, or hydraulic resistance. Instead, it uses the weight of your body paired with elastic cords to provide resistance.
It requires the strength of your arms, shoulders, back, core, and legs to go through the full range of motion.
But instead of the typical "forward and backward" motion of a rowing machine, the Row-N-Ride incorporates a squat into the mix. Your arms still pull the handle toward your abdomen but your legs propel your body upward into a squat. You'll work your quads, hamstrings, and glutes but pulling on the handlebars gives a good core, shoulder, back, and arm workout.
It's called a "Squat Assist Machine" because pulling on the handles will assist you in performing a squat.
This makes it ideal for anyone who is limited in their lower body strength or range of motion.
Resistance Benefits
Below one YouTube video review, a number of people pointed out the amazing benefits of this particular type of machine, including:
"Just bought one for my elderly clients and post rehabs clients who cannot do a squat without assistance."
"I use it. I enjoy it. So does my boyfriend who has two fake hips and can't "squat properly"."
"Just had a hip replacement and this makes squats stress and pain-free."
"I am 30 and have knee issues since I was 10. This gives me the ability to build up the muscle on the inside of my leg so that my knee won't dislocate!"
"I'm quad dominant. It helps put the weight in my heels and get a deep squat."
"Tore my meniscus, after completing a marathon. After surgery, I purchased this to get back into the game."
As you can see, there are definitely a lot of benefits you can obtain from using the Sunny Health & Fitness Squat Assist Row-N-Ride.
Not only is it an excellent lower-body, core, and upper-body workout, but it will provide extra focus on strengthening your legs without increasing the strain on your hips, knees, or ankles. For anyone with limited mobility, it's got the potential to be a game-changing addition to your home workout setup.
The elastic cords offer "adjustable resistance" by allowing you to connect up to three cords. The more cords you connect, the more challenging the session.
According to the Sunny Health and Fitness website, each band adds roughly 22 pounds of resistance. Add that to your body weight, and you've got a decent workout to look forward to!
Resistance Downsides
While many people find it challenging to use without the elastic bands, very fit users may find that it's just not enough to give them a truly effective workout.
Even adding in the three elastic cords may not be enough for the very fit user.
A number of users complained that the resistance just wasn't sufficiently challenging to give them a proper workout. Because you can't add any more bands to the machine, once you hit peak resistance, there's no way to make it harder.
Resistance Overall
Overall, many users were pleasantly surprised about how good of a workout they received from this squat assist machine!
Some people who thought the machine was going to be junk actually thought it was amazing after giving it a try!
Monitor/Control Panel
The Sunny Health & Fitness Row-N-Ride comes with a digital monitor that features an LCD screen. It tracks the necessary workout metrics, including:
Row count
Total
Calories burned
Time rowed
The "Scan" button also sets the display to auto-rotate between the various metrics.
It's a simple LCD display without any fancy extra features like a built-in heart-rate monitor or pre-programmed workouts.
But let's be honest: with this machine, you don't really need any of that. All you need is the display to keep track of how long you've been rowing/squatting, your total row/squat count, and how many calories you've burned.
This isn't like a standard rowing machine where you'll want to row faster or harder to reach a certain distance or time goal. Trying to row faster will actually increase the risk of injury, instability, and possibly even break the machine. It's not designed for high-intensity, fast-paced workouts. Instead, it's most effective when you row and squat at a steady pace with your balance carefully controlled.
As you'll see by watching the calorie counter, you can burn A LOT of calories through this workout. Because it actively engages the muscles of your lower body, core, and arms, it's highly effective without the need to speed up.
Monitor Downsides
Aside from the simplicity of the monitor, the one real drawback is the calorie counter isn't accurate for everyone. Like most simple rowing machines, it does an "average" count of calories burned for one motion.
While this is great for people of "average" height and weight, bigger and heavier people may end up burning more calories than the tracker credits them for. This makes it a less-than-perfect solution for an accurate calorie count.
I highly recommend using a fitness tracker or HRM, like the Polar H10 Heart Rate Monitor, to give you the most accurate count possible rather than relying on the number displayed on this monitor
Monitor Overall
Overall, the monitor is basic but provides you with all the metrics you need.
Most people will end up using a smartwatch to help keep track of their heart rate and calories burned.
Build Quality
As I mentioned, the Row and Ride is "not designed for high-intensity, fast-paced workouts" and "trying to row faster will actually increase the risk of injury, instability, and possibly even break the machine". That's not a bash on the build quality of the machine but a limitation of squat assist machines in general.
The machine is built using high-quality steel and feels sturdy and stable. It's designed to be lightweight (just 27.3 pounds) but it's solid enough that you'll never feel it wobbling or creaking UNLESS you move too quickly.
It all has to do with your center of gravity. With a rowing machine, you're sitting low to the ground (9-15 inches off the floor) and your weight is shifting forward and backward. There's no wobble or wiggle because of the low center of gravity.
On the Row-N-Ride, however, you're much higher off the ground. Especially when you're extended in the standing position. This means there is a much greater potential for instability. The base of the machine is also smaller than the standard rowing machine. Combine these two factors and you can see why it can become unstable if you use it intensely.
That's why I recommend that you stick with a steady, controlled pace. If you try to squat too quickly, the machine can become more unstable.
But as for the machine itself, the majority of reviews are overwhelmingly positive about the build quality. Most users feel it's a well-built, sturdy machine that handles even heavier users.
Below is a video of a fairly big guy using the Row and Ride intensely (as you can see the rug is moving when he uses it intensely):
Comfort
The Sunny Health Row and Ride features a comfortable, adjustable cushioned seat. The handlebars are also adjustable (2-way) and covered with a non-slip padding that will give you a firm grip without developing calluses.
The pedals include a non-slip textured grip and will "self-level" so you can always place your feet easily onto the stirrups. As long as you maintain a controlled pace, you'll never have to worry about your feet slipping off the pedals.
Users seem to appreciate the comfort of the machine's design, especially because it offers the support they need to push through their training sessions. As one Amazon reviewer explained, "I was only on it for 10 mins, and I feel it in my inner thighs, lats, shoulders, chest, glutes, calves, outer glutes, and core."
As I mentioned above, this machine is designed to "assist" people with squats by using the hands to pull (row) the handles toward the abdomen. This makes it far gentler on the joints, perfect for those with knee, hip, lower back, or ankle problems.
Many of the reviews—both on Amazon and YouTube—speak to this. One said, "My quads feel stronger and solid. I'm completely comfortable using it. No pain in my knees at all." Another said, "I'm 57 & have a bad left ankle & foot. I broke 3 bones at the same time & since have never been able to squat correctly. The assistance this machine gives it just what I needed."
Overall, it's clear the Sunny Health & Fitness Squat Assist Row-N-Ride is an excellent, comfortable option for people who want to step up their squat game at home.
Storage
The Sunny Health & Fitness Row-N-Ride is designed to fold up very small and tuck neatly out of the way. However, because it's not your standard rowing machine (with a long slide rail and large flywheel/water tank), it actually folds up a lot smaller than most other equipment.
When it's folded, it occupies 11.4 x 19.3 inches of floor space and stands 55.7 tall.
The fact that it weighs just 27.3 pounds means that you should have no problem lifting or moving it around. Sadly, it doesn't include caster wheels to help you store it, but even without wheels, it's not so heavy that you'll end up struggling to move it.
Capacity
According to the Sunny Health website, it has a recommended max weight capacity of 220 pounds. This is slightly lower than you'd get with a standard rowing machine, but it's enough for the majority of users.
Because of the high center of gravity and narrower base, it's not recommended that anyone heavier than 230 or 240 pounds use this machine. It can add strain to the frame and increase the risk of tipping over.
As for user height, that's where things get a bit tricky. There is no recommended height capacity stated on the website, but looking at the reviews, it appears that taller rowers will struggle to fit on the machine.
The handlebars and pedestals are suitable for people with longer limbs, but taller rowers may not be able to sit on the seat, even with the seat fully extended. That's no problem for people who want to stand throughout their entire squat, but anyone who needs the "assist" may find that this is a dealbreaker for them.
Based on reviews, it seems that around 6' is the cut-off for height. As one user said, "I'm 6′ 3″ and with the arms and seat fully extended I still don't fit comfortably. If I were to be sitting where I should the seat would need about another four inches of length."
Dimensions
Assembled Dimensions (L x W x H):
Storage Dimensions (L x W x H):
Shipping Box Dimensions (L x W x H):
Assembled Weight:
Shipping Weight:
Assembly
The Sunny Health & Fitness Squat Assist Row-N-Ride is designed to assemble quickly right out of the box, with all of the tools needed for assembly provided.
A lot of the parts come pre-assembled, with stickers that make it very clear which pieces go together. The average assembly time is around 30 to 45 minutes, though some handier users were able to assemble it in 10 or 20 minutes.
Based on the reviews, the instructions manual isn't very clear or legible, and the steps laid out in the process were a bit confusing. It may be worth it to watch their assembly video beforehand as a guide:
Pros and Cons
Pros:
Natural-feeling rowing action to assist in squats
Seat and handlebars are both easily adjustable
Varying resistance provided by elastic cords (around 22 pounds per cord)
Lightweight and easy to move
Assembly is a breeze
Easy to master the proper form
Excellent for those with joint issues, injuries, or rehab
One heck of a full-body workout!
Cons:
Monitor too simple, inaccurate calorie count
Not sized for very-tall or very-heavy users
May prove unstable for high-intensity movements
Consumer Reviews
I was blown away by how many reviews there are on the product: more than 33,200! That's a lot of reviews for any exercise machine (heck, any product in any industry!). Far more than I've seen on a lot of the products I've reviewed on the site.
Based on all of the feedback from users—both on Amazon and third-party sites like YouTube and Reddit—the Sunny Health & Fitness Squat Assist Row-N-Ride delivers on quality, reliability, and functionality exactly like it claims to.
There are a few minor complaints—chiefly related to the unclear assembly instructions and the instability (like I explained above)—but overall, it has proven itself to be a Squat Assist Machine worth every penny.
You can read more Sunny Health & Fitness Row-N-Ride Squat Assist reviews here.
Average Rating: 4.5
Warranty
Frame: 1 year
Parts: 180 days
Sunny Health & Fitness Row-N-Ride Price
Compared to the average rowing machine, the Sunny Health & Fitness Row-N-Ride is a truly bargain-priced machine. It's cheaper than most budget rowers and costs a fraction of the premium models on the market.
Granted, it's not exactly a rowing machine like the others I've reviewed. The focus is more on the Squat Assist Machine part, with the "rowing" action being a way to facilitate the lower body workout.
However, if that's the kind of machine you're looking for, the Sunny Health Row and Ride is one of the most affordable machines of its kind. Plus, based on my review, it's among the top-rated and most reliable options. For the price, you won't find much better than this machine.
If you're considering buying the Row and Ride, I recommend purchasing from Amazon since you get the added protection of Amazon's customer complaints department.
A few users have complained that they had to wait a while to hear back from Sunny Health & Fitness to get the replacement parts they needed. While the company did ultimately end up satisfying their issues, they spent more time waiting—and not being able to use the machine—than they would have liked.
Amazon is known for its customer service and can help you resolve any issues should the Squat Assist Machine arrive damaged, defective, or with missing parts.
Overall Review
The Sunny Health & Fitness Squat Assist Row-N-Ride is a machine that will help you take your squats to the next level.
It encourages more functional strength (moving your body weight) but allows you to increase the level of difficulty by adding elastic cords. Because your squats are "assisted", it helps to compensate for joint problems, disabilities, or injuries.
Though it's not a standard rowing machine, it does encourage better strength in the core and upper body muscles that will be engaged in your regular rowing sessions.
All in all, it's a rower's best friend, a new way to work out from the comfort and convenience of your own home.
If you are not sure on whether to purchase a squat assist machine or a rowing machine, then check out some of my "rowing benefit" articles:
I hope this Sunny Health & Fitness Row-N-Ride review was helpful. If you have any questions or comments, feel free to leave them below!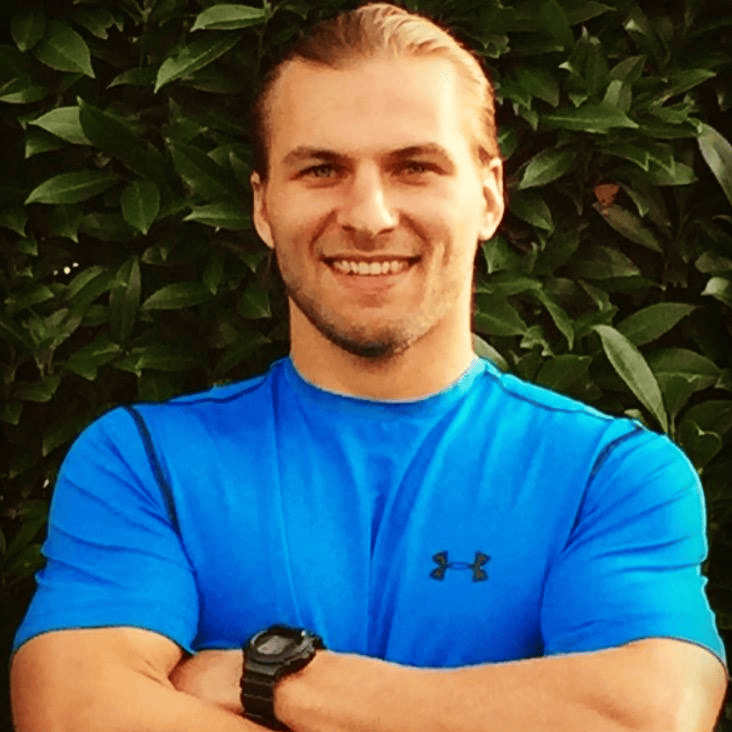 Rowing Machine King Founder and Author.