BodyCraft VR500 Rowing Machine Review
Today we're reviewing the BodyCraft VR500 Rowing Machine. The brand has 3 rowers—the VR200, VR400, and VR500, so it's the best of BodyCraft's three-model lineup.
I've tried all of their models at this point. The only one I didn't like was the VR100 (no longer available).
In short, the BodyCraft VR500 offers several great features like strong resistance, built-in handle controls, and a commercial-grade look and feel. The dual resistance technology provides a top-notch full-body workout to burn calories and shed fat at any fitness level.
The main downside is the price. It varies, but the cheapest version (there's more than one) is usually between $1500 and $1800.
If you want the Connect-22 version (the one with the Android touchscreen), it'll be closer to $2500. It provides an immersive experience.
Even at the low end of $1500, it's already in the same price category as the industry-leading Concept2 RowErg Model E and several hundred more than other top-end home rowing machines.
But, if you want the best dual-resistance air/magnetic rower on the market, you can't do better than the VR500. For the lowest price, choose a place with free shipping.
BodyCraft VR500 Rower
Easy to Read Black Mask LCD w/LED Backlit Display and Keys.

Electronically Controlled Air and Eddy Current Magnetic Resistance with 32 levels.

Ergonomically Correct Comfort Grip Aluminum Handlebar with 4 Button IR Remote Resistance Controls.

Deluxe Adjustable Heel Rest with Quick Adjust Foot Straps. Heavy Duty I-Beam Mono-Rail made with High Strength T13 Aluminum.

Easy Fold and Roll System with child safety lock. Folds for storage in less than 3 secon
Check out my full BodyCraft VR500 review below to see all the pros & cons.
Table of Contents
(click a title to jump ahead!)
1. Resistance Type
2. Monitor/Control Panel
3. Build Quality
4. Comfort
5. Storage
6. Capacity
7. Dimensions
8. Assembly
9. Pros and Cons
10. Consumer Reviews
11. Warranty
12. Price
13. Overall Review
Resistance Type
The BodyCraft VR500 Rowing Machine is a combination of air and magnetic resistance.
This combination allows for a stronger, smoother rowing stroke compared to air-only and magnetic-only rowing machines.
The air resistance mechanism operates by first pulling the rowing handle and spinning the flywheel.
As the flywheel spins faster, more air is brought into the flywheel housing, creating resistance against the fan.
The faster you row, the more resistance is generated. This allows for great high-end rowing resistance since there's no limit (other than rowing speed) to how heavy the stroke can feel.
If you want the stroke to feel soft at lower speeds, that's where magnets come in.
Magnetic resistance operates by moving a magnet closer to or farther from a spinning metal flywheel. The closer the magnet is to the flywheel, the more resistance is created. This is due to the "eddy currents" created by the magnet slowing down the flywheel.
Unlike air resistance, magnetic resistance will provide the same resistance level no matter how fast or slow you row. This is great for feeling strong resistance while rowing slowly.
Combining the two styles of rowing machine resistances allows for an extremely smooth and strong rowing stroke.
You can see my full article comparing the two resistance types by clicking here – which will break down air and magnetic resistance in more detail.
Resistance Levels
The BodyCraft VR500 Rowing Machine comes with 32 levels of electronically controlled air and eddy current magnetic resistance.
Having 32 levels means it is a great rowing machine for all ages and fitness levels. With that many options, a user is sure to find a level that meets their workout needs.
Even elite athletes find the rower sufficiently challenging.
Noise Level
Magnetic resistance produces little to no noise, while air rowers make the most. Because the BodyCraft VR500 is dual-resistance, it'll create noise as air resistance is created.
I used the machine across a range of speeds and found the noise level to be plenty low enough for watching TV and holding conversations.
As far as noise from the frame and seat assembly, I didn't hear squeaking or anything of the kind. The well-extruded aluminum track makes for a smooth and quiet rowing experience.
The Rowing Experience
The BodyCraft VR500 Pro Rower gives added control over resistance, so it doesn't as closely mimic rowing on water. This is due to the constant magnetic resistance applied to the flywheel.
When rowing on water (or air-only rowing machines), a user pulls the handle and drives the boat forwards (spins the flywheel). As they "recover" to pull another stroke, the boat continues to glide forwards (flywheel continues to spin).
Another stroke is then pulled as the flywheel or boat is already gliding forward, making the second stroke slightly easier.
With magnetic resistance, the magnet slows the flywheel down during the "recovery", making the next stroke harder to pull.
This is neither good nor bad. It's just a feature of this type of machine.
Bottom Line
The resistance on the VR500 Rowing Machine is excellent and is suitable for beginners all the way up to elite athletes.
Monitor/Control Panel
Both versions of the VR500 Pro Rowing Machine come with an advanced performance monitor. If you get the upgraded Connect-22 version, there will be a big Android touchscreen positioned above the monitor (I did not get a chance to try it).
The Monitor
Again, all VR500 models come with the monitor. It has an easy-to-read LCD screen with a backlit LED display
BodyCraft also mounted it to a pivoting, adjustable arm so you can place the monitor in the best viewing position.
Data Tracking
The monitor tracks the following workout data:
Time/500m (Split time)
Meters (Distance)
Watts (Power output per stroke)
Pulse (With optional chest strap)
Time
SPM (Strokes per minute)
Strokes (Total for workout)
Calories
Resistance Level
As you can see, the monitor tracks a lot of data but it also has a lot of other really cool functions.
Workout Modes
These come with the basic monitor (no Bluetooth needed) and no subscription is required:
Manual Mode:

Simply start rowing or select a user profile. You can row for however long you choose and adjust the resistance while rowing. Users can also choose a goal such as "500 calories" or "20 minutes" and have the monitor countdown.

Profile Mode:

Choose between 12 different preset workout profiles that automatically adjust the resistance throughout the session. Workout profiles can be "steps", "mountain", "hills", etc.

Race Mode:

Users can choose between 5 different preset race workouts with set distances and times to beat.

Interval Mode:

Users can set or create different interval workouts based on time, distance, and level.

User Data Mode:

Users can save all of their workout data and settings to avoid reprogramming each workout. There are 4 user profiles and 1 guest profile.

Custom Program Mode:

Users can create or save their favorite workout programs to revisit later.

H.R.C. Mode:

The heart rate control mode allows the user to set a target heart rate zone and the rowing machine will automatically adjust the resistance to keep the user in that zone.
You can choose between 60%, 75%, 85% max heart rate or choose your own target.
This program is excellent for HIIT workouts and in my opinion, it's an excellent monitor feature.
Users will need a Polar compatible 5kHz frequency heart rate monitor like the Polar H10 Bluetooth Heart Rate Monitor.

Watt Mode:

Users can input a watt target goal that is calculated on their speed and workload. The monitor will then adjust the workload to keep them in their target range.
The monitor also has a cool-down feature that when pressed will reduce the resistance level and start a 5-minute countdown.
Handlebar Resistance Control
One feature of the BodyCraft VR500 Rowing Machine that is not seen on many other models is the handlebar resistance control.
Users are able to control the rowing machine resistance straight from the handlebar without having to stop, rack the handle, and press the monitor buttons.
This allows seamless rowing without any unnecessary interruptions. Features like this help the VR500 stand out from other high-end rowing machines.
Some Negatives
One downside is the data tracking, which mostly matters to rowing geeks. The BodyCraft VR500 monitor is nowhere close to the Concept2 PM5 monitor which is the gold standard of rowing machine monitors.
On some of the older models of the VR500, the monitor was known for calculating pace and time/distance wrong. Users would row at a 500m split time of 2:00 but the time would read less than 2:00 after rowing 500 meters.
BodyCraft has since fixed the issue, but at best, these types of rowers produce less accurate data, which is why they're excluded from CrossFit competitions.
The VR500 doesn't have PC functionality. For that, you'll need Connect-22. This means it doesn't connect to a computer to analyze workout data with 3rd party apps–or race against other rowers from around the world, as you can with the Concept2 PM5.
You can't as easily participate in the rowing community. It's one thing to have the tech needed to race against others, but you also need an active community to participate with. Dual-resistance rowers are rare, so not many people use them.
Race times are also not as accurate as the PM5 monitors so users cannot use them for comparing against world records set by Concept2 rowers.
The VR500 offers advantages over air rowers, for sure. But when comparing the monitors of the BodyCraft VR500 vs Concept 2, the VR500 comes up a little short.
The VR500 Pro Rowing Machines must also be plugged into the wall to operate, which means there is more of a chance of electrical or mechanical failure (although I did not see this problem mentioned).
BodyCraft VR500 Connect-22
This looks pretty epic if you don't mind paying an extra $1K. This does more than let you connect to 3rd party apps. It provides the immersive (virtual) experience of rowing on water.
The technology here is like a rowing equivalent to the Peloton bikes that let you ride on famous routes (in fact, they have rowers, too).
In fact, it's better, because last I checked, it's not subscription-based. Peloton equipment is not only more expensive upfront, but they charge you monthly to use the tech.
App connectivity (fitness and rowing apps) puts it on par with other high-end rowing machines–all of which are much less expensive. So, nothing special here.
With the Android touchscreen, you can also stream whatever you want, but most people have tablets and phones for that. High-end rowers will often have flexible device holders for phones and tablets.
The main benefit is the immersive rowing experience. I think it's a really cool feature. I plan to try it the first chance I get.
Bottom Line
The monitor on the VR500 is good for data tracking, but far from the best. The lack of app connectivity is a disappointment given the price of the rower.
For 3rd party apps, you'll need the Connect-22 package which comes with a hefty price tag due to the other cool features. It is, however, subscription-free, which makes it a bargain compared to similar Peloton options.
Build Quality
The BodyCraft VR500 Rowing Machine is labeled as being a "residential" rower but it can be used in a "light commercial" setting. This means the build quality has to be top notch and I believe it is!
The support legs are constructed from high-strength powder-coated steel, giving the rowing machine a sturdy base. The mono-rail seat track is also very strong, being made of high-strength T13 aluminum.
I didn't feel any jerkiness or wobbling when rowing. Everything felt solid as a rock.
The footrest felt strong and secure and the rowing handle felt durable. The handle is attached to the flywheel via a nylon rowing strap which ensures a smooth, quiet rowing stroke.
A nylon strap may be seen as a weak point by some, but the material has a high tensile strength. BodyCraft tested this premium nylon strap with over 580 lbs. of load for more than 500,000 repetitions.
Everything on this rowing machine felt heavy and well-made. Check out the BodyCraft VR500 Pro Air & Magnetic Rower below:
Comfort
The BodyCraft VR500 Rowing Machine has an extremely comfortable rowing stroke and creates an excellent "out of water" rowing experience.
Many rowing machines have small, hard seats that hurt users' butts after 20 minutes of rowing. However, the VR500 gives users a large padded seat (ergonomically designed) to help alleviate any discomfort while rowing.
The seat sits on top of heavy-duty friction-free rollers that use ultra-smooth industrial-grade bearings. This allows a very smooth and quiet rowing stroke.
You can put your feet inside the footrests that have adjustable heel rests and quick-adjust foot straps. The lightweight aluminum handlebar allows for a comfortable grip that reduces blisters.
The handle includes resistance adjustment buttons so you don't have to stop rowing or shift your position to change resistance levels.
Another great comfort feature is the seat height of 19.0″ off the floor, which allows you to easily get on and off the rowing machine. This is ideal for folks with arthritis or knee problems.
Overall, the VR500 Pro Rowing Machine is quite comfortable.
Storage
The BodyCraft VR500 Rower has an "Easy Fold and Roll" system with a child safety lock.
BodyCraft claims the fast-folding rowing machine can fold for storage in less than 3 seconds!
All you have to do is remove the safety pin, step on the foot lever, fold the seat rail, and reinsert the pin.
The rowing machine can then be moved by rolling it on the built-in caster wheels.
Although it is too big to fit in a closet, it can still be rolled into the corner of a room to free up space for other exercise activities.
The footprint of the folded rower is 58.5″ x 20.0″ x 77.0″ (L x W x H).
Capacity
BodyCraft lists the weight capacity at 350 lbs. The weight capacity is closer to what you'd expect with a mid-tier rower, but plenty for most users. High-end rowers are usually in the 500lb.-1000lb. range.
Their website lists the VR500 Pro Rowing Machine as having a seat travel length of 38.5″ that's supposed to be able to accommodate users up to 6'8″.
A lot of rowing machine companies are scared to list a height limit for their rowers since inseam length can complicate things. So, it's cool that BodyCraft posted an actual height limit.
There were no lower-end height limitations and anyone under the upper limits should be fine.
Dimensions
Assembled Dimensions (L x W x H):
Folded Dimensions (L x W x H):
Shipping Dimensions (L x W x H):
Shipping Weight: 116 lbs.
Assembled Weight: 101 lbs.
Assembly
Assembling the BodyCraft VR500 Pro Rower can take anywhere from 30 minutes to an hour or two, depending on your experience level.
I would recommend reading the instructions before starting because there are some steps that require using the box as an additional support piece. This will let you know what pieces to take out first and what pieces to leave in place.
Assembly only requires 1 person but having 2 people will make it easier and reduce the amount of time.
All the necessary tools required for assembly are included in the box.
While assembly took long for some buyers, there were no complaints about missing or broken parts in any of the reviews.
Pros and Cons
Pros:
Strong dual combination resistance
Quiet rowing stroke
Advanced monitor
Handlebar with resistance level control
Strong build quality
Long warranty
Easy fold storage
Comfortable seat
Cons:
Monitor has no PC functionality
Long assembly time
Large overall footprint
Not easy to move
High price point
Consumer Reviews
Their original rower, the VR100, wasn't exactly a smash hit. But consumer reviews for the BodyCraft VR500 Rowing Machine are, overall, very positive.
From all the owner feedback I've received and read, users like the resistance, the monitor (minus some of the qualms discussed), and the quality look and feel.
For more info, here you'll find BodyCraft VR500 Rowing Machine reviews.
Average Rating: 4.5
Warranty
One great thing about the VR500 Pro Rowing Machine is the long warranty period and ability to have either a residential or light commercial warranty.
Residential
Frame: Lifetime
Parts: 7-Years
Wear Items: 1-Year
Labor: 2-Years
Light Commercial (up to 5hrs/day)
Frame: 10-Years
Parts: 3-Years
Wear Items: 1-Year
Labor: 1-Year
This is really an insane residential warranty. Basically, BodyCraft is guaranteeing all the parts on this rower for 7 years!
A lot of the lower-cost rowers may only last 1-2 years but they cost 7x less! So if you plan to row for 7 years it makes more to just pay the money upfront and get a VR500 Pro!
BodyCraft VR500 Rowing Machine Price
The BodyCraft VR500 Pro Rower base model can be found for between $1500 and $1800, so it's in the highest-price category (>$1,500-$2000).
The fanciest version (Connect-22) is in a league of its own at $2,500 as far as rowers go. This one really belongs in the luxury exercise equipment category along with high-end Peloton and NordicTrack cardio machines (some of theirs reach the $2500 range).
Shipping is free on the company website, which would normally be a plus, BUT major retailers carry the VR500 and most offer free shipping anyway.
If a high-end dual-resistance rowing machine appeals to you, the BodyCraft VR500 base model is worth considering. If you want an immersive experience, the VR500 Connect-22 is a good option since it's cheaper than Peloton machines.
BodyCraft VR500 Review: Final Thoughts
All in all, the VR500 Pro Rower is an excellent dual-resistance rowing machine. It's among the best of its kind. But, if having 2-in-1 (magnetic + air) resistance means little to you, you can save a lot of money by choosing another high-end rowing machine.
The main thing they could do to improve would be to offer app connectivity with the base model. Rowing app compatibility comes as a package deal with the expensive Android touchscreen upgrade (an extra ~$1K), which means you have to pay for stuff you may not want.
If money is no concern, I think the upgraded version looks pretty awesome. While expensive, it's competitively priced if you look at similar high-end Peloton and NordicTrack models–plus, there's no monthly subscription fee.
When comparing the BodyCraft VR500 vs. Concept2 you will see the BodyCraft model will have stronger resistance at a given speed. The Concept2 will have a better performance monitor and acceptable data which is important if you plan to participate in the rowing community.
Being in the upper price range also means you can look into the WaterRower brand. These are wooden water rowing machines that are also fairly quiet and have strong, smooth resistance. A popular model is the WaterRower Natural Rowing Machine.
The Concept2 Model E will have a similar seat height with "commercial" features (see my full review here).
The Concept2 Model D will have a lower profile but is normally priced below $1,000 – subject to change (see my full review here).
I hope you enjoyed my BodyCraft VR500 Rowing Machine review! Please leave any questions or comments in the section below.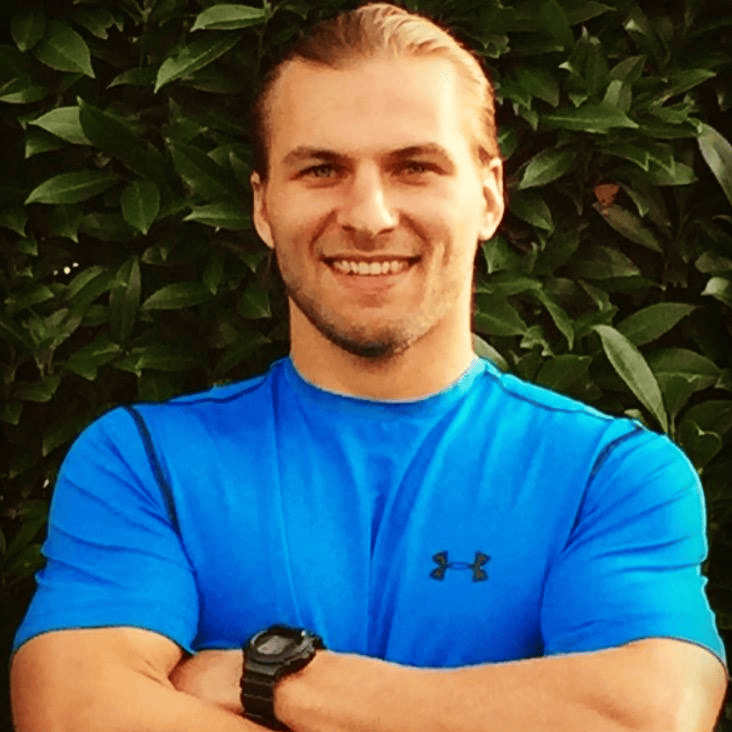 Rowing Machine King Founder and Author.