The Runow Water Rowing Machine is becoming one of the more popular wooden water rowers offering similar quality to that of the original WaterRower for about half the price.
I have much more experience with the WaterRower but I've had the chance to try the Runow water rower more than once when training clients, so I can speak from experience.
In short, the Runow water rower is a beautiful, durable, quiet (65 db) rowing machine that offers a workout equal to that of the more expensive, high-end water rowers. Downsides include the simple monitor and any negatives that apply to water rowers, in general, like the lack of a dampening feature.
Below, we're going to dive deep into the Runow Water Rower and take a closer look at everything—from resistance to build quality to assembly to value-for-price.
So let's jump right in and find out if this Runow rowing machine is what you're looking for, or if you should consider other beautiful wooden water rowers instead.
Resistance Type
The Runow Water Rowing Machine is, you guessed it, a water rower. That means it uses water stored inside a tank to generate what is known as "variable" resistance.
Quick Explanation: "Adjustable" resistance can be increased/decreased by turning a knob or dial that adjusts the difficulty level—more commonly found on magnetic and hydraulic piston rowers. "Variable" resistance is resistance that increases/decreases according to your effort. Simply put, the faster/harder you row, the greater the difficulty. This type of resistance is more common among air and water rowers.
To learn more, you can read about water vs. air rowers in my post here.
The water inside the Runow's tank gets churned up by the paddles that get spun when you pull on the handle.
The harder and faster you pull, the more the water is displaced, so the more difficult it becomes to row.
Users love water resistance because it simulates the feel of actually being on a lake or river. It's the most "natural" feel around, and it gives you a workout ranging from low to ultra-high intensity—all you have to do is row slower or faster.
The sound of the water sloshing inside the tank is also incredibly relaxing, and it's much quieter than the whirring of fans in an air rower.
The Runow Water Rower only generates 65 db of noise, meaning it's quiet enough that you can watch TV, listen to music, or carry on a conversation easily. Or, if you have kids playing or sleeping next door, you can work out without worrying about disturbing them.
Resistance Benefits
Not only does the Runow Water Rowing Machine offer variable resistance, but you can actually fill up the 20L water tank to different levels to manually increase or decrease resistance.
Note: There is a "recommended" level, but you can test out various fill levels to adjust the difficulty yourself.
Most reviewers who praise the Runow Water Rower talk about how smooth the resistance feels, and how difficult it can get when they start rowing hard.
In fact, water rowers like the Runow are known to generate the HIGHEST level of resistance for any rowing machine. This makes them perfect for ultra-fit athletes or professional rowers who want to push themselves to the max.
But they're also ideal for beginners, too. You can row slower to still displace enough water to make the workout difficult without being too hard. Adjusting your rowing speed is all you need to do in order to vary the resistance.
Resistance Downsides
The one drawback to the water resistance utilized by machines like the Runow is that you can never truly get a low-intensity workout.
With magnetic and hydraulic-piston machines, you can simply turn the dial to the lowest setting and enjoy a calm, relaxing workout—perfect for recovering from an injury.
With water rowers, however, even at slow speeds, you will end up working hard. It's great if you want to push your fitness, but less so if you're using the rowing machine as a rehab tool.
Resistance Overall
Water rowers like the Runow make an excellent choice for athletes looking to take their fitness to the next level. They generate less noise, and the sound of sloshing water is wonderfully soothing and makes you feel like you're on a lake.
The smooth variable resistance and natural glide definitely make it a popular choice among rowers.
Really, water resistance gets virtually no complaints—users just love it!
Monitor/Control Panel
The Runow Water Rower comes with a small (dimensions unspecified) LCD screen that displays the most critical workout metrics:
Time
Calories
Distance
Total Times
SPM
The screen will only display one metric at a time, in big, bold, easy-to-read numbers. However, the "Scan" button will set the screen to rotate between all the metrics to help you keep track of your workout progress.
Monitor Downsides
As you can see from the picture, the screen built into the Runow Water Rowing Machine is incredibly simple, lacking any advanced programmable features.
For those who just want to sit down and row without any fluff or fuss, it's a simple option that displays the metrics you most want to see.
But professional athletes and elite-level competitive rowers will find it just doesn't give them what they need.
You won't be able to track more complex metrics (split time, average time to 500M, etc.). If you're trying to challenge yourself to row faster and push harder with each workout, you'll want to consider a rowing machine with a more advanced monitor.
I would consider the WaterRower Natural Rowing Machine or the fan-favorite Concept2 Rower.
That's one thing to know about mid- and low-range rowers like the Runow. The low retail cost means less was invested in building the product. Manufacturers will try to use the best quality materials at the lowest possible cost, and sacrifices will have to be made. Typically, the monitor on rowing machines in the lower ranges will be simple like the one on the Runow.
But if you don't need to track all that data—or you want to track it on your smartphone instead of the rowing machine—the Runow could still be a decent choice, as you'll see in the "Build Quality" below.
Build Quality
The Runow Water Rower says it's built from black walnut wood (another section says Oak), so I'm not 100% sure. However, most users said it felt solid.
Not only is the wood beautiful, but it's also very tough and resistant to wear, impact, and stress. Even heavier and taller users agree that the frame looks and feels solid, built to last a long time.
One great thing about wood is that it's also sound- and vibration-absorbent. This makes for a quieter rowing machine all around.
Aside from the wooden frame, the glide rail and seat are both made out of solid plastic, which is lighter than metal but still capable of withstanding a lot of weight and heavy use. Reviews on the overall build quality are highly positive because Runow chose sturdy materials to craft a solid rowing machine.
Build Quality Downsides
There have been a few complaints about minor components:
The horizontal wheel that stabilizes the seat and keeps it gliding may be too small to actually fit the track. One user found the wheel actually grated metal-on-metal, not only generating a lot of noise but also accelerating the deterioration of these components. Another found the plastic rails can actually make contact with the wheels, which shaves off pieces of plastic that get in the track and "gum up" the works.
One user received the rower with a metal plate bent during shipping. Customer service was responsive and helped to resolve the issue, but such quality control is definitely not ideal.
The water tank is built with a center hole through which water can leak out if the tank is over-filled or you slosh the water around excessively while moving it.
Build Quality Overall
Aside from a few minor quibbles, reviewers tended to be quite positive about the build quality of the Runow Water Rower, praising it for its sturdy and beautiful wooden frame.
Comfort
Water rowing machines like the Runow Rower tend to offer a very comfortable, smooth rowing stroke similar to what you'd feel rowing an actual boat.
Interestingly enough, it was the seat that earned the highest praise from users remarking on how comfortable the Runow is.
One rower mentioned feeling comfortable even after 45-minute rowing sessions. A lot of rowing machines—even high-end rowers—get negative complaints because the padding in the seats compresses and gets hard after 20-30 minutes.
The seat is designed with an ergonomic 3D shape that offers great padding and is countered to keep your butt firmly planted. There will be no sliding back or forward when you're rowing (a common problem with flat seats).
What's interesting is that the seat's padding will actually improve hip mobility and keep your legs at a more natural angle as you sit down. It's even breathable to keep your butt cool for long rowing sessions.
The foot pedals are fully adjustable, with a contoured footplate that will keep your feet firmly planted as you row.
Comfort Downsides
The foot pedals are vertical, which some users find can strain their hips and knees. However, the majority of complaints about the foot pedals had to do with the straps.
The Runow uses cinch straps that you have to manually pull to tighten. As you row, your feet pull on the straps, and slowly they begin to work loose. You may end up pulling the cinch straps tight twenty or thirty times over the space of a half-hour workout.
This is the problem with cinch straps (on all rowing machines), which is why some manufacturers opt for Velcro straps. It's just more convenient when you don't have to worry about bending forward to tighten the straps while you work out.
Storage
The Runow Water Rower is designed to be stored upright, which decreases its footprint and makes it a beautifully compact machine.
There is no complex process to fold or break down the rower—just slide the seat all the way forward, then pick the Runow Rower up to stand it on end. As easy as that!
The rowing machine comes with built-in caster wheels that allow you to roll it in and out of whatever corner you're storing it.
Once upright, it stands 22 inches wide and 21 inches deep, occupying just 3.22 square feet.
To put it another way, it takes up about as much floor space as a dining room chair and will stand just under 7' tall.
Capacity
Like many Chinese manufacturers selling their products exclusively online, Runow doesn't have a website that displays the specs on their water rower.
However, their Amazon page states that the weight capacity is 350 pounds, which makes it more than suitable for even heavier rowers.
And taller rowers, don't think I've forgotten you!
My research didn't turn up the exact dimensions of the rail, but I did find that the rowing machine is 82 inches long. After factoring in the size of the main body (water tank, wheels, pedals, etc.), it appears as if the glide rail is roughly 40-45 inches long. That's definitely long enough for users with extra-long legs.
One reviewer commented saying, "I'm 6'3″ and I have plenty of legroom. It lets me fully extend my legs." So I imagine if you're 6'4″ or 6'5″ you will be fine.
There are no lower-end capacity constraints and even children can use this rower.
Dimensions
Assembled Dimensions (L x W x H):
Assembled Weight:
Assembly
Reviews about the assembly process of the Runow Water Rowing Machine were overall positive. Most customers were able to put it together within 30 minutes (and a lot of that time was spent filling up the 20L water tank) because the majority of the parts come pre-assembled.
As one satisfied customer put it, "This rowing machine is super easy to assemble. Within 10 minutes of receiving it, I finished setting up the machine. You just used the hex key they provided to get the 10 screws in, and that is pretty much everything. The water filling part is also easy and straightforward."
Though the instruction manual wasn't as clear as it could be, the fact that there are so few components to assemble means it's a beautifully simple process to get the Runow Rower set up and ready to use.
Assembly Downsides
A few reviewers mentioned receiving the Runow Water Rower with bolts and nuts missing. Most of these pieces are simple to replace—you can find them at literally any hardware store—but it's a hassle to have to go out and buy these components when they should arrive in the box with your purchased product.
Also, there were a number of complaints about the siphon/hand pump used to fill the water rower. One user said, "The hand pump is not a siphon pump or a really bad one, so be prepared to spend 10 minutes assembling the rower, and 20 minutes pumping water into it."
They actually gave a pretty good recommendation: "If you have a better pump or even a piece of hose to siphon the "old fashion way", you're already ahead of the game."
Pros and Cons
Pros:
Beautiful wooden frame
Very solid build, good material quality
Supremely comfortable seat, even after long rowing sessions
Easy assembly—10-30 minutes tops!
Great price tag compared to other wooden water rowers
Smooth variable water resistance
Excellent difficulty level
Cons:
A few design flaws (including foot pedal straps and water tank hole)
Very simple LCD screen
Difficult-to-understand instructions manual
Consumer Reviews
Looking at the reviews posted for the Runow online, the vast majority of users are pretty happy with their product.
Yes, there are some flaws and quality control issues, but that's pretty par for the course with many Chinese-built mid- and low-range rowing machines.
Overall, though, the Runow Water Rowing Machine has overwhelmingly positive reviews that point to it being a machine worth using!
You can read more Runow Water Rower reviews here.
Average Rating: 4.5
Warranty
Frame: 1 year
Parts: 1 year
Labor: 1 year
Runow Water Rower Price
This is where things get a bit interesting!
If you look at Runow's Amazon store page, you'll find they offer four different models that all appear virtually identical but are all priced differently.
Upon deeper research, I found the factors that set the models apart:
Color. Only one is the rich black, while the rest are a brighter natural brown. As expected, the black model is the priciest.
Wood. Two are made using black walnut, while one is made with oak. The fourth (currently unavailable), just says, "made of solid wood with 25 years old tree" without specifying what wood.
Otherwise, they are identical in every way.
But the price difference between them is so small (just $40) that they're all great options to consider. You just choose what look you want and what wood you believe will be sturdiest, and you've got yourself a great rowing machine.
And in truth, I do think that for the price, you're not going to find a better wooden water rower.
And, buying it through Amazon, you get the added layer of consumer protection in case the rower arrives damaged or missing components. Plus, free shipping on qualified orders!
Overall Review
After doing all this research, I'm convinced the Runow Water Rowing Machine is as reliable and sturdy as it is beautiful.
Aside from the few drawbacks mentioned above, it's a gorgeous, sleek, quiet, well-built machine perfect for at-home use. It's not hand-crafted like the WaterRower machines, but it's manufactured to good quality standards and should give you many happy years of use.
If you want a rowing machine with better quality and a better monitor. I would check out the different WaterRower models here.
If you want to look at another mid-range wooden rower, check out my Mr. Captain Water Rower review.
Of course, water rowers aren't suitable for getting into the sport of indoor rowing (but they do provide all of the health benefits!). For that, you'll want to check out the Concept2.
I hope you enjoyed my Runow Water Rower review and found it helpful! Feel free to leave any comments, questions, or feedback below.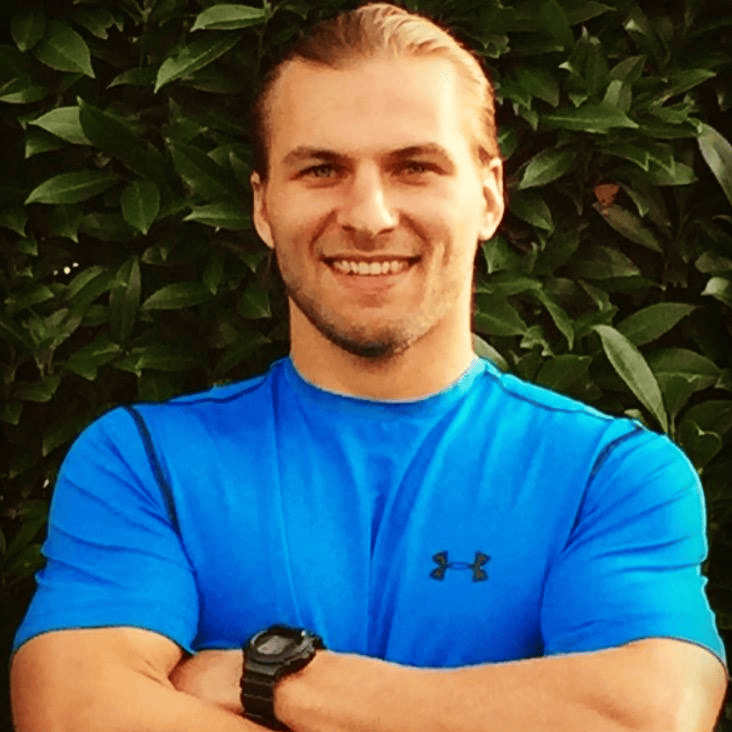 Rowing Machine King Founder and Author.