Sunny Health & Fitness Row-N-Ride Pro: Review & Buyer's Guide
Consider a mutant version of a rowing machine and you'll think of something like the Sunny Health & Fitness Row-N-Ride Pro which combines two major exercises: squats and rows.
These compound exercises train your entire body and build strength in your upper and lower body simultaneously. Add to it a comfortable and sturdy design, a user capacity of 330 lbs., two resistance bands, and you have the Row-N-Ride Pro by Sunny Health & Fitness.
While I have more experience with the original Squat Assist, I have had the chance to use the Row-n-Ride Pro a few times, so I can speak from experience.
Today, we're reviewing this machine.
In short…
The Sunny Health and Fitness Row-N-Ride Pro is a great option for those who want a rowing-style workout with an emphasis on strengthening and toning the leg muscles. It improves on the original version with up to 220lbs of hydraulic resistance in addition to bodyweight and elastic bands.
Unlike with bands only (the original), the hydraulic component lets you change resistance on the fly allowing you to switch between strength and cardio training.
For max savings, I recommend getting it from a place that offers free shipping, since exercise equipment tends to cost a lot to ship which can eat into the savings.
Sunny Health & Fitness Row-N-Ride PRO™ Squat Assist Trainer
STURDY DESIGN: It features one of the highest max user weights for a squat assist trainer at 300 LB.

DIGITAL MONITOR: Track your progress with the digital monitor. It displays Time, Reps/ Min, Count and Calories Burned.

POWERFUL RESISTANCE: The hydraulic cylinder pushes your squat routines to the limit. 12 levels of resistance let you tailor the Row-N-Ride PRO to your exercises.

ADJUSTABLE SEAT: Find your proper footing and your most comfortable seating position for an efficient squat motion.

RESISTANCE BANDS: Use the optional resistance bands to make your squats even more challenging, and to complete a variety of exercises to strengthen and tone your entire body
Resistance Type
Sunny Health & Fitness Row-N-Ride Pro is a squat assist machine that uses hydraulic resistance and creates movement through the pressure of a cylinder.
The Row-N-Ride Pro has a total of 12 levels of resistance. Each level adds approximately 15 lbs. to the weight capacity, beginning with 38 lbs. at level 1 and ending with 202 lbs. at level 12.
Talk about high resistance!
Levels 1-2 can be used for cardio and quick workouts to build endurance and sweat off stubborn fat. Levels 8-12, on the other hand, are more for resistance training and building strength.
When comparing the resistance of the Row-N-Ride Pro vs Row-N-Ride, the Pro performs much better. The classic version of Sunny Row-N-Ride didn't operate on hydraulic resistance, rather it used bodyweight resistance aided by elastic cords.
Resistance Benefits
Because of the hydraulic resistance, the movement is very natural and smooth, which will help take the strain off your lower body joints and correct your posture in your back and shoulders.
Squat assist Row-N-Ride Pro has three main points of contact: foot pedals, handles, and an adjustable and cushioned seat that work all together when you do squats. Row-N-Ride Pro is slower, and more silent than other squat assists, especially in the higher resistance levels.
Also, you can easily adjust the knob by twisting the handle even when seating in the machine. This makes the Sunny Row-N-Ride Pro extremely convenient because it allows you to quickly switch from cardio to high resistance. You can change levels, rest, and then continue with your workout.
What's more, Row-N-Ride Pro comes with two resistance bands attached to the front of the machine to make your home workouts more versatile.
After 20 minutes of cardio, you can hop off the machine and perform some bicep curls, shoulder raises, or back and side-kicks, depending on which muscle you want to target.
Resistance Drawbacks
The only disadvantage of hydraulic resistance is that the manufacturer recommends not using the machine formore than 20 minutes in a row. Using it for longer will cause the cylinder to overheat and may lead to malfunction in the long term.
Resistance Overall
Resistance is one of Ride-N-Row Pro's strongest features because it is more efficient at building endurance, stamina, and strength.
A total of 12 levels and a resistance of 220 lbs. at the final level make for an excellent home workout. This type of resistance also contributes to the machine's sturdiness.
Monitor/Control Panel
The digital monitor on the Sunny Health & Fitness Row-N-Ride Pro vs Row-N-Ride squat assist is upgraded as well. Still a basic LCD screen, the exercise meter monitors the following workout metrics:
Time: Displays the workout time.
Count: Accumulates the number of squats & rows done.
Calories (CAL): Displays the number of burned calories.
Scan: Auto-rotates between the various metrics.
Reps/min: Displays speed during workout time.
Row-N-Ride Pro's exercise meter uses one 1.5V "AA" battery that comes with the package. Also, below the monitor you'll find the two classic buttons:
Mode: Selects or locks on to a particular function.
Reset: Resets the workout, and if you hold it for a few seconds it will reset all the data.
Monitor Benefits
The rep/min is a new addition to the Row-N-Ride Pro. Reps per minute refer to the number of squats and rows you can complete in one minute. It is an excellent metric for determining your speed, as well as tracking your progress over time.
Thus, this squat assist is more advanced than other cardio machines that only count exercise minutes and calories, and offers other ways to track your pace and speed.
Monitor Downside
Like most fitness equipment, the Row-N-Ride Pro doesn't count calories that accurately. This is because factors like weight and age influence calories burned and the monitor doesn't allow for these inputs.
Monitor Overall
Sunny Row-N-Ride Pro's monitor is a simple LED screen that provides basic workout metrics and can assist you in tracking your workouts. The reps/minute is a useful update to help you get the most out of your workout.
Build Quality
Sunny Health & Fitness Row-N-Ride Pro has a foldable lightweight design of high-quality alloy steel. Its manufacturer, Sunny Health & Fitness is a widely recognized premium brand of high-quality fitness equipment with over 20 years of experience.
With this machine, they feature one of the highest maximum users' weight capacities for squad assist trainers.
Build Quality Benefits
Due to the positioning of the body and being higher off the ground, squat assists are not the most durable rowing machines. However, Sunny Health & Fitness offers a very good option with this design.
For once, they increased the weight user capacity to 330 lbs.. In other words, everyone below 330 lbs. is safe to use this machine. Also, they added 5 adjustment settings to the seat and increased the user height capacity to 6 feet.
The hydraulic resistance also increases the sturdiness of this equipment because your gravity works against the added pressure as well, which in the Sunny Row-N-Ride Pro starts at 38 lbs. and reaches up to 220 lbs..
The seat is wide and has extra cushion padding making it comfortable and safe for longer workouts. The pedals are engineered to not slip so you'll not lose your footing grip. Lastly, the grip handles are textured and uniquely curved allowing for enough space for your hand to be supported safely.
All these new features improve the machine's durability and safety.
Build Quality Drawbacks
The Row-N-Ride Pro has a good sturdiness rating from the reviews I've seen, but a few users over 250 lb. report that the machine got a little shaky.
However, most mentioned that this tendency faded as they got more practice with the machine and when they established a consistent pace.
Build Quality Overall
The Row-N-Ride Pro not only has a high-quality build but also has extra safety measures for users. However, as with any squat assist, you have to perform the movement steadier than with traditional rowing machines.
Comfort
Squat Assist Row-N-Ride Pro has stepped up the game from the comfort already offered in the previous model. This low-impact equipment serves to assist you to perform squats and rows, stretch, and build strength in the entire body.
As most mentioned, the three points of contact are also safe and comfortable to use. First of all, self-leveling paddles are non-slippery and will allow you to adjust your legs and have a sturdy squat.
The cushioned seat features thick padding for longer squatting sessions. The seat is also wider than the classic Row-N-Ride and adjustable for up to 6 feet tall people.
Also, the resistance bands on the front are very comfortable to use. They come with strappings that you can wrap around your ankles to perform some glute or inner/outer thigh exercises to tone your legs.
Overall, the Sunny Health & Fitness Row-N-Ride Pro is steady, comfortable, silent, and easy to use.
Storage
The Sunny Health & Fitness Row-N-Ride Pro is described as foldable on the product's official website, and you can see it folding or at least standing up in the video demonstration.
However, if you read through the technical details on Amazon, you'll see that it is advertised as not being foldable. That's because it doesn't completely fold, but it rather stands up to free up some floor space. After folding, the dimensions of the product change from 44.5" x 21.5" x 46" to 3.5" x 18" x 58.6".
Make sure to remove the resistance bands before folding it and then you simply pick it up and lift it because it folds itself. Sunny Row-N-Ride Pro it's quite light, weighing only 37.8 lbs. which allows it to be easily dragged, even though it lacks wheels. You can keep it in a room corner or storage.
Capacity
Sunny Health & Fitness recommends a max user weight capacity of 330 lbs., yet another improvement from the previous model which had less weight capacity.
According to some reviews, people weighing 250+ lbs. had some difficulty keeping it sturdy at first. Other users, on the other hand, had no complaints, such as A.J who notes: "I weigh 290 lbs. and I have to include my weight capacity in my search for exercise machines and this one didn't fall short of the support I needed!"
The Sunny Row-N-Ride Pro's recommended maximum height capacity has been increased to 6 feet. This is made possible by the 5 adjustable settings on the seats. Several users under the height of 6 feet report no difficulty or discomfort while exercising.
Overall, the Row-N-Ride Pro has a lot of capacity in terms of user weight and height, especially considering that it is still a squat assist for the trainer. If you're under 330 lbs. and 6 feet tall, you'll be comfortable and safe through the workout.
Dimensions
Dimensions
Assembled Dimensions
(L x W x H):
44.5" x 21.5" x 46"
Storage Dimensions
(L x W x H):
3.5" x 18" x 56.6"
Shipping Box Dimensions
(L x W x H):
46.9" x 12.8" x 7"
Assembled Weight
37.8 lbs.
Shipping Weight
42.6 lbs
Assembly
If you decide to invest in a Sunny Row-N-Ride Pro Squat Assist Trainer, keep in mind that you will need to assemble it yourself. The machine has 46 parts that can be assembled in 7 main steps outlined in the product's manual. Previous buyers have reported setting it up in 30-50 minutes.
Many women and elders handled it well, while others found it overwhelming and gave up or delegated the task to other relatives.
For example, Tami B., a buyer, says: "When I opened the box, I was overwhelmed with the assembly needed, but after looking further, it wasn't that bad. The instructions were good and all the parts were there. Took about two hours for me, but was worth it." Another user, aged 70, wrote that it took her little time to put together.
We read all of the reviews that mentioned assembling to get the most accurate picture of the user experience. In the end, the difficulty of assembly will be determined by your handiness.
If you find the assembly process too hard, do not hesitate to seek assistance from your family members; You'll surely find someone who will set up the Sunny Health & Fitness Row-N-Ride Pro quickly.
Pros and Cons
| Pros | Cons |
| --- | --- |
| Sturdy design of steal material | Doesn't fold completely because of the thick cushioned seat and hydraulic cylinder |
| User capacity of 330 lbs. in weight and about 6 feet in size | Needs to be assembled which for some people can be overwhelming  |
| Adjustable hydraulic resistance with 12 levels  | Should be used 20 minutes at a time because the hydraulic cylinder might heat up too much |
| Powerful resistance up to 220 lbs | |
| Digital monitor including calories, time, count, and reps per minute  | |
| Cushioned seat with 5 adjustable settings | |
| Non-slip and textured pedals  | |
| Textured and wide handgrips | |
| Lightweight and easy to move | |
| Includes resistance bands for more versatile home workouts | |
| Improves joint issues and injuries | |
| Assists to perform full-body workouts, both cardio and high resistance training | |
Consumer Reviews
The Sunny Row-N-Ride Pro has received more than 1,083 global ratings, and what stands out is its triple effectiveness as a cardio machine, strength trainer, and multi-functional home workout equipment.
Many senior buyers say it has reduced their knee and joint pain, helped them walk correctly, and given them more stability in their daily movement. One reviewer calls the machine a "one-trick pony" because you can perform more than 20 strength exercises as well as cardio.
Only 43 of 1,083 Amazon reviews mention problems with assembling, missing, or broken parts, but they are mostly isolated incidents.
All Sunny Health and Fitness machines are popular, but the Row-N-Ride Pro has a loyal buyer base due to its obvious improvement over previous models.
Rating: 4.6 stars
Warranty
| Warranty | |
| --- | --- |
| Frame | 1-Year |
| Parts | 180-Days |
| Model Number | SF-A020052 |
Sunny Health & Fitness Row-N-Ride Pro Price
Row-N-Ride Pro is priced at the lower end of the rowing machine pricing spectrum because, as you may have noticed, it is not a traditional rowing machine. As a squat assist, this equipment is innovative and aids in a variety of exercises such as squats and rows.
This rower has additional resistance up to 220 lbs., making it ideal for strength training. It also included two resistance bands with straps for your ankles. A quick Google search and you'll see the plethora of exercises that can be performed with resistance bands.
Everyone in the review section mentioned how reasonable the price is, especially considering the variety of home workouts it provides in just one piece of equipment.
If you're not a fitness fanatic, this purchase may be all you need to stay active. Sure, it's far from a finished home gym, but it provides a lot for the price.
Sunny Health and Fitness Row and Ride Pro Review: Conclusion
The Sunny Health & Fitness Row-N-Ride Pro is novel fitness equipment that provides rowing benefits plus extra lower body conditioning. The machine is highly functional and improves on an already popular and well-liked classic version.
The hydraulic cylinder that generates resistance has a power of up to 220 lbs. and 12 levels of resistance, allowing you to switch from cardio to strength training.
Aside from its versatility, users praise its ease of use and how it improves their mobility and joint pain.
Some of the potential drawbacks identified by previous buyers include its lack of sturdiness for people weighing around 300 lbs. and the fact that it does not fold completely.
I also recommend checking out the original Sunny Health & Fitness Row-N-Ride.
If a squat assist machine isn't for you then check out some of my recommended rowers under $300.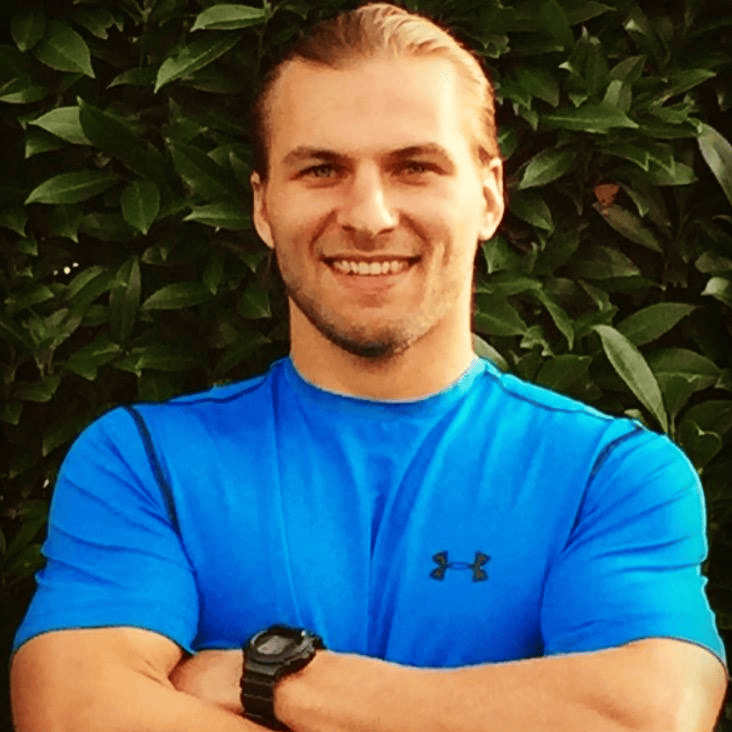 Rowing Machine King Founder and Author.