I doubt Hydrow likes the comparison – but this Hydrow review details if this is the Peloton of rowing machines or not!
With virtually silent magnetic resistance and a 22″ monitor – you may actually feel like you are rowing on water.
Plus, a membership allows access to over 400 sessions and counting (with live rowing classes)!
It really does have state-of-the-art engineering and design, with an amazing team behind the rowing film productions.
However, like all my reviews, I'll cut the bullsh*t out and give you the facts about this rower.
Plus, I'll give you my opinion on whether or not I think it's a solid buy or if you should go with a less expensive alternative in my final section.
So enjoy my Hydrow Rower review and drop a comment if you have any questions!
Resistance Type
The Hydrow Rowing Machine is magnetic resistance.
It actually has an electromagnetic drag mechanism, which means the resistance needs electricity to operate. I've had some physicists explain to me how magnetic resistance operates and it is a bit confusing so I'll do my best to explain it in laymen terms.
Basically, there is a metal flywheel that spins when you perform a rowing stroke. As the flywheel spins, it must pass through the electromagnetic field, which is controlled by the monitor.
The higher you set the resistance, the stronger the magnetic field, and the stronger the resistance. We call this "adjustable" resistance because the resistance strength is adjusted by the user.
Air rowers are called "variable" resistance because their resistance is more controlled by how fast or slow you row.
Now the resistance on a magnetic rower will increase slightly the faster you row but not as much as an air rower. You can learn more about both resistance types here.
I have a great video below that visually represents an electromagnetic drag mechanism:
Resistance Benefits
Obviously a highlight of the Hydrow Rower is the computer-controlled electromagnetic resistance. This provides one of the smoothest, quietest rowing strokes on the market!
Users can easily adjust the resistance by sliding a "resistance" bar on the touch-screen monitor (you can view this in a video below).
The resistance will also automatically adjust during some of the rowing sessions so you can't cheat yourself out of a hard workout!
Customer feedback has been the resistance on the Hydrow is excellent. It's strong enough for any user and quiet enough to use early in the morning.
This makes it great for an entire family or if you are living in an apartment complex.
Hydrow and other rowing machine companies claim that rowing uses 86% of all your muscles (core, back, arms, legs) compared to only 44% when cycling. So you are truly receiving a more complete, full-body workout!
Resistance Downsides
Hydrow will boast that it's the "closest thing to being on the water". While this sounds cool, it's most likely not true.
Air resistance rowers (and water rowers) more closely mimic the resistance felt while rowing on water. The issue is air rowers make more noise than magnetic rowers, which doesn't fit well with having to listen and follow along to instructional videos.
It makes more sense to use magnetic resistance on the Hydrow so a user does not have to crank the volume up on the monitor!
The only other downside I heard about the resistance was it does make some noise (basically it's not whisper quiet). However, it's still a considerable amount quieter than an air or water rower.
Resistance Overall
Overall, there were very few complaints about the Hydrow Rower resistance and most users felt it is fantastic!
It's strong enough for people who lift weights and easy enough for beginners. Plus, it's super quiet and can automatically adjust during workouts!
Monitor/Control Panel
The monitor on the Hydrow Rower is probably the most sought after feature. It comes equipped with a 22.0″ HD sweat-and-dust resistant touchscreen monitor.
Users can easily see the high quality videos displayed on the monitor and hear the crisp, clear sounds coming from the front-facing speakers.
It tracks all the necessary rowing data like Stroker per Minute, Calories, Time, 500m Split, Avg Split, and much more!
Below I'll breakdown a few of the monitor features into more details.
Monitor Specs
The monitor is Bluetooth enabled meaning it can work with most Bluetooth heart rate monitors like the Polar H7 or Wahoo TICKR.
It's also WIFI enabled (obviously) and needs a standard WIFI connection to stream the in-app rowing sessions.
Unfortunately, you CANNOT stream other video services like YouTube or Netflix. This is a huge bummer but seems like all rowers with a TV-like monitor are going down this route.
Users can easily adjust the monitor for the best angle and rotate it for "mat" workouts like yoga.
You can connect your Bluetooth headphones or use the dual 3W speakers to listen to the sounds of birds and your trainer while rowing down the river!
The monitor will need a standard outlet plug to operate the screen and resistance.
Monitor Benefits
There are so many benefits of this monitor that it's difficult to cover in a concise paragraph. I think the main benefits can be broken down into 3 categories.
First, the monitor is engaging by bringing you to beautiful locations around the world. You also follow along with world-class trainers who know how to motivate you and help push you to the limit. Or when you're doing a more serene row, they can be relaxed and simply prevent you from getting too bored.
Second, the monitor provides a wide variety of workouts. As I mentioned above, you can have intensive rowing sessions or more leisurely rows. You can have a trainer or simply row by yourself down a river. The Hydrow Rowing Machine even includes yoga, pilates, and strength training sessions. A great benefit is they keep adding more and more sessions with each update!
Third, Hydrow is developing a team dynamic within their rowing community. There is a live leaderboard on certain rows showing how people performed on the same workout session. Plus, they are incorporating more and more live rowing sessions. I believe the Hydrow community will be one of the best features moving forward.
Hydrow Rower Membership
While the monitor sounds awesome, it's not free. After paying a nice price for the Hydrow Rower, users will have to subscribe to a monthly membership to get access to all of the sessions.
The subscription is currently $38/month (subject to change) and comes with "access [to] live broadcasts or choose from over 400 pre-recorded river and studio rowing sessions. A membership allows for unlimited user profiles, so every member of your household can enjoy Hydrow."
Check out the video below for some highlights of videos you will see with the membership:
There is a "Just Row" mode which allows users to change the resistance and track basic metrics without a subscription.
However, I highly recommend getting a subscription if you plan on buying this rower. There are plenty of magnetic-only rowers that can be purchased for less money if you do not plan on using the paid membership.
I have read a few negative reviews about the rower because consumers did not know they had to pay for a membership. Please do your research (which you obviously are!) when buying a product and make sure there are no additional costs!
Monitor Overall
While the Hydrow Rowing Machine can be expensive and it does cost close to $500/year for the membership, it is an amazing piece of technology.
The monitor will definitely keep you engaged and if that's the cost to maintain a healthy lifestyle, then I think it's worth it.
I understand money is a concern, but for the people who have purchased the Hydrow, they can't stop raving about the interactive sessions on the monitor!
Build Quality
With the Hydrow Rower price tag, you would hope this thing is built like a tank! Luckily, it is and there have been very few complaints (if any) about the quality.
This rowing machine was engineered to have both style and functionally built into the model. When you look at it, the design is unlike any other rower, which is really cool.
It has an aluminum frame, with a high-quality plastic shell. All the components are hidden, making it look like a rowing machine from the future.
All the bearings, footrests, handle, seat, etc. are made from commercial grade material. There is also a nylon belt used to attach the handle to the magnetic drive system that is similar to seatbelt material.
There is a 5-year warranty on the frame and it can hold close to 400 lbs. (more on these below), so I think it's a well-built machine.
This is a company that has 1 product and is looking to build it into an industry leading rowing machine so they are going to take care of their customers and ensure they only receive a quality piece of fitness equipment.
Check out this video review below from a non-biased user:
Comfort
Similar to the 'Build Quality' section, the engineers of the Hydrow Rowing Machine ensured every piece of this rower was built for comfort.
The rower itself is very quiet and makes minimal noise for a rowing machine. You can easily row in the mornings while people are sleeping or in a small apartment complex.
The other components are designed to match this low-noise atmosphere. The nylon belt drive system is much quieter than a chain-driven system and the seat rolls on a 10-roller system.
Users will also enjoy a comfortable seat, with their hands gripping an ergonomic handle, and easily adjustable foot rests. The footrest can be quickly adjusted and accommodate any shoe size.
One thing you also need to make sure of when buying a rower is that you can complete a full rowing stroke. This means you should be able to have your knees bent, a slight lean forward, and your arms can fully extend forwards. A lot of lower cost rowers don't allow for that full forward reach. Luckily, the Hydrow does and is used by Olympic rowers all the time who are very tall!
Hydrow.com (Manufacturer)
Storage
The Hydrow Rower has 2 forms of storage but it's meant to be kept out in your exercise area.
With it's sleek design, most users keep it fully setup, while others choose to store it upright.
Users with space left it fully assembled with the following dimension: 86″L x 25″W x 47″H (from floor to top of screen)
You can also store it upright. Hydrow recommends buying an "Upright Storage Kit" but I don't think it's 100% necessary. The kit cost $70 and all it does is keep it strapped to the wall.
Essentially it's a safety device to ensure it doesn't tip over. You can visit this link and scroll down to "Hydrow Upright Storage Kit" for more info.
Users can very easily tip the rower upright and leave it stored. The monitor folds inwards so it's out of the way and the vertical dimensions are: 25″W x 33″D x 86″H
The rowing machine is quite heavy so keep that in mind if you plan to store it vertically.
Capacity
While the Hydrow Rower was built for at-home use and space was always a concern, the engineers wanted to make sure it could fit most users.
Luckily, the seat rail design allows for users with a 36.0″ inseam to use the rower which equivalent to about a 6'6″ person.
Height and inseam are not directly proportional so if you think you are close, I don't think it would hurt to reach out to the Hydrow customer support team.
The manufacturer's weight limit is set at 375 lbs (170 kg). These are always a bit conservative so if you are close to this weight I think you will be alright.
Any users under these limits are fine to use the rower and will not be affected in any way.
Dimensions
Assembled Dimensions (L x W x H):

86.0″ x 25.0″ x 47.0″ (from floor to top of screen)

Stored Dimensions (W x D x H)
Weight

145 lbs (assembled)
197 lbs (shipping)
Assembly
Some rowing machines are easier to assemble than others and unfortunately, the Hydrow is in the category of "more difficult" to assemble.
It's not that the instructions are difficult or that there are a lot of moving parts – the assembly doesn't get a good grade because you need 2 people.
If you're like me, you hate asking people for help and would rather get things done by yourself.
Due to the heavy nature of some parts, you will need 1 person to hold things in place while the other person tightens them down.
Setup should only take about 30 minutes to put together and then you'll need to plug in the rower and connect to the WIFI.
Once you connect to your WIFI and enter the password, the monitor will prompt you to sign up for an account and then it will run a software update.
After that, you are ready to row! I would say from start to finish, it should take around 1 hour to complete.
The video below is a great introduction video and shows the monitor setup (not the rower assembly) and a users first row. Hydrow does offer an assembly video on their website if you choose to purchase.
Pros and Cons
Pros:
Quiet, electromagnetic resistance
22.0″ touchscreen monitor
Adjustable resistance adequate for beginner to advanced
400+ rowing sessions with membership
Newly added workouts with each software update
Great build quality and comfortable rowing stroke
Sleek, stylish design
Cons:
Heavy for 1 person to move around
Assembly requires 2 people
Expensive price tag
Ongoing cost for membership
Warranty is inline with rowing machines in $1,000 price range
Consumer Reviews
Overall, the Hydrow reviews from consumers are very positive. However, you must look at them closely to understand why some are 5-stars and others 1-star.
Firstly, the Hydrow Rowing Machine is a rower that should be purchased by someone with a high amount of disposable income. If you are using all of your money to buy a Hydrow, please purchase something more affordable. Keep in mind, this rowing machine will cost an additional $38/month for the membership.
Many of the negative Hydrow Rower reviews come from people who purchased the rower and did not know they needed to purchase a membership. I don't thing these reviews should count negatively towards the overall score.
It also seems Hydrow ran a sale around Black Friday / Cyber Monday, which offered the rower for $1,000 off! That is a huge discount. This also led to a lot of 5-star reviews.
If you can imagine, your opinion on a piece of fitness equipment is going to differ greatly based on whether you paid ~$1,000 or ~$2,000.
However, most people who paid regular price and knew there was a membership cost, really love this rowing machine. They mention the rowing stroke is smooth, strong, and quiet. Plus, the trainers are excellent and really help to motivate them through workout sessions.
You can read more Hydrow Rowing Machine reviews here. Simply scroll down a little and click the "TrustPilot" reviews.
Average Rating: 4.7
Warranty
The warranty on the Hydrow Rower is good but not great (in my opinion). I have seen much cheaper rowing machines have longer warranty periods, but they did not have as many electrical components as the Hydrow.
My guess is there are a lot more things that can go wrong with a 22.0″ touchscreen monitor after 2 years than a rower with a standard monitor.
Below is the standard Hydrow warranty:
Frame: 5-Years
All-Parts: 2-Years
Labor: 1-Year
Like I mentioned, the warranty is good and basically guarantees it will not cost a penny to replace an item for 2 years!
Hydrow Rower Price
Now to the section everyone has been waiting for – price! We all know the Hydrow Rower is not cheap so we want to know….is it worth the price and if so, where should I buy it?
By all means, the Hydrow is worth the price. It's going to be the best magnetic rower with interactive workouts on the market. If you have the money, want a smooth/quiet rowing stroke, and need interactive/live rowing sessions – this is the rower for you! (if not, check out some options in my final section)
There are a few places that offer the Hydrow and most sell for the exact same price. I would check each retailer to see if there are any deals but all of them are reputable and should offer no issues with purchasing.
Hydrow.com (Manufacturer)
Overall Review
I hope my Hydrow review was able to give you a good general overview of the rowing machine and help you make an informed decision. There are so many features on higher priced rowers that it can be hard to incorporate them all into a condensed review.
If you are looking into some alternate options, I have a few for you to look at more closely.
If you want magnetic resistance, there are 2 other options. Both do not have a monitor or membership.
The first is the Matrix Rower. It's a very good magnetic rower that is top of the line. It's the best magnetic rower without a TV-monitor but has a high price tag. Check out my full review here.
My second option would be the Stamina Avari Programmable Magnetic Rower. It's much less expensive and will be more basic. You can read my full overview here.
If you aren't sold on magnetic resistance, you can opt for air resistance (or other types).
If you want a monitor with interactive workout programs, then I would check out the NordicTrack Rowers. They have air/magnetic resistance and their own iFIT app (similar to Hydrow). Check out my RW900 Rower review here.
If you're over the whole TV-monitor thing and just want a solid rowing machine, check out the best rowing machine on the market.
That's all I have for now! I hope you enjoyed my Hydrow Rower review and please leave me any comments below!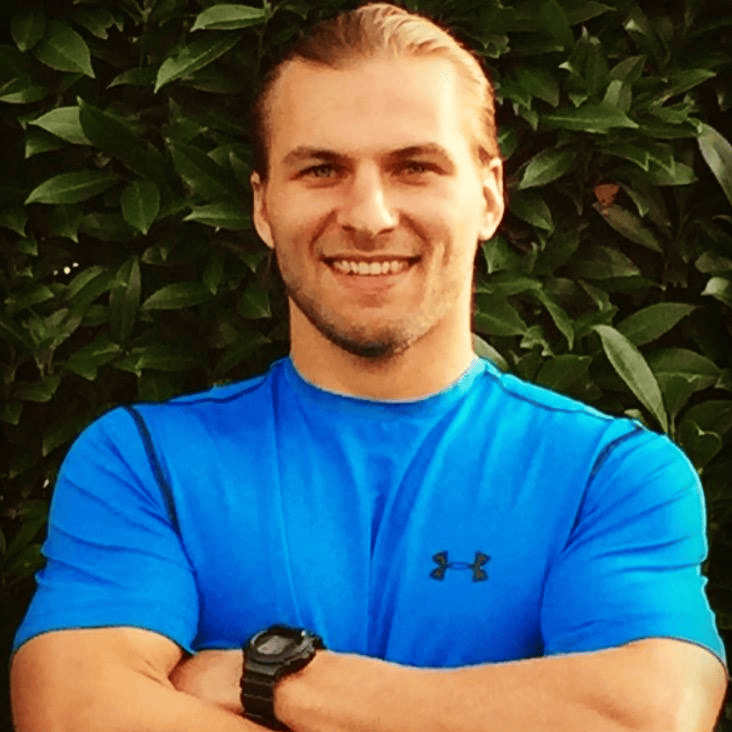 Rowing Machine King Founder and Author.