Lifecore R100 Commercial Rowing Machine Review
The LifeCore R100 Commercial Rowing Machine is a perfect blend of two great resistance types!
With both air & magnetic resistance, users are sure to receive a smooth, consistent rowing stroke.
Plus, LifeCore claims it is the only "commercial-grade" rowing machine to offer both air and magnetic resistance!
The 16 levels of air/magnetic resistance is controlled by a multi-functional fitness monitor with built-in heart rate receiver (wireless chest strap is included).
Now get ready for this, it also comes with a lifetime warranty on the frame, whether it's used for home or commercial use!
If that's not enough for you, the Lifecore R100 is the winner of the "2013 Head of the Class Award" from Fitness Professor Review.
While there are a ton of great features on this rowing machine, there are also a few downsides. Please read the full Lifecore R100 Rower review below for the full list of pros & cons.
Table of Contents
(click a title to jump ahead!)
1. Resistance Type
2. Monitor/Control Panel
3. Build Quality
4. Comfort
5. Storage
6. Capacity
7. Dimensions
8. Assembly
9. Pros and Cons
10. Consumer Reviews
11. Warranty
12. Price
Resistance Type
The Lifecore R100 Commercial Rowing Machine is a dual-resistance rower that comes with air & magnetic resistance.
Most rowing machines have only one resistance type with each resistance type having its pros & cons (read about the different resistance types here).
Just in case you didn't read the 'resistance types' link above, here are the cliff notes:
Air resistance is great because it provides a smooth rowing motion and variable resistance. 'Variable' resistance means the resistance level is based on your rowing intensity – the harder you row, the more resistance you feel. One downside is the fan can be noisy, especially when you row with a lot of intensity.
Magnetic resistance is great because it uses a magnetic brake system to create resistance. This is considered 'adjustable' resistance because you use the monitor or adjustment knob to increase or decrease resistance. Magnetic rowers are super quiet and have great resistance strength.
I have an article that compares the difference between air and magnetic rowing machines here.
Resistance Benefits
The Lifecore R100 Commercial Rowing Machine combines the best of both worlds. You receive the smooth, 'variable' air resistance and the strong, 'adjustable' magnetic resistance.
The dual-resistance setup provides a smooth and consistent rowing motion so you feel resistance throughout the entire rowing stroke.
The R100 has 16 different levels of adjustable resistance, which makes this rower ideal for people of all fitness levels.
One great benefit of air & magnetic resistance is the overall resistance strength. If you want to row slowly but still have strong resistance, you can set the resistance to level 16. If you want light resistance but still want to row fast, just turn the magnetic resistance to level 1 and rely on the air resistance!
Both beginners and advanced athletes said they were able to find the perfect resistance level and never outgrew this machine! Meaning, it truly is a 'one size fits all' rower!
Users also mentioned they received a well balanced workout of both the upper and lower body.
The R100 resistance level can easily be changed by pressing buttons on the performance monitor. This allows a user to change resistance without stopping or removing their feet from the footstraps. A great feature for HIIT (high intensity interval training) or Crossfit-style workouts!
The noise level on the Lifecore R100 Rowing Machine is also not nearly as loud as an air-only rower because the fan does not need to spin as fast due to the added magnetic resistance.
Another great feature of the Lifecore R100 Rower is the adjustable cooling air vent. The vent allows users to point the air created by the rower towards them while working out, which can help keep them cool!
Overall Resistance
Overall, there were almost no complaints about the Lifecore Rowing Machine resistance. With 16 levels of magnetic resistance, combined with air resistance, there is a level for every user.
Most users complimented the smooth rowing stroke and the benefit of being quieter than an air-only rower.
If resistance strength or resistance quality was a concern, I can assure you the R100 will satisfy your needs.
Monitor/Control Panel
The Lifecore R100 Commercial Rowing Machine comes with a multi-function performance monitor that has a large LCD blue/green backlit display.
The monitor tracks various fitness data such as:
Strokes per minute
Pulse rate
Watts
Time/500M
Total time
Total number of strokes
Meters rowed
Calories burned
All data is displayed simultaneously on the main screen. The monitor also displays battery level (if batteries are being used to power the monitor), workout resistance level, workout program, and user profile.
Users loved the large blue & green backlit display because it's easy to read in any setting. Plus, it only has 5 buttons, which makes it super easy to use!
Users can adjust the monitor arm up and down, while also being able to pivot the monitor face. This can all be done while strapped into the footrests.
The monitor can be powered by either 4C batteries or with an included AC power adapter. Lifecore recommends that you only choose one power source at a time to prevent any issues with the monitor.
To turn it on, all you need to do is press a button on the monitor or pull on the handle of the rower. It will automatically go into "sleep mode" after four minutes of inactivity.
Monitor Features
The Lifecore R100 Rowing Machine monitor allows users to create unique user profiles for 4 different users.
Certain user details such as gender information, age, weight, and height are requested and is used to calculate workout data more accurately and to provide better experiences with future workouts.
All user data is saved including historical workout data until the user profile information is manually erased.
It comes with a built-in heart rate receiver and includes a FREE wireless chest strap to record your pulse during workouts! The monitor is compatible with 5K Polar Heart Rate Monitor products.
This is a nice addition to the Lifecore Rower because I have seen my fair share of rowers with built-in heart rate receivers, but the owner usually has to purchase the chest strap separately (even at this price point).
In addition to monitoring your heart rate during workouts, the monitor can also check your recovery heart rate (the amount of time it takes for your heart to recover after a workout). Users can do this by simply pressing the 'recovery' button on the face of the monitor immediately after a workout.
After 60 seconds, the monitor will measure your heart rate and rank your fitness level accordingly in one of six levels. Level 1 means you're in excellent shape and Level 6 means you're in below average shape.
Workout Programs
Out of all the monitor features, users rave about the workout programs the most!
The Lifecore R100 Commercial Rowing Machine offers 15 different workout programs. I'll highlight the different program types below:
Manual Program
A quick start program where users select their resistance level
User then choose a target distance and time
White Water & Ramp Programs
These programs "simulate" rowing on white waters and ramps
The resistance levels will change as you go through the program and you can increase or decrease the resistance at any time
User choose a target distance and time
Pacer Program
Allows user to race against or row beside a pace boat
User determines the speed/pace of the pace boat
Boat icons will be displayed on the monitor to show where you are relative to the pace boat
The monitor will let you know how many meters you're behind or ahead of the pace boat
Interval Programs
Users can set a time to row or a distance to row
Then you select the amount of rest period between the sets
 These are great for tabata or HIIT exercises
WATTS Control Program
Allows user to determine watt (power) goal
Resistance level is automatically determined by your rowing speed (manual selection of resistance is disabled)
User chooses a target distance, time, and watt level
Heart Rate Control Programs
Allows user to keep training at their desired heart rate level
Programs are based off of individual user profiles
Three heart rate level options: 60%, 75%, 85%
User chooses a target distance and time
Monitor Overall
As you can tell from the sections above, the Lifecore R100 Rower monitor is a great aspect of this commercial rowing machine.
With a ton of different options, users will never get bored and can accommodate all of their workout needs.
There were very few complaints about the monitor and it is one of the more advanced monitors on a combination air/magnetic rower.
Build Quality
The Lifecore R100 Rowing Machine is a very solidly built rower, as it should be in this price range!
It's coated with black semi-gloss paint and has an extruded aluminum frame with solid steel supports. Users absolutely loved how durable and bulletproof the LC R100 feels!
Being "commercial grade" means it's is built like a tank. It's designed to take daily abuse from being used multiple times a day in gyms and fitness centers. Every part on the rower is made to last from the solid steel fan and flywheel to the industrial grade nylon strap and seat.
If you're still unsure about the durability of this rowing machine, Lifecore backs up their product with a lifetime warranty on the frame, whether it's used for residential or commercial use! I wouldn't worry about this puppy breaking down on you anytime soon!
No users complained about any annoying and creaking noises. Not a surprise given it's a high-end, commercial-grade machine.
Check out the video below to see the Lifecore Rower in action:
Comfort
Comfort is always a big concern when buying a rowing machine, as it should be! You don't want to be uncomfortable after exercising for 10 or 15 minutes!
Luckily, the LifeCore R100 has a ton of great comfort features that allows people to row for hours (seriously, people have rowed marathons on this machine).
The contoured, oversized seat has an ergonomic design and extra padding for maximum comfort. Users commented how "extremely" comfortable the seat is, even when rowing for long periods of time.
The handle has an ergonomic design and a slight angle, which allows users to have a comfortable grip. In addition, the angled design alleviates strain on your hands and wrists.
The footrests on the Lifecore R100 Commercial Rowing Machine are angled, wide, and have pivoting heel support. The foot platforms are made of steel and have separate, durable heel supports.
The heel supports on a few other high-end, commercial grade rowing machines I reviewed are flimsy and made of plastic and it was a pleasant surprise to see Lifecore paid this much attention to detail to beef up this "minor" part on the machine.
A "quick-cinch" foot strap mechanism is used to secure users feet while rowing. Users commented how they liked that the foot straps didn't loosen up while rowing.
Another feature users liked was the spacing of the footrests (on either side of the seat rail), which is ideal for people of all sizes, especially taller people.
Rowing Motion
Users mentioned the rowing motion is extremely smooth. The also mentioned the resistance strength is even throughout the entire rowing stroke due to the dual air & magnetic resistance setup.
The seat glides effortlessly up and down the rail on stainless-steel ball-bearing rollers. Plus, the commercial grade nylon strap doesn't snag and reduces the amount of noise produced.
Overall, the rowing motion is very comfortable and there were almost no complaints!
Storage
The Lifecore R100 Commercial Rowing Machine folds up in seconds by simply unscrewing a knob underneath the rower and standing up the seat rail.
When folded, the rower has the following dimensions: 52 x 19 x 67 inches (L x W x H)
The Lifecore Rower has dual caster wheels that make moving the rower around manageable when
needed. However, it's fairly heavy so keep that in mind if you plan to move the R100 around often.
Capacity
The maximum weight capacity on the Lifecore R100 Rowing Machine is 600 pounds (272 kg).
A user that weighed 300 pounds (136 kg) used this rower without any reservations and didn't experience any issues. The rower is solidly built and could accommodate practically anyone.
The R100 has a long seat rail that can accommodate most users. The seat can glide almost all the way to the footrests so shorter users don't need to worry about being "too short" to use the machine.
Users as tall as 6'4″ have used this rower and commented they had a few more inches of space to spare. If you're taller than 6'6″ or 6'7″ I would contact LifeCore Fitness to make sure the seat rail is long enough for your inseam.
Dimensions
In-Use (L x W x H ):

92.0″ x 19.0″ x 36.0″
234 cm x 48 cm x 91 cm

Storage (L x W x H):

52.0″ x 19.0″ x 67.0″
132 cm X 48 cm X 170 cm

Weight:
Assembly
Many users commented on how easy it was to put the Lifecore R100 Commercial Rowing Machine together. Some users even commented they were able to put it together in under 10 minutes with the included allen wrench!
The instruction manual is very detailed and easy to read, so even if you're not the type of person that's good at putting things together (yes, I fall in that category) it shouldn't take you longer than 30 minutes.
Pros and Cons
Pros:
Commercial-grade build quality
Dual-resistance setup (air & magnetic)
Smooth rowing motion
Oversized, comfortable seat
Backlit performance monitor (15 preset workout programs)
Performance monitor can be powered by battery or AC adapter
16 magnetic resistance levels
Included wireless chest strap for heart rate monitoring
Detailed & easy to read instruction manual
Winner of the 2013 Head of the Class Award
Easy to assemble
Dual caster wheels
Lifetime warranty on the frame (both residential & commercial use)
Cons:
Heavy & large dimensions

Footrest support pedals sometimes pinch your heels when lifted
Higher end price range
Consumer Reviews
When checking out consumer reviews, one of the main comments came from users who love how the Lifecore R100 Rowing Machine feels indestructible.
They also love that the performance monitor offers so many different workout programs. Many users commented that it was the best piece of workout equipment they have used so far!
Some negative reviews deal a lot with price and comparing it to the Concept 2 Model D. Some users felt they didn't get a better rower than the C2 Model D and that they should have because they payed more money. If you are interested in learning more about the Concept2, please see the link in my final section.
Check out the full Lifecore R100 Rowing Machine Review list here.
Average Rating: 4.4
Warranty
Residential Warranty
Frame: Lifetime
Labor: 1-Year
Parts: 5-Years
Light Commercial Warranty
Frame: Lifetime
Labor: 90-Days*
Parts: 2-Years
Another great feature of the warranty is that all purchases are covered by a 30-Day Money Back Guarantee!
*Amazon listed the labor as 1 year, but according to Lifecore's website the labor is 90 days. Accordingly, I updated the information based on the manufacturer's information.
Lifecore R100 Rowing Machine Price
The price of the LC R100 is at the higher end of most rowing machines, however, the cost is definitely justifiable.
It has extremely good build quality and amazing resistance strength with both air & magnetic resistance. It is built for commercial use and can satisfy the needs of any person and multiple users.
I've looked at most online retailers and the price is generally the same on each website. Amazon tends to be the most popular place to buy rowers and has the largest selection of models. I like Amazon as well because they offer free shipping on qualified purchases, fast delivery times, and act as a layer of protection between the consumer and manufacturer.
Check out the Lifecore R100 Commercial Rowing Machine price below.
Overall Review
As you can see from the review, the Lifecore R100 Rower is an excellent rowing machine and one of the best models on the market!
It's actually difficult to find any negative about this rower!
The only downside is the cost compared to other rowing machines on the market. Some consumers felt they could get a comparable or better rower for slightly less.
One model that comes to mind is the Concept2 Model D. It is an air-only rower but it is the "Gold Standard" of rowing machines. It's used by Olympic rowers and professional athletes due to the great air resistance and extremely accurate monitor. You can read my full Model D Rower review here.
Another great model that competes with the Lifecore R100 is the Sole SR500 Rower. This model is also a combination air & magnetic rower and cost slightly less. There are some differences with the monitor and warranty so you will want to check out the full Sole SR500 review here.
While there are a few comparable rowers on the market, I don't think you can go wrong with purchasing the Lifecore R100. It has great resistance strength, a high-quality monitor, strong build quality, and a comfortable rowing stroke.
I hope you enjoyed my Lifecore R100 Rower review! Please leave me any questions in the comment section below.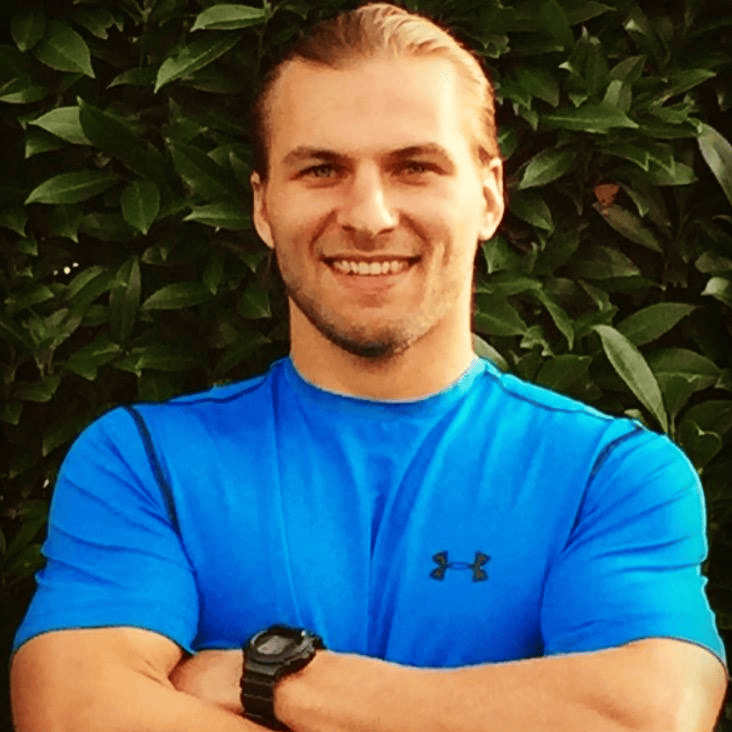 Rowing Machine King Founder and Author.