Mr. Captain Rowing Machine Review
When I ran across the Mr. Captain Water rowing machine, I was impressed by how well it resembled the WaterRower in both looks (wooden frame) and in how the rowing motion felt.
I don't own the Mr. Captain, but I've used it a time or two when training clients who own it.
But what about the quality and durability of Mr. Captain rowing machines? We'll be diving into these details as well.
In short, the Mr. Captain water rower is a great budget option for those who want the aesthetic of high-end wooden water rowers for half the price. The Mr. Captain has a lower-tech monitor and is made of MDF wood instead of solid oak, allowing for a lower price.
Aside from the monitor issue (lackluster fitness data tracking compared to WR S4 monitors), the Mr. Captain rowing machine will provide the same great workout as that of the expensive WaterRower.
While I say "budget" option, the Mr. Captain rowing machine is mid-range in price as indoor rowers go. It's that it's much more budget-friendly than the WaterRower models.
For the best deal, purchase from a major retailer, since they are more likely to include free shipping which will help ensure you get the lowest price.
Mr. Captain Water Rowing Machine Review
Resistance Type
The Mr. Captain rowing machine is, as you've probably guessed, a water-resistance rower.
Users fill the tank with water to the recommended/desired level, and as the user hauls on the handle, the rope spins paddles inside the tank.
The spinning paddles displace the water, but thanks to the nature of water resistance, the faster the row, the harder it becomes.
This provides a unique training experience. Users have total control over the difficulty of their workout: make it easier by slowing down, or you can speed up to increase the challenge level.
Water rowing machines offer "variable" resistance, compared to the "adjustable" resistance offered by magnetic rowers.
With a magnetic rower, you have dials, knobs, and digital displays to control the magnetic resistance and raise or lower the difficulty level.
With a water rower, you are in control over your difficulty level and you can adapt the resistance simply by speeding up or slowing down.
Find out more about the different resistance types here.
Resistance Benefits
Water resistance offers a lot of benefits! Not only is it incredibly smooth, but it's also surprisingly strong.
Water rowing machines like the Mr. Captain also provide a lot of flexibility for adjusting intensity levels since you can simply add or subtract water.
The more water you add to the tank, the harder it becomes for the paddles to displace the water, so you feel like you're rowing a boat with passengers. Take water out, and the water displacement requires far less energy, so it feels like you're in a single-person boat.
As one Mr. Captain user said, "If you row correctly you'll feel it in your core, legs, arms, and back; great full body workout!"
WaterRower is known for offering one of the smoothest rowing motions on the market. So how does the Mr. Captain compare? Most seem to think it lives up to the WR.
As for water rowers, in general, folks love the sounds these machines make. Instead of the whirring of a fan (with air rowing machines), the water inside the tank splashes around and generates an almost white noise-like sound that is surprisingly calming. Some people actually called the noise "meditative".
The noise level is also much lower with a water rower like the Mr. Captain Rowing Machine. You can watch TV, listen to an audiobook, or enjoy music out loud while working out.
If you've got someone sleeping next door to your workout room, the noise is very unlikely to wake them up.
Bottom Line
The Mr. Captain Water Rowing Machine meets the high standard set by the WaterRower brand for resistance and workout quality. There are few complaints in that regard.
It's great for mimicking the action onboard a real boat, and you'll get a solid full-body workout thanks to the variable water resistance.
Monitor/Control Panel
The Mr. Captain Water Rower comes with a built-in digital LCD monitor equipped with several useful features for tracking your workout. The data readout will show you:
Time
Stroke rate (strokes per minute)
Total strokes
Calories burned
Distance
Pulse (for this, you will need to buy a separate heart rate chest strap)
There are also three pre-set programs:
Manual mode – The Manual mode allows you to simply row however you please. The monitor will track and display your data.
Target mode – The Target mode lets you set targets for metrics like calories burned, total strokes, time rowed, and more. You'll get to track your progress as the machine counts down to reaching that target.
Interval mode – The Interval mode lets you create a custom high-intensity interval workout using intervals of work and rest.
An LCD display is powered by 4 AA batteries, which are provided in the box.
Additional Features
The Mr. Captain Water Machine Rower comes with a customizable Bluetooth monitor that makes it easy to pair your smartphone with the digital monitor.
The rowing machine is compatible with the FitShow fitness app, which is available on both iOS and Android smartphones and tablets.
The Bluetooth monitor is quite nice. Pairing your devices with the rower will allow you to track and record your workout, making it easier to see how much progress you've made over days, weeks, or months of regular rowing.
Monitor Downsides
The monitor tracks the most important data, but not advanced metrics like splits and watts.
This is actually a fairly common issue with mid-range water rowers, which is why most professional rowers and Olympic trainees typically use higher-end air rowers or the WaterRower brand. They're more accurate for calculating distance records and establishing race times.
Also, while the Mr. Captain monitor is intuitive for an experienced indoor rower, it could benefit from an instructions manual for less experienced rowers, which it doesn't have.
Bottom Line
For those who plan to take up indoor rowing as a hobby and geek out on performance metrics, the Mr. Captain Water Rower is a less-than-ideal choice.
You won't be able to track more complex metrics like watts or splits, and the data provided is not up to par with industry-leading brands like Concept2 RowErg or WaterRower.
But the monitor is plenty advanced for home users simply looking for a good workout.
Build Quality and Durability
The machine boasts of being professionally designed like a real ship, but does it live up to the claim?
The Mr. Captain Rower is built from high-quality MDF-engineered wood with oak veneers to give it a solid natural oak appearance.
(Note: The sales page describes the rower as being made of "solid wood", which it technically is by modern furniture standards. It is not, however, made of solid oak.)
MDF-engineered wood means that the wood is made of medium-density fiberboard. This type of wood is considered solid by modern furniture standards.
I've yet to hear of a complaint regarding the wood frame. In fact, most praise the solid feel of the Mr Captain rowing machine, specifically its workmanship and sturdy materials.
I tested it out for myself, pushing through the fastest interval workout I could handle. I'm not a big guy (175 lbs/80 kg) or the strongest rower around, but I couldn't get the frame to rock, shift, creak, or move.
The Mr. Captain Water Rowing Machine lived up to my test, at least. I felt like it was very sturdily built and capable of handling everyday training.
The tank is made of polycarbonate, one of the toughest plastics available today. Users were happy overall with the tank.
Really, the only maintenance required for using this rower is to change/clean/purify the water in the tank, as per the instructions in the provided manual.
Quality Downsides
The machine comes with height-adjustable footplates which is nice. But, some complain about the foot pedals, that they won't lock in place, instead sliding around when any pressure was applied.
Others have mentioned that the foot pedal cover is too wide on one or both pedals, which makes the pedal actually unusable and requires replacement. I did not find this to be the case, but I suppose it depends on foot size.
There were also complaints that the foot pedals squeak or come unlocked too easily. Again, I didn't notice this, so this may be something that happens over time.
You can get a good idea of the quality and general overview of the model by watching this video:
Comfort
The Mr. Captain Water Rower comes with an ergonomic seat shaped for both comfort and support while rowing.
It's padded with impact-resistant heavy-duty foam and covered with a layer of sweatproof faux leather. This helps to cushion your pelvic bones and hips for a better, longer-lasting workout with less joint fatigue.
I like how easily the seat glided back and forth on the rails.
When I tested it out, I was also very impressed with how smoothly the seat moved as I went through the rowing motions. The sealed ball-bearing rollers glided very nicely on the rail, which was covered with a heavy-duty aluminum alloy.
There was no resistance to my sliding back and forth, no creaking, and no wobble (a common problem with poorly designed rowers).
As for the handle, it is ergonomically designed to reduce strain on your wrist, elbow, and shoulder joints.
The handlebar is padded, so you won't have to worry about developing calluses or straining your grip.
The only other item to mention is your feet will be closer together on 'dual rail' water rowing machines like the Mr. Captain.
This happens due to your feet being between the two rails as opposed to being on the outside of a single rail. You can look at where the footrests are in the picture above to get an idea.
This might bother some larger users but most people find the foot placement to be fine.
Between the well-padded seat, sweatproof finish, ergonomic handle, and smooth gliding action, it's got everything you need for a comfortable workout.
Mr. Captain Rowing Machine Storage
The Mr. Captain stores vertically and features transport wheels for easy movement making it a good home gym rower.
Upright, the machine uses little floor space. This makes it ideal for home gyms, since rowers take up a lot of space when in use.
Storing the Mr. Captain Rowing Machine is super easy, thanks to the built-in heavy-duty concealed wheels.
The transport wheels aren't visible when the rower is set up, and they won't interfere with your workout or make the rowing machine rock.
When the time comes to lift and move the rowing machine, they glide easily and make the rower quite mobile.
The frame and water tank were a bit heavier than I expected, but even though I'm not the strongest guy in the world, I could lift it pretty easily.
If there was one complaint about the storage process, it's that there's no built-in handle to lift and move the rower. I had to grip it by the frame making sure to use a tight grip so it wouldn't slip and hit the wall.
Mr Captain Weight Capacity
According to the specs, the maximum user weight capacity is 320 pounds/145 kg. Most entry-level and mid-range rowers have a weight capacity of around 300lbs.
By contrast, the WaterRower base model can hold up to 1,000 pounds/454 kg.
However, though it may not be suited for heavier users, it's a good option for taller rowers.
The seat track can accommodate up to 120cm/47 inches of leg length, which means users up to 2 meters/6 ½ feet should be able to use it comfortably.
So, even a professional basketball player can use this machine.
Mr. Captain Water Rower Dimensions
Assembled Dimensions (L x W x H):
Storage Dimensions (L x W x H):
Shipping Box Dimensions (L x W x H):
Assembled Weight:
Shipping Weight:
Assembly
The Mr. Captain water rowing machine is packaged and shipped with easy assembly in mind.
Customers seem to have a fairly easy time assembling the water rower, even those who aren't experts at building complex machines.
It can be assembled by one person, though it's easier with two.
Some users complained that the pictures in the manual "could be clearer", but they were able to figure it out nonetheless and get it assembled.
The box does come with extra screws (in case you lose one/some), so be aware of that so you're not thrown off when you find you have spares lying around.
Assembly time is around 30-60 minutes, but it's a fairly straightforward task with pieces clearly marked and labeled so you know what goes where.
You can check out the video above for an unboxing/assembly example. Also, the video below is the assembly of another WaterRower knockoff, the"Mr. Rudolf" (very similar to Mr. Captain):
Pros and Cons
Pros:
Sturdy build
Easy assembly
Comfortable seat and handle
Smooth gliding action
Easy to raise and store upright
Quality water tank
Good-looking oak finish
Cons:
Basic monitor with less-than-precise tracking
Poor foot pedal manufacturing/quality control
Warranty
Frame: 1 year
Parts: 180 days
Labor: 180 days
Model Number: MC003
Mr Captain Water Rower Price
The Mr Captain Rowing Machine is usually priced at around $500 which is less than half the price of the WaterRower base model with an S4 monitor (typically ~$1200).
It's not hand-crafted or made from truly solid wood like the WaterRower machines, but the durable MDF core frame is tough enough to handle daily use and the oak finish gives it an appeal easily on par with the pricier machines.
Again, for max savings, ensure you get free shipping.
Mr Captain Rowing Machine vs WaterRower
In comparing the two rowing machines, the WaterRower and Mr. Captain Rowing Machine provide an equally effective workout but differ in price and quality. The WaterRower costs more, is made of solid oak, and provides a higher-tech monitor.
The Mr. Captain frame has an oak veneer but is made of MDF-engineered wood, which stands for medium-density fiberboard. An upgrade from standard particle wood, MDF is quite solid and is considered "solid wood" by modern furniture standards. But most think of natural wood when they hear "solid wood", so the label can be misleading.
Finally, with a difference in quality comes a difference in weight capacity, with the WaterRower holding up to 1000 lbs compared to the 300lb weight capacity of the Mr. Captain rowing machine.
The higher-tech monitor of the WaterRower only matters if you care about advanced metrics like watts and splits.
In the end, while one might last longer, both will help you reach your fitness goals.
Mr. Captain Rower Review: Conclusion
The Mr. Captain water rowing machine is an excellent home rower for the price. It may be a 'knockoff' of the WaterRower, but it's a great alternative and the quality tradeoffs are well worth it for those on a budget.
Yes, there are some downsides to the product (quality control issues, overly simplistic monitor, etc.), but for the price, it's a machine that matches both the aesthetic and workout quality offered by the more expensive oak-frame water rowers.
If you're in the market for a mid-priced water rowing machine that looks and feels high-end, you aren't going to find many better options than this model.
If you want to check out some of the higher-end options, I'd start with these 2 models:
You can also check out some cool mid-range options by Sunny Health:
Sunny Health is known for magnetic machines, but they do make water rowers.
I hope you enjoyed my Mr. Captain Rowing Machine review! If you have any thoughts, questions, or feedback, feel free to comment below.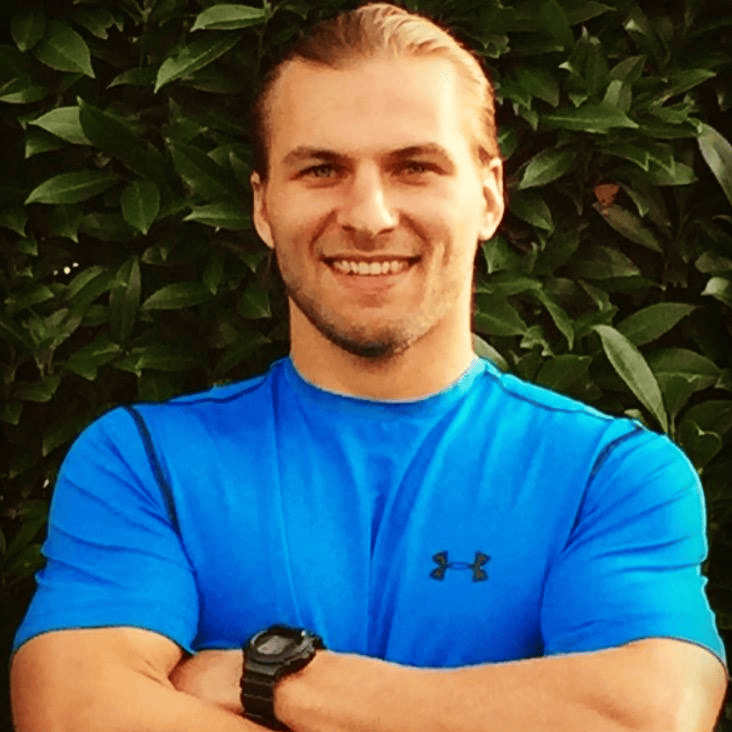 Rowing Machine King Founder and Author.