What Rowing Machine Does OrangeTheory Use?
OrangeTheory uses the WaterRower M1 HiRise, a market-leading rowing machine.
The WaterRower M1 HiRise is the only rowing machine available at the OrangeTheory facilities and is one of the three components of OrangeTheory workouts. These workouts are a combination of rowing, running on the treadmill, and exercising on the strength floor.
According to OrangeTheory's WaterRower tutorial video, the WaterRower is the equipment that burns the most calories during any OrangeTheory workout.
Read along to learn more about what type of rowing machine does OrangeTheory use.
OrangeTheory Rowing Machine Type, Brand, Specs, and Monitor Features
Even though previously OrangeTheory used a typical CrossFit rowing machine called Concept 2, the team is now proudly promoting the WaterRower M1 HiRise as superior to all the other rowing machines out there.
This WaterRower originally comes in silver color but OrangeTheory made sure to have it painted in orange to fit their aesthetics. This definitely adds another touch of elegance to this rower's impressive design.
As with any rowing machine, this equipment works 86% of the muscular system with each rowing stroke. OrangeTheory's rowing machine is gentle on the joints and can help you build and tone your muscles, improve your cardiovascular health, and boost your stamina.
Want to learn more about the benefits of the rowing machine? Click here.
Compared to the previous model M1 LoRise (12"), the WaterRower M1 HiRise has a higher level entry point (20"). That means it's 8 inches higher from the ground than the previous model.
What Type of Rower Does OrangeTheory Use?
The WaterRower M1 HiRise is a water resistance rowing machine. It has a water tank in front of its body with paddles inside. Each rowing stroke generates power to move the paddles, which then move the water in the tank.
Like most water resistance rowing machines, the WaterRower M1 HiRise has no resistance settings. As such, the user has complete control over the power and resistance produced which is very similar to rowing a boat on the water.
As a result, you, rather than the rowing machine, control how much effort and resistance you apply. Rowing faster causes the paddles to move more water, increasing resistance as well as the intensity and difficulty of the workout.
WaterRower M1 HiRise Rowing Machine with S4 Monitor
Handcrafted rowing machine with water flywheel that replicates actual rowing feel

Flywheel sits in enclosed water tank to provide smooth, quiet, self-regulated resistance

Series 4 performance monitor tracks workout intensity, stroke rate, heart rate, and more

Coated tubular steel construction complements other commercial equipment; extra-tall seat

Stores upright; measures 84 x 30 x 22 inches (W x H x D) and weighs 200 pou
Here's an article that breaks down water vs. air rowing machine!
OrangeTheory's WaterRower is made out of aluminum, different from other wooden water rowers from the same manufacturer. The WaterRower M1 HiRise simulates rowing in a boat and is a high-quality silent rower that will calm and relax you all while you exercise.
Many people prefer a water resistance rowing machine just because of that whooshing sound of the water.
What Brand of Water Rower Does OrangeTheory Use?
To all asking what rowing machine does OrangeTheroy use you'd be pleased to learn that it uses one of the best brands in the world when it comes to water resistance rowing machines called WaterRower Inc..
WaterRower was founded in 1988 in Rhode Island, by Yale and US National Team Rower John Duke. They use sustainable hardwoods of the region to create some of the finest water rowing machines in the world. But they also have created 3 metal models for individual and wider commercial use.
The rowing machine OrangeTheory uses, the WaterRower M1 HiRise is part of this group as well.
WaterRower is now global with 15 global offices even though all rowers are manufactured in their Warren facility. They supply large fitness franchises like OrangeTheory, luxury hotels, and boutique fitness studios all over the world.
WaterRower's products are more expensive than other water resistance rowing machines, but they make up for it in design, durability, technology, and brand reputation.
WaterRower M1 HiRise Rower S4 Monitor Features
Apart from the On/Hold/Reset, programming, and navigation buttons, there are 6 more features in the WaterRower M1 HiRise S4 monitor.
One particular issue popped up after reading multiple online reviews from people who use this rower at home or at OrangeTheory workouts. Taller people may find it challenging to continually check the monitor without jeopardizing their form because it is quite low and not adjustable.
Nonetheless, the monitor offers 6 main information windows, striking a great balance between user-friendliness and technical help:
| Monitor Display | Description |
| --- | --- |
| Strokerate | Displays the number of strokes rowed per minute. |
| Heart rate | Displays the number of heartbeats per minute. |
| Duration | Displays the time spend rowing in hours, minutes, seconds, and decimal seconds. |
| Intensity | Displays speed, power, and energy (m/s, mph, /5000m, /2km, watts, and cal/hr). |
| Average intensity | Displays the average speed in meters and miles. |
Specs of the Rowing Machine Used During OrangeTheory Workouts
The WaterRower M1 HiRise model is relatively silent, but it does emit a distinct whooshing noise which is the reason many people prefer it when compared to different types of rowing machines such as air, hydraulic, or magnetic ones. It can also be stored with ease and the water tank is easy to maintain.
The aluminum frame makes it suitable for both commercial and residential use. Here are the main specs of the WaterRower M1 HiRise:
WaterRower M1 HiRise
Specifications
Dimensions
82″ L x 27″ H x 22″ W
Frame Material
Aluminum
Machine Weight
-Without water: 120 lbs 
-With water: 157 lbs
User Weight Max
700 lbs
Frame Finish
Powder Coated Aluminum
Can You Buy an OrangeTheory Rower?
Yes, everyone can purchase the WaterRower M1 HiRise machine used in OrangeTheory workouts through the manufacturer's website, Amazon, and other official distributors. Despite its high price point, it's great that the manufacturing brand WaterRower has made this metal model available for commercial and individual use.
Why Does OrangeThoery Use a Water Resistance Rowing Machine?
Orangetheroy previously used an air resistance rowing machine called Concept 2 which is one of the most popular Crossfit rowers in the market. Even though they didn't, nor do they have to explain this change in the rowing machine they use, we might have an idea.
Water resistance rowing machines are completely controlled by the user, making them ideal for producing and building strength and power. This is what OrangeTheory workouts aim to achieve. As a result-based workout style, WaterRowers are a better choice because you get back the amount of effort you put in.
On the other side, the brand, WaterRower has great prestige and is more silent than air rowing machines. The fitness franchise may have used this to set itself apart from its competitors, as rowing accounts for one-third of OrangeTheory workouts.
WaterRower M1 HiRise is also safe to use and has excellent specs when compared to other water resistance rowing machines. There is no jarring, which can occur in other types of rowing machines and make rowing workouts unpleasant.
Even though water resistance rowing machines might be more demanding physically, they're also more relaxing and have great mental and psychological benefits.
Takeaway: What Rowing Machine Does OrangeTheory Use?
OrangeTheory currently uses a water resistance rower called WaterRower M1 HiRise which is produced in the USA but available worldwide.
The WaterRower M1 HiRise has a unique patented WaterFlywheel designed to mimic the dynamics of a boat moving on water. It's smooth, silent, and easily stored upright, making it ideal for any user and environment.
Originally silver, OrangeTheory customized it to orange to fit their interior design. Rowing is one of the three main elements of patented OrangeTheory workouts so they made sure they have one of the best water resistance rowing machines on the market.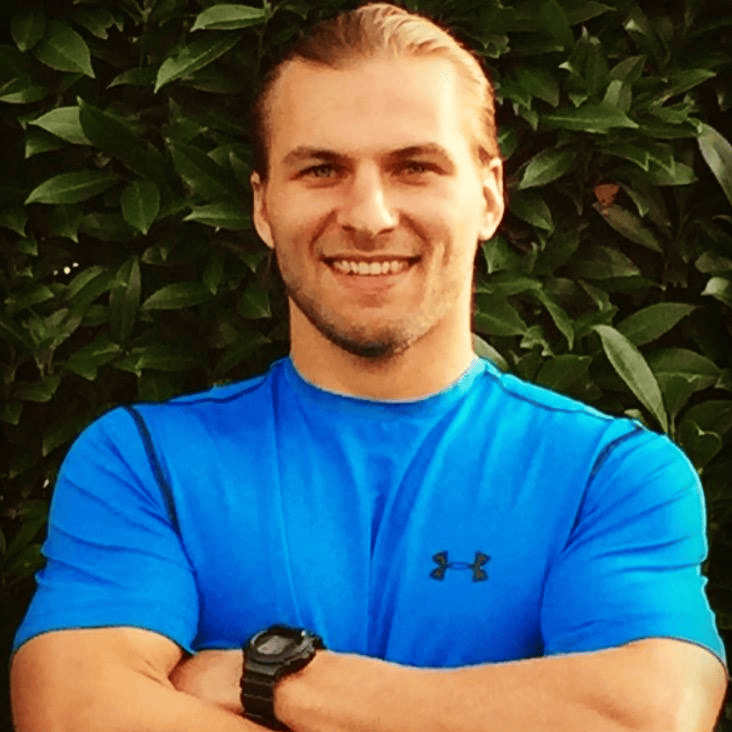 Rowing Machine King Founder and Author.