Sunny Phantom Hydro Water Rower Review [SF-RW5910]
The Sunny Phantom Hydro Water Rowing Machine is on the lower price end of the water rower range, and it delivers great quality at a very reasonable cost.
Users love the comfortable seat, the sturdy design, and how smooth the resistance feels.
Thanks to its uniquely angled water tank, you get more consistent resistance for a better, more intense fat-blasting workout.
Plus, the built-in digital monitor comes with some pretty useful electronic bells and whistles.
What makes the Sunny Phantom Hydro particularly useful is its weight capacity (up to 300 pounds, perfect for heavier rowers) and its compact, easily foldable design—ideal for a home gym with limited space.
Like all water rowers, it's not without its flaws, and we'll get into the downsides and drawbacks below.
But by the time you get to the end of the full Phantom Hydro Water Rowing Machine review, you'll see that it's a choice worth considering for a next-level rowing workout at home.
Resistance Type
As the name of the Phantom Hydro Water Rowing Machine makes perfectly clear, it's a water resistance rowing machine.
When you pull on the rowing handle, you are spinning paddles submerged in a tank of water. The faster you row, the faster you spin the paddles, and the more water is displaced, which creates more resistance.
This is called "variable resistance" because, unlike mechanical magnetic rowing machines, you are in control of your rowing resistance.
There are no dials or levers to adjust the resistance. The harder you pull, the more difficult the workout becomes. To make it easier, simply slow down your stroke to decrease water resistance.
Both air and water rowers are 'variable' resistance, but you can check out the differences here.
Magnetic rowers are considered 'adjustable' resistance, so you can read my comparison of variable vs. adjustable resistance here.
Resistance Benefits
Water rowing machines make for a much smoother stroke, and ends up being much quieter than air rowing machines.
In fact, users reviewing the SF-RW5910 commented that the sound of the churning water was surprisingly soothing—like being on a beach and listening to the crashing waves, or paddling down whitewater rapids.
Water resistance actually makes it feel like you're rowing on water, the most natural simulation of the real deal.
To increase the resistance, the Phantom Hydro Water Rowing Machine has a tank set to a 60-degree angle. With the tank tilted more sharply, the water creates greater resistance, making your workout more difficult.
Users looking to push beyond just a basic cardio session and get into high-intensity territory have stated that the rowing is harder right off the bat, allowing them to really work up a sweat and get their muscles burning.
The tank itself comes with 7 different "fill lines" that dictate the total resistance. The more water you put in, the harder it becomes to row.
Inside the tank, there are 16 plastic hydro blades that provide smoother, more consistent resistance for your workout.
Resistance Overall
Users were very happy with the resistance on the Sunny Phantom Hydro overall. It delivers a consistently challenging workout and stays smooth throughout the entire range of motion.
There were really no downsides to the titled water tank and users felt overall the resistance was great!
Monitor/Control Panel
The SF-RW5910 comes with a simple digital monitor that packs a few convenient features, but doesn't overcomplicate its functionality.
It tracks the following data:
Time
Distance
Strokes
Total Strokes
Strokes Per Minute
Time/500m
Pulse/Heart Rate
Calories Burned
Clock
Day/Date
As the photo below shows, it's easy to read all the data at a glance. Though the LCD screen isn't backlit, the large numbers and clearly divided sections make for easy reading.
The monitor has 6 built-in buttons to let you control the rower's electronic functions, including the 15 pre-set racing programs.
It runs on two AA batteries, which are included in the box so you can start using the machine as soon as you set it up.
Monitor Benefits
One really useful feature of the Sunny Phantom is that the swivel screen comes with a device mount that will hold your smartphone or tablet directly above the screen.
Load up any of the workout videos Sunny has available via its YouTube channel, set the device in the mount, and you've got a customized training session to follow, taking all the guesswork out of your workout.
The monitor can even be paired with your smart device, allowing you to track your workout both on the rowing machine and whatever fitness app you typically use.
The display features a section for tracking your pulse, but the Sunny Phantom Hydro doesn't come with a heart rate monitor. You'll need to obtain one separately—luckily, any 5.3 kHz HR chest strap should do the job, like the Garmin Dual Heart Rate Monitor.
Once you're done with your intense workout, hit the "Recovery" button, and the rower will track your overall fitness based on how quickly your heart rate returns to "normal" after your workout. It's a useful metric for those who are trying to improve cardiovascular function as well as muscular endurance.
Monitor Downsides
Because of the lack of backlighting, the LCD monitor may be a bit harder to read in low-light environments. However, this is the only complaint common among reviewers, suggesting that overall, users are happy with the monitor's functionality and pre-programmed features.
No Perpetual Distance
One issue users had with the monitor is in regards to the accuracy of the rowing data.
Because the rower measures distance based on the length of the pull, there is no addition of "perpetual distance" (extra forward motion from powerful strokes). You'll always travel the exact same distance regardless of how hard you row.
This will fractionally reduce your distance with each stroke compared to rowers that account for perpetual distance, so your performance of timed interval trials will be slower.
One user said that a 500-meter workout that typically required 1:45 to complete on the Concept 2 and WaterRower, took him close to 3 minutes on the Sunny Phantom Hydro.
This issue is seen on all mid-range and lower-end rowing machines. You'll need to move up to an advanced rower to have accurate distance/time data.
Monitor Overall
Overall, users enjoyed the monitor and did not have too many gripes. Many users enjoy rowing while watching YouTube videos and are not overly concerned with all the metrics. If you are looking for an advanced monitor, you will need to buy a more expensive rower.
The monitor is very comparable to other monitors in this price range.
Build Quality
Many mid-range rowing machines sacrifice durability and material quality in order to keep costs low. Not so with the Phantom Hydro Water Rowing Machine.
This machine is built with a heavy-duty alloy steel frame, including a double-arm structure to increase its stability and support the weight of the water bell.
At nearly 90 pounds, it's heavier than the average mid-range rowing machine, but that extra weight is the result of more solid, durable materials—steel instead of lighter-weight aluminum.
The 16 hydro blades are made of super-tough plastic that won't break, bend, or crack no matter how hard you row.
The tank is made of plastic, and it's rugged enough to sustain daily high-intensity training without showing signs of wear or tear.
Note: A few users reported that it arrived cracked and leaking even before they assembled it. However, this is a manufacturer's defect that is fully covered by the warranty and easily replaceable.
The double-secure frame locks the tank in place basically inside a "cage" of heavy-duty metal. There's zero risk of you cracking the tank if you accidentally let go of the rowing handles or toppled forward.
Reviewers agreed that it's a very sturdy, stable rowing machine that didn't wiggle or rock no matter how hard they rowed.
Quality Issues
One of the issues reported by a few users is the durability of the foot pedestals and straps.
Some found that the pedestal wasn't fully welded on, so they ended up wobbling. However, this was only noticed by a few users and could be the result of incorrect assembly (another issue in and of itself, as you'll see below).
As for the Velcro foot straps, rowers have complained that they tend to fall apart after just a few months. The nylon lacks durability and those who do a lot of high-intensity rowing may find their foot straps require replacing within a year.
Build Quality Overall
Overall, users felt the rower was of good quality and inline with the quality of other rowers in this price range.
You can check out the Phantom Hydro Water Rowing Machine in action below:
Comfort
Of course this is one of the features you're most concerned about! You've got to be comfortable while rowing, or else you're not going to want to use your machine.
The SF-RW5910 comes with an oversized, extra-wide padded seat that is suitable for both larger and heavier users—or anyone who just wants a more comfortable ride while rowing.
The seat is contoured to reduce pressure on the tailbone, and is textured to provide extra friction so rowers won't slide off.
The handle feels really solid and is easy to grip. However, a few users felt the padding was a bit too stiff, compared to the softer, gentler feel of other rowing machines.
The rowing action itself is very smooth, and the seat glides easily along its wheeled track.
The built-in bottle holder is a neat feature; it's placed directly in front of the seat, so it's easy to quick grab a drink without any interruptions to the workout.
As mentioned above, there is the issue with the Velcro straps. Some reviewers felt that their feet weren't fully secure in the pedestals because the straps just didn't pull tight enough, and the nylon felt a bit flimsy.
Aside from this, however, there are few complaints about the overall comfort of the Sunny Phantom Hydro.
Storage
Users who want to store the rower between workouts will love the collapsible design of the Phantom Hydro Water Rower.
The rower stores in an upright position but can be folded down to reduce storage needs. And, with the built-in wheels, it's easy to move the rowing machine around to find the right place to tuck it out of the way.
Capacity
The manufacture recommends a weight limit of 300 pounds, making it excellent for heavier users.
The rower is able to accommodate a 40.5" inseam—or, on average, a rower around 6'3" tall.
One 6'4" reviewer said that he could only row comfortably barefoot; if he wore shoes, he was too tall and couldn't extend through the full range of motion.
Shorter users, however, will have no problems using the Sunny Phantom Hydro.
Dimensions
Assembled Dimensions (L x W x H):
Storage Dimensions (L x W x H):
Shipping Box Dimensions (L x W x H):
Assembled Weight: 88.2 lb
Shipping Weight: 105 lb
Assembly
When you start unpacking the rowing machine, you'll find a handy set of instructions to help you assemble it. The instructions will walk you through the process of putting the machine together right out of the box.
Assembly time varies between 15 minutes (for one hyper-competent reviewer) and 45 minutes.
Some users complain that the instructions are unclear, the font is too small, and there is a bit more information than may be required for the assembly.
Another complaint was that the manual called for certain pieces that weren't inside the box, and it turned out those pieces had been pre-assembled—which proved confusing for the users.
However, the fact that the Sunny Phantom Hydro comes with pre-assembled parts means that the entire process is fairly streamlined. Once everything is unpacked and laid out, it's typically fairly easy to get everything put together and start rowing within less than an hour.
A few of the top-rated Amazon reviews warn that you should inspect the water tank before filling it, to make sure it didn't arrive with a crack that could leak. It's worth taking a minute or two to inspect the plastic tank thoroughly just in case.
Once everything is assembled, all you have to do is fill the tank, pop in one of the provided water purification tablets (which keep the water clean and clear), install the AA batteries into the monitor, and you're ready to row.
Pros and Cons
Pros:
Highly durable frame
Smooth, stable gliding action
Comfortable seat
Higher-than-average water resistance
Great pre-set programs
Convenient design to accommodate a tablet or smartphone video-accompanied workout
Collapsible for easy storage
Cons:
No perpetual distance
Sub-par foot strap quality
Tank may arrive defective
No backlight on monitor
Consumer Reviews
Overall, the reviews on the SF-RW5910 have been positive. Reviewers love the durability, the natural swishing sound of the water churned up by the paddles, the smooth action, and the look and feel of the rower.
Though it's a mid-range machine, the consensus is that it works like a much higher-priced model but still accommodates at-home use without taking up too much space or being overly noisy.
The most common negative reviews cite the poor velcro strap quality and the difficult-to-read instruction manual. But for the vast majority of the reviewers, the Phantom Hydro is a rowing machine well worth using.
You can read more Sunny Phantom Hydro Water Rower Reviews here.
Average Rating: 4.7
Warranty
I was pleased to see that Sunny offered a 3-year warranty on the frame itself, and the 180-day parts warranty is pretty standard for rowers of this mid-priced range.
Frame: 3 years
Parts: 180 days
Model Number: SF-RW5910
Sunny Health and Fitness has a reputation for being good at replacing spare parts and providing customers with good service. Buying through Amazon also gives you the backing of Amazon's customer service department to get any replacement parts while under warranty.
Sunny Phantom Hydro Price
Now we come down to it—the real detail you want to know!
The Sunny Phantom Hydro falls on the lower end of the mid-priced range, which makes it a very appealing option for someone looking to buy great quality at a lower cost.
Sunny Health & Fitness was the first brand to come out with a whole line of lower-cost rowers, and they've made their mark on the industry by delivering consistent quality, durability, and user-friendly machines. Though the Phantom Hydro Water Rowing Machine is one of their pricier models, it's still more affordable than many of its competitors.
The link below will show you the current price for the rower. It's a good idea to buy through Amazon because not only do you get to read a lot of real-life user reviews, but you have that added layer of customer service and consumer protection that makes for a better online shopping experience. Plus, they offer free shipping on qualified orders.
Overall Review
Overall, I believe the Sunny Phantom Hydro is a great choice if you're looking for a water rowing machine built for higher-intensity exercise.
Because of the unique design (water tank tilted to 60 degrees), the resistance is fractionally greater than you get with the standard horizontal tanks, giving you a better workout.
It'll also serve you well if you have only limited storage space and want a rowing machine that folds up smaller-than-average and is easy to tuck out of the way.
If you'd rather have a lower-budget water machine, you may want to consider the Obsidian Surge Water Rower. It's about 25% cheaper [currently, but subject to change] than the Phantom Hydro but offers nearly equal quality. You can read my full review here.
Or, if you want something a bit higher-end and don't care whether or not you use water resistance, the commercial-grade Concept2 rowing machine is a true beast. Once you read my review here, you'll see that it's well worth the higher price.
I hope you enjoyed my Sunny Phantom Hydro Water Rower Review! Drop a comment below if you have any questions.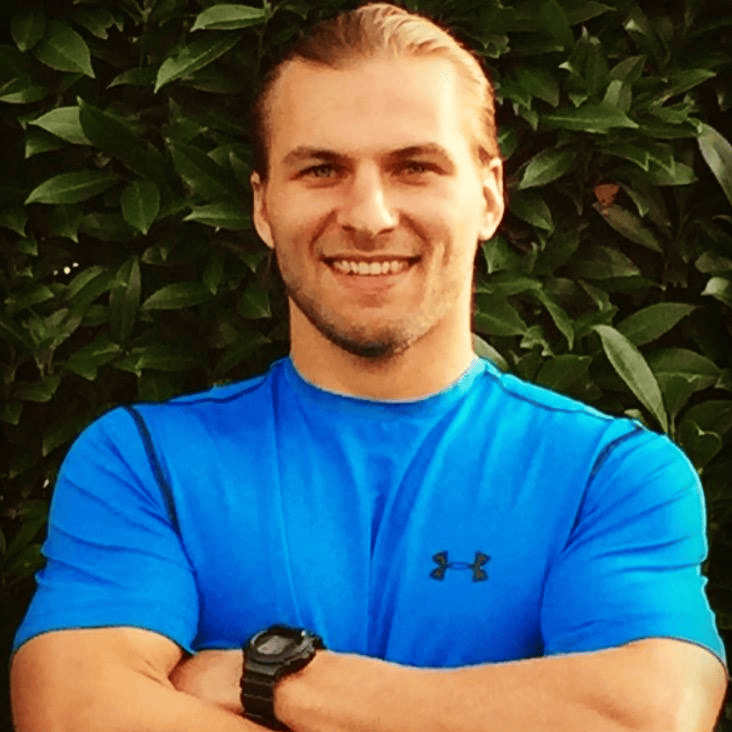 Rowing Machine King Founder and Author.