Schwinn Crewmaster Rower Review
Today, we're reviewing the Schwinn rowing machine. The famous bike brand currently has one rower, the Crewmaster, that replaced their former Windrigger rowing machine.
I had the chance to use it briefly when training a client who owns one, so I can speak from experience.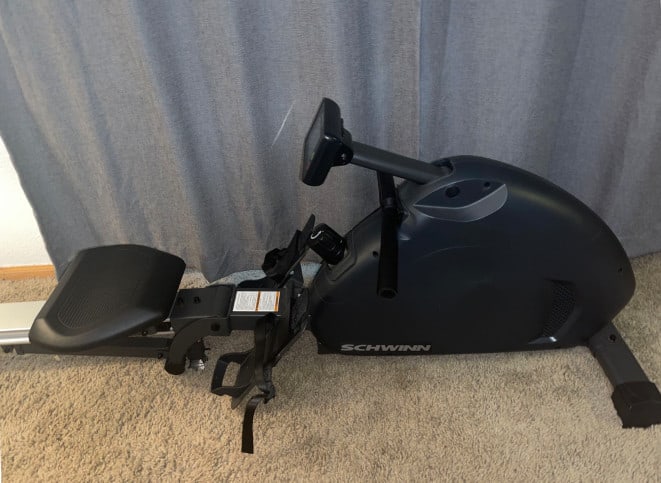 It felt like Schwinn recumbent (indoor) bikes that I've tried in gyms over the years, which was expected since it uses magnetic resistance.
In short, the Schwinn Crewmaster is a good choice for a high-quality magnetic rower. It offers the strong resistance and a smooth rowing stroke typical of magnetic machines packaged in a high-quality rower that doesn't squeak or wobble like lower-quality rowers. The main downsides include availability and basic monitor.
The monitor offers basic data tracking and no pre-programmed workouts.
Other downsides are those typical of magnetic rowers. Namely that air rowers are best for those who plan to get into the hobby of indoor rowing at some point, be active in the community, join a Crossfit gym or rowing studio, race with others online, etc.
If none of that interests you and you're just looking for a solid indoor cardio machine that delivers a great full-body workout, then definitely consider the Schwinn Crewmaster. For the lowest price, I recommend major retailers since they tend to offer free shipping.
Schwinn Crewmaster Rowing Machine Review
Resistance Type
The Schwinn Crewmaster rower is a magnetic-resistance rowing machine. This means it uses a metal flywheel and magnetic eddy currents to create resistance.
It's a really cool concept and the mechanism creates a smooth, virtually silent rowing machine resistance.
Magnetic resistance works by having a large metal flywheel at the front of the rowing machine. As the user pulls the handle, the flywheel starts spinning. There is a magnet next to the flywheel that creates resistance as the flywheel spins.
The closer the magnet is to the flywheel, the more resistance. The further the magnet is, the lower the resistance.
We call this "adjustable" resistance because a user can adjust the distance the magnet is from the flywheel by spinning a dial. Thus, increasing or decreasing the resistance. In contrast, the resistance when using an air rower is "variable" because it depends on rowing speed.
Below is a video showing what I mean:
For more on magnetic vs air resistance check out my article here.
Resistance Benefits
The Schwinn Rower has 10 levels of magnetic resistance, which is great because it gives you a lot of variety when performing a workout.
It's equipped with a 9 lb. flywheel providing enough resistance to deliver a great workout for advanced rowers. The lower resistance levels are plenty suitable for beginners.
To adjust the resistance level, simply spin the dial on the center console between levels 1 – 10. You barely have to slow down to adjust the dial, so you can ramp up the resistance when doing HIIT workouts!
One major benefit is how quiet the rowing machine operates. Magnetic resistance creates almost zero noise so it's great for people living in apartments or who want to exercise early in the morning when their family is sleeping.
Bottom Line
Overall, I didn't read any complaints about the resistance. It's smooth, strong, and quiet – just like a magnetic rower should be!
If resistance levels were a concern, you can check that off your comparison list and move on to the monitor section.
Monitor/Control Panel
Unfortunately, you're not going to find an advanced monitor in this price range and the Schwinn Crewmaster Rower is no exception. But the Crewmaster monitor tracks the most important data, which is the main thing.
This large LCD monitor tracks the following workout metrics:
Time
Count (number of strokes for current workout)
Distance
Total Count (total strokes done for the history of the machine)
Calories
RPM (stroker per minute)
Pulse
Scan
As you can see from the photo below, the monitor is not backlit but the large numbers are easy to read and track.
It's very intuitive to use and is mounted on an adjustable arm. This means a user can adjust the position to the optimal level.
There are only 3 buttons on the monitor: Set, Reset, and Mode.
Simply hit the 'Mode' button to change metrics or hold for 3 seconds to enter 'Scan' mode.
According to the manual, older models would show the distance in miles, which was annoying because rowers use meters and kilometers. Thankfully, newer versions show it in kilometers.
There is a pulse setting but you will need a Bluetooth heart rate monitor (and chest strap) to use this feature.
Schwinn mentions, "The heart rate chest strap must be an uncoded heart rate strap from Polar Electro or an uncoded POLAR™ compatible model. (Coded POLAR® heart rate straps such as POLAR® OwnCode® chest straps will not work with this equipment.)"
You can view some top-selling Heart Rate Monitors here.
Monitor Downsides
The monitor lacks advanced data tracking and doesn't come with any workout programs (cardio workouts are often pre-programmed for convenience).
It seems that monitors are a major cost for rower manufacturers, so advanced monitors keep machines out of the budget and mid-tier categories.
In the higher price range, you will see more accurate data calculations, electronic control of the resistance, and more features.
The accuracy of the data on this rower will be fairly low. It's extremely hard to calculate distance on a rowing machine because it requires a complex formula to compute everything.
Stuff like how hard and long you pull the handle, how much friction is created by the flywheel, etc. More accurate monitors can be found on rowing machines like the Concept2 RowErg Model D or the WaterRower Natural.
The only other thing I've heard folks complain about is that the monitor requires 2AA batteries to operate, but that's pretty standard IME.
Build Quality
Like most magnetic machines, the Crewmaster has a lot of plastic parts including the exterior. When I used it, I didn't find that it detracted from the overall quality feel. It feels sturdy, doesn't wobble or make noises (as is common), and the seat glides smoothly.
Build quality is an important feature in this price range because buyers typically want something better than the budget rowers but aren't quite ready to spend money on a higher-end model.
This leaves manufacturers the choice of where to cut costs – advanced vs. basic monitor, metal vs. plastic parts, long vs. short warranty.
Luckily, Schwinn Fitness is a well-known brand in the home-fitness niche and they typically have high-quality fitness equipment. They also stand by their equipment, as you will see in the warranty section.
The Schwinn Crewmaster Rower is mostly made of plastic but the key components are all metal. The seat rail and footplates are made of steel, so they're sturdy.
Right beneath the steel rail is a center support beam that acts as another point of contact with the floor to increase stability and support strength. This allows for a higher weight capacity and less movement in the machine while in motion (see the beam in the picture below).
The other components appear to be well-made and I've yet to hear or read any complaints of parts breaking prematurely. The foot-straps and footrests are all high quality, as well as the handle.
The handle is attached to a nylon strap or cord that is connected to the flywheel. While a nylon cord is not as durable as a chain (as seen on other models) it is used to reduce the amount of noise.
How annoying would it be to have a virtually silent resistance and all you hear is a metal chain being pulled and recoiled! The nylon strap is very common on magnetic rowers and they rarely ever wear out or fray.
As was my experience, many users mention the smooth glide, how the seat doesn't wobble, and how the bearings feel smooth rolling along the seat track. To me, it did not feel cheaply made like some of the lower-end rowers.
The Schwinn Rowing Machine is a solidly built rower, overall, and especially for the price.
Check out their promo video below to see the Schwinn Rower in action:
Comfort
A comfy rowing experience is important – especially the sitting experience since this form of cardio involves prolonged sitting. The Crewmaster has an oversized seat which I found comfortable.
And based on feedback from Schwinn Crewmaster owners, "comfortable" seems to be the consensus, with most noting the comfortable seat and the smooth stroke absent any jerking motions or stability issues.
Firstly, the features are all considered "oversize" which means the rower is built for comfort, not for the fastest rowing times. This means the seat, handle, and foot pedals are all designed with your comfort in mind.
The footrests are easily adjusted and can accommodate any shoe size. Since the foot pedals are spacious, I'd recommend wearing tennis shoes for a snug fit.
There is a plastic foot cup for your heel and a basic strap that tightens over the balls of your feet. The footrests are fixed, meaning they don't pivot.
This is normal on most rowing machines, as it allows for a sturdier platform to drive off of while performing a rowing stroke. Some models have pivoting pedals but it's really a personal preference on what you like better.
The handle is slightly padded and curved for your comfort. This reduces hand and wrist fatigue while rowing.
A rowing machine seat is always a concern and a lot of users' butts can start to hurt after rowing for a long period of time. As mentioned, the seat is pretty large measing about 15.0″ wide and 12.0″ long.
You can always check out my article on how to prevent butt pain while rowing if this is an issue for you.
Comfort Downsides
One complaint I've encountered is how the seat rail sits fairly low on the floor (about 12.0″).
Some users prefer a taller seat height because it allows them to get on and off the rower more easily.
I also noticed the handle and strap enter the flywheel housing at a slightly lower point than other rowers.
This means taller users will have a bit of a lower angle when returning the handle back to the "catch" or starting position. This can be bothersome since the handle must be returned parallel to where you pull the handle to your chest.
Bottom Line
Overall, users felt the Schwinn Rowing Machine provided a smooth, quiet, and comfortable stroke.
If you're looking to row without making much noise or while watching TV, it's perfect! Just check out how quiet it is in the video below:
Storage
If you're short on space, then having a rowing machine that can be stored away is super helpful. While most people have a vision of storing one in a closet or under a bed – I want to tell you this is usually not possible!
The Schwinn Crewmaster Rower has transport wheels and can easily fold for storage which can be done in a few simple steps:
Slide the seat forward and release the locking pin under the seat rail.
Fold the seat rail up until you hear the locking pin click back into place.
Tilt the rower forward and wheel the rower into the desired location.
It's that easy and takes only seconds to complete.
As you can see in the photo, the rowing machine is still fairly tall when folded so I don't think it will fit in a coat closet. When stored, the dimensions are: 93.1" L x 21.1" W x 31.7" H
There's not much else to it! Just another nice feature on the Schwinn Crewmaster Rower.
Capacity: Maximum User Weight and Height
Typically, it's with more expensive rowers that you'll start to see higher weight and height capacities due to the larger size and better build quality. For example, the Concept2 weight capacity is 1000 lbs.
Based on user feedback and reaching out to the manufacturer, the max user weight is 300 lbs. (136 kg). Taller rowers can use the machine but there is a height limit of 6'6″.
Height is a bit tricky because it depends on inseam length and folks of the same height can have different inseam lengths.
One trick, if you are around 6'6″, is to remove the rubber stopper on the seat rail. It is a safety mechanism to prevent someone from hitting the back of the rail but if you remove it, you will get another 1-2″ of travel. Be very careful if you do this but those 1-2″ can mean all the difference!
So if you are around 300lbs. and 6'6″ tall, you should have no issues using this rowing machine! There are no lower-end restrictions on this rower, so if you are vertically challenged, like me, you are fine :)
Dimensions
There were a few variations of dimensions floating around the web but the manual states:
Assembled Dimensions (L x W x H):
Stored Dimensions (L x W x H)
Shipping Dimensions (L x W x H)

Box 1: 49.0″ x 10.0″ x 24.50″ (73 lbs.)
Box 2: 58.0″ x 8.0″ x 11.0″ (34.65 lbs.)

Assembled Weight: 90 lbs.
Pros and Cons
Pros:
Virtually silent resistance
10 levels of adjustable resistance
Easy-to-read monitor
Good build quality
Excellent warranty
Smooth rowing stroke
Foldable storage
Fair price
Cons:
Not an advanced monitor
Handle entry into the housing can feel low
Heavy
Not the easiest assembly
Warranty
Schwinn offers the following warranty:
Frame: 10-Years
Mechanical Parts: 3-Years
Electronic Parts: 3-Years
Wear Parts (Seat assembly with rollers, seat rollers, footplate pads, footplate straps, pull handle): 6-Months
Labor: 1-Year
Not bad for a product in this price range. Keep in mind, you must register your product on the website and the warranty cannot be transferred to another person if it is sold.
If there are any issues with the rower, they have tech support which says, "Please give us a call directly at 1-800-605-3369".
Some retailers (often Best Buy) offer an extended warranty.
Schwinn Crewmaster Rowing Machine Price
Depending on the retailer, you can usually get the Schwinn Crewmaster rowing machine for around $500 if shipping is included. Otherwise, you might pay closer to $700 in total. Exercise equipment weighs a lot and thus costs a lot to move.
When I first started years ago, there were around 20 models on the market in total! This meant there were a lot of gaps to be filled, like x type of rower under x price. For example, you couldn't find a magnetic rower under $500 in 2010.
Nowadays, over a decade later, there are multiple models in each price range with each type of resistance. There are more features and gadgets than a car!
There was a small gap in the marketplace and I think Schwinn was able to fill it. Many were looking for a high-quality rower with strong resistance for around $500. It didn't seem like you could find that for a while. There were higher-priced rowing machines and budget models, but no good in-between models.
I think that's what people mention the most when they talk about the Schwinn Rower price – they feel they are getting a good quality rower for a decent price.
Schwinn Rowing Machine Review: Conclusion
That wraps it up for the Schwinn Crewmaster Rower review. It's their only rower but it's a good one.
Overall, the Schwinn Crewmaster rowing machine is a great addition to a home gym, especially for those looking for a high-quality magnetic rower for a great price without sacrificing quality.
You get a strong, smooth, stroke, and quiet operation free of the rinky-dink noises common to lesser-quality models. Not to mention the great warranty. What more can you ask for!
Less expensive magnetic rowing machines include the Sunny Health & Fitness SF-RW5515 and MaxKare Magnetic Rower.
Fitness Reality 1000 Plus is a pricier option if you have more to spend.
If you want a magnetic rower with a better monitor and electronically controlled resistance, then check out the Stamina Avari Programmable Rower.
That's all folks! You should have all the information you need to decide if this rower is the right choice for you! I hope you enjoyed my Schwinn Crewmaster Rower review and feel free to drop a comment below!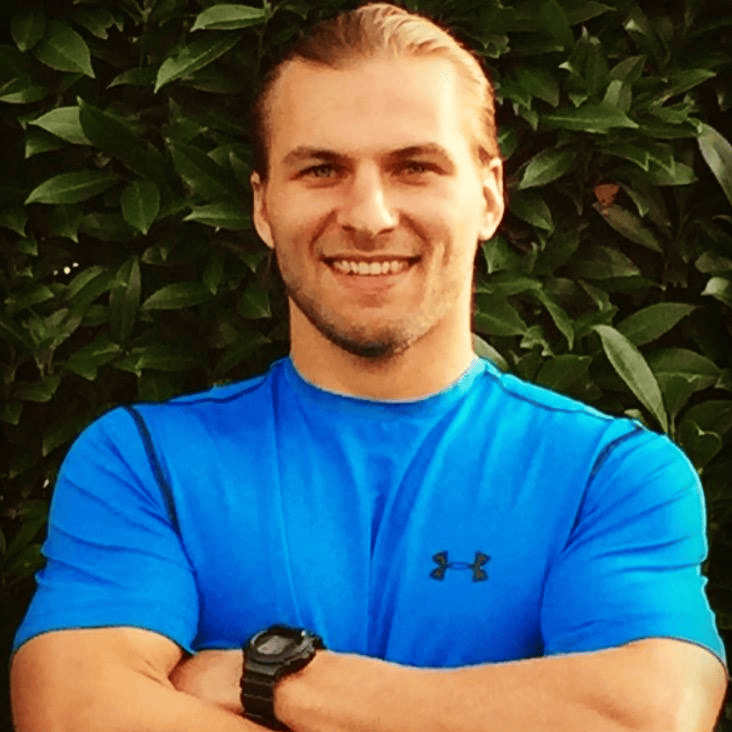 Rowing Machine King Founder and Author.