MaxKare Magnetic Rower Review
Today we're reviewing the MaxKare Magnetic Rower. I hear a lot about their air and water rowers, but there's not much mention of their magnetic resistance rowing machine. Today we're fixing that.
I had the opportunity to try out the MaxKare magnetic rower when training a client who owns one, so I can speak from experience.
I thought it rode smoothly. It reminded me of several Sunny Health magnetic rowers I've tried.
In short, the MaxKare Magnetic Rowing Machine is a decent budget magnetic option. It offers strong resistance and a comfortable stroke. Downsides include quality and durability (typical for rowers in this price range), a simplistic monitor, and a vague warranty.
While not a bad option, overall, I'd recommend the Sunny Health & Fitness SF-RW5515 over this rower. Check out my full review here.
You can find the MaxKare magnetic rower here.
The MaxKare rowing machine tends not to be available at major retailers, where you're more likely to find free shipping. But, I opened an account with MaxKare to check the shipping cost, and it was less than $2.00 for shipping to my address (the southern US).
Resistance Type
The MaxKare Magnetic Rowing Machine is of course – a magnetic resistance rower.
This means the front housing has a large metal flywheel that spins when a user rows.
There is also a magnet inside the housing that sits close to the spinning metal flywheel.
The closer the magnet is to the flywheel, the stronger the magnetic braking force, and the stronger the resistance.
So in order to create stronger resistance, a user simply has to turn the resistance knob, which moves the magnet closer to the flywheel.
If they want easier resistance, simply spin the knob the other way and move the magnet further from the flywheel.
We call this adjustable resistance because a user can "adjust" how strong they want the resistance by turning a knob and the resistance remains the same no matter how fast or slow they row. (Although, rowing faster does increase the resistance slightly)
This is different than air and water rowers where a user must row faster to increase the resistance. You can read about this more in my air vs. magnetic rower article.
Below is a visual representation of how magnetic resistance operates:
Resistance Benefits
The MaxKare Magnetic Rowing Machine provides 16 levels of smooth, quiet, and strong resistance.
All magnetic rowers have virtually silent resistance which is one of their biggest benefits. This means you can easily watch TV without turning the volume up too high and work out early in the morning when your family is sleeping.
Magnetic rowers also allow you to set the resistance to the highest level and still feel strong resistance, even if you are rowing slowly. This isn't always possible on air rowers where you have to keep a faster pace to feel high resistance.
Most users, from beginners to athletes, feel the MaxKare Rower has adequate resistance to provide for a consistently challenging workout over the long term. This was my impression, too, after using the machine.
Some users said it was more than enough for a "strong male" to use and a woman mentioned it was plenty for her 22-year-old son. Another user mentioned it was on par with the Concept2.
One cool feature is the fact it has 16 levels of resistance! While this doesn't necessarily mean it has stronger resistance than rowers with 8 levels, it does mean the changes are more subtle and you can find your optimal resistance better.
Seat Rail
The rail is slightly inclined which does add a very small amount of "resistance". A user basically has to push themselves up a slight incline and then control their descent.
Companies usually add a slight incline to ensure a user doesn't have to "pull" themselves back to the "catch" or start position. It essentially makes for a smoother, more comfortable rowing stroke.
The rail is 49.0″ long and the front of the seat rail is 9.8″ off the floor and the back of the rail is 11.8″ off the floor. This means there is only a 2.0″ incline, which is fairly small.
Bottom Line
Overall, I liked the resistance of the MaxKare magnetic rower and there were very few complaints from what I could see online. Most users felt the resistance was adequate, that the rowing stroke felt nice, and that the machine ran smoothly and quietly.
Monitor/Control Panel
The monitor on the MaxKare Magnetic Rowing Machine is very basic and only tracks the very essential workout data (if that!).
Users can track the following on a large LCD monitor:
Time
Stroke Count
Calories
Total Count (All-time since setup)
Reps/Min
Scan
As you can see, the monitor is very basic and does not calculate items like distance.
There is only 1 button that if pressed will change the metric showing on the screen. You can set it to 'scan' to have it rotate during a workout. If you hold the red button, it will clear the data.
Monitor Downside
Some users complained about the monitor not having 'distance' and the other stats being very inaccurate. This is a common issue on budget rowers because of how the monitor works.
I hate to break it to you but the monitor works by having a sensor somewhere in the middle of the seat rail that tracks when the seat moves backward. So all data is only recorded by if a person does a rowing stroke (or even if the seat moves backward, there is no sensor on the flywheel) and does not take into account the resistance level, how fast a person is rowing, how hard they are pulling, etc.
Calculating accurate rowing data like distance or calories burned is very hard and requires a lot of input. Most budget rowers calculate metrics like calories and distance based on an 'average users' rowing stroke.
If you're looking for accurate data it probably makes sense to buy a Polar H10 Heart Rate Monitor or smartwatch and sync it to your phone. You can then use it for a variety of other exercises.
Besides the lack of data and accuracy, the only other complaint was from users who were having an issue with the sensor not picking up a rowing stroke. They usually needed to ensure all wiring connections were secure.
Bottom Line
Overall, the monitor is ok and tracks some essential data. We all have smartphones these days so it's probably best to download a fitness app and track workouts there.
Think about it – your phone is a way better piece of technology than the rower!
Build Quality
The MaxKare Rower build quality is decent and most users felt it was good for the price.
It comes equipped with a steel seat rail and support beams with 4 end-caps supporting it on the floor. The end caps are made from plastic and are adjustable to allow a user to place the rower on slightly uneven surfaces.
This means if you are rowing in your garage on uneven cement, you can adjust one end cap to prevent the rower from wobbling!
There is also a "center support" beam right below a user's feet which adds extra stability and strength.
Most of the other parts are plastic, which is common for budget rowers. The velcro foot straps, handle, and rowing strap (what connects the handle to the flywheel) all felt durable and well-made.
Users felt the rowing stroke was sturdy and felt no wobbling or vibrations when using.
The seat slides using two rollers on top and one on the bottom with industrial-grade bearings. Just remember to wipe the seat rail after each use to avoid dust and dirt build-up.
Overall, I think the MaxKare Magnetic Rower has good quality for the price and most users agreed! Any users who had quality issues were able to contact customer support and have a replacement part sent out immediately.
Comfort
The MaxKare Magnetic Rowing Machine has most of the same basic comfort features as the other budget rowers.
There is a decent-sized, padded seat that is comfortable for most users. If you experience some butt pain you can check out my article to fix that issue.
Users can grip a padded handle that is quite long and allows for rowers to have a narrow or wide grip (the handle is 18″ long). The handle is attached to a durable rowing strap which helps create a quieter rowing stroke.
There are pivoting footrests which are both good and bad. Some users like pivoting footrests because it allows them to complete a full rowing stroke even if they have bad ankle flexibility. Other people like a "fixed" footrest because it allows for a more powerful drive.
The only downside I noticed about the 'comfort' features is the rowing strap can block the view of the monitor. Due to the monitor being right below the handle, you will have to glance to the side to read all of the metrics clearly.
Another feature that is cool is the small bottle holder between a user's feet. This is a nice addition to keep your items in one place but you will have to basically stop rowing to take a drink of water so it's not an essential feature.
Full Rowing Stroke
The last point I want to mention is about completing a full rowing stroke. If you imagine yourself rowing and picture yourself with your knees bent, slightly leaned forward, and arms extended all the way forward. Then look at a picture of the rowing machine and see if you think the handle will hit the housing.
For tall people, with long arms, budget rowing machines can sometimes limit the full motion of a stroke. If you compare it to a high-end rower, you will see that high-end rowing machines allow for a lot of space for the handle to travel in front of a user's feet.
This is a common issue on budget rowing machines so I just wanted you to be aware of it so you can decide for yourself on each model!
MaxKare Rowing Machine Storage
Storing the MaxKare Magnetic Rowing Machine is super easy and takes less than a minute (maybe less than 30 seconds!).
The unit has "foldable" storage and can be done in 3 easy steps:
Unscrew the "locking knob" and remove the safety pin
Fold the seat rail up
Insert the safety pin and screw in the "locking knob"
That's it! You can also roll the rower on the front caster wheels while folded or unfolded.
The rower is only around 58 lbs so it's not difficult to move around. The stored dimensions are around: 37.4″L x 19.7″W x 42.3″H
Capacity
Luckily, if you are tall you won't have to spend over $500 to find a rowing machine that will fit your height (sort of).
With a slide rail length of 49.0″, the MaxKare Magnetic Rower can fit a user with an inseam of 45.0″. This usually equates to a person around 6'5″.
MaxKare customer support said a user who is 6'5″ will be fine on this model.
However, if you are 6'5″ you may want to re-read my "Full Rowing Stroke" paragraph in the 'Comfort' section.
The manufacturer weight limit is set to 243 lbs but they also mention it being 264 lbs in some sections.
I think it would be safe for anyone under 275 lbs to use this rower. Most suggested weight capacities are conservative and can hold people slightly over the limit.
Dimensions
Assembled Dimensions (L x W x H):
Folded Dimensions (L x W x H):
Assembled weight: 57.3 lbs
Shipping Weight: 64 lbs
Flywheel: 7 lbs (3.1 kg)
Seat Dimensions: 14.0″ (at the widest point) x 10.0″ (front to back) x 1.25″ (thick)
Assembly
Assembling the MaxKare Rower is fairly straightforward and I heard no gripes about the process.
MaxKare recommends using 2 people for the assembly and they say that it should take around 30 minutes to complete. However, multiple people said that they were able to complete it by themselves and it took around 1 hour.
All of the tools for assembly come with the packaging but you'll need 2AAA batteries for the monitor.
Pros and Cons
Pros:
16 levels of strong, silent magnetic resistance
Good build quality for the price
Comfortable rowing stroke
Good capacity (height & weight)
Easy assembly
Foldable storage design
Cons:
Very basic monitor (no distance metrics)
Some rowers delivered broken
Vague warranty information
2 listings on Amazon for the same rower (seems to be some disorganization within the company)
Warranty
There is a bit of vagueness around the warranty but here is what I discovered.
MaxKare commented there is a 1-Year "Free" Warranty on this rower in the comment section of Amazon.
On the MaxKare website, the warranty section states: "24/7 customer support, solving your problem in time. 30-day full refund if there is any defect. 24-month manufacturer's warranty if there is any defect or shipping damage."
Another user said that there is no mention of the warranty in the manual.
MaxKare Magnetic Rower Price
The MaxKare Magnetic Rower tends to be priced at around $300 which places it in the entry-level (least expensive) class of indoor rowers. With the near-free shipping offered on their website, that's the price you will pay in total.
When shipping isn't included, the price nearly doubles for cheap rowers since, like all exercise machines, they are quite large and heavy compared to most items you buy online.
MaxKare Rowing Machine Review: Conclusion
As you can see, the MaxKare Magnetic Rowing Machine is a good budget magnetic rower.
It has a decent build quality, strong resistance, and a comfortable stroke. There are some minor downsides like quality control, basic monitor, and vagueness around the warranty.
There are also some other great low-cost magnetic rower options. The best alternative comes from Sunny Health & Fitness. The longtime bestseller has been the Sunny Health & Fitness SF-RW5515. Check out my full review here.
Another great alternative is the Fitness Reality 1000 Rower. It's a newer model and you can learn more here.
If you aren't sold on magnetic resistance and want to look at other resistance types, then I would check out air rowers. They are a bit noisier but they offer a great workout, especially for HIIT training.
The best budget air rowers are made by Stamina Pproducts Inc. The best model to start with is the Stamina Air Rower 1399.
I hope you enjoyed this MaxKare Magnetic Rowing Machine review and it provided enough info for you to make an informed decision. Drop a comment below if you have any questions!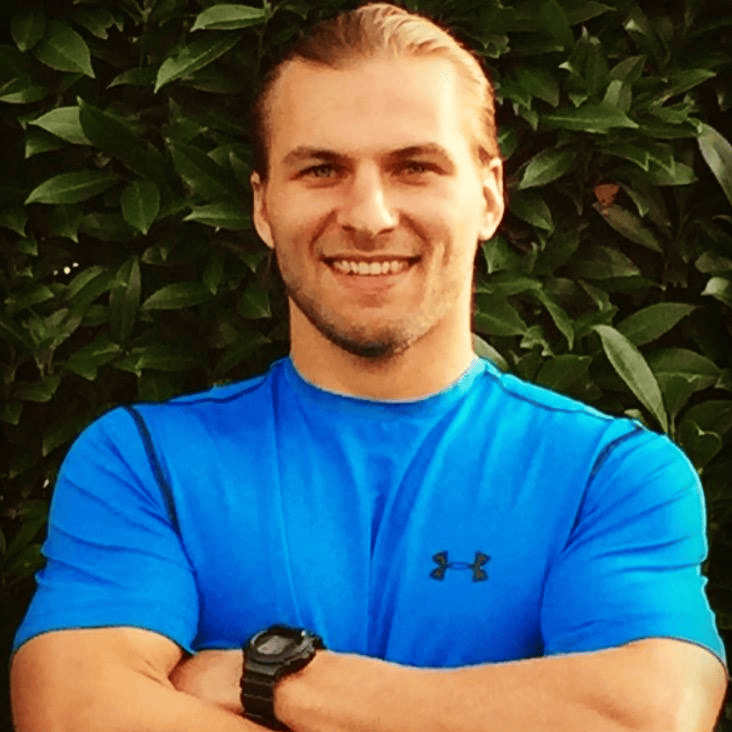 Rowing Machine King Founder and Author.