Fitness Reality 1000 Plus Rower Review
Looking for a great, low-cost magnetic rowing machine?
Well look no further than the Fitness Reality 1000 Plus Rower!
This model has been a top seller since it was released in early 2019 and sales are showing no signs of slowing down.
It's crazy to think that when I first started reviewing rowing machines there were NO budget magnetic rowers. Now there are great options coming out all the time!
The Fitness Reality 1000 Rower has a ton of great features like 14 different resistance levels, multiple non-rowing workouts, and a fitness app!
However, some of these "flashy" features aren't as great as they appear. So check out the full list of pros & cons in my full Fitness Reality Rower review below!
Fitness Reality Magnetic Rowing Machine with Bluetooth Workout Tracking Built-In, Additional Full Body Extended Exercises
【TRUE FULL BODY WORKOUT】- Our unique rowing machines for home use are popular for a reason. Its a leg exerciser, butt workout , arms and shoulder exerciser. The flippable flat pedals provide a stable workout platform when youre toning your arms, lats, shoulders and more

【FITNESS CLASSES & NUTRITION TRACKING】-Get access to hundreds of on demand classes in Rowing, Cycling, Yoga, Bodyweight Exercises and more. Get flexible, personalized workout programs based off your schedule. Take a picture of your food and track Calories, Carbs, Protein, Fiber and more. 30 Day Free Trial and 14.99/month after that.

【POWERFUL PROGRAMS】- The best rowing machine for home use powered by MyCloudFitness gives you everything you need to start living a healthier life. Get the rower, answer a few questions in the app, follow your PERSONALIZED program and start seeing resul
Table of Contents
(click a title to jump ahead!)
1. Resistance Type
2. Monitor/Control Panel
3. Build Quality
4. Comfort
5. Storage
6. Capacity
7. Dimensions
8. Assembly
9. Pros and Cons
10. Consumer Reviews
11. Warranty
12. Price
13. Overall Review
Resistance Type
The Fitness Reality 1000 Plus Rowing Machine is a magnetic resistance rower.
This means the resistance is controlled by moving a magnet closer or farther from a metal flywheel.
As the user sits on the rowing machine, they pull the handle during the rowing stroke, which spins the flywheel.
The closer the magnet is to the metal flywheel, the harder the resistance!
We call this "adjustable" resistance because a user can turn a dial to move the magnetic closer or farther from the flywheel – thus increasing or decreasing the resistance.
I hope this makes sense!
If not, here is a video that can help you visually see what I am describing above:
If you want to learn more about each resistance type, you can read an article I wrote here.
I also have a great article describing the difference between magnetic and air resistance, you can read that article by clicking here.
Resistance Benefits
The Fitness Reality 1000 Plus Rower comes fully equipped with 14 levels of adjustable magnetic resistance!
This is a great feature considering many competitors have around 8-10 resistance levels.
While having 14 levels of resistance doesn't mean the overall resistance strength is greater, it does mean you can find a more exact level for you to complete your workout.
The flywheel is 6.4 lbs which is about average for a magnetic rowing machine in this price range.
Most users felt the resistance was adequate for their needs and were happy with the overall resistance strength.
There were a few users who mentioned they wish it had more levels/strength, but this is common to see on budget magnetic rowers. If you are a very experienced athlete, weight lifter, or crossfitter, then you may want to invest in a model with stronger overall resistance.
See my final review section for more recommendations.
With that being said, users were generally happy with the rowing stroke and felt it was smooth, strong, and quiet!
Users were able to watch TV without turning the volume up and use the rower early in the morning without waking anyone!
Additional Exercises
One feature that is highly promoted on the Fitness Realty Plus Rower is the "Additional Exercises" that can be performed using the magnetic resistance.
According to Fitness Reality, you can perform exercises such as curls, upright rows, bent over rows, front raises, shrugs, triceps extensions, standing shoulder presses and more.
Check out the photo below of the different exercises being performed:
However, Fitness Reality also claims the 1000 Plus Rower is the "ONLY ROWER WITH ADDITIONAL EXERCISES on the market".
I know this to be false and I can point you to another model in my final review section.
They also use jargon in their description such as "Patent Pending front stabilizer foot pads". Patent Pending just means they filed for a patent but it doesn't mean it will be approved or that it's something 100% new or unique.
I think the front foot pads for additional exercises are a great addition but they are also being used as a marketing ploy to differentiate this model from other low cost magnetic rowers.
I have nothing against it but I am just pointing it out!
Also, know that for about $20-$30 you can buy a kettlebell or some free weights to do all of these exercises!
Check out my article or kettlebell and rowing exercises!
Resistance Overall
Overall, the resistance on the Fitness Reality 1000 Plus Rower is great for this price range and the right person!
People who are new to rowing or not super advanced athletes will love the resistance strength and should have no complaints!
If you want strong resistance, then you will have to move up in price, as all other budget magnetic rowers will have the same level of resistance.
Monitor/Control Panel
The Fitness Reality 1000 Plus Rower comes equipped with a large 3.5″ LCD monitor. The monitor tracks the following workout data:
Distance
Time
Total Count (strokes)
Calories Burned
Strokes/Minute
As you can see from the photo below, the monitor is fairly basic.
There is only one button on the monitor which can be used to switch the "Mode" or what information is being displayed on the monitor.
There is also a "scan" mode, which rotates through all of the data points.
The monitor uses 4AA batteries which are included and turns on by pressing the button or beginning to row. It will turn off automatically after a few minutes of inactivity.
Bluetooth Smart Fitness with MyCloudFitness App
One cool feature about this model is the "Bluetooth Smart Fitness" capabilities it has to sync with the "MyCloudFitness" app.
Basically, you don't even need the monitor if you have a smartphone because all of the data will be displayed on your phone.
As you can see from the photo above, there is a smartphone holder which nicely places your phone over the monitor.
All you have to do is download the app, create a profile, and sync the app to your rower when you start a workout.The app works for all iOS and Android devices.
You can use the app to track the stats of each workout or create a workout goal such as "time", "distance", and "calories burned". Meaning – you set a goal and the app will tell you once it is achieved!
The app will also allow you to input your weight each week to keep track of your progress.
Another cool feature is the app will allow you to track your heart rate if you have a compatible bluetooth heart rate monitor. One popular HRM is the Polar H10 Bluetooth Heart Rate Monitor.
MyCloudFitness App Feedback
Ok, the app isn't perfect and there were a lot of complaints. However, I think you have to think of it as a bonus more than anything.
Any other rower in this price range will have the same basic monitor as the Fitness Reality Plus Rower, so this is really just a great bonus!
Plus, I think fitness apps are the future of rowing machines and most rowers in a few years won't even have a monitor at all! They will all sync to an app.
Some complaints about the app are:
It tracks the exact same info as the monitor and doesn't store individual workouts – only calories burned.
The calories burned info isn't accurate because you don't input your age or weight, which is critical for accurately calculating calories burned.
Some users had trouble getting the Bluetooth to sync every workout
While there were a few complaints about the app, there were just as many people who said they absolutely love it and it's one of the best features!
I just wanted to point out that while there is a great app included with the Fitness Reality 1000 Plus Rower, it does have a few downsides.
I would also like to note that because it's an app, it can come out with future updates to make it even better!
Monitor Overall
Overall, the Fitness Reality 1000 Rowing Machine monitor is a great feature on this model.
The monitor alone is equivalent to any other found on rowers in this price range and tracks the same data.
A bonus is the bluetooth capabilities and the app! The app allows you to track and store workout data and display heart rate – features not available on other budget rowing machines.
Build Quality
The Fitness Reality Plus 1000 Rowing Machine has all the high quality parts to enjoy a smooth, quiet rowing stroke during an intense rowing session.
The large, contoured seat is made of soft, high-quality material that glides on industrial ball-bearing rollers. There is also a high-grade aluminum seat rail which ensures a sturdy rowing stroke.
A nylon rowing strap is used to reduce noise but there were no signs of it fraying after extended use (although a nylon strap is usually less durable than a metal rowing chain).
There are "adjusters" on the rear floor stabilizers so you can make sure the rowing machine sits flat on any surface and doesn't wobble while being used.
Users mentioned the foot pedals, handles, and other parts of the rower felt like good quality for the price of this model.
Overall, users were satisfied with the build quality of the Fitness Reality 1000 Rower. Check out the rower in action below:
Comfort
One thing people really need to check on budget rowers is the level of comfort provided. Luckily, the Fitness Reality Rower seems to pass most of the comfort checks!
The seat is considered to be "extra-wide" and measures 3.5"L x 11.0"W. This helps for longer rowing sessions but some users did mention it was a little hard. However, there are complaints about "hard seats" on every model.
The extra-wide handlebar measures 21.5″ long and has a foam grip. This makes it great for changing up your grip while rowing and doing the "additional exercises".
As I mentioned previously, the rowing stroke is smooth and quiet with no jarring or jerkiness.
There is a slight incline in the seat rail which allows for a little more resistance on the push "up" and a smoother return on the way "down". The seat rail height ranges from 9.5″ – 12.0″ high.
The footrests do pivot, which some people like and some people dislike. Usually beginner rowers like the pivoting footrests because it allows for a full range of motion without being super flexible in the hips and ankles.
Forward Mobility
One of my favorite features on this rower, and not talked about much, is the forward mobility of the rower. If you look at some rowing machine models, the handle enters the "housing" right above the users feet. This means a user can't fully extend their arms forward or lean forward, like a normal rowing stroke.
However, the Fitness Reality 1000 Plus Rower has an entry point a little bit in front of the users feet, which allows for a more natural rowing stroke. It also makes it better for taller users!
Storage
Storing the Fitness Reality 1000 Plus is super easy and only take a few seconds to perform.
Plus, it has built in transportation wheels so you can roll the rower into the corner of the room or a large closet.
The seat rail can be folded in 3 easy steps:
Unscrew the locking knob and pull the safety pin
Fold the seat rail up
Then reinsert the pin and screw in the locking knob
That's it! You can then tilt the rower and roll it around on the caster wheels.
When folded, the dimensions are: 39.5" x 21.5" x 53.5" (L x W x H)
Capacity
For the average person, capacity is usually not a worry when buying fitness equipment. However, for bigger or even smaller people, this can be a major concern.
Luckily, the Fitness Reality Rower has a decent capacity.
The manufacturer listed weight capacity is 250 lbs. which is fairly normal in this price range. I usually see users a little heavier than the capacity use the rowers without an issue but this would void the warranty.
The seat rail length can accommodate an inseam length of 39.0″. This means users as tall as 6'6″ can use the rower. The manufacturer recommends a lower-end height limit of 4'9″ but I believe someone shorter could easily use this model without an issue.
Basically, anyone weighing around 250 lbs. or less and 6'6″ or shorter can use this rowing machine.
Dimensions
Assembled Dimensions (L x W x H):
Folded Dimensions (L x W x H):
Assembled Weight:
Shipping Weight:
Shipping Carton Dimensions (L x W x H):
Assembly
Normally, the reviews on the assembly of a rowing machine are bad or average. However, there were a ton of positive reviews about how easy the Fitness Reality 1000 Plus Rower is to assemble!
Users said the instructions were super easy to follow and took on average about 20-30 minutes.
All of the parts are clearly labeled and all off the tools come with the packaging for assembly. The 4AA batteries are even included!
Pros and Cons
Pros:
14 levels of adjustable magnetic resistance
Smooth, quiet rowing stroke
Bluetooth capabilities (possible future upgrades)
Free App to track workout metrics
Durable build quality
Very easy assembly
Great price point!
Designed to perform additional workouts
Cons:
"Free App" isn't great and doesn't add a lot of benefits
Additional workouts aren't great and purchasing free-weights is better
Bluetooth can sometimes have connection issues
Transportation wheels can be difficult on some surfaces
Short warranty period
Consumer Reviews
Overall, consumer reviews of the Fitness Reality 1000 Plus Rower have been very positive. Even though the rowing machine is fairly new, users seem to really like it!
Users enjoy the smooth, strong magnetic resistance and the included free workout app. While the app may not be the best, the monitor itself is the exact same as other rowers in this price range.
The build quality is also right in line with other rowers in this price range and the "additional exercise" station should be seen as a bonus.
At this price, users felt they were getting a great beginner rower that will last them long enough until they decide if they want to purchase a more expensive model.
Check out more Fitness Reality 1000 Plus Rower reviews here.
Average Rating: 4.6
Warranty
One small downside is the short warranty period on the "parts" and "wearable parts".
Other rowing machines in the price range also have short warranty periods and it is possible to buy extended warranties for a small price.
Fitness Reality 1000 Plus Rower Price
One of the major selling points of the Fitness Reality 1000 Plus Bluetooth Magnetic Rower is the price!
It's one of the least expensive magnetic rowing machines on the market and still has great resistance and good build quality.
This great blend of price and quality is why it has received so many positive reviews!
A great place to buy rowing machines is on Amazon if you cannot find the model in a local retailer. They offer a very large selection, competitive pricing, free shipping on qualified orders, and they act as a layer of protection between the consumer and retailer/manufacturer.
Overall Review
As you can tell from my review, the Fitness Reality Rower is an excellent budget magnetic rowing machine.
It has 14 levels of resistance, a good monitor/app, quiet rowing stroke, and good build quality. It's hard to ask for more at this price point.
If you aren't sure whether you want an air or magnetic rower, then read my comparison article here.
If you are certain you want a magnetic rower, here are 3 more options in the lower price range and how they differ:
Sunny Health & Fitness Dual Function Magnetic Rowing Machine

Also has footplates for additional workouts
No review but here is a link to the Amazon sales page

Sunny Health & Fitness SF-RW5515 Magnetic Rower

This model has been the most popular budget magnetic rower for a few years
It does not have additional workout footplates or an app
It does have a slightly longer warranty and track record
If you are looking for a good budget magnetic rower, these are your best options. I think the Fitness Reality 1000 Plus Rower and the Sunny Heath & Fitness SF-RW5515 are two great choices.
If you think the app and additional workouts are cool, then go with Fitness Reality. If you like a rower with a bit more history and longer warranty, then go with Sunny Health & Fitness.
I hope you enjoyed my Fitness Reality 1000 Plus Rower review! Leave any questions in the comment section below!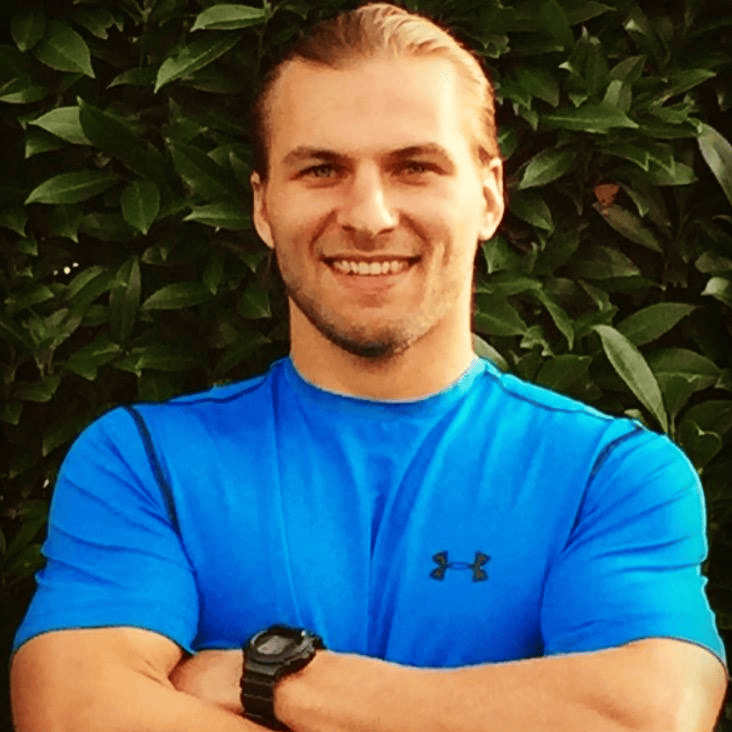 Rowing Machine King Founder and Author.