Concept2 Model E Rowing Machine Review
Today, we're reviewing the Concept2 Model E rowing machine. Officially, it's been renamed the "RowErg with Tall Legs".
It's the best rower on the market offering a realistic, comfortable rowing stroke, rugged construction (it's used outdoors, in boat houses, etc.), and a top-tier performance monitor.
I'm a longtime owner of a Concept 2 Model D rower and have used Model E several times. So, I have a good idea of how it compares and whether it's worth the extra cost.
The Concept2 Model E was an upgrade from the Model D. It costs $200 more and comes with a higher seat (20"/52cm instead of 14"/36cm), a nickel-plated chain, and a longer/fixed monitor arm.
Nowadays, the D and E have been combined into one rower, the RowErg, with two seat (leg) height options. The other (smaller) differences have been canceled out.
The RowErg has a nickel-plated chain (like the Model E), but a flexible monitor arm (like the Model D). Also, the new monitor mount now has an integrated device holder that holds a range of device sizes (small phone to tablet).
Keep in mind, people (and product pages) still use "D" and "E" for the RowErg leg length options. Also, the original D and E models are still available at some retailers.
TLDR; if you don't need the elevated seat height, get the Model D or RowErg with standard legs.
It's important to note that seat height has nothing to do with user height. A higher seat isn't required for taller users. User height has to do with the monorail length. More on that to come.
For the lowest price, choose a place with free shipping.
Resistance Type
Realistic Rowing Motion
The Concept2 Model E is an air-resistance rowing machine. Rowing on water provides a good workout due to the drag force created when moving the oar and craft through the water. Air resistance rowers work similarly by creating air drag.
When a user pulls the handle and spins the flywheel. As the flywheel spins, it must displace the air in front of it, causing drag which serves as the resistance.
The harder the handle is pulled, the more air the spinning flywheel has to displace. The more air that has to be displaced, the harder it is to row, and the more resistance is created.
Air resistance closely mimics rowing on water–which is, in part, why air rowers (namely, Concept2 models) are the choice of Olympic Rowers.
You can read more about how air resistance operates and other 'variable' resistance rowers in my Air vs. Water Rowing Resistance Comparison article.
Endless Intensity
Unlike magnetic rowing machines that have a max intensity setting, air resistance increases with rowing speed, so there's no theoretical limit to how heavy the rowing stroke can feel.
Just row faster to feel more resistance or row slower to feel less.
This makes the Concept2 Model E rowing machine great for HIIT workouts (high-intensity interval training). You can easily switch from slow-paced workouts to sprints.
This is why Concept2 is the chosen brand of rowers by Crossfit gyms and the Crossfit Games.
It's super effective resistance, overall. They make other air-resistance gym equipment and I once used a Concept 2 stationary bike that had my thighs burning in no time.
Damper Setting for Added Resistance Control
With this setting, you can make the stroke feel more or less heavy at a given speed. The Model E rowing machine lets you control the amount of air inside the flywheel housing. This determines the amount of drag created.
Simply, select the desired 'damper level' located on the flywheel.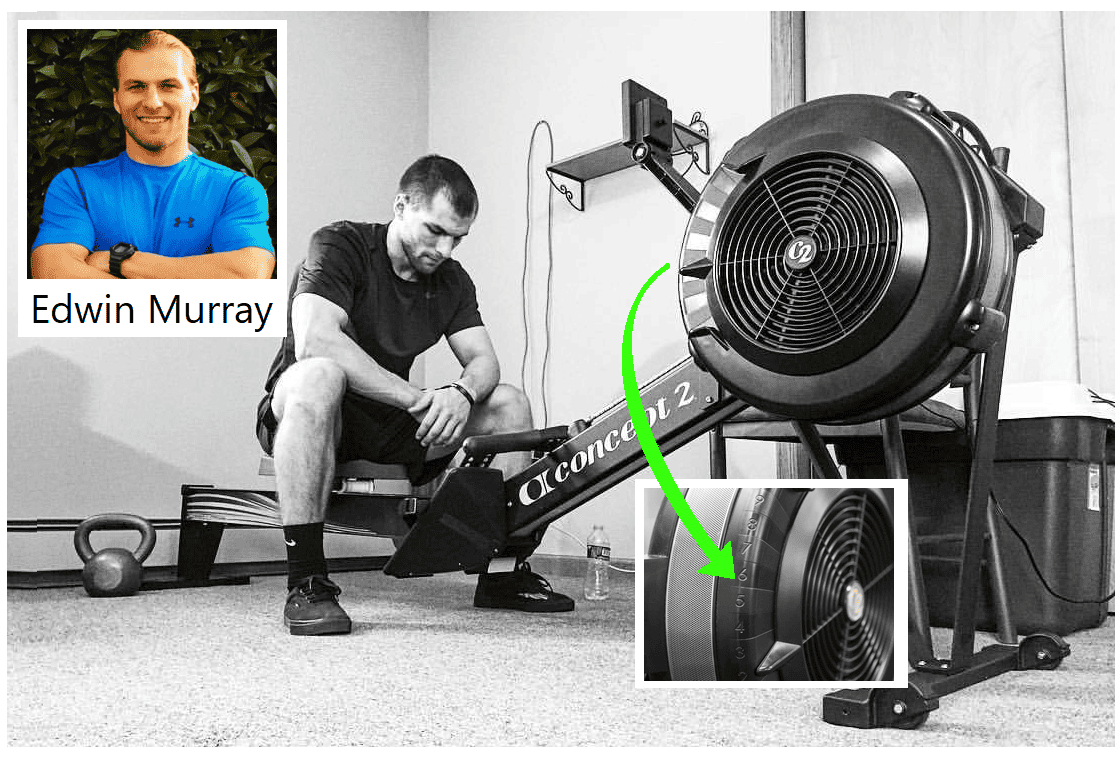 There are 10 damper settings to choose from, which you can think of as 10 resistance levels. The higher settings (6-10) give you the feeling of a slower, heavier boat and the lower settings (1-5) give you the feeling of a lighter, faster boat.
Think of settings 6-10 as rowing with passengers and settings 1-5 as rowing alone. Concept2 recommends a setting between 3-5 for a great cardiovascular workout.
Noise Level
Being an air rower means the Concept2 Model E produces a bit of noise. The flywheel creates a 'wooshing' noise every time a stroke is completed.
Most people don't find the noise disturbing or just wear headphones while rowing. Other users found it hard to watch TV at a normal volume.
The special flywheel design minimizes noise (it's supposed to), so it's relatively silent compared to other air rowing machines.
For more info, check out the Concept2 Noise Level While Rowing article. It shows me rowing in front of a TV with it on and off (I'm on a Model D but the noise level is the same).
This video will give you a good idea of how the rowing stroke feels and sounds while also explaining the variable resistance.
Monitor/Control Panel
The Concept2 Model E indoor rower comes with the best performance monitor on the market, the "PM5" (performance monitor 5). It is considered by far the best indoor rowing machine monitor on the market.
The manufacturer claims the monitor is a training partner but they forgot to mention it is also a:
Coach – because it can teach you how to row with proper form.
Statistician – because it tracks vital workout statistics.
Physician – because it has wireless heart rate monitoring.
Entertainer – because you can play 4 pre-loaded workout games.
Competitor – because you have the option to race a pace boat
Ok, maybe I am exaggerating but the PM5 is an excellent monitor! It's super easy to use and has tons of features.
The PM5 tracks a ton of different workout data including:
Distance
Time
Strokes per Minute
Pace
Calories
Watts
Heart Rate
There are plenty of workout options. You can just start rowing, choose 1 of 5 preset workouts, or design custom workouts–you can customize your own rowing workout routine.
Games
You can choose between 4 different games:
Fish game– The object is to have your fish eat edible fish and to avoid the yucky fish. This will teach you to control the intensity by rowing faster or slower to move the fish
Darts– The object is to score as many points as possible by throwing "darts". Darts are thrown when you complete a certain number of rows. You earn points by remaining consistent with power output and stroke rate from your most recent strokes.
Target Training – Similar to darts, but you can also predetermine the length of time you want to maintain your power output and stroke rate.

Biathlon

– The newest game on the monitor combines two sports: Nordic Skiing and Target Shooting. The biathlon consists of racing laps with a shooting stage between each lap!
Games are a great way to stay motivated and keep things interesting after you've owned the Model E indoor rower for a while.
Concept2 Model E PM5 Display and Mount:
The original Model E indoor rowing machine has a fixed monitor arm but does allow the angle of the display to be adjusted. The arm (or mount) is longer too, making it easier to read.
The new version (long-legged RowErg rowing machine) now comes with a flexible mount with a feature to hold your devices (tablet or phone).
Overall, the monitor is easy to read while rowing and has a backlight for reading the monitor in low-light settings.
When working out, the top section of the display always shows: total time, number of strokes per minute, distance achieved, and 500m split time.
You can select from 5 different display options for the bottom section:
All data (additional performance data shown on one screen)
Force Curve (graphically shows if your rowing motion is smooth or not and how much power you're producing)
Pace Boat (keep pace with a pace boat or workout against yourself from a previous workout)
Bar chart (graphically shows your heart rate or workout output on each stroke)
Large print (shows what's normally only shown on the top portion of the display on the whole screen making the data bigger and much easier to read)
Here is a complete breakdown on the Concept2 website.
PM5 Monitor Features:
The monitor is equipped with ANT+ technology (think of Bluetooth for sports and fitness markets). This allows the PM5 to monitor your heart rate with a wireless-compatible heart rate device.
The most popular HRM is the Polar H7 or the new Polar H10 Heart Rate Sensor. If you have another heart rate monitor just make sure it's Bluetooth Smart and ANT+ compatible.
The Model E rowing machine is USB Flash Drive compatible. This allows you to save all your workout data, and favorite workout setups, and transfer the data to different Concept2 indoor rowing machines or computers.
The workout data stored on the flash drive can be uploaded to Concept2's online logbook from the PM5 to your PC or MAC. You can also use third-party software programs while your PM5 is connected to your computer to further analyze workout data.
Additional Information
The monitor feels very durable. It is encased in hard plastic and the buttons feel like hard rubber that's easy to press but won't break. Even the lettering looks like it won't fade.
To turn on the unit just start rowing or press a button. The monitor automatically shuts off after 4 minutes of inactivity.
The Model E rower with a PM5 monitor uses 2D batteries. The monitor is powered by the flywheel when the machine is in use, so batteries will last a long time.
Check out the video below for a quick tutorial on the PM5 monitor on the Concept2 Model E:
Build Quality
Concept2 machines are used by professional on-water rowers, so they're used outdoors, in boathouses, etc. Places you wouldn't expect to see an indoor rowing machine. So, the brand has a reputation for quality and durability.
It has to do with the commercial-grade construction which makes the machines suitable for use in gyms, rowing studios, CrossFit studios, etc. where they endure endless use and abuse.
In home a gym setting, Concept2 machines are known for lasting a lifetime.
The Model E rower frame features an extruded aluminum I-beam monorail with stainless steel seat track and is powder-coated with a clear topcoat for extra durability.
Both legs are one piece of welded steel to provide great stability and strength for the user.
The flywheel is connected to the handle by a durable nickel-plated steel chain, which requires less maintenance than the steel chain on the Model D.
To further reduce unnecessary maintenance and increase durability, the chain is stored in a fully enclosed housing.
The handle, seat, bearings, footrest, and foot straps are all made from high-quality materials.
The Concept2 Model E is one of the highest quality rowing machines on the market, backed by the #1 indoor rowing machine company in the world, and comes with a pretty decent warranty.
Check out this guy rowing fairly hard and the Model E indoor rower does not even move!
Comfort
Most find the Concept2 Model E comfortable for long rowing sessions.
The entire rowing motion is fluid from start to finish. When you first push off, the seat slides effortlessly on the seat rail, the chain smoothly glides in and out of the housing without snagging, and the flywheel spins smoothly.
Seat
As mentioned, the main Model E selling point (why it's an extra $200) is the seat height. The seat height is 20.0" off the ground, which is 6.0" higher than the Model D.
The seat height is equivalent to a standard chair and can be a major benefit for many people.
Taller users don't need a higher seat, so it's mostly a comfort thing. The only folks who might actually need the added height are those with joint problems or those using a wheelchair.
Aside from the height, the contoured seat is padded and comfortable for most. If it's not quite enough padding, you can consider an indoor rowing machine seat pad.
Handle
The handle is ergonomic with a 10-degree bend to alleviate any stress on your wrist and forearms. The handle allows you to row with a natural arm and hand motion.
Beginners tend to develop blisters when they first start rowing. Usually after 1 or 2 weeks, your hands will become accustomed to gripping the handle and will form callouses.
Check out my recommendation for rowing gloves here.
Footrests
The adjustable footrests are comfortable and it's really easy to change sizes in a matter of seconds. They accommodate a wide range of shoe sizes–from child to basketball player.
Storage
The Concept2 Model E has a large footprint when in use but it can be folded up in seconds for storage.
The old version has a fixed monitor mount that takes up a bit more room than the new long-legged RowErg version, but the difference is small. Vertically, it should still fit in a good-sized closet.
The entire storage process can be done in as little as 30 seconds. Just separate the flywheel from the seat rail and stand it upright like the photo below.
Capacity
The maximum user weight capacity per the manufacturer is 500 pounds, so most people can use this rowing machine.
I personally know a 350lb owner who's had no stability issues whatsoever.
The Concept2 Model E is suitable for most heights, but keep in mind inseam length which can vary at a given height.
According to Concept2, the monorail length is 54.0″ (137cm) and can fit an inseam length up to 38.0″.
Users as tall as 6'9″ are able to row on the Model E without any issues and there are videos of children using the Model E indoor rower, so there are no lower-end height restrictions.
Also, if height is a concern, Concept2 offers an add-on that extends the monorail an additional 5.0″.
Dimensions
Assembled (L x W x H):

96.0″ x 24.0″ x 20.0″ (seat height)

Seat Height:
Machine Weight:
Space Recommended for Use (L x W):
Stored Dimensions (L x W x H):
Assembly
The Concept2 Model E Rowing Machine is easy to assemble. Like most fitness equipment, much of the machine is pre-assembled.
It'll come with about 8 screws, 8 washers, and 2 bolts in the box along with the other major components. It also includes the necessary allen wrenches and screwdriver needed for assembly.
Expect to spend about 30 minutes to completely assemble the unit or less if you're in a rush.
Check out the video of this Model E assembly in under 6 minutes!
Pros and Cons
Pros:
Backed by the #1 rowing machine company – Concept2
Commercial-grade indoor rower build quality
High resale value
Good warranty
High maximum user weight capacity (500-pound) and no height limitations
Spiral damper for adjustable resistance
Easy to assemble
Front caster wheels make it easy to move
Footprint is almost cut in half for storage
Advanced PM5 (performance monitor 5)
Amazing online community of Concept2 owners. (More info in my Concept2 Model D review)
Cons:
Requires a large space to operate
Air rowers make more noise than other resistance types
Warranty
Frame: 5-Year Limited Warranty
All Parts: 2-Year Limited Warranty

Warranty is transferable if you choose to sell or gift
Effective start date is date of purchase

30-Day Money Back Guarantee

Unsatisfied customers can simply pay to ship it back and their money will be refunded.
Double-check with the retailer that this option is available.
Concept2 Model E Price
IME, you can find the Concept2 Model E for around $1500, in total, if shipping is included. If shipping is extra, you can expect to pay closer to $2000. Exercise equipment weighs a lot, so shipping ain't cheap. Major retailers tend to offer free shipping.
So, you'll pay about $200 more than you would for the Model D. The same goes for the new versions (the RowErg with and without tall legs).
The Model E is a high-end indoor rower. Price-wise, like other Concept2 models, it runs much higher than other air-resistance rowing machines on the market. It's about what you'd pay for a WaterRower club rowing machine or something like that.
It's in a higher price range compared to most magnetic machines, but cheaper than some of the fancy NordicTrack dual-resistance models.
Concept2 Model E vs RowErg vs Model D
This is important because some product pages advertise RowErg but while listing for sale an old Model E. Sometimes it's the other way around. It gets confusing and folks want to make sure they know which machine they're getting.
Concept 2 Model E vs D
Some retailers still carry these, so here are the differences:
First came the original Model D then the E which was an upgrade. The Model E is an extra $200 and comes with a nickel-plated chain, a longer monitor arm, and a taller seat height via long steel legs.
The legs being longer receive more gravitational force, so they're made of welded steel instead of aluminum.
Nickel-plated chains require less maintenance. This was a small difference since maintenance takes so little time, to begin with (it's not something consumers demand).
Taller seats are easier to get on/off and 20" is considered dining chair height.
The longer monitor mount is a little easier to read, but it's fixed (non-collapsible) which is less convenient for storage reasons.
The Model E was more commonly found in the tan/gray color, but both were available in the same colors (black and tan/gray).
Concept2 Model E vs RowErg
The "RowErg with Tall Legs" is the new Concept2 Model E.
In 2021, they did away with the Model E and D distinctions and combined the two rowers into the RowErg, a single rower with two seat (leg) height options (20"/52cm or 14"/36cm). Both now have a nickel-plated steel chain and flexible monitor arm (same length).
The new flexible mount also has an integrated device holder (to hold your tablet or phone) that accommodates a range of device sizes.
Both are available in black or matte (no tan or gray option).
Since the RowErg is a single rower (same chain and monitor mount), the extra cost (still about $200 more) is solely for the extra six inches of seat height.
Concept 2 Model E Review: Final Thoughts
Overall, the Concept2 Model E Rowing Machine is one of the best rowers on the market. It has great resistance, excellent build quality, the best performance monitor, and a good warranty. If you don't need the extra seat height, go with the Model D since it'll save you a couple hundred.
Since 2021, both models (the D and E) go by the name "RowErg" and both come with the nickel-plated chain and the same monitor mount. So, seat height is the only difference and is what accounts for the higher price.
You can read my complete Concept2 Model D breakdown here.
For more info on the Concept2 Model E vs D – check out my comparison.
Overall, it's a solid piece of fitness equipment. Rowing engages multiple muscle groups, so a quality rowing machine provides a better full-body workout compared to other exercise equipment.
I hope you enjoyed my Concept 2 Model E review! If you have any questions, please leave them in the comment section below.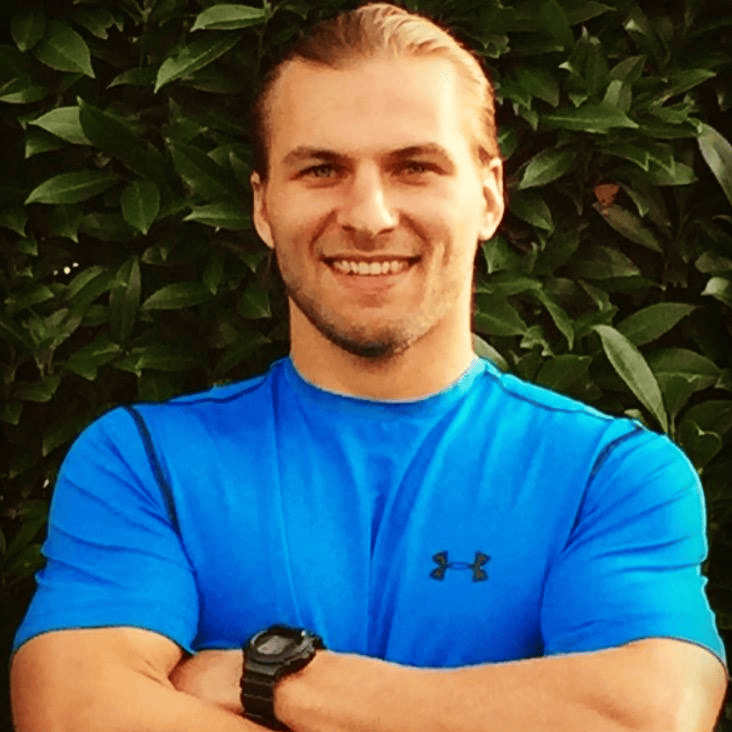 Rowing Machine King Founder and Author.