Kettler Favorit Rowing Machine Review
Today, we're reviewing the Kettler Favorit rowing machine. While it's a budget rower, it's mid-range in price for a hydraulic piston rowing machine.
I've had a chance to try this one and the Lanos hydraulic rower, so I have a good idea of how they compare.
In short, the Kettler Favorit rowing machine is a good-quality hydraulic rower that's suitable for shorter rowing sessions. Longer sessions result in softer resistance and other complications like hot pistons. The main benefit is that it fits in small places.
Compared to other hydraulic machines, the Kettler Favorit stands out in quality construction (lifetime frame warranty), monitor, and resistance features like the dual-piston design with 50 resistance levels.
As for fitting in small places, there's no bulky resistance mechanism with hydraulic machines. So, they have a smaller footprint both in use and in storage. So, if floor space is extra limited, a rower like this might be a good choice.
You might wonder why I didn't list cost as a benefit. It is quite cheap, overall, but…
Because other types of rowing machines (magnet, water, and air) are increasingly available in the same price range (~$230 to $300), it's hard to justify a hydraulic rower unless space-saving is a big priority.
If floor space is limited or you'd like a hydraulic rower for any reason–the Kettler Favorit is a good option.
Another issue is availability. The Favorit isn't even listed on the company website anymore (at Kettler Sport or Kettler USA). This may mean it's no longer in production. You may still find it at major retailers, but not consistently, in my experience.
For this type of rower, the Lanos is a good alternative since it's more commonly available and more appropriately priced for a hydraulic-piston rower. For more info, see the Lanos Hydraulic Rowing Machine Review.
Resistance Type
The Kettler Favorit Rowing Machine is a hydraulic-piston rower.
In this case, the resistance is controlled by 2 hydraulic pistons–one attached to each rowing arm.
Inside the piston, there's hydraulic fluid that causes resistance when a user pulls the rowing arm back and the fluid is forced through a small opening.
You can read more about the general characteristics of hydraulic-piston rowers and other rowing machine resistance types in this article here.
Resistance Benefits
Hydraulic resistance has a few advantages, in general.
One advantage is price. Hydraulic-piston rowers are usually on the lower end of the rowing machine price range due to low manufacturing cost.
However, while they used to dominate this category, quality budget rowers of all resistance types are more widely available in the $250 range. Since the Kettler Favorit is more than most hydraulic rowers at ~$250 or $300, the savings benefit is pretty much cancelled out in this case.
Another advantage of hydraulic rowers is that they're ideal for tight spaces making them great for small apartments. They're very quiet and typically compact, so they fit in most places and are less likely to wake anyone sleeping nearby.
Kettler Favorit's Unique Dual-Piston Design
As for how it works, each rowing arm on the Kettler Favorit has its own hydraulic piston, which gives you stronger, more reliable resistance compared with a single piston design.
The rowing machine has 50 different levels. It's more than what you get with most, but complaints of weak resistance are still common.
The resistance can be easily adjusted by manually changing the position of the piston on the handle bar. Moving it up increases resistance, while moving it down decreases resistance.
The resistance increases due to an increase in angle being applied to the piston.
The 'Free Motion' design of the Kettler Favorit is another cool feature. Unlike other rowers where you can't vary the angle at which you 'pull back' the handles, you can vary the angle on the Favorit.
For example, you can pull the arms straight back to work the inner back muscles or you can 'swing out' your arms, like rowing a boat, and work the outer back.
The ability to vary the angle makes rowing on the Kettler Favorit mimic the style of rowing you see on actual boats. Check out the video below in the 'Build Quality' section for a demonstration of this feature.
Resistance Negatives
The Kettler Favorit Rowing Machine gets some negative feedback as with most hydraulic resistance machines.
The main one is that the resistance gets weak after a while. This is true for the upper body (arms, back, shoulders, etc.) and legs.
Those with physical limitations (like the elderly) may never have this problem. Also, it may be adequate for someone just starting out but that person might outgrow the machine in a short time as they get in shape.
Some say the resistance is too difficult to adjust. I found this comment several times. I did not have this issue when using the machine.
Here are my thoughts:
Several people commented that after they removed the "accordion plastic" on the handle, the resistance was much easier to adjust.
In my experience with these machines, it's usually easier to adjust the resistance when the handles are standing up.
In any case, it probably just takes some getting used to.
Resistance Overall
Overall, the resistance on the Kettler Favorit Rowing Machine is a slightly upgraded version of the hydraulic-piston resistance you'll find on cheaper models.
The dual pistons, orbital arm design, durable frame, and 50 different levels give it an edge over other hydraulic machines, which is why the price is a bit higher.
But it's still hydraulic resistance in the end. For a consistently challenging workout over the long term, go for a different resistance type.
Monitor/Control Panel
The Kettler Favorit comes with a multi-functional fitness monitor. It tracks more data than I expected (compared to other hydraulic piston rowing machines I've used and researched).
In fact, Distance (which the Kettler Favorit does track) is a metric sometimes missing on $500 rowers. Of course, accuracy is another thing, which we'll get into in this section.
The monitor tracks the following data:
Workout time

Number of strokes
Speed of strokes
Distance
Energy consumption (Kilojoule)
Pulse rate
The fitness monitor is located near the user's feet and can easily be seen while rowing.
It automatically turns on once you start rowing and automatically shuts off after a few minutes of inactivity.
The monitor is not backlit, so you will need some light to see while rowing. The monitor is powered by two AA batteries which are included with the rower.
All of the data is displayed simultaneously on the home screen with one of the metrics shown in large text in the middle of the display. By default, the monitor cycles through the different metrics on the larger part of the display in five-second intervals.
Before and after a workout, the room temperature is displayed which is kind of cool.
Your pulse can be monitored by the machine in two ways:
In addition to pulse monitoring, the monitor can measure your recovery pulse rate after a workout.
You have three general options when working out with the monitor:
Just start rowing and the workout data will be counted
Set predetermined workout metrics and row until you hit your goal
Row in your preferred "aerobic zone" as suggested by the monitor (it's based on your age)
Other Notes
As always, take calories burned with a grain of salt. The Kilojoule calculator is based on an average user, so it's not specific to the person actually rowing.
According to the manual, the calculation used is 1 hour of rowing, with a rate of 40 strokes per minute, will consume 2930 kJ. The calculation is based on a medium-strain level and is only changed by means of a variation of the stroke frequency.
1 calorie is equal to 4.186 kilojoules, meaning 1 hour of rowing at 40 SPM will burn 700 calories. To increase the amount of calories burned you will have to row at a higher SPM rate.
So, just know that increasing the resistance won't increase the calories burned on the monitor. The monitor also doesn't take into consideration other factors that affect the amount of calories burned like age and weight.
I wrote an article that further explains burning calories while rowing which you can read here.
Just know calculations aren't 100% accurate and should be used as guidelines.
Monitor Overall
Overall, the monitor on the Kettler Favorit Rowing Machine is considered very good, especially for a hydraulic-piston rowing machine.
If you aren't looking for advanced features and just want basic fitness data monitored, it'll do just fine.
Build Quality
The quality construction is another thing that accounts for the added cost of the Kettler Favorit compared to similar rowers.
The frame of the rower has a lifetime warranty and the parts come with a 3-year warranty. Other rowing machines only have a 2-5 year warranty on the frame and maybe 1 year or less on parts.
The frame is made of high-carbon steel and is powder coated to provide a tougher exterior than traditional paint.
Complaints about the hydraulic pistons and wheels underneath the seat are few and far between.
Other than the sound of the wheels rolling on the seat track, the rower is very quiet.
You also won't hear annoying squeaking noises commonly heard on cheaper rowing machines.
The main components such as handles, seat, footrests, and foot straps are made from quality materials.
As with all rowers, simple maintenance in the form of wiping down the seat track with a damp towel will keep this rower running smoothly for years.
Below is a video of the Kettler Favorit Rowing Machine in action.
Comfort
I found the Kettler Favorit pretty comfortable and most seem to agree from the feedback I've heard and read.
The seat is padded, wide, and contoured, making it comfortable for long rowing sessions.
You'll glide up and down the seat rail smoothly thanks to the top-grade rollers used under the seat. Also, the seat is made with sealed ball bearings, so you won't have to bother with lubricants.
The handles are fairly comfortable, swivel, and on the thicker side, which could help reduce blisters.
The non-slip, pivoting footrests secure your feet with adjustable straps. The pivoting movement allows natural foot movement when rowing.
The rower has free-motion handles meaning you can push/pull the handles towards and away from your body and you can also swing out the handles to the side. This is similar to the experience of rowing in a boat and helps target different muscles.
The rowing motion is smooth, strong and gets a lot of positive feedback.
Storage
There's not much to the Kettler Favorit storage. Just loosen the resistance locking knobs, fold the rowing arms forward, and that's it.
It should be able to store under most beds that have a slightly raised frame. It'll store easily in closets.
The Kettler Favorit does not have wheels, which might make it difficult for folks with physical limitations. For most, it won't be a problem since the entire machine only weighs 44 pounds.
Capacity
According to the Kettler homepage, in addition to other sources, the weight capacity is 285 pounds. This is a decent weight capacity, similar to other budget and mid-tier rowers.
If you're under 300 lbs., I don't think you will have any issues.
I'm not aware of an official height limit, but the Kettler Favorit isn't ideal for taller rowers. The seat track is only 42″, which means an inseam of 40″ or less would be ideal.
So, those up to about 6'1" could comfortably use it. Beyond 6'1″, things will start to get pretty cramped.
As for shorter statures, there are no minimum height requirements. Some owners report that their pre-teen children use the machine.
Dimensions
In-Use:

52.0″ x 32.0″ x 10.0″ (L x W x H)

Storage:

52.0″ x 32.0″ x 10.0″ (L x W x H)

Weight:
Assembly
According to Kettler, the assembly process should take roughly 35 minutes. I believe this estimate is with two people based on the pictures in the instruction manual.
Based on the feedback I've heard and read, it should take about 1 hour to completely assemble the rower. It's not too difficult, but takes a little longer than most.
The initial instructions that come with the Kettler Favorit may be non-English, but if you keep scrolling through the guide, you'll find the right section.
The required tools for assembly are included but it wouldn't hurt to have a screwdriver on hand.
Pros and Cons
Pros:
50 levels of adjustable resistance

Quiet operation

Lifetime warranty on frame
Free-motion arms resemble rowing on a boat
Above-average multi-functional monitor with built-in pulse rate monitor
Lightweight and compact design
Cons:
Resistance gets weaker after rowing a bit
There are better (non-hydraulic) rowers available for around this price
Hard to find these days
Might be difficult to assemble for some people
No wheels for transporting
Consumer Reviews
Users like the higher-quality look and feel of the Kettler Favorit compared to other hydraulic rowers. Owners commented the rower was quiet and provided a smooth rowing stroke.
A few users had difficulty adjusting the resistance and felt it didn't provide them with a strong enough workout.
Others had some difficulty assembling the unit.
User feedback for the Kettler Favorit can be found here.
Average Rating: 4.2
Warranty
Frame: Lifetime
Parts: 3-years
Kettler Favorit Price
In the past, the Kettler Favorit Rowing Machine could easily be found at the big online retailers in the $300 range, though prices would fluctuate.
Today, it's harder to find.
As always, prices (when a machine is available) vary by country, retailer, and time of year.
Final Thoughts
If you are in the market for a high-quality hydraulic-piston rower, then the Kettler Favorit Rowing Machine is a great option if you can find one. Hydraulic resistance has several limitations, namely, that it goes soft after 20 or so minutes at most.
But for what the Favorit does, it does well. For example, it has 50 levels of resistance to choose from, which is more than most, in my experience. Other cool features include the fancy arm design, above-average monitor, and high-quality construction.
The main downside is availability. The Lanos is a good alternative. It's more commonly available and costs a good bit less. For more info, see the Lanos Hydraulic Rowing Machine Review.
If you want to go up slightly in price, you could check out the Kettler Kadett Rower. This model has outrigger-styled rowing arms.
If you want to go lower in price but still try to keep the build quality, you can check out the Stamina 1215 Orbital Rower. It is similar in style to the Kettler Favorit but slightly downgraded.
I hope you enjoyed this Kettler Favorit review! If you have any questions please leave them in the comment section below.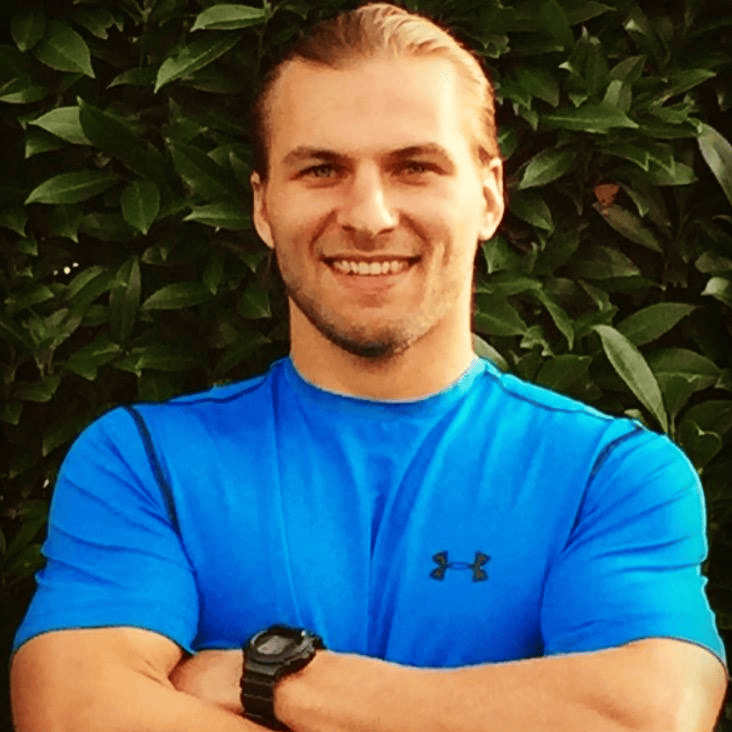 Rowing Machine King Founder and Author.