Kettler Kadett Rowing Machine Review
What do you get when you combine an outrigger-style rowing machine and German engineering?
You get one of the best rowers in its class, the Kettler Kadett Rowing Machine.
Users rave that all you have to do is "close your eyes" and you will feel like you're rowing on water!
The Kettler Kadett is a hydraulic-piston rower that provides 12-levels of adjustable resistance, making it ideal for people of all fitness levels.
It comes fully equipped with a multifunctional performance monitor with a built-in pulse rate monitor. Best of all, it has rock solid build quality and comes with a lifetime warranty on the frame!
When it comes to hydraulic-piston rowers, the Kettler Kadett Rowing Machine is one of the best!
However, it is also one of the most expensive and has a few downsides. Read my full Kettler Kadett review below to find out all the pros and cons.
Table of Contents
(click a title to jump ahead!)
1. Resistance Type
2. Monitor/Control Panel
3. Build Quality
4. Comfort
5. Storage
6. Capacity
7. Dimensions
8. Assembly
9. Pros and Cons
10. Consumer Reviews
11. Warranty
12. Price
Resistance Type
The Kettler Kadett "Outrigger Style" Rower is a hydraulic piston rower that uses hydraulic cylinders to provide resistance to the user.
It uses two pistons, one attached to each rowing arm, which allows the user to adjust the resistance on each arm.
Hydraulic-pistons operate by twisting a knob to open or close a hole in each cylinder. Hydraulic fluid is then forced through this hole while performing the rowing motion.
The larger the hole, the easier the resistance. The smaller the hole, the stronger the resistance.
Due to the user being able to manually adjust the resistance up and down, we consider this type of rowing machine to be "adjustable resistance"
I have a full breakdown of all the resistance types and how they operate in this article here.
Resistance Benefits
The Kadett Rower has 12 different levels of adjustable resistance that can be easily adjusted by turning the collar on the piston. Simply spin the collar so both pistons match the same number and you're all set!
If you are trying to strengthen one arm more than the other for rehab purposes, you can even offset the two rowing arms (a pretty cool benefit).
The wide range of resistance levels make this rower ideal for people of all fitness levels, from beginners to elite athletes.
Another great benefit of hydraulic-piston rowers is they are very quiet. Many people use them while watching TV or when their families are sleeping in the next room over.
Many users who have used other hydraulic-piston rowing machines felt the Kettler Kadett offered much stronger resistance and the pistons seemed to be much higher quality. Probably due to the fact they are made in Germany!
Resistance Negatives
A few users commented that when the rowing arms were set to the same resistance one arm felt stronger than the other.
For example, when the resistance level is set to '7' on the left and right rowing arms, the resistance on the right rowing arm feels more difficult when compared to the left rowing arm.
Here are various causes for the issue:
This is an "issue" with all hydraulic piston rowers and how they function, rather than a Kettler Kadett "Outrigger Style" Rowing Machine problem.

Hydraulic pistons can wear out unevenly or require more time for the oil to heat up and reach the same viscosity (thickness). This can cause a feeling of "uneven" resistance.

As some users pointed out, another reason for the unequal resistance is it's tricky aligning the pistons on both rowing arms.

If they're misaligned, a '7' resistance on the left rowing arm might be equal to a '5' resistance on the right rowing arm.

One user commented, the reason some people are experiencing resistance inequity is due to the "triangle sticker" on the pistons not being aligned properly over the levels.
A overwhelming majority did not experience uneven resistance. For the few that did, it wasn't a huge problem and most users still gave the Kadett Rower a high rating.
Most users simply found levels that worked for them, waited for pistons to heat up and even out, or reassembled the pistons so they were aligned properly.
Another issue seen on every hydraulic-piston rower is the fluid heating up and the pistons losing resistance. Basically, during your workout the oil inside the pistons begins to heat up and lose viscosity (thickness). This makes it easier to move through the "hole" in the piston, making the resistance "lighter".
Most users simply adjust the resistance 1 level higher to fix the issue.
Pistons can sometimes even break and leak, which is why I always recommend to put down a Rowing Machine Exercise Mat.
Resistance Overall
I have reviewed several hydraulic piston rowing machines and each one gets its fair share of comments/complaints about the pistons.
I always expect to bump into piston-related comments because they naturally have a few issues. However, out of all the piston-resistance rowers I've reviewed, the Kettler Kadett Rowing Machine had the least amount of comments/complaints about their pistons and I don't think it's by accident.
Yes, the Kadett is one of the most expensive piston-resistance rowers on the market, but with a higher price-tag you're getting a machine with higher-quality parts. This includes what appears to be higher quality hydraulic-pistons, hence fewer piston-related comments/complaints.
Monitor/Control Panel
The Kettler Kadett Outrigger Style Rowing Machine comes with a multifunctional performance monitor that tracks a bunch of different workout data:
Time
Distance
Calories
Odometer (total kilometers covered)
Frequency (strokes/min)
Count (number of strokes)
Pulse
As you can see, the monitor is fairly basic, easy to read, and easy to operate.
Another neat feature is before and after a workout, the room temperature is displayed on the monitor.
All of the tracked data is displayed on the monitor simultaneously with one of the metrics displayed in large text at the top of the screen.
By default, the monitor scans through all metric data and rotates them in large text at the top of the display every five seconds. You can stop the 'scan' feature anytime you choose.
Additional Comments
A few users commented it is odd the fitness monitor is labeled in German. However, the fitness data is labeled in its designated area on the display and once you translate the few words to english (by reading the instruction manual) it's very easy to read and remember.
I wouldn't let the monitor being labeled in German deter you in any way, but I just figured I would mention it so you weren't surprised!
Another thing to note, the data is measured using the metric system (normal in rowing).
The performance monitor can track your pulse by the following methods:
Included earlobe clip (a clip that attaches from your earlobe to the monitor)
Optional Polar T34 chest strap heart rate monitor
In addition to tracking your pulse rate, the monitor can also measure your recovery pulse rate after a workout.
The monitor is not backlit and it automatically turns on when the rower is in use and automatically shuts off after a few minutes of inactivity.  It doesn't require outlet power to run the monitor, just two AA batteries which are included.
With the Kadett, you have three options when working out with the monitor:
Just start rowing and the performance monitor will start recording your workout data
Set predetermined workout goals and keep rowing until you hit your target
Row in your preferred "aerobic zone" (zone is determined by age)

When you hit your goals you will receive visual and audible confirmation
Monitor Overall
The monitor on the Kettler Kadett doesn't come with all the bells and whistles of top end rowing monitors but it does track a lot of data and enable wireless heart rate tracking.
Overall, it will give you all the data you need to get a great workout!
Build Quality
If you like things built like a tank, you will love the Kettler Kadett Outrigger Style Rower!
Users praised the solid build quality of the rower with its powder-coated high-carbon steel-frame and injection molded resin housing.
Kettler loves to boast about the rower being built in Germany to provide the highest quality parts, which includes "six way welding robots" and "state of the art powder coating"
Kettler must know they have a solid rower because they offer a lifetime warranty on the frame against breakage! This is very uncommon in the industry.
In addition to the solid frame, the ancillary parts are also made of high quality materials.
The padded seat rollers have high-end ball bearings to ensure a smooth gliding motion for many years. I bring this up specifically because the cheaper rowing machines have seat rollers that become warped over time, which makes the seat gliding motion wobbly and uncomfortable. This is something you won't have to worry about with the Kettler Kadett Rowing Machine.
The manufacturer also provides a 3-year warranty on the parts, which is also above industry standards!
Users loved that the Kadett is quiet and some people use it while watching TV at a normal volume level.
You won't hear any unpleasant noises such as creaking and squeaking that you occasionally hear on cheaper models.
Comfort
Comfort is key when it comes to rowing and the Kettler Kadett doesn't lack in this department.
The seat has thick padding and is comfortable to sit on during long rowing sessions. Users enjoyed the seat and liked the sturdiness, as it doesn't wobble.
The seat has heavy duty rollers that don't break down easily like ones found on cheaper rowers and the sealed balled bearings eliminate the need for lubrication.
The handles are made of plastic so you will most likely need to wear gloves while rowing, or at least when you first start rowing until your hands get used to the handles.
The footplates allow the users' feet to pivot naturally during their rowing motion. The footplates pull forward from the seat track or "telescopes" out to adjust to your leg length. (see how to use in the video below)
The footplates are the feature users commented/complained about the most. Users complained they are flimsy, the foot straps are too big, and they move around while you're rowing.
Although the footplates may be a nuisance for some, users have found many ways to get around the issue such as not using the foot straps while rowing or using bungee cords instead of the provided foot straps to secure your feet.
The foot strap issue isn't a deal breaker as it's not really a huge problem. Most users didn't mention it as an issue but I just wanted to inform you and know it's a fixable problem.
Users raved about the overall rowing motion, describing the experience as "smooth and fluid" and "feels like I'm rowing in a boat on water"!
Check out the Kettler Kadett Rowing Machine in action in the video below:
Storage
Storing the Kettler Kadett Outrigger Rower is one one of the coolest and most beneficial features.
The rowing arms simply fold down in seconds, making it easy to store underneath standard bed frames or in a coat closet.
You can see how fast and easy storage is in the video above.
The 'outrigger' design makes it wider than most hydraulic piston rowers but still fairly compact.
It doesn't have wheels so moving it long distances can be difficult but it isn't too heavy (depending on how much you can lift).
While storing is super easy, just make sure you remember to take it out again to use!
Capacity
The Kettler Kadett can handle up to 285 pounds (129 kg), which is a decent capacity. While it's not the highest, I sometimes think these capacities are a bit conservative.
As far as height capacity, the telescopic design of the footplates make it easy to adjust the rower for your leg length and fit almost any user.
Users as tall as 6'6″ (201 cm) were able to use the machine with no issues and had a few inches to spare on the seat track.
If you're taller than 6'6″ (201 cm), I would contact Kettler directly to see if they can give you an exact inseam length.
Shorter rowers don't have to worry about being too short for the Kadett Rower, especially with the adjustable footplate option.
Dimensions
Assembled (L x W x H):

59.0″ x 67.0″ x 18.0″
150 cm x 170 cm x 46 cm

Folded/ Storage (L x W x H):

59.0″ x 20.0″ x 18.0″
150 cm x 51 cm x 46 cm

Weight:

66 lbs (30 kg)
Kettler lists the weight as 51 lbs
NOTE:  A user commented you will need a fairly large space to use the Kadett without any issues due to the wide outrigger design of the rowing arms. The user suggested 6 square feet (.56 square meters) to be on the safe side.
Assembly
The Kadett is delivered with most of the unit disassembled, so it will take some time to assemble the rower.
Kettler estimates about 45 minutes with 2 people, but most users put it together on their own in about 1 to 2 hours depending on their 'handyman' experience.
Some users had difficulty with the assembly because they claimed the instructions were all in German. However, I think they just didn't look hard enough to find the English section or maybe received the wrong manual.
I took a look at the instructions and I was able to find English quickly under the "GB" (Great Britain) section. The instructions are mostly pictures anyways, so just follow them closely and you will be fine.
While assembling fitness equipment is always a pain, just make sure to have enough time, have a clear space, and some good music! And don't forget to follow the Kettler Kadett manual so you don't miss any steps!
Pros and Cons
Pros:
Solid build quality
Outrigger design provides realistic sculling motion
12-levels of adjustable resistance
Long seat track to accommodate tall rowers
Versatile multifunctional monitor with built-in pulse rate monitor
Quiet operation
Manufacturer provides great customer service
Lifetime warranty on frame
Comfortable seat
Cons:
No wheels for transporting
Can be difficult to assemble
Footrest design has some issues
Performance monitor can come loose
Hydraulic-piston can have issues (common on all rowers in this resistance category)
Consumer Reviews
Users raved about the solid build of the Kettler Kadett Rowing Machine and the realistic sculling motion they feel.
They weren't too fond of the footrest and its difficulty to assemble, but overall users are very pleased with this rowing machine model.
A few reviews mentioned they had issues with the rower arriving with parts missing or some slight damages. However, they did mention Kettler quickly resolved the issues and I can confirm they have excellent customer service.
I spoke to them several times over the phone and they took care of me each and every time. They even offered me 10% off my entire order! I wouldn't be worried about the shipment being messed up but if it is, Kettler will take good care of you.
See more Kettler Kadett Rowing Machine reviews here.
Average Rating: 4.1
Warranty
Frame: Lifetime Warranty
Parts: 3-Years
Kettler calls this a 3-year "residential" warranty because they want to make sure it is not used in a commercial setting.
If you ever find yourself needing spare parts for this rower, you can visit their website and find replacement parts like the monitor and shocks.
Kettler Kadett Rowing Machine Price
The Kettler Kadett Rowing Machine is a high-end hydraulic piston rower that is made to recreate the feeling of rowing on water. With it's great build quality and extended warranty, I feel it is very competitively priced. It will, however, be priced higher than the other hydraulic-piston rowers.
When looking around at the different prices I didn't find any differences in price (always subject to change). It is listed on Amazon, which is a great place to find most rowing machine models. Amazon offers very competitive pricing, free shipping on qualified orders, and acts as a great layer of protection between the consumer and manufacturer.
Overall Review
Overall, the Kettler Kadett Rower is a great hydraulic-piston rowing machine. If you are looking for a durable hydraulic-piston rower, then this is an excellent option.
It's one of the only models that allows the "free-motion", "outrigger" style rowing arms and has "spinning" handles to mimic the "feathering" of oars.
Being "German-Made" definitely gives it a big bump in quality over the Asian manufactured models often found in the lower price range.
If you aren't sold on the quality of the pistons or don't care too much about the "Outrigger" style, then I have some other great options for you to check out.
First, I would recommend checking out the Stamina Avari Magnetic Rower. It can sometimes be priced slightly higher but it will have an advanced monitor with different workout programs. It will also be very silent due to it being magnetic resistance. See my full breakdown article here.
If you do want to stick with hydraulic-pistons but just want to spend a little less. I would start with the Stamina 1215 Orbital Arm Rower. It also has 2-pistons but will have lower build quality. Check out my full review here.
If you haven't heard by now through your research, there is a standout rower that everyone loves. It's an air rower by the name of Concept2 Model D. It's pretty much the "Gold Standard" and is a great rower all around. It cost a lot more than this model but it is sometimes nice to see the top option. you can also see if maybe an air rower would be a good choice. You can read my full review here.
I hope you enjoyed my Kettler Kadett Rowing Machine review. If you have any questions please leave them in the comment section below.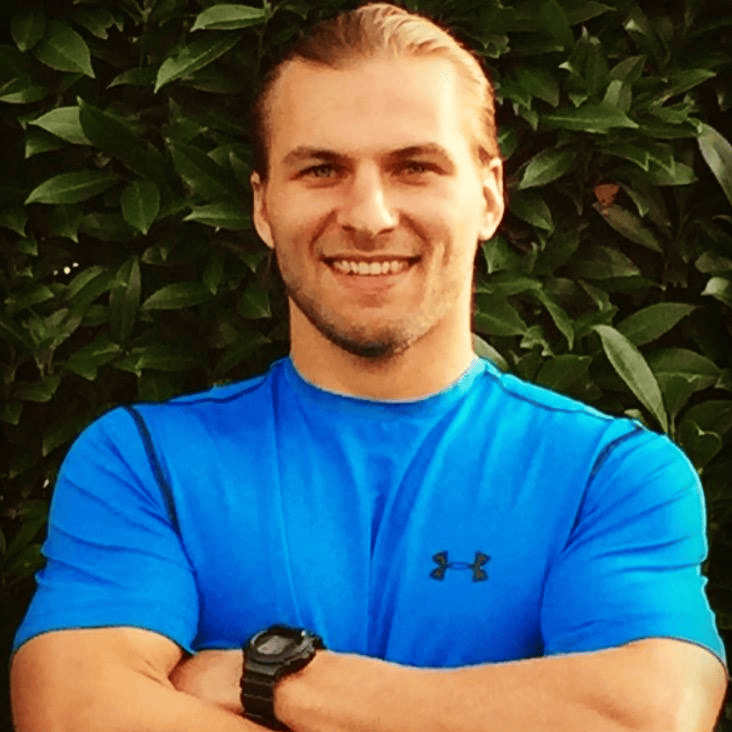 Rowing Machine King Founder and Author.