Stamina 1215 Orbital Rowing Machine Review
Looking for a solid, low-cost hydraulic-piston rower?
Then check out the Stamina 1215 Orbital Rowing Machine with Free Motion Arms!
Stamina Products, a well-known manufacturer of rowing machines, is at it again with this great dual hydraulic-piston rower!
2-pistons mean higher quality, more resistance strength, and a smoother rowing stroke.
Plus, the free-motion arms simulate the feeling of rowing with oars on water!
The 1215 Orbital Rower is compact and has a price tag that's very reasonable. Especially considering the higher-end rowers cost 3 times more!
Overall, the 1215 Rower brings a lot to the table but it does have a few shortcomings. I breakdown all the pros & cons in my full Stamina 1215 Orbital Rowing Machine review below.
Table of Contents
(click a title to jump ahead!)
1. Resistance Type
2. Monitor/Control Panel
3. Build Quality
4. Comfort
5. Storage
6. Capacity
7. Dimensions
8. Assembly
9. Pros and Cons
10. Consumer Reviews
11. Warranty
12. Price
Resistance Type
The Stamina 1215 Orbital Rowing Machine with Free Motion Arms is a hydraulic-piston resistance type.
This means that 2 hydraulic pistons, one on each arm, provide the resistance to the rower.
I'm no engineer but I have done a little research on how hydraulic-pistons operate.
Firstly, they are filled with hydraulic fluid that moves in-between two chambers. The amount of resistance is determined by how big the hole is that the fluid must pass through to reach the other side.
So when a user adjusts the piston to a lower resistance, they are actually opening up the whole wider, which allows the hydraulic-fluid to pass through more easily, and therefore makes the resistance easier.
When the hydraulic piston is adjusted to a higher resistance setting, the hole becomes smaller, and harder for the fluid to pass through. So the resistance becomes more difficult.
Due to the user being able to manually change the resistance setting, we call a hydraulic-piston rower an "adjustable" resistance rower.
I hope that makes sense! To find out more about the characteristics of hydraulic-piston rowers and other resistance types – click here.
Resistance Benefits
The Stamina 1215 Orbital Rowing Machine has smooth, strong resistance that is very quiet.
Users mentioned they loved using it while watching TV and felt the resistance strength was adequate for their needs.
There are 5 resistance levels for each handle that can be easily adjusted by sliding and tightening tension adjusters up & down on the arm.
The resistance levels vary in difficulty making it perfect for people of all fitness levels.
The way Stamina labeled the resistance is a little odd. Resistance level 1 is "most difficult", whereas resistance level 5 is "easiest". Every rower I've used usually has the easiest resistance at the lowest number setting.
This is most likely the reason a few users complained that the "lowest" resistance level on the 1215 Orbital Rower was too difficult for them. Probably because they were actually trying to use it on the "highest" setting!
To add more resistance, you can raise the tail end of the rowing machine off the ground. Meaning, you have to push harder with your legs when you start rowing to push yourself up the incline! It also allows for a smoother return to the catch position.
Orbital "Free Motion" Arms
A major benefit of the 1215 Orbital Rower is the "Free Motion Arms". The 'Free Motion Arms' allow the user to pull the arms back at any angle and creates a more realistic rowing motion.
The primary advantages of having a rowing machine with orbital rowing arms are:
Each arm isn't forced to do what the other arm is doing.
Most of the time when you row, both arms are synchronized (i.e. they pull and push the handles together). However, with the Stamina 1215 this is not the case.
The independent free-motion handles allow you to mix it up. For example, with your left arm you can pull and push the handle in a straight line (like on conventional rowers) while your right arm can add a "swinging-out" motion that simulates rowing with an oar on water.
You can also row at different angles for each workout. So for one workout you can pull both arms straight back to work out you 'inner' back muscles and another workout you can perform the "swinging-out" motion to work your lats and 'outer' back muscles.
This variation may not seem like a big deal at first, but sooner or later you might get bored of rowing and these option can help "spice" things up a bit.
You can see what I'm describing in the video below.
Each arm can have its own resistance level.
This can be helpful for people who don't have a balanced upper-body.
For example, if your left arm or back is weaker than your right, you can have the resistance level for your left arm be a level or two less than the resistance level on the right to help balance out both sides.
Resistance Overall
Overall, the Stamina 1215 Orbital Rowing Machine with Free Motion Arms has great resistance.
Users mentioned the resistance strength was great for the price, smooth, and quiet. They also liked how the resistance between both arms was balanced, which can sometimes be an issue.
Monitor/Control Panel
The 1215 Orbital Rower comes with a single-button multi-function monitor that tracks important workout statistics.
The monitor can track the following data:
Time
Calories burned
Stroke count
Speed
Distance
As you can see from the photo below, the monitor is very basic and only has one button!
The LCD display can show each statistic one at a time or they can automatically rotate by using the monitor's 'scan' feature that cycles through each statistic every 4 seconds.
Here are some additional details about the fitness monitor:
Turn on with the touch of a button or automatically by moving the rower's seat
Turn off automatically after 4 minutes of inactivity
Powered by 1 AA battery (included)
Don't expect it to download MP3s or let you see your newsfeed on Facebook!
If you want any advanced fitness tracking I would recommend buying the Polar H10 Heart Rate Monitor. You can then sync it to your smart phone and track a bunch of statistics. You can also use it while running, biking, etc.
Bottom line – the Orbital 1215 Rower has a basic fitness monitor that tracks essential fitness data so you can focus on rowing!
Build Quality
Stamina is known for making rowing machines with strong, durable frames and that reputation holds true with the 1215 Orbital Rower.
The frame is made of steel with an aluminum beam, so it feels sturdy but not too heavy.
It feels so sturdy that a few users mentioned they use the rower to do sit-ups and dumbbell presses (I don't recommend doing this by the way– I just wanted to highlight how sturdy the frame feels).
Since it's hydraulic-piston resistance, it's expected to be quiet and users liked this about the 1215 Orbital Rower.
The lower-priced rowing machines (such as this one) are infamous for making some squeaking and creaking noises, but there was no mention of this by any user! Users felt all of the parts were high quality and would hold up over time.
Some hydraulic-piston rowers have quality issues with the pistons. Many times they can malfunction, over-heat, or break after being overused. This can cause the resistance to become weak or even leak oil.
A major benefit of the Stamina 1215 Orbital Rowing Machine is that is gets very few complaints about any piston issues. One reason could be due to having 2-pistons, whereas other rowers have only 1-piston.
If you are nervous the pistons might leak or the rower may scratch your floor – you should check out the Stamina Fold-to-Fit Exercise Floor Mat.
Check out the video below to see the Stamina 1215 Orbital Rower with Free Motion Arms in action:
Comfort
The Stamina 1215 Orbital Rower seat is thickly padded and is adequate for normal rowing sessions. However, some users mentioned that when rowing for longer periods of time (45 minutes or more) their butts started to hurt.
If you're going to row for longer periods of time, you might need to add some more padding for additional comfort.
The handles are foam grip wrapped, which makes them comfortable and sufficient for everyday rowing.
The pivoting footrests allow the users' feet to move naturally when rowing, which provides comfort and more range of motion compared to non-pivoting footrests.
The machine's free-motion arms are what highlight the comfort of the rowing experience.
Traditional handles can only go back and forth in a straight line, but the arms on the Stamina 1215 can also "swing out" to simulate rowing on the water with oars. This feature isn't common on rowing machines, so it's a great addition to have.
A very small percentage of users mentioned the wheels on the bottom of the seat started to wear down after a few months of use. It's likely that the cause of the issue was dirt and other fragment build-up on the seat railing.
When the wheels repeatedly go over the dust and other particles, this causes the wheels to deteriorate. To mitigate the risk of this happening, it's advised (it's highlighted in the owner's manual as part of 'machine maintenance') that the seat railing be cleaned periodically.
Overall, the rowing motion for this rower is excellent. The seat glides smoothly on the seat rail and the free motion arms provide a smooth, comfortable row.
Storage
The Stamina 1215 Orbital Rower allows easy folding of the free motion arms to reduce its overall footprint.
It folds up small enough to fit in a closet or store under a bed with decent clearance.
It is compact and fairly light, so although it doesn't have wheels, it's relatively easy to move around when needed.
A user advised to put a piece of cardboard underneath the rower if you're going to slide it on wood or laminate flooring since the metal from the rower makes contact with the floor.
Capacity
Per Stamina, the weight capacity is 250 lbs but users weighing 280 lbs and even 300 lbs claimed to have used this model for an extended period of time without any issues.
This shows the amazing durability and I'm sure the weight capacity given by the manufacturer is conservative.
Hydraulic-piston resistance rowers have a smaller seat rail compared to rowers with different resistance types, meaning this isn't the ideal rowing machine for taller people.
Users as tall as 6'2″ used this model with no issues, but people have different inseam length so it's inaccurate to say that all 6'2″ users can use the 1215 Orbital Rower without any issues.
This rower isn't ideal for shorter users either depending on how their body is proportioned.
One user who is 5'1″ claimed pushing and pulling the handles felt more like a shoulder workout rather than a back workout because the handles were too high for her.
Based on my findings, I recommend anyone taller than 6'2″ or shorter than 5'2″ to try out a machine at their local fitness store before buying to make sure it feels right for you.
Dimensions
In-Use (L x W x H): 
Folded/ Storage (L x W x H):
Weight: 
Assembly
When looking at different customer responses on the assembly, there are some mixed responses.
Some customers found it very easy to assemble, while others found it quite difficult.Users reports assembling the 1215 Rower in as fast as 30 minutes and as long as 2 hours!
I think the key is to expect the assembly to be a little tricky and set aside a good chunk of time to complete it.
I would clear out a nice area, have all the parts & tools laid out, and carefully follow the instructions.
Maybe play a little music and just take your time!
Pros and Cons
Pros:
Solid frame construction
Free motion arms mimic rowing with oars on water
5 levels of adjustable resistance
Independent rowing arms allow each arm to have adjustable resistance
Option to raise angle of seat rail to add additional resistance
Good price for dual-piston rower
Cons:
Footrests don't pivot down far enough
Basic monitor
Not ideal for shorter or taller users
Wheels underneath chair could wear out quickly with no maintenance
Consumer Reviews
Users were happy with the overall quality of the Stamina 1215 Orbital Rowing Machine and most gave it a favorable review.
They liked the durable frame and simple, yet functional design. They also felt it was a good quality rowing machine for the price they paid.
Some downsides I read in the reviews were the basic monitor and height restrictions on the upper and lower ends.
Check out more Stamina 1215 Orbital Rowing Machine with Free Motion Arms reviews here.
Average Rating: 4.3
Warranty
Frame: 5-Years
Parts: 90-Days
Model #: Stamina 35-1215
While a 5-year warranty on the frame is quite nice, a 90-day parts warranty is fairly low. Just make sure to double check everything when assembling the rower so you can request replacement parts and also re-check near the 90-day mark.
Stamina 1215 Orbital Rower Price
Hydraulic-piston rowers tend to be the lowest cost rowers on the market. The Stamina 1215 is a bit different because the rower has 2 hydraulic-pistons, which increases the cost.
However, it is still very competitively priced and is considered a budget rower.
Stamina appears to like selling their brand through Amazon, although it is listed on a few other online retailers. The price of Stamina 1215 Orbital Rowing Machine with Free Motion Arms looks to be the same on most websites.
I think Amazon is a great place to buy rowing machines because they have a large selection, offer competitive pricing, free shipping on qualified orders, and they act as a layer of protection between the manufacturer and customer.
Overall Review
Overall, the Stamina 1215 Orbital Rower with Free Motion Arms is a great low-cost hydraulic-piston rowing machine!
It's especially great if you are looking for dual pistons and free-motion arms!
There are a few other good options when it comes to hydraulic-piston rowers that you can check out.
One good low-cost option is the Sunny Health & Fitness Full Motion Rower. You can read my full review here.
You can also go up in price a little and check out the Kettler Favorite Rowing Machine. See my full review here.
If you think you want an air or magnetic rower, there are also great low cost options available! Just click my "Find a Rower" section in the navigation bar and look for the highest rated models in the lowest price range!
I hope you enjoyed my Stamina 1215 Orbital Rowing Machine review! If you have any questions please leave them in the comment section below.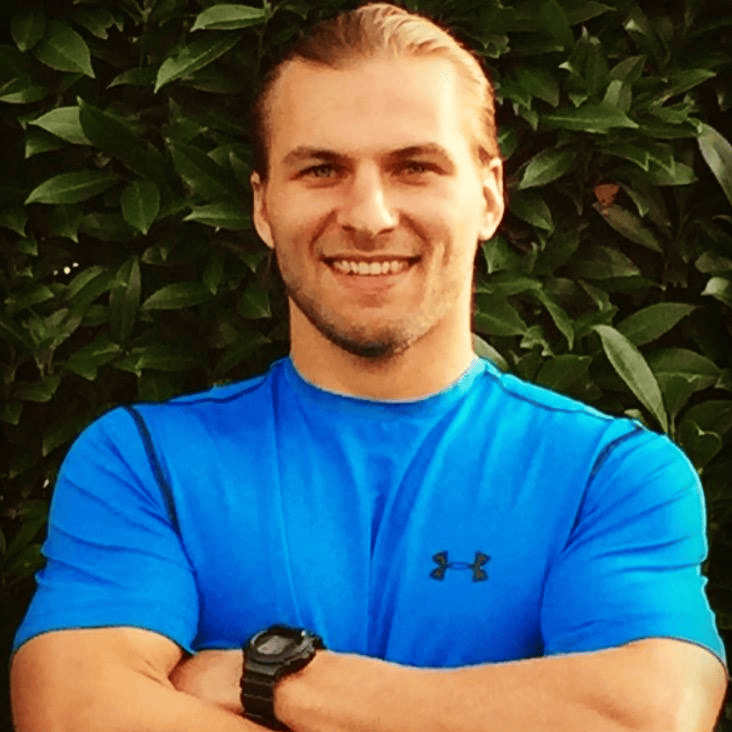 Rowing Machine King Founder and Author.