WaterRower Oxbridge Rowing Machine Review
Welcome to our WaterRower Oxbridge rowing machine review. It's in their 'Original' line of rowers, standing out as being made of Cherry wood. The various models in the Original line differ mostly in the type of wood they're made of.
Compared to their other lines (Performance, Hybrid, Metallic, etc.), the original rowers are solid wood (no aluminum monorail), come with the S4 monitor (not the A1 or GX), and don't use a phone or tablet arm.
I've used the WaterRower Oxbridge and liked it a lot.
I've used the Ash and Oak Original rowers, and the A1 with the aluminum monorail. So, I have a good idea of how the Oxbridge compares to other models.
In short, the WaterRower Oxbridge is functionally equivalent to the cheaper rowers in the 'Original' lineup (e.g., the Oak and Ash) but is made of Cherry, which is premium wood. As such, it comes with the brand's best monitor, the S4. Recently, it's been renamed from "Oxbridge" to "Cherry Rowing Machine".
At major retailers, it's still called the WaterRower Oxbridge. But on the main website, it's called the "WaterRower Cherry Rowing Machine with S4 Monitor".
Cherrywood has special properties. It varies in color from a deep red to reddish-brown. As is common, it darkens over time with exposure to light. They're stored in dark conditions, so the initial color will be quite light when you first get it. Expect the color to darken over time, ultimately reaching a rich reddish hue.
In the end, if you could do without the cherrywood, you can save money by going with the Ash or Oak version. All 'Original' WaterRowers offer the same top-tier performance monitor, the same great resistance, and an equally-effective full-body workout.
Table of Contents
(click a title to jump ahead!)
1. Resistance Type
2. Monitor/Control Panel
3. Build Quality
4. Comfort
5. Storage
6. Capacity
7. Dimensions
8. Assembly
9. Pros and Cons
10. Consumer Reviews
11. Warranty
12. Price
Resistance Type
Like all their models, the WaterRower Oxbridge Rowing Machine in Cherry with S4 Monitor is a water-resistance rower.
Instead of creating air drag like the Concept2, this type of rower uses a "water flywheel" with paddles (instead of fan blades). The paddles are suspended in a tank of water where they spin around creating resistance drag.
So, when a rower pulls the handle on the Oxbridge, it causes the paddles in the water tank to spin. The paddles must displace the water in front of them, thus causing resistance.
To find out more about how water resistance works in greater detail (in addition to the other resistance types), click here.
Endless Resistance
As mentioned in the 'rowing machine resistance types' article, the resistance level–how heavy the stroke feels–is determined by the user's rowing intensity.
So, the resistance and difficulty level you'll get with the Oxbridge far exceeds what you'd get with magnetic and hydraulic-piston rowers since there's no maximum setting.
Changing the Difficulty Level
Controlling the resistance is all about controlling the drag. When rowing on water, drag is determined by rowing speed and paddle depth.
Similarly, drag is determined by how quickly the paddles move through the water tank and how much water is in the tank.
By Adjusting the Rowing Pace
The resistance on the WaterRower functions much like that of an air rower in that the resistance level is determined by the rower's rowing intensity level. But, there's a big difference…
Since water is thicker than air, resistance goes up far more quickly with increasing speed. This is known as the 'Rule of Cubes'. A doubling of the speed of the boat will require an eight-fold increase in resistance. So to row a little faster requires A LOT more power.
So, to gain more resistance, all a user has to do is row harder. On the flip side, for an easier resistance, just row slower.
By Adjusting the Water Level
By adding more water to the tank you can make the rowing stroke feel heavier like rowing a boat with more people.
Users commented the resistance is suitable for all fitness levels and it feels extremely smooth!
There were almost no negatives about the resistance of the WaterRower Oxbridge Rowing Machine. The only downside is having to fill the tank but this only has to be done once!
Quiet, Smooth Operation
Because the Oxbridge uses water resistance, it won't make the loud noises produced by noisy fans. The noise produced is somewhere between magnetic and air rowers, but closer to the former.
A lot of folks find the noise that is produced to be meditative. I know I enjoy rowing while listening to the soft sounds of splashing water.
With the WaterRower Oxbridge, you can row and watch TV at a normal volume level.
It's also quiet enough to use in an apartment where people may live above or below you.
You can read more about air and water resistance and how they operate in this article.
Resistance Overall
Overall, the resistance on the Oxbridge is excellent and is the same as all the other WaterRower models.
It's strong, smooth, and quieter than air resistance.
Monitor/Control Panel
The WaterRower Oxbridge Rowing Machine comes with a S4 (series 4) multifunctional performance monitor.
The S4 is not only the brand's best, but it's widely thought of as the best performance monitor on the market for water rowing machines. It's kinda like the Concept2 PM5 equivalent for water-resistance machines.
The monitor tracks the following fitness data:
Workout Intensity
Stroke Rate
Heart Rate
Duration
Target Fitness Zone
Distance
All of the tracked fitness data can be seen on the home screen of the monitor simultaneously in separate "windows".
Here's a quick rundown of what's in each window on the main screen:
Intensity window:
Displays rowing speed in meters per second, miles per hour, minutes per 500 meters, and minutes per 2 kilometers
Also displays power and calories burnt per hour
Stroke rate window:
Displays the number of strokes per minute
Heart rate window:
*Option is available when optional heart rate monitoring equipment (Cardio Sport ANT Digital) is used with the fitness monitor (not included)
Displays beats per minute
Target zone [bar] window:
Displays target zone readings for intensity, heart rate, and stroke rate
Duration window:
Displays time rowed in hours, minutes, seconds, and decimal seconds
Can also display the time remaining in the current workout (if a predetermined time for the workout has been established)
Distance window:
Displays distance rowed in meters, miles, kilometers, or strokes
Can also display the distance remaining in the current workout (if a predetermined distance for the workout has been established)
Program window:
This window is used to help the user navigate through the monitor's advanced functions
Other Features
There are 9 total buttons on the face of the monitor, 6 shortcut buttons, and 3 navigation buttons. 
The display isn't backlit so you will need some light to see the workout data while you're working out. It's powered by 4 AA batteries, which are included.
With an optional monitor cable, the S4 can connect to your computer to upload workout data. Also, this option allows you to train and race against other WaterRower owners from around the world.
Popular S4 computer software includes We-Row (WaterRower's own software), NetAthlon, UltraCoach, and Rowyo.
Here is a quick video displaying some of the monitor features:
The S4 monitor is simple to use, contrary to what you assume given it has 9 different buttons. Negative feedback on the S4 monitor on the WaterRower Oxbridge Rowing Machine is hard to find.
Build Quality
The WaterRower Oxbridge Rowing Machine is handcrafted from solid cherry wood and finished with 3 coats of Danish oil.
Wooden machines are often made of high-density particleboard–which is allowed to be labeled as "solid" by modern furniture standards. WaterRowers are made of natural wood which is solid in the everyday sense (not particleboard).
It's why these machines are not only beautiful but offer incredible longevity, dimensional stability (they don't warp), and sound/vibration absorption.
WaterRower is really serious about taking care of the wood for its rowers. The Cherry wood pieces are kept away from the light to protect them from shadowing. As mentioned, the color will settle into a dark reddish hue over time.
I own/use the Concept2, so I'm used to steel frame rowing machines. When I've rowed on the Oxbridge and other WR models, it's always caught me off guard how the machines never moved no matter how fast I'd row. During a 30-min workout, the Oxbridge didn't even budge.
The wood is ideal for absorbing sound and vibration and besides the normal sounds you'd expect to hear while rowing (wheels on the seat gliding, water in the water tank), you don't hear anything else such as creaking and other annoying noises often heard on cheaper rowing machines.
The water tank is made out of polycarbonate, a durable type of plastic. Though it happens, reports of cracking and leaking are pretty darn rare even after years of use.
Like most in the 'Original' line of machines, the WaterRower Oxbridge has a simple design and thus few moving parts, overall. So, fewer things can go wrong, wear out, or need replacing over time. Even the recoil belt and pulleys don't require any lubrication or maintenance.
Comfort
The WaterRower Oxbridge's molded seat is heavily padded and comes with dual rails with four corner wheels that keep the seat stable, not to mention it reduces sweat buildup.
The handle is light, durable, and is ergonomically shaped to fit comfortably in your hands.
The heel rests hold your heels firmly and the footboards can be adjusted in a matter of seconds to accommodate users with different shoe sizes. Nylon straps are used to secure users' feet when they row.
The footrests don't pivot, but your feet are still able to move naturally as you row.  Overall, the footrests are comfortable.
I liked the rowing motion on the WaterRower Oxbridge rowing machine for a few reasons:
Because of the sprag clutch (I'm guessing), the nylon strap didn't snag or feel 'jerky' when I pulled the handle.
The seat glides up and down the dual rails smoothly.
The footrests allow your feet to move naturally as you row, which is not always the case.
Of course, the nice splashing sound adds to the experience.
Below is a great video of a WaterRower in action (different wood type)
Storage
The WaterRower Oxbridge rower has a pretty large footprint due to the bulky tank and wooden frame, but it can be stood up easily in seconds to save floor space.
While in storage mode, the rower's width is about that of a dining room chair.
The dual caster wheels let you push it around like a wheelbarrow. I've found this to be true of their wooden models even with water in the tank.
The only issue with storing the Oxbridge would be moving it up or down a set of stairs.
Capacity
The Oxbridge's maximum weight capacity is 1,000 pounds (454 kg). The new WaterRower Cherry Rowing Machine (not labeled the Oxbridge) has a weight capacity of 700 lbs.
The seat rail is fairly long, making it ideal for taller rowers. People as tall as 6'6″ have used this machine and were able to extend their legs with some room to spare. 
I have seen videos of children using the WaterRower Oxbridge rowing machine so there's no minimum height requirement.
Dimensions
In-Use (L x W x H):

Oxbridge: 83.0" x 24.0" x 21.0" (211 cm x 61 cm x 53 cm)
New Cherrywood model: 82.0" x 22.0" x 20.0"

Storage Mode/ Standing (L x W x H):

21.0" x 24.0" x 83.0"
53 cm x 61 cm x 211 cm
About the footprint of a dining room chair

Weight:

Oxbridge: 117 pounds [53 kg] (with full water tank); 73 pounds [33 kg] (with an empty water tank)
New Cherrywood model: 103.5 pounds (full tank); 66.5 pounds (empty tank)
Assembly
From the feedback I've heard, the WaterRower Oxbridge shouldn't take much more than 30- 45 minutes with the provided Allen wrench.
Just follow the detailed instructions and you'll be set up and ready to row in no time.
This video shows you the steps:
Pros and Cons
Pros:
Solid build with beautiful cherry wood construction
Smooth and realistic rowing motion
Easy to assemble
Dual caster wheels and easy "flip over" storage
Comfortable seat and handle
Can link S4 monitor to your computer to race others, train, and upload workout data
Cons:
Costs more than Ash and Oak models.
Consumer Reviews
Consumers couldn't stop mentioning how beautiful the rower looks.  Pictures really don't give it justice, IMO. You have to see one in person.
Owners really liked the solid build quality, realistic rowing motion, and were pleasantly surprised at the noise level of the WaterRower Oxbridge rowing machine.
Another great feature is the smooth and strong resistance. Users really felt they could grow with the machine and that it would last a lifetime.
Click here to read the full WaterRower Oxbridge Rower reviews.
Average Rating: 4.8
Warranty
Frame: 5 years*
Parts: 3 years*
*Requires completion of registration form. Otherwise, warranty is 1 year.
So don't forget to register your rower after you buy it.
WaterRower Oxbridge Rowing Machine Price
The WaterRower Oxbridge rowing machine can usually be found for around $1500, making it ~$400 more than the cheapest S4 monitor-equipped model. The same goes for the newer cherrywood S4 rowing machine.
So, it's at the higher-end of the price range.
Again, if you can do with Ash or Oak, you'll save a few hundred and still get all the functionality and durability of the Oxbridge.
Final Review
There you have it. The WaterRower Oxbridge is an excellent choice if you're looking for a high-end rowing machine. The different wood types are available mostly for aesthetic purposes and have little to no unique benefits.
Some wood types are more durable, sure, but the differences are small and mostly only come into play in stuido and commercial environments where machines see heavy use around the clock.
The dark reddish hue of cherrywood is beautiful, to be sure. But, if you'd rather save $400, you can get the same functionality and durability by choosing an oak or ash model.
Another lower-cost option is the WaterRower A1. It has a monorail design and cheaper monitor. You can check out my A1 review by clicking here.
If you are more interested in athletic performance and don't mind a bit more noise, then I would look into the Concept2. This is the chosen rower by professional athletes, Crossfit gyms, and anyone looking to track their performance. It has the best monitor on the market. You can review my Concept2 review by clicking here.
I hope you enjoyed my WaterRower Oxbridge Rowing Machine review! Drop me a comment with any questions and I'll be glad to add my opinion or help find the answer!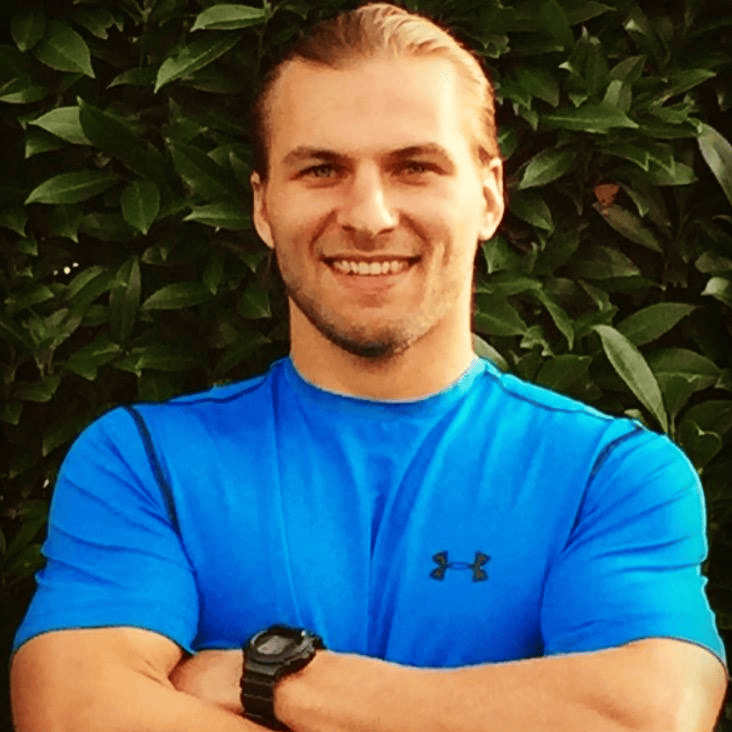 Rowing Machine King Founder and Author.