Stamina BodyTrac Glider 1052 Review
Looking at the Stamina BodyTrac Glider 1052 Rower?
If so, you've come to the right place! Stamina really stepped up their game and added some cool features to this low-cost rower.
In my BodyTrac Glider 1052 review below, I'll take a deep dive into the pros & cons, giving you a deeper insight into this unique rowing machine by Stamina.
I'll talk about all the features integrated into the model (including the compatible audio coaching app) and look at all the latest improvements made in response to user complaints of previous models.
Note: I've reviewed both the BodyTrac Glider 1050 and BodyTrac Glider 1060 —both great options for a highly effective workout. The BodyTrac Glider Rowing Machine 1052 is an upgraded version of the 1050, with a few added features.
By the end of my review, you'll know exactly if the 1052 model is the best choice for you, or if you're better off considering another budget rowing machine.
Resistance Type
Like the 1050 and 1060 models, the Stamina BodyTrac Glider 1052 is a hydraulic-piston rowing machine.
What this means is that there is a piston installed beneath the rowing machine's seat rail.
When you turn the knob to raise or lower the resistance, the size of the hole that controls the amount of fluid in the piston increases/decreases. This makes it easier/more difficult to move the piston. This is how you control the "adjustable resistance".
You can learn more about hydraulic-piston and other resistance types in my full breakdown article here.
Resistance Benefits
The BodyTrac Glider 1052 uses a single-center piston to provide resistance. The piston is connected to the two rowing arms (which move independently of each other) to give you a very effective and natural rowing motion.
What makes hydraulic-piston rowing machines like the BodyTrac Glider 1052 so effective is the smooth resistance provided by the fluid-filled piston.
You can adjust the resistance using the built-in knob, and it will increase/decrease according to your fitness level or workout intensity.
Hydraulic-piston machines are the only rowing machines that include two independently-moving arms that operate identical to an actual pair of oars. This give people a more natural feeling of "rowing".
Hydraulic-piston resistance machines are also better for building muscular endurance because they have high levels of difficulty. Unlike "variable" rowing machines (like air and water rowers), you can row slowly with piston resistance machines and still get a very difficult workout due to the high resistance.
The Stamina BodyTrac Glider 1052 offers 12 different levels of resistance. Level 1 is understandably easy, but Level 12 is surprisingly difficult.
Of course, commenters were thrilled by how quiet the machine was, too. Piston resistance rowers are virtually silent, meaning you can watch TV, listen to music, or even hold a conversation while rowing.
Resistance Downsides
As expected with hydraulic piston machines, super-fit reviewers were less-than-thrilled by the intensity of the workout.
While piston machines typically exceed the resistance difficulty of magnetic rowers, they can't match the challenge of an air or water rower. Variable resistance machines always offer a tougher rowing session—making them a better choice for ultra-fit rowers.
CrossFit-type workouts just aren't possible on the BodyTrac Glider 1052 because the pistons aren't able to perform high "strokes per minute". The mechanics of the piston mean it's not great for HIIT training or "sprint" type workouts. This is a problem common to all hydraulic-piston resistance machines.
One of the other potential downsides of hydraulic-piston machines is that they can get VERY hot after your workout—so hot they can actually burn to the touch. Make sure to keep your hands away from the piston until it's cooled down fully.
The longer you work, too, the less resistance it will provide. The oil filling the piston loses viscosity and grows thinner as it heats up. Usually, waiting 5-10 minutes for the oil to cool is enough to get the machine back to full intensity.
And one final problem mentioned by a few reviewers: once the piston heats up, the hydraulic fluid may leak. It's not a very common issue, but one you need to be aware of.
If you're working on a concrete garage floor, you can simply wipe up any spilled oil. But if you've got the rowing machine set up on carpet or a wooden floor, I recommend using the Stamina Fold-to-Fit Equipment Mat as a precautionary measure.
Resistance Overall
The lack of max-intensity resistance is a factor that may make the BodyTrac Glider 1052 unsuitable for ultra-fit rowers.
However, for anyone who wants a moderate-intensity workout for 20-30 minutes at a time, this rowing machine delivers exactly what you need.
It's quiet, smooth, and the independently moving arms make for a much more natural (and often challenging!) workout.
Monitor/Control Panel
The Stamina BodyTrac Glider 1052 comes with a built-in LCD monitor that displays the following workout metrics:
Scan
Time
Stroke Count
Calories
Total Stroke
A few reviewers commented saying that they wished it displayed other metrics (distance rather than just stroke count). However, they praised the screen for being clearly legible with large, easy-to-see numbers.
The 1052 monitor is a major upgrade from the 1050 and 1062 models. Not only is it sleeker and better-looking, but it delivers a more accurate stroke count. Plus, it lets you switch between the various metrics—either pressing the "Scan" button to auto-cycle through or pressing the "Mode" button to do it manually.
The monitor uses 2 AAA batteries, which are included in the box.
One more great thing about the control panel: it comes with a slot to support your smartphone or tablet. You can place your device right in front of you to watch TV/movies.
Coaching App
When you buy the BodyTrac Glider 1052, you also get access to müüv, a smart audio coaching app that will help take your training to the next level.
Müüv is designed to help you move 500+ minutes per week, incorporating different workout types to maximize flexibility, strength, and cardio conditioning. Not only on the rowing machine but using all equipment and bodyweight workouts.
The personalized audio coaching provided by the app (on your phone) will help you to stay motivated and train hard on your rowing machine.
It's not an integrated feature of the Stamina rowing machine, but it's definitely an added perk.
And, thanks to the tablet/smartphone holder built into the monitor, you can keep the workout videos right in front of you to follow along with the trainer.
Build Quality
The BodyTrack Glider 1052 is built very sturdy, using high-quality aluminum for the center slide rail and carbon steel for all of the rest of the body.
This makes for an excellent combination: it's tough-as-nails and highly durable, but ends up being a lot lighter than you'd expect—just 39 pounds.
As mentioned above, hydraulic-piston machines are known to occasionally leak when the piston heats up and the fluid loses viscosity. This hasn't yet been an issue with the BodyTrac Glider 1052 (no user complaints mentioned it), but it's a factor to consider nonetheless.
Users have called it a "well-built piece of equipment", saying it "feels solid and durable". Overall, the build quality gets no complaints from users.
The only quality issue with the BodyTrac Glider 1052 is if the pistons wear out prematurely. Unfortunately, on low-cost models, the pistons can wear out in a few months. These models are only meant to be used for 15-20 minutes a day so if you use them longer, you may need to buy replacement pistons.
Build Quality Overall
Reviewers seem largely satisfied with the build quality of this steel-and-aluminum rowing machine.
There were no standard complaints about the pedals, assembly hardware, or plastic components common with low-budget rowing machines.
However, you will want to keep a close eye on the piston, just to make sure it doesn't start leaking when it heats up.
Comfort
The BodyTrack Glider 1052 comes with a beautifully designed seat, one with extra cushioning and contoured molded padding that keeps your butt firmly planted while you row.
The full-motion rowing arms also include built-in padding on the grips to reduce strain on your hands/wrists while you row.
You'll find that the rowing action—both the moving arms and the sliding seat—is smooth and incredibly comfortable.
Users love how easy it is to mimic the action of rowing a two-oared boat thanks to the independently moving arms. It's a nice change-up from rowing machines with just a built-in handle that you pull straight back. You actually feel like you're in a boat!
The textured footplates will give your shoes extra grip on the pedals and keep your feet securely in place.
Overall, users felt the 1052 Rower provide a comfortable rowing stroke for a low-cost hydraulic-piston rower.
Storage
Storing the BodyTrac Glider 1052 is an absolute breeze!
When you're done with your workout, simply slide the seat forward, unscrew the two knobs that allow you to fold the arms up, tighten the knobs to lock the arms, and stand it upright.
It takes a matter of seconds and you're ready to get on with the rest of your day.
Unfortunately, this Stamina rowing machine doesn't include built-in caster wheels. You will have to physically lift it off the ground to move it to wherever you want to store it.
The rowing machine weighs less than 40 pounds, not too heavy for the average person to lift. However, I recommend you keep it as close as possible to wherever you want to store it. That way, all you have to do is fold it, lift it upright, and you're done.
Note: Just make sure not to touch the piston until it has time to cool down. It will be very hot right after your workout, and you could burn yourself.
Capacity
The Stamina BodyTrac Glider 1052 Rowing Machine has a weight capacity of up to 250 pounds.
The sliding rail will accommodate rowers up to 6'4" (depending on inseam length). Though some reviews of the older-model 1050 found that users up to 6'6" found it fairly comfortable.
Given that 1052 is the same length as the 1050, it's possible that it can handle taller rowers, too.
Users as short as 4'10" will have no trouble on the machine, though the single Velcro foot strap may be a bit too short to accommodate smaller feet.
Dimensions
Assembled Dimensions (L x W x H):
Assembled Weight:
Assembly
Users LOVE how easy the BodyTrac Glider 1052 is to assemble. Reviewers say that it takes an average of 30 to 40 minutes to put it together.
One said, "Assembly instructions could have been better, but if you've ever put together anything requiring moderate assembly, you can do this."
All of the tools necessary for assembly are provided in the box, and the main components arrive pre-assembled.
All you have to do is put together the smaller components (pedal, seat, handles, etc.), install the batteries, and you're ready to go!
Pros and Cons
Pros:
Sturdy and well-built
Comes with access to Müüv
Comfortable; cushioned seat and padded rowing arms
Easy to assemble (30-40 minutes!)
Smooth resistance, decent intensity
Folds up small and light enough to lift
Cons:
No built-in caster wheels for easy storage
Limited workout metrics displayed
Hydraulic pistons may leak when hot
Not suitable for HIIT workouts
Not suitable for long rowing sessions
Consumer Reviews
Overall, reviews on the Stamina BodyTrack Glider 1052 are overwhelmingly positive.
Users love the ease-of-assembly, comfort of the padded seat and handles, and how natural the stroke feels. With its sturdy build, it's earned itself a reputation for being a great budget option.
As expected, there are a few issues mentioned by users, but they appear limited to design problems rather than quality control (which is more common with low-end rowers).
Check out more Stamina BodyTrac Glider 1052 Reviews here.
Warranty
Stamina offers a warranty pretty much on par with rowers in the lower-end range. A 1-year for the frame and only 90 days for parts.
As you saw in my review above, the pistons can give out after the 90-day warranty window, forcing users to buy the replacement parts if necessary.
Frame: 1 year
Parts: 90 days
Stamina BodyTrac Glider 1052 Rower Price
Price is always the most attractive feature of budget rowers like the BodyTrac Glider 1052!
Hydraulic-piston rowing machines are typically available at low prices because they are easier and cheaper to manufacture than air and water rowers. Stamina has earned itself a reputation as one of the better brands in the budget range because of the quality of their rowing machines.
If you're thinking of buying the BodyTrac Glider 1052, I highly recommend you buy it from Amazon. Not only is the price tag typically lower than on Stamina's website, but you also get the added bonus of consumer protection and Amazon's product return/replacement department. Plus, you get free shipping on qualified orders!
Overall Review
After all the research I've done, I've come to the conclusion that the BodyTrac Glider 1052 is a pretty good budget option for beginner rowers.
I typically recommend air or magnetic rowers but if you are set on a two-arm style rower, it's a great choice. (You can always upgrade to a higher-end model down the road.)
I'm particularly excited by the access to the Müüv app, which is a highly rated fitness app. It will help take your workouts to the next level and stay motivated with personalized audio coaching.
If you're looking for something a bit higher-quality and are willing to pay more, you might want to consider the Stamina 1215 Orbital Rower. It's still budget-friendly but offers more features and a dual-piston design. Of course, you can also look at the Stamina 1050 and 1060 that I mentioned in the first paragraph.
If you aren't sold on hydraulic-piston rowers, I recommend looking at an air or magnetic rower. They don't cost too much more but have better build quality. My 2 favorite options are:
I hope my Stamina BodyTrac Glider 1052 review was helpful and showed you all the things that make this machine a good choice for you. If you have any questions or thoughts, leave a comment below.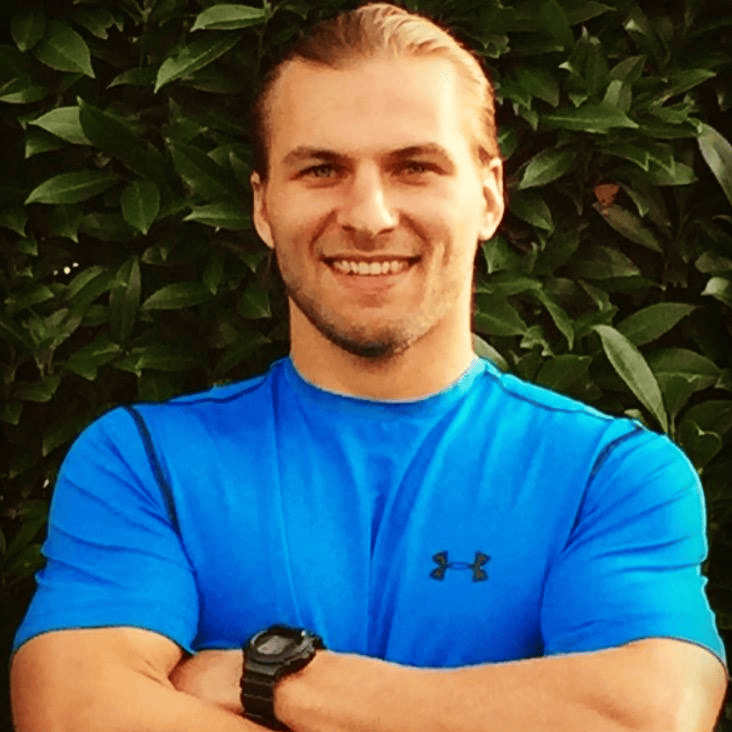 Rowing Machine King Founder and Author.