Stamina BodyTrac Glider 1060 Rowing Machine Review
With so many Stamina options, will this Stamina BodyTrac Glider 1060 review help you decide which is best?
Yes, of course it will!
The Stamina BodyTrac Glider 1060 is considered an upgrade to the Stamina BodyTrac 1050 model.
This review covers all the upgrades such as a bigger monitor, tablet holder, new seat, and new foot plates.
It will also cover all the negatives, such as squeaky pistons and easy resistance.
Irregardless of the upgrades, the Stamina BodyTrac 1060 still provides a great full-body workout that will blast away fat and help build lean muscle.
By the end of this Stamina BodyTrac 1060 review, you will be able to decide if this model is the right fit for you, or if you should explore some of my alternative options mentioned in the final section.
Stamina Products BodyTrac Glider 1060 Hydraulic Resistance Fitness Rower Machine, Blue
DESIGNED FOR DEVICES: The upgraded performance monitor displays your workout time, stroke count, calories burned and total count (all-time). Above the LCD monitor, youll find a device tray that allows you to easily access your own smartphone or tablet during exercise.

ADJUSTABLE RESISTANCE: Set your desired intensity with a simple turn of the hydraulic resistance cylind
Resistance Type
The Stamina BodyTrac Glider 1060 is a hydraulic-piston resistance rowing machine.
The resistance is provided by a single piston located underneath the seat rail.
This differs from other hydraulic-piston rowing machines that may have 2 hydraulic-pistons located at the end of each rowing arm.
The hydraulic-piston cylinder is attached to two full-motion rowing arms that provide a natural and effective rowing stroke.
The free-motion rowing arms make the rowing motion feel very similar to rowing with oars in a boat.
You can read more about hydraulic-piston resistance and other resistance types in my full article here.
Resistance Benefits
Many people love hydraulic-piston rowing machines because they provide smooth and strong resistance that is adjustable.
This allows users to select a level that matches their experience, while also allowing continuous strength development with higher levels in the future.
The Stamina BodyTrac Glider 1060 offers 12 levels of adjustable resistance that users can choose from. Level #1 being the easiest and #12 being the hardest.
To adjust, all you have to do is twist the adjustment knob at the top of the shock. Twisting the knob create a larger or smaller hole inside the piston, which makes the oil harder or easier to pass through. This creates stronger or weaker resistance.
Hydraulic-piston rowing machines are also notorious for being very quiet and are perfect for using while watching TV or movies.
They are also great for making compact, lightweight rowers that are inexpensive to manufacture.
Resistance Negatives
While there are a lot of positives about hydraulic-piston rowers, there are also some negatives that I will mention below.
The hydraulic-pistons will heat up after about 10-15 minutes of use and users must be careful not to touch them or they can burn you. This is usually not a problem, since the piston is beneath the seat.
The pistons can sometimes malfunction and leak oil after they heat up, which is why some people choose to put their rower on top of a Stamina fold-to-Fit Equipment Mat or towel.
Another common complaint about hydraulic-piston rowers is they do not offer a high enough resistance. Many users who have some rowing experience or work out lifting weights do not get a strenuous workout on the highest resistance level.
While many people feel the resistance is adequate, if you are in decent shape, this may not be the best resistance option for you.
When using the rowing machine, you must stop rowing to change the resistance setting, which some people do not enjoy. This differs from air and water resistance rowing machines that provide variable resistance based off the harder you row the more resistance you feel.
Overall
The resistance on the Stamina BodyTrac Glider 1060 is great for beginner rowers who are looking to add more movement into their daily routine.
There are many stories about older individuals who have had great experiences with this rower and really helped them get back in shape with a low-impact exercise.
It is also great for people looking for the "free-motion arm" movement and a rowing machine that doesn't make noise.
If you are in good shape and consider yourself to have above beginner/ intermediate level experience, then this rower may not be the right choice for you.
Monitor/Control Panel
The Stamina Body Trac Glider 1060 comes with a larger updated monitor with tablet holder. The monitor tracks the following fitness data:
Time
Stroke Count
Calories Burned
Total Count (All-Time)
As you can see, the monitor is fairly basic and only tracks the necessary fitness data.
To power on, just move the seat or press the button. The monitor will turn off by itself after 4 minutes of inactivity.
You can also select for the monitor to be in 'Scan Mode', which rotates between time, count, calories, and total count every 6 seconds.
The one cool feature of the monitor is the tablet holder. This allows users to rest their tablet or phone on the monitor to allow them to watch videos or use additional apps to track their fitness data.
Also know, the calorie calculator is not accurate to the actual user rowing and is based off an "average user". This means it should only be used as a comparison between workouts to see which workout was more difficult and better at burning calories.
Inaccurate calorie calculation is common on all low-cost rowing machines. If you want accurate calorie calculation you can purchase a heart rate monitor and track this data on your phone.
Overall, the monitor is very basic and only tracks the very necessary fitness data. While there aren't any advanced features, this is normal for rowing machines in this price range.
Build Quality
The Body Trac Glider 1060 comes fully equipped with a steel frame, aluminum seat rail, and larger footplates to offer a stable and smooth workout.
The ball bearing roller system also allows for a smooth, consistent rowing stroke.
Stamina is known to make good quality fitness equipment at an affordable price and even upgraded some items on the Body Trac 1060 that received complaints on the Body Trac 1050 (such as larger, stronger footplates).

While many users felt the Stamina 1060 was a well built machine for the price, it did receive some build quality complaints that I want to address.
Some consumers were disappointed with Stamina's claim to have upgraded the 1060 Rower and felt the rowing machine still felt like it was made from inexpensive parts and would not last a long time.
The most common complaint was the rowing machine making squeaking noises after a few weeks of use and lubrication needed to be applied to the joints and piston such as WD-40 or silicone grease.
This is very frustrating considering many people buy this rower because it is supposed to be very quiet and make very little noise.
There were also some other smaller complaints about having to tighten the bolts every so often because they came loose and pistons wearing out over time.
Many times Stamina's customer service was able to take care of any problems that customers had and some people opted to buy the 2-year protection plan for about $20.
While the build quality may not be the greatest in the world, at this price range there are always some expected build quality issues.
Below is a video of the Stamina BodyTrac Glider 1060 Rowing Machine in action.
Comfort
One thing the Stamina Body Trac Glider 1060 does right is comfort.
The full-motion rowing arms come with padded grips to ensure a fluid, comfortable rowing stroke. Users love the ability to mimic rowing with oars and allows them to change up their workouts by pulling the arms at different angles.
This is a nice variation from other rowers where you are forced to just pull the handle straight back.
The seat glides smoothly on ball bearing rollers to help enhance the rowing machines ability to mimic rowing on water.
Most rowing machine comfort complaints are about the rowing seat but the Body Trac 1060 has an upgraded deluxe molded seat that is comfortable for all users. User were able to row for longer periods of time because their butts didn't hurt!
The Stamina 1060 also comes with upgraded footplates that are larger and stronger. They have a good lip at the bottom and strong velcro straps that securely hold your feet in place while rowing.
Storage
Storing the Stamina BodyTrac Glider 1060 is extremely easy and can be done is seconds.
Just remove the locking knob, fold in the arms, and reinsert the locking knob. You can then store it upright against the wall or in a closet.
The 1060 is very lightweight, so it is easy to move.
The compact design allows the rower to fold to dimensions of about: 23.5″ x 46.0″
Capacity
Stamina has set the weight capacity for this rowing machine at 250 lbs..
Shorter users should have no problem using this rower. Stamina fixed the issue for people with smaller feet having their feet slip out of the foot plates by adding a bigger lip at the bottom and the ability to move the foot straps lower.
Taller users may have an issue because this is a compact rower with a shorter than normal seat rail. Users who are taller than 6'3″ should try to test a Stamina 1060 before buying, in-case they are not able to perform a complete rowing stroke.
Dimensions
Assembled Dimensions:

49.25″ x 36.0″ x 20″ (L x W x H)

Stored Dimensions:
Product Weight:
Shipping Weight:
Assembly
Assembling the Stamina Body Trac 1060 was said to be fairly straightforward and easy. Just follow the instructions carefully and everything should go together smoothly.
Most people were able to assemble the rower in about 30 minutes and some of the rower comes already assembled.
All the tools necessary for assembly come with the rower and the only outside item needed is 1AA battery for the monitor.
Pros and Cons
Pros:
"Free-Motion" rowing arms
Adjustable resistance
Great price
Compact design
Large foot plates
Lightweight
Comfortable seat
Easy storage
Tablet holder
Cons:
Limited resistance for strong users
Pistons can become squeaky
Basic monitor
Inconsistent build quality
Short warranty
Consumer Reviews
Overall consumers have been pleased with the Stamina BodyTrac Glider 1060 and have given it favorable reviews.
Users who understand they are buying a very low cost rowing machine and understand there may be some quality issues were very happy with their purchase. Some customers commented that although there are a few issue, for the price it is a very good rowing machine.
Consumers who expected a very high-quality machine for such a low cost were disappointed. People looking for a boost in build quality should look to spend around $250.
You can read more consumer reviews here: BodyTrac Glider 1060 Review
Average Rating: 4.2
Warranty
Frame: 1-Year
Parts: 90-Days
Stamina BodyTrac Glider 1060 Price
The price of the Body Trac Glider 1060 is very reasonable and a major selling point for this rowing machine. People looking to buy an inexpensive rowing machine to get a good, low-impact exercise will be happy with this rower.
The Stamina Body Trac 1060 Rowing Machine is offered at a few different online retailers for around the same price. However, Amazon usually has great pricing and offers free shipping on qualified orders. They also have an easy check out process, good customer service, and add a layer of consumer protection.
Overall Review
The Stamina BodyTrac Glider 1060 is a great beginner rower that can be purchased for a very low cost. It is probably best suited for older individuals or people looking to get a nice low-impact exercise while watching TV or movies.
I feel the upgrades made on it from the Stamina BodyTrac Glider 1050 warrant the slightly higher cost.
If you are looking for a rower with a little better build quality you can check out the Stamina 1215 Orbital Rower. This model will cost more but has less issues with the hydraulic-pistons and less quality concerns.
If you are interested in a magnetic rowing machine and don't need the "free-motion" arms provided by the Stamina BodyTrac 1060, then you may want to check out the Sunny Health & Fitness Magnetic Rower. This is one of the bestselling budget rowing machines, with very quiet resistance, strong build quality, and excellent resistance strength.
I hope you enjoyed my Stamina BodyTrac Glider 1060 review! If you have a questions feel free to leave it in the comment section below.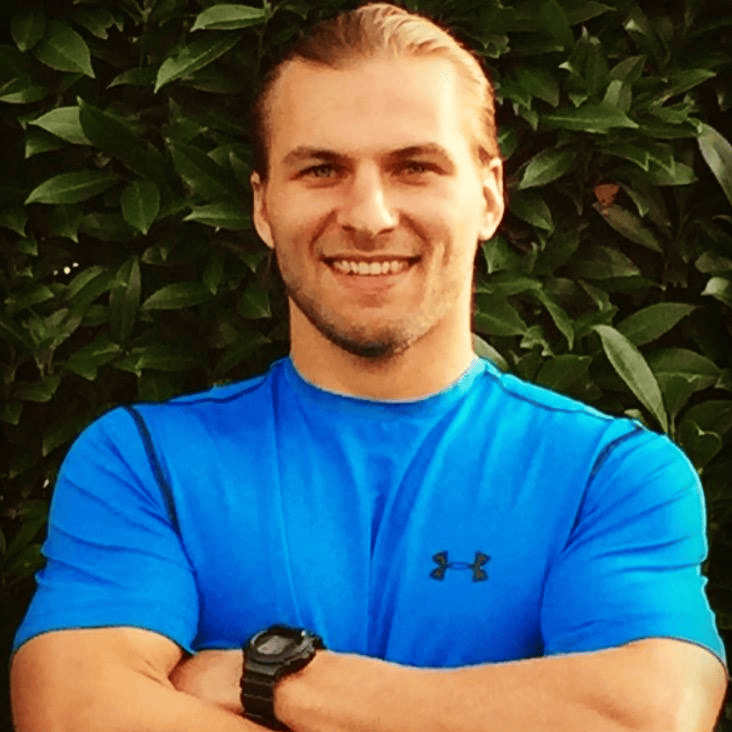 Rowing Machine King Founder and Author.