ProForm 550R Rower Review
Update: availability varies with this machine and it seems the company website no longer offers it. You might be able to find it at major retailers, but it varies, in my experience. I linked the next-closest model (the 750R) further down if you want to check it out.
In short, the ProForm 550R is a good mid-range air rower. The main drawback is the monitor which has basic data tracking. For example, it doesn't track distance which is an important rowing metric. The damper setting doesn't provide quite the resistance as that of the Concept2.
Going faster provides stronger resistance, so the damper setting shouldn't be an issue. The monitor will only be an issue if you plan to get into the hobby of rowing. If getting in shape is the main goal, then the ProForm 550R will do just fine.
For the lowest price, choose a place with free shipping.
ProForm 550R
Large LCD window, soft touch ergonomic handle, Inertia-Enhanced flywheel

Smr silent magnetic resistance, oversized steel seat rail, ergonomic seat

Transport wheels, SpaceSaver des
The ProForm 550R Rower is sold under the model # PFRW3814.  It is also sold under the name ProForm R600 Rower in other countries.
If it's not available, the next-closest model is the ProForm 750R, which you can find on the official product page.
Resistance
I found the resistance to be smooth, sufficiently strong, and similar to the Concept2 in how much noise it makes. It's not too loud, but you'll have to turn up the TV.
Resistance Type
The ProForm 550R Rower (PFRW3814) is an air resistance rowing machine. With air resistance, the faster you row, the heavier the rowing motion will feel.
Air rowers operate by pulling a handle and spinning a fan flywheel. As the flywheel spins, air is sucked into the flywheel housing which then provides resistance.
The faster you spin the flywheel, the more air is brought into the housing and the more resistance is created.
Air resistance rowers, like water rowers, will automatically adjust the resistance to the speed at which you row. To feel more resistance, just row faster and to feel less resistance just row slower.
That is why we call it "variable" resistance. Quality air rowers are known for providing a smooth, strong stroke with a realistic rowing motion.
Magnetic and hydraulic-piston rowing machines are in the "adjustable" resistance category because they require a user to turn a knob to adjust the resistance higher or lower. You can read a more in-depth resistance article here.
Resistance Benefits
In using the ProForm 550R, I found it to be equal to the Concept2 in how it mimics the feeling of rowing on water.
Air rowers do this well–in some ways even better than water-resistance rowers. This is why professional on-water rowers use air rowing machines.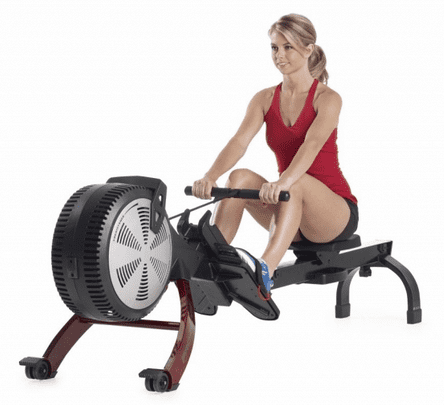 For those into CrossFit, the ProForm 550R Rower is great for HIIT (high-intensity interval training) workouts.
You can perform a series of faster and slower rowing intervals without having to make any changes mid-stroke since the resistance will automatically adjust to their speed.
Inertia-Enhanced Flywheel and Damper Settings
The ProForm 550R Rower comes with the newly designed "inertia-enhanced flywheel", which includes damper settings like the Concept2 (source).
An inertia-enhanced flywheel is designed to minimize the jerking motions often experienced with lower-quality rowers.
Like more expensive top-tier rowers, the ProForm 550R has a damper setting to give you further control over resistance (apart from just going faster).
It functions by a lever that's pushed up or down to control the amount of air that is allowed to enter the flywheel housing. The more air, the heavier the stroke feels.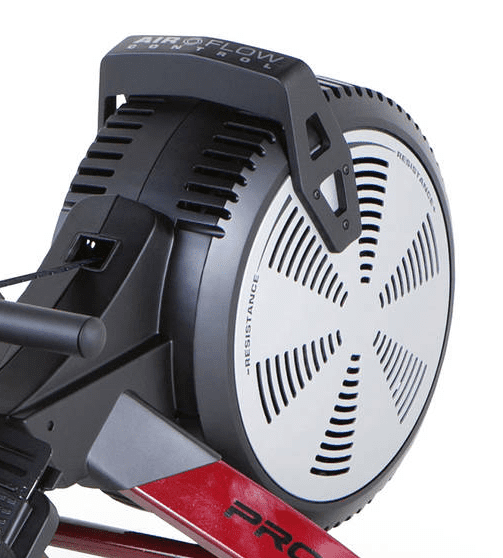 Setting the lever all the way down will allow less airflow and create the feeling of a "lighter boat". This will feel like "less resistance".
Setting the lever all the way up will allow more airflow and create the feeling of a "heavier boat". This will feel like "more resistance".
There is a great Concept2 article that explains this in more detail here.
Resistance Downsides
The only real downside applies to all air rowers and that is noise level. It's not super loud, but you'll have to turn up the TV and it might be an issue if you're rowing super fast when someone's sleeping in a nearby room.
You'll hear a negative comment here and there about the ProForm 550R resistance being weak, but it's usually those who don't know how adjustable resistance machines work. They rely too heavily on the damper setting when most of the resistance comes from rowing faster.
Monitor/Control Panel
The model I used did not have a distance readout. No meters, etc.
This would only be an issue for those looking to get into the hobby since distance is an important rowing-specific metric. It's not important for getting a good workout.
Other than that, I thought the monitor was good. Here are the main features…
The ProForm 550R Rower comes with a basic LCD monitor that tracks the following fitness data:
Watts (power)
Strokes per Minute (SPM)
Time
Strokes (total)
Calories
The data will be displayed in 3 workout windows: Upper, Center, and Lower. You can choose scan mode to cycle between the different data points or press the 'Priority Display' button until the desired mode is shown.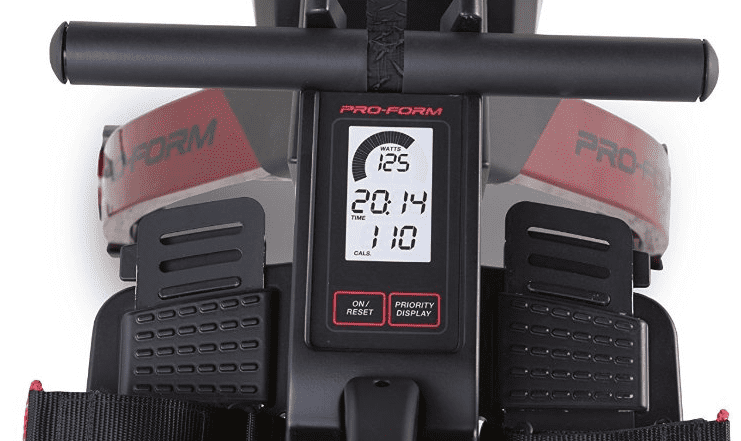 A cool feature is the watts meter which visually represents the power you create with each stroke. You can use it to help stay in a certain zone and not let your power levels fall.
The monitor has an automatic ON/OFF feature to help save batteries. It runs off 4 AA batteries which are not included.
One thing to note is that the calorie calculator is based on an average user and is not accurate to the specific person rowing.  A user should use this calculation as an estimate and to help gauge the difficulty between different workout sessions.
The ProForm 550R monitor is fairly basic and only tracks the necessary fitness data. This is common for rowing machines in this price range.
Build Quality
The ProForm 550R Rowing Machine comes with a steel body and an oversized aluminum seat rail. I felt stable when rowing.
The strong frame allows for seamless movement and helps the machine last for years.
The exterior and some of the parts are made of plastic, but it's the same quality material used with NordicTrack machines. Complaints of parts wearing out or breaking are uncommon.
The handle, seat, and footrest are high quality and provide a solid foundation for rowing.
Comfort
The ProForm 550R Rowing Machine provides a comfortable rowing stroke that allows users to endure long rowing sessions.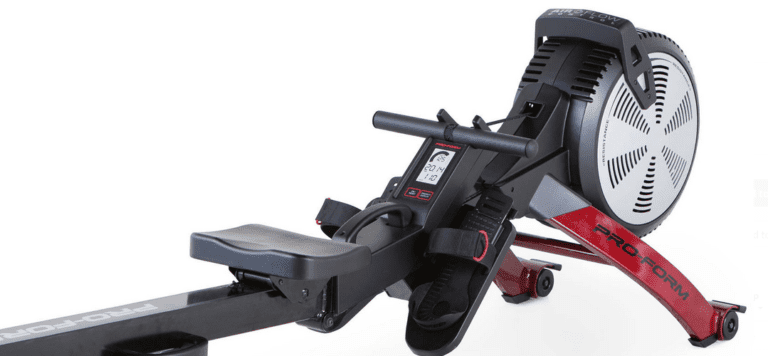 The soft-touch ergonomic handle provides a comfortable grip that helps to reduce hand fatigue and reduce the chances of forming blisters.
A soft, ergonomically designed seat allows the user to sit for extended periods of time without any discomfort.  The seat is designed to alleviate any pressure on the sitting bones and tailbone making it easy to sit for extended rowing sessions.
The footrests are easily-adjustable and can accommodate any shoe size.  The pivoting foot pedals allow more natural movement and keep your feet firmly in place while rowing. Some people even choose to row barefoot.
Storage
With a fairly large footprint, the ProForm 550R makes sure you can save space when you are not rowing by incorporating the patented SpaceSaver design.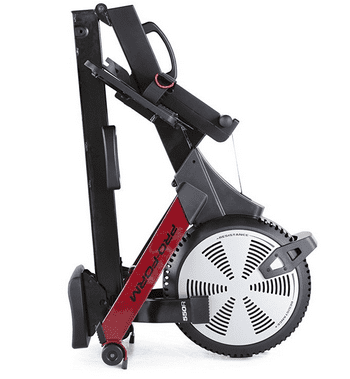 You can easily fold the rower by grabbing the two storage handles, tipping the rower forward, and allowing the seat rail to fold and lock in place.
Storing the rower takes 10 seconds and can be done by anyone.
After the rowing machine is folded it can then be moved by rolling on the built-in caster wheels.
Capacity
The maximum weight capacity is 250 lbs., which is average for rowing machines in this price range.
The ProForm 550R Rower has an extended seat rail that can accommodate users up to 6'6″ depending on their inseam length.
I didn't hear any mention of shorter users encountering issues, so I would say there are no height limitations for short users.
Dimensions
Shipping Dimensions:

47.0″ x 25.8″ x 22.6″ (L x W x H)

Assembled Dimensions:

84.5″ x 22.0″ x 25.5″ (L x W x H)

Weight:
Assembly
Assembling the ProForm 550R Rower is very easy and should be complete in under 30 minutes.
The rowing machine comes 90% pre-assembled and the only real assembly is putting on the seat.
All the parts needed for assembly come with the rowing machine except the 4 AA batteries. Just follow the instructions carefully and everything will be easy.
Pros and Cons
Pros:
Adjustable "damper" settings
Easy fold storage and mobility
Comfortable rowing stroke
30-day money-back guarantee
Strong build quality
Easy assembly
Cons:
Basic monitor lacking important rowing metrics
No heart rate monitoring
Poor consumer reviews
Warranty
Frame: 5-years
Parts & Labor: 90-days
Return Policy: 30-Day Money Back Guarantee
The warranty on the parts & labor is a little short but that's common for rowing machines in this price range.
The actual model # is PFRW3814 so just make sure to list the entire name when registering your rower: ProForm 550r Rower (PFRW3814).
Warranties are handled by Icon Fitness (IconFitness.com) and usually do well with answering any questions. 
ICON Fitness is the 'umbrella' company that owns ProForm, NordicTrack, Gold's Gym, and others. 
ProForm 550R Rower Price
When it was widely available, the ProForm 550R rowing machine is mid-range in price, around $600. Shipping, if not included, could be another $200.
Right now, I can only find the 750R and it goes for about $700.
Overall Review
Overall, the ProForm 550R Rower is a great air rowing machine for the price if you can find it. The main downside, as of now, is availability. Right now, the closest model available in the line is the 750R which costs a bit more. You can find it here.
Though it's also hard to find, another option is the ProForm 440R, which is a magnetic version of this rowing machine. A complete review can be read here.
In comparing the ProForm 550R Rower vs. Concept2 rowing machines, the Concept2 RowErg Model D wins by a long shot. This goes for the ProForm models, too. You can visit my full review here.
When comparing the NordicTrack RW200 Rower vs. ProForm 550R Rower you will see they are almost the exact same rowing machine with the NordicTrack having a slightly better monitor and a higher price tag.  Check out my full NordicTrack review here.
Another air rowing machine in this price range with similar features but better overall reviews would be the Stamina Air Rower 1399. It is one of the top-selling rowing machines under $500. Read my full review here.
I hope you enjoyed my ProForm 550R Rower review! If you have any questions send me an email or leave it in the comment section below.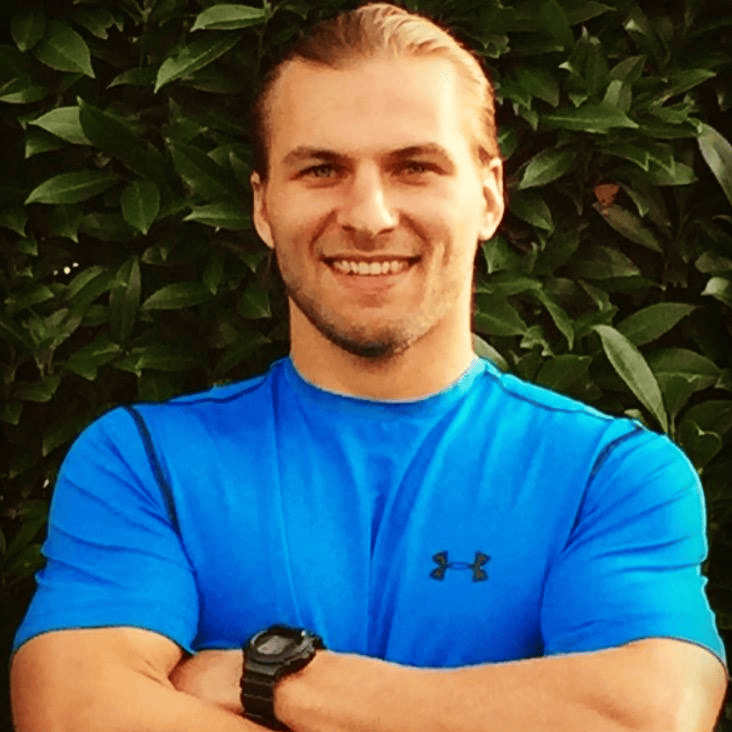 Rowing Machine King Founder and Author.