NordicTrack RW200 Rower Review
Today we're reviewing the RW200 Rower. We'll discuss the pros and cons and how it compares to other rowers in the same price range.
I have experience using the NordicTrack RW200 when training clients. So, while I don't own it personally, I can review the model as someone having used the machine.
One thing I'll say right off the bat is that it is a sharp-looking rower!
For those in a rush…
The NordicTrack RW200 is a good rower, but better options are available at the price point. For example, the Concept2 Model D is around the same price once you factor in shipping while offering a much better monitor.
So, I would recommend buying the Concept2 Model D over the RW200 Rower at this point.
Also, this rower is difficult to find these days at major retailers like Best Buy, Amazon, Walmart, etc. As you can see, it's not even listed on NordicTrack's website.
If you can find the RW200 used or at a steep discount (or locally so you won't have to pay for shipping), I think it would definitely be worth picking up. While better options exist, it's not a bad rower.
NordicTrack RW200 Rower Includes 1-Year iFit Membership
Interactive Personal Training at Home powered by iFit; Enjoy a full-access iFit trial membership that gives you access to personalized trainer-led global and studio workout experiences in the comfort of home

Adjustable Console Angle; Connect with your favorite iFit trainers on your own tablet or smartphone, securing your device with an integrated tablet holder

Silent Flywheel; Powered by SMR Silent Magnetic Resistance, the RW200 offers quiet, smooth exercise in the comfort of your h
Table of Contents
(click a title to jump ahead!)
1. Resistance Type
2. Monitor/Control Panel
3. Build Quality
4. Comfort
5. Storage
6. Capacity
7. Dimensions
8. Assembly
9. Pros and Cons
10. Warranty
11. Price
12. Overall Review
NordicTrack RW200 Resistance Type
The NordicTrack RW200 Rower is an air and magnetic resistance rower. We'll get into what that means, but the main takeaway of this section is that the post-2017 versions of the RW200 are plenty strong enough for beginner and intermediate rowers.
Older versions of the rower were weaker (air only) and received a lot of complaints. I used the air/magnetic version and I found it to be plenty strong for being an entry-level rower.
Air Resistance (Variable Resistance)
Like other air rowers, the air resistance works by first pulling the handle and spinning a flywheel at the front of the machine.
As the flywheel spins, air is sucked into the housing which creates resistance against the spinning flywheel.
The faster a user rows, the faster the flywheel spins, which in return creates more airflow and resistance.
Simply put – the faster you row the more resistance you create. Thus, rowing speed is one way to control the resistance level. This type of resistance is classified as 'variable' and is the same as that offered by water rowing machines.
Silent Magnetic Resistance
Magnetic resistance operates by moving a magnet closer to or farther from the metal flywheel inside the housing.
The closer the magnet is to the metal flywheel, the stronger the resistance. Since a user controls the magnet's distance with the monitor, we call this "adjustable" resistance.
You can read more on this in the article on rowing machine resistance types.
Resistance Positives
People love air resistance rowers because the effort you put in determines the resistance of the rower.
Variable resistance is great for HIIT (high-intensity interval training) workouts because a rower can speed up or slow down without having to change any settings and resistance will automatically adjust to your speed. This is why air resistance rowers are seen in every Crossfit style gym.
Air resistance rowers also closely mimic the resistance felt when rowing in a scull on the water, which is why all Olympic rowers and athletes use air rowers.
Combine this with 24 silent magnetic resistance levels and you get the best of both worlds!
Adding magnetic resistance means you can benefit from the "low-end" resistance strength. Meaning, even when you row slowly, you can still feel strong resistance.
Magnetic resistance also makes the entire rowing stroke much quieter, so you won't be as concerned with waking up people in your house or turning the TV volume up too loud.
Damper Setting
An added benefit of the RW200 Rower is that the "inertia enhanced flywheel" has a built-in damper setting much like the Concept2 rowers.
An inertia-enhanced flywheel is a flywheel that's designed to maintain inertia. These flywheels are optimized in certain ways (e.g., in their size, balance, and weight) for smooth rotation.
Since objects in motion stay in motion, inertia-enhanced flywheels better maintain a smooth rotational motion making for a smoother rowing experience with minimal jerking.
While NordicTrack calls this "adjustable" resistance, that's not technically correct. The "adjustable resistance" they are referring to is a handle that controls the amount of airflow into the flywheel (seen in the photo below). You can set the damper from level 1 to level 10.
Level 1 allows the least amount of air to enter the flywheel, which in return causes the flywheel to spin more freely and feel "less resistance". This can be compared to rowing in a light, sleek row boat.
Level 10 allows the most air into the flywheel, which creates "more resistance". This can be compared to rowing in a big, heavy boat.
While this may sound like adjustable resistance, it's not really. Concept2 compares it to being "similar to bicycle gearing: it affects how rowing feels but does not directly affect the resistance" (source).
To adjust the "silent magnetic resistance" there is a plus and minus sign on the monitor.
Resistance Downsides
Here is where things get a little confusing. In the past, the RW200 was an "air-only" rower.
This meant there were a lot of complaints about the noise level and many people felt the resistance was overall very weak.
Some of these users did not understand you need to row faster to get stronger resistance. However, I did speak to a few experienced rowers, who helped me write the review, and they confirmed that the air-only resistance was weaker than the Concept2.
With that being said, NordicTrack has since upgraded the resistance to be the combined air/magnetic type – just like their upgraded RW500 and RW900 models.
The addition of magnetic resistance has lowered the noise level and increased the overall resistance strength.
Just keep in mind that most of the negative reviews and feedback you'll find online about the RW200 rower's "weak" resistance strength mostly come from the older 2016/2017 models.
More recent versions of the rower are fine for most beginner and intermediate rowers.
Overall
The NordicTrack RW200 resistance provides a smooth, strong rowing stroke that is great for almost all ages and fitness levels.
While the resistance strength may not be adequate for more advance users, I think it is great for a majority of people looking for 'variable' resistance.
Monitor/Control Panel
The NordicTrack RW200 Rower comes with a fully adjustable monitor with a backlit display.
The fitness monitor tracks various data such as:
Calories
Distance
Strokes
Strokes Per Minute (SPM)
Time
Watts (Power)
Watts Meter
The monitor turns on automatically and can be adjusted up or down based on the user's height and preference.
The console uses four D batteries or it can be plugged into an outlet with the included power adapter.
One cool feature is the built-in speakers as the RW200 comes with two 2.0″ digitally amplified speakers.
Other cool features include Bluetooth Smart connection capabilities, and an auxiliary port to plug in headphones.
Plus, the RW200 Rower now comes with a FREE 1-Year NordicTrack iFIT membership! (more on this below).
Display and Programs
The data on the monitor is displayed in three windows: Upper, Center, and Lower.
Upper Display

will show the watts and watts meter or the strokes per minute (SPM).

Center Display

will show either the time, distance, or strokes.

Lower Display

will show energy expenditure (calories burned).
You can row at your own leisure by selecting the "Manual Mode" and pressing the "Priority Display" button until the data you want is displayed in the correct window. The data can also be displayed in the scan mode.
Another option is to choose from one of the built-in workout programs. Choose from 1 of 20 preset "Watts or Calories" workout programs designed by personal trainers.
Each program displays a target zone on the watts meter that you need to stay in to complete the workout. The monitor will notify you when you fall out of range.
Unfortunately, the monitor cannot track heart rate (as discussed in the NordicTrack RW900 article), which is a bummer, although there are many wearable devices and phone apps that can perform this function.
One very popular heart rate monitor is the Polar H10 Bluetooth Fitness Tracker.
Polar H10 Heart Rate Monitor Chest Strap – ANT + Bluetooth, Waterproof HR Sensor for Men and Women (NEW)
WORKS WITH EVERYTHING: Polar HRM works with many sports and smart watches (Polar, Garmin, Apple, Suunto, etc.), Polar Beat, fitness apps such as Strava and Nike, and ALL HRM compatible Cardio Equipment

SUPREME ACCURACY: Widely recognized for its top precision by many sources, Polar H10 is the most accurate heart rate sensor in Polar's history. Polar H10 provides top quality heart rate measurement and its the choice of many pro athletes.
Sound System
Any device with a 3.5mm jack can be plugged into the monitor with an audio cable (not included). You can then increase or decrease the volume using the buttons on the console.
I love this feature when rowing so I can listen to podcasts and audiobooks without the need for headphones.
iFIT Personal Trainer Membership
One of the newest features of all the NordicTrack Rowers is the included NordicTrack iFIT membership that's meant to help you reach your fitness goals.
If you are familiar with Peloton (the program that comes with their exercise bikes), it's a pretty similar style program.
The iFIT membership gains you access to 12,000+ workouts, many of which are rowing specific.
NordicTrack's more advanced models come with monitors that can display the videos, but if you purchase the RW200 you will need to download the app and play it on your phone or tablet.
What's great about the iFIT program is the trainers keep you really engaged and the time seems to fly by while working out!
Some rowing workouts incorporate other workouts alongside your rower like squats, push-ups, sit-ups, etc. You can even follow along trainers as the row down famous rivers around the world!
If you get bored of rowing, there are plenty of other workouts offered by iFIT to help you reach your fitness goals. They offer programs for strength (weights and other forms of strength training), flexibility (yoga), and the cardiovascular system (kickboxing).
There is so much to cover on the program that it's probably best to check out their website here.
I also have some additional info about the monitors in my RW500 and RW900 reviews which I link to in my final section.
Check out the iFIT promotional video below!
Overall
The NordicTrack RW200 rower monitor tracks an okay amount of data, but it's not as advanced as it looks.
While the monitor looks high-speed and flashy, its large surface is mostly populated by labels while showing little data for a monitor of its size.
While there are some cool features about the RW200 monitor, it just doesn't compare to the monitors found on the Concept2 Model D or the Stamina Avari Programmable Magnetic Rower.
Having said that, if you add in the benefits of the iFIT program, then things get a little more interesting. The iFIT program does make the monitor better than the Stamina Avari but it will be an additional cost each month.
Build Quality
NordicTrack is well-known for making durable exercise equipment, so quality and durability won't be an issue.
The RW200 Rower has a solid build structure with an oversized steel seat rail and welded steel frame.
Like other NT rowers (e.g., the RW500), the RW200 is a reliable rower that is sturdy and built to last! To boot, NordicTrack backs its equipment with excellent warranties and 30-day money-back guarantees.
Comfort
The NordicTrack Rowing Machine comes complete with ergonomically designed footrests, handles, and a molded seat to help provide comfort during long rowing sessions.
The adjustable monitor height also allows a user to view their workout data in the most comfortable position possible.
A user can sit on an oversized, molded seat with comfy padding. Molded rowing seats have a contour meant to accommodate how one sits on a rower (upright and forward).
The seat height is slightly higher than other rowers, which makes it good for individuals with bad joints and arthritis.
The foot pedals move nicely with your feet if your heel comes off the platform and the adjustable straps can accommodate any shoe size.
Nordictrack RW200 Folding and Storage
The RW200 is in the NordicTrack space-saving line, so storing the RW200 is a piece of cake.
It takes up very little floor space when folded.
Storing the rower vertically is very easy and only requires a person to hold the two handles on the seat rail and lift. They can then allow the rower to fold in half and clip together.
When upright, the NordicTrack Rower can be moved and positioned on the two built-in caster wheels. The folded footprint in fairly small and can easily be put in the corner of a room or inside a coat closet.
The NordicTrack RW200 Rower is heavier than most rowers so just be careful at first until you get used to the weight distribution.
Capacity (Max User Weight and Height)
The RW200 has a fairly long seat rail to accommodate tall users. I called NordicTrack and they informed me that rowers as tall as 6'6″ should be able to use this rower depending on their inseam length.
There are no height restrictions for shorter users on this rowing machine.
The max user weight is about on par with other rowing machines in the price range.
Some rowers have a weight capacity of 350 lbs+, but the RW200 max user weight is between 250-300 lbs, depending on the model.
Dimensions
Assembled Dimensions (L x W x H):
Assembled Weight:
Shipping Dimensions(L x W x H):
Shipping Weight:
Assembly
The NordicTrack RW200 Rower assembly process is fairly easy and can be done in about 10-15 minutes.
The rower comes mostly pre-assembled and a majority of the assembly left is attaching the seat and monitor.
You will need 1 Phillips head screwdriver, 1 adjustable wrench, and 4 D-batteries for assembly.
Just be aware that the shipping weight of this unit is 145 lbs, so you may want help carrying it to the proper room before putting it together.
Pros and Cons
Pros:
Dual air and magnetic resistance
24 silent magnetic resistance levels.
10 adjustable "damper setting" resistance levels.
Built-in sound system
FREE 1-Year iFIT membership
Good build quality
Comfortable, smooth rowing stroke
Easy assembly & storage
30-day money back guarantee
Great warranty!
Cons:
Basic monitor without iFIT (no heart rate function)
Low weight capacity
Large price fluctuation (causing it to be a good deal or bad deal)
Warranty
Frame: 10-Years
Parts: 2-Years
Labor: 1-Year
Return policy: 30-Day Money Back Guarantee
The NordicTrack RW200 has a solid warranty, in my opinion, and a 30-day money back guarantee always makes me feel a little more comfortable!
The actual item model number is NTRW5914, so when registering your rower for its warranty make sure to put down: NordicTrack RW200 Rowing Machine (NTRW5914).
NordicTrack RW200 Rowing Machine Price
When the RW200 was widely available, the price varied a lot, depending on where you bought it, and whether shipping was included.
If you can find it for $800 or less with shipping, then it's probably worth it, especially if you want the iFIT program.
If with shipping, the RW200 price is close to that of the Concept2, then I would go with the C2 hands down.
It seems as though NordicTrack has recently moved away from selling on Amazon and wants consumers to purchase through their website.
Nordictrack RW200 Review: Conclusion
Since the upgrade from air to air/magnetic resistance, the NordicTrack RW200 Rower can provide an intense workout suitable for beginner and intermediate rowers.
However, given the lack of availability (it doesn't appear to be available anywhere at this point) and lack of features compared to other rowers in its price range, I recommend going with a different rower.
When comparing the Concept2 Model D vs. NordicTrack RW200 rower, the C2 has the better monitor and resistance.
Overall, I would recommend getting the Concept2 Model D Rower over the RW200 Rower. Here is a link to my full Model D Review).
Another popular rower is the Xebex rowing machine (link to review).
Also, be sure to check out my NordicTrack RW900 Rower review (click here) and my RW500 Rower review (click here).
I hope you enjoyed my NordicTrack RW200 Rower review! Please ask me any questions in the comments below.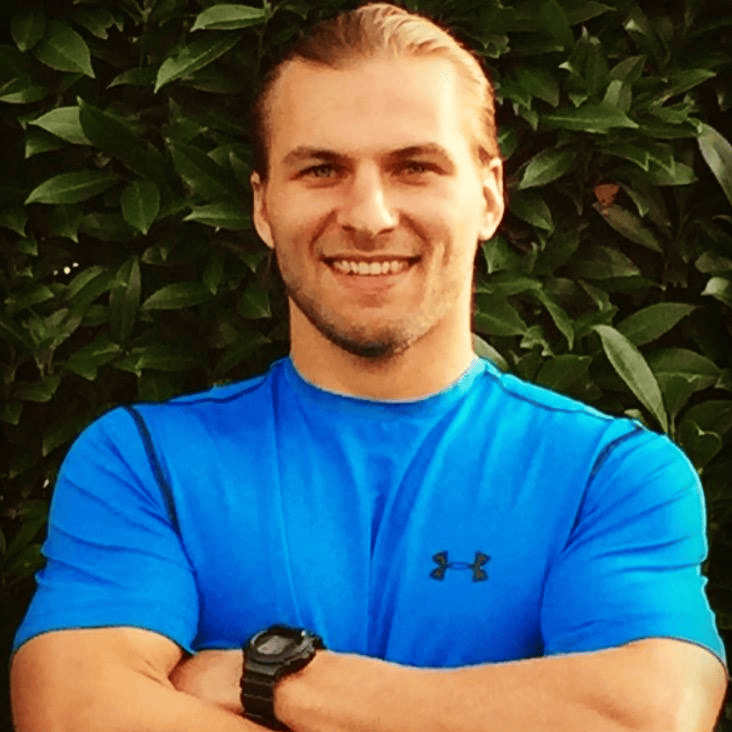 Rowing Machine King Founder and Author.