NordicTrack RW500 Rower Review
Today, we're reviewing the NordicTrack RW500 rowing machine. It's a dual-resistance rower in that it uses both air and magnetic resistance which gives you added control over workout intensity.
It has other cool features like pre-recorded training sessions, some giving you the virtual experience of rowing down famous rivers!
I had a chance to use the RW500, so I have a good idea of how it compares to other rowers on the market, including a similar NordicTrack rower, the RW200 (which I also had a chance to try).
In short, the NordicTrack RW500 rower is a good high-end luxury rower. It lets you control the resistance level independently of rowing speed. It comes with engaging pre-programmed workouts and the option for interaction workouts for a monthly cost. Downsides include price and availability.
Also, it's suited for cardio conditioning but less so for getting into the hobby of indoor rowing. For around the same price (probably less), you could get the Concept 2, which is the industry standard for indoor rowing. I.e., it's the one you'll use in rowing studios and CrossFit gyms.
As for availability, the NordicTrack website doesn't seem to carry the machine anymore–the former product page link now just redirects you to the homepage. But it can sometimes be found at major retailers. For the lowest price, choose a place that offers free shipping.
NordicTrack RW500 Rower Includes 1-Year iFit Membership
Silent Flywheel; Powered by SMR Silent Magnetic Resistance, the NordicTrack RW500 Rower offers quiet, smooth exercise in the comfort of your home

SpaceSaver Design; An innovative SpaceSaver design allows your rower to fold vertically for compact storage when not in use

Designed for Comfort; A soft ergonomic handle and pivoting pedals with cushion and adjustable nylon foot straps help the NordicTrack RW500 Rower offer a comfortable, personalized r
Resistance Type
The NordicTrack RW500 Rower is a combination model that utilizes air and magnetic resistance.
Air Resistance
Air resistance is great for high-speed rowing. It operates by pulling the handle and spinning the fan flywheel.
As you row faster, the fan spins faster. The faster the fan spins, the more air it must displace, and the greater the resistance a user will feel.
Because the resistance gets stronger as you row faster, we call this "variable" resistance.
Magnetic Resistance
Magnetic resistance is great for low-speed rowing. It operates by moving a magnet closer to/farther from a spinning metal flywheel. The closer the magnet is to the flywheel, the stronger the resistance.
Because the resistance is controlled by adjusting the magnet position, we call this "adjustable" resistance.
You can learn more about both air and magnetic resistance types here.
Air + Magnets = More Control Over Intensity
With the dual air and magnetic resistance, you get the high tension of an air rower at top speed and the option for higher tension at low speed from the magnets. Whereas, with a traditional air rower, the resistance is usually quite low at low speeds.
This combination creates a smooth, strong rowing stroke that is great for all fitness levels!
Resistance Adjustment
As shown in the photo, there are 10 different resistance settings for the air and 26 different magnetic settings!
Damper Setting (Air)
The air resistance is controlled by a lever on the front flywheel. This lever is called a "damper".
Dampers are usually only seen on higher-end rowing machines and allow users to have greater control over the feel of the rowing stroke.
The damper does affect resistance at low speed to some extent, but not as much as the magnets.
Damper settings allow more or less air into the flywheel, which makes the rowing stroke feel lighter or heavier.
A lower damper setting (1-3), is a "lighter" rowing stroke. Think of it as rowing in a boat by yourself.
A higher damper setting (7-10), is a "heavier" rowing stroke. Think of it as rowing in a boat with 3 people.
Magnetic Resistance Adjustment
Here, resistance adjustment is a bit easier to understand and is controlled by pressing a "+" or "-" button on the adjustable console (shown in the photo below).
Simply hit the plus button to increase the resistance or hit the minus button to decrease it.
There are 26 different levels, giving you a wide range of tension to work with.
Another perk is that this type of resistance is virtually silent, so you won't have to worry about disturbing neighbors or waking someone up in your house.
The resistance level also depends on the workout program. The resistance will automatically change if you are using any of the iFIT workout programs. So if the trainer wants to pump up the intensity, you just keep rowing and start to feel the burn!
There's no way to cheat yourself out of a hard workout on this rower!
Bottom Line
Overall, the resistance on the RW500 Rowing Machine gives more options than about any rower I've seen when it comes to choosing intensity.
It's strong enough for the most elite athletes and can adjust downward for beginners.
You can get higher tension at lower speeds which is useful for adding a strength focus to a workout and/or reducing noise.
Monitor and Tablet
The Monitor
This is one of the bigger selling points of the NordicTrack Rowers and perhaps contributes most to the high price tag. It tracks the usual data but comes with some really creative pre-programmed workouts.
The NordicTrack RW500 Rower comes with a 5.0″ backlit LCD display on an adjustable arm. This section of the monitor tracks
Watts

Strokes Per Minute

Total Strokes

Time

Calories

Distance

Speed

Heart Rate

500m Split
The monitor doesn't need to be plugged into an outlet (or unplugged after each session). This model also doesn't come equipped with a heart rate monitor, so one will need to be purchased separately if you want to utilize that feature.
If you're interested, you can buy a good one like the Polar H10 Heart Rate Monitor for a fairly low price.
The Tablet
On top of that, NordicTrack includes a FREE 10.0″ portable tablet to sync with their iFIT training program (more on this below).
The tablet allows you to follow along and watch training sessions in full color and uses the two built-in digitally amplified speakers to keep you alert and engaged!
Worried about the speakers being too loud? No problem, just plug your headphones into the auxiliary port.
iFIT Workouts and Coaching Program
As mentioned, the monitor and tablet system syncs with the NordicTrack iFIT coaching program. This is an online program that offers interactive training sessions you can follow along with which saves you from having to design your own program.
If you've heard of Peloton, it's basically the same concept.
When you buy the NordicTrack RW500 rower, you get a 1-year free iFIT membership, which is currently valued at $468. You can cancel within a year if you don't like it and you won't be charged.
The iFIT membership gives you access to over 12,000 workouts, many of which are rowing-specific. This means you can follow along as world-class trainers take you through a rowing workout or follow them as they row down famous rivers.
You can even use Google Maps to "row" down different streets or rivers around the globe!
The iFIT membership isn't exclusive to rowing-only workouts. You will also get access to weight training, yoga, kickboxing, and other workouts.
If you do cancel before the renewal date, you keep the 30 pre-loaded workouts that come on the monitor.
There's so much information on the iFIT program that it's difficult to cover it all here. You can learn more about the coaching programs by visiting the NordicTrack iFIT website here.
If you have any questions please leave them in the comment section and I will help get them answered.
Monitor Downsides
The biggest complaint is the tablet cannot be used to stream or surf the internet.
It can only be used for the iFIT program, so no watching Netflix or YouTube on it while rowing.
A few smaller complaints exist, which I cover in the monitor section of my NordicTrack RW900 review here.
Build Quality
The Frame and Seat Assembly
The frame is sturdy, though not as strong as the Concept2 which is evidenced by the difference in weight capacity (250 lbs vs the C2's 500 lbs capacity!).
The RW500 Rower is built with an oversized steel seat rail to support a smooth, sturdy rowing stroke.
The seat is made of durable foam material and glides on industrial-grade ball-bearing rollers.
Other Components
All of the plastic housings, footrests, and supports are made from quality materials. The smaller components usually go first, but on the machine I used (not particularly new), none of the parts seemed to show signs of aging.
A strap is used instead of a chain on the pull mechanism to reduce noise. It wasn't fraying yet that I noticed despite over 2 years of daily use.
Comfort
Rowing requires sitting, so comfort is important.
The RW500 uses an inertia-enhanced flywheel to prevent the jerkiness often experienced with lower-quality rowers. I found the overall rowing experience to be smooth through the stroke.
The magnetic component is virtually silent but the air resistance will make some noise.
The ergonomic, molded seat and "SoftTouch" ergonomic handle are comfortable enough to use for long rowing sessions, although some people do say their butt starts to hurt a bit and they may get a few blisters in the beginning from the handle.
I wrote an article about how to prevent rowing butt pain and you can use workout gloves if you are concerned with blisters.
The footrests have pivoting pedals so you can adjust your heel/foot orientation. They comfortably fit any shoe size and the oversized adjustable nylon foot straps adjust quickly and easily over your shoe.
Storage
While it's completely fine to leave out (which I recommend!), the RW500 does have a patented SpaceSaver® design. The front-mounted transport wheels make it easy to move.
You can fold the RW500 by following these two very easy steps:
Lift the center handle and allow the seat rail to fold inward.
Tip the rower forward and allow the seat rail to fold in and clip into the front support bar.
Once the rower is folded, you can tilt the rower and roll it into the corner of a room or closet on the built-in front-mounted transport wheels.
You can also move the rower in the un-folded position by lifting the back of the seat rail until the wheels are the only pieces touching the floor.
The folded dimensions are roughly: 52.4″ x 22.0″ x 47.2″ (L x W x H)
Capacity
The NordicTrack RW500 Rower capacity is one slight downside of this model but it shouldn't affect too many people.
The manufacturer suggested weight limit is 250 lbs., which is relatively low for a model in this price range. Other rowing machines in this price range have weight capacities of 500 – 1,000 lbs.
I couldn't find a max height capacity, so I contacted NordicTrack directly and they said that someone 6'5″ could easily use the machine.
If you watch the assembly video below you will see there are 2 stoppers on the seat rail that prevent the seat from sliding off the back. If you remove these, you get another 1.0″ – 1.5″ of travel on the seat rail. This could help accommodate a user if they are taller than 6'5″.
Dimensions
Assembled Dimensions (L x W x H):
Folded Dimensions (L x W x H):
Assembled Weight: 90 lbs.
Shipping Weight: 115 lbs.
Ease of Assembly
Rower assembly ranges from "piece of cake" to "complete nightmare". Thankfully, the NordicTrack RW500 Rower is easily in the piece-of-cake category.
The client whose machine I used said that he had it put together in about 15 minutes.
It's easy because the rower itself comes pre-assembled, which only leaves you with having to attach a few parts.
Plus, all of the needed tools are included in the packaging and there's no need for batteries since the monitor is plugged into an outlet via an included power adapter.
There's a 3-minute video below that walks you through this process step by step.
Pros and Cons
Pros:
26 levels of silent magnetic resistance
10 levels of air resistance (damper)
FREE 10.0″ Portable Tablet
5.0″ monitor with backlit display (tracks fitness data separately from tablet)
The monitor comes with an adjustable console and digitally amplified speakers
Smooth, strong, rowing stroke
Inertia-enhanced flywheel for quiet operation
1-Year FREE iFIT subscription (12,000+ iFIT classes for endless workouts)
30 pre-loaded workouts to use with iFIT
Great warranty!
Competitive pricing!
Easy fold design
Easy assembly
Cons:
Low weight capacity
Base monitor is not great (monitor really made to be used with iFIT)
Warranty
Another great feature of the RW500 Rowing Machine is the warranty!
Frame: 10-Years
Parts: 2-Years
Labor: 1-Year
Model #: RW500 Rower (NTRW99147)
During check-out, you can extend the warranties for a very reasonable price. This can sometimes make a lot of sense, especially with the more expensive fitness equipment.
Another great benefit of buying from NordicTrack is their customer service. You can always get a fast response and they have a live chat feature on their website.
NordicTrack RW500 Review: Conclusion
Overall, the NordicTrack RW500 Rower is a solid machine and a great choice for a home gym if you can manage to find it.
A dual-resistance rower, it offers a combination of air and SMR silent magnetic resistance, giving you the ability to adjust the tension at any speed. It comes with pre-programmed workouts. For an additional monthly cost, you can enjoy interactive workouts in a virtual studio guided by world-class trainers.
The main downside is availability. They know how to make a quality rower, but NordicTrack machines seem to always be in flux.
This particular model is not even on the company website anymore, probably indicating that it's no longer in production. Their higher-priced option is typically available (*knock on wood*) and you can read about it in the RW900 Rower Review here.
Their lower-tier option, too, is typically unavailable but you might be able to find it in classifieds. You can read about it in the RW200 Rower review here.
Another issue is the price which is so high that it's not uncommon to see "slight" fluctuations of $500 or more (which is the total cost of a mid-range rower!).
On that note, the industry's best-selling rowing machine, the Concept2 RowErg can be found for cheaper in most cases.
Other rowing machines in the same price range include water rowers like the WaterRower Natural Rowing Machine (see my review here) or magnetic rowers like the Stamina Avari (see my review here).
I hope you enjoyed my NordicTrack RW500 Rower review! Please leave me any questions or comments below!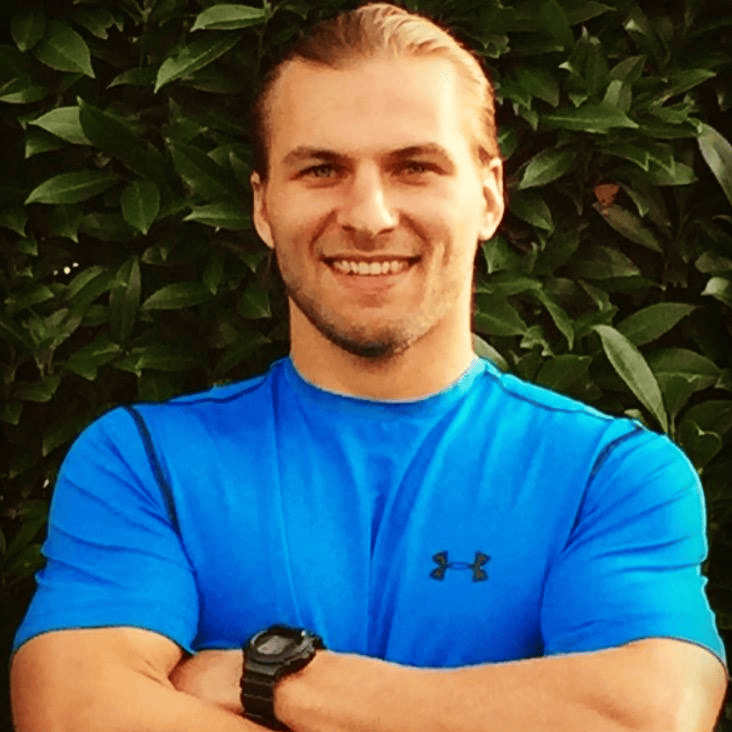 Rowing Machine King Founder and Author.