Matrix Rower vs. Concept2 Comparison
Have you narrowed down your search to the Matrix Rower vs. Concept2?
Maybe you've done a ton of research and these two models keep popping up? However you might have found this article, I'll break down the differences so you can walk away knowing which model to choose!
I own the Concept2 but have used the Matrix rower before when training a client.
Both models are excellent machines that burn calories and shed bodyfat!
In short, the Matrix rower is the best for those who want quiet, heavy resistance and don't mind paying extra for a boutique brand. The Concept 2 is best for those who are serious about rowing as a hobby since the C2 is the standard rower in gyms and Crossfit studios, has the best monitor, etc.
The Concept 2 offers the most realistic rowing motion and tracks all the data valued by indoor rowers when training to compete against themselves or in competitions in terms of performance metrics.
I hope you enjoy my Matrix vs. Concept2 rowing machine comparison. As always, let me know if you have questions in the comment section.
Concept2 RowErg Indoor Rowing Machine with PM5 Performance Monitor, Black
This item benefits from an Extended 90 Day Return Window

Low impact workout that engages all major muscle groups; work legs, core and arms with a smooth, high calorie-burning motion

Track your progress with real-time reliable data; the Performance Monitor 5 (included) self-calibrates for comparable results; connect wirelessly to heart rate belts and apps (not includ
The Matrix rower can be found here.
For an even better understanding of the differences – I would read the full reviews that are linked in the final section!
Resistance Type
Right away we get into one of the main differences between the Matrix Rower and Concept2 Rower.
The Matrix Rower is magnetic resistance, while the Concept2 Rower is air resistance. Below is a side-by-side comparison of how they look.
For an in-depth review of the differences between air and magnetic resistance, be sure to check out my resistance comparison article.
Resistance Pros and Cons
There are a few major pros and cons of each resistance type. It would be hard to cover all of them in this article, so I would suggest reading the full reviews to get a better understanding of them both.
Noise Level
The first major difference is the noise level. Magnetic resistance is virtually silent and the Matrix Rower barely makes any noise while using. You can watch TV at normal volume levels, use it early in the morning, or in an apartment.
Air rowers are notoriously loud and the faster you row, the more noise they produce. It's not so much noise that you are going to drive your family crazy but you will want to be mindful if you are exercising a room over from someone sleeping and it will require you to turn the TV volume up a few clicks.
I have a video of me rowing on a Concept2 in this article here.
Resistance Strength and Feeling
Another major difference is the strength and feeling of the rowing stroke.
Some magnetic rowers, like the Matrix, have a stronger overall resistance strength at higher levels. This is due to the magnet interacting with the metal flywheel. So a manufacturer can add a heavier flywheel and stronger magnet to create a heavier feeling resistance.
At higher resistance levels (8-10), the Matrix Rower can turn more into a strength-based workout than a cardio workout (or most of the time both!). This is great for people who are looking for a rowing machine with the strongest possible resistance.
Air rowers, like the Concept2, have variable resistance which is controlled by the speed of the rower. The faster you row, the more air you have to move in front of the fan blades, so the stronger the resistance. While the resistance may not get as strong as the Matrix Rower, it is much closer to the actual feeling of rowing on water.
Since the Concept2 Rowers match the resistance felt while rowing in a boat, they are used by collegiate and Olympic rowers.
The Concept2 does have a damper setting that can open/close to allow more/less air into the flywheel as illustrated on my Concept 2 here: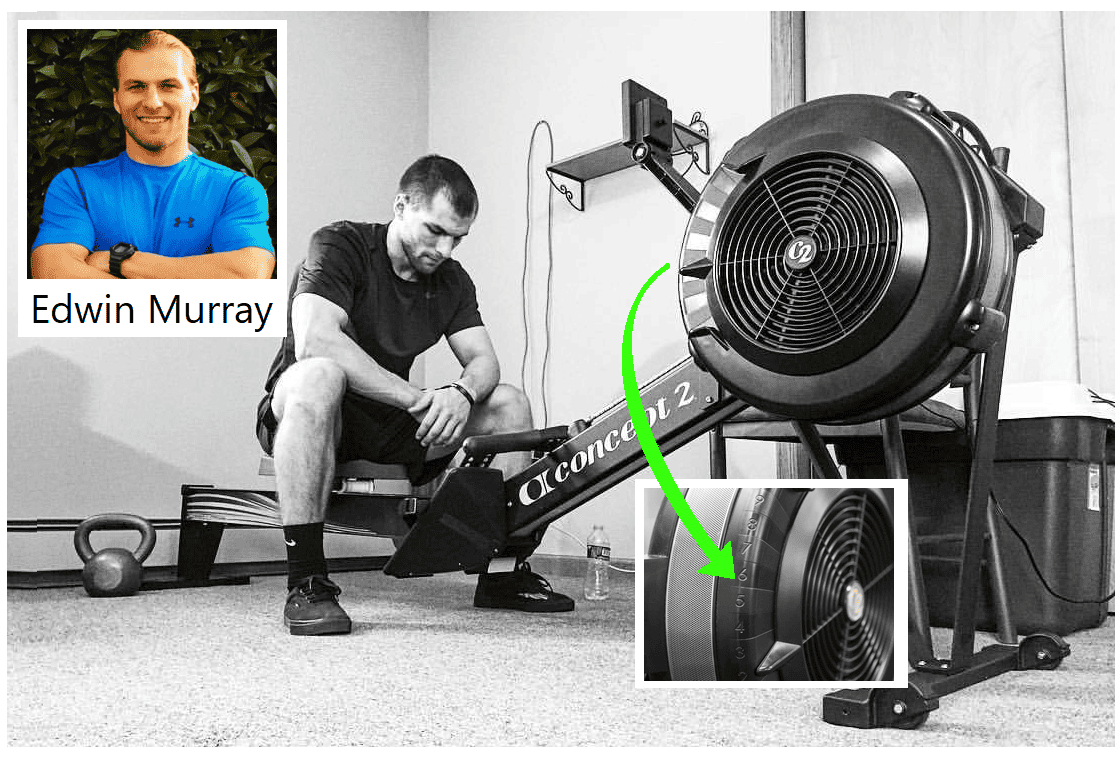 This makes the rowing stroke feel lighter or heavier. At a damper setting of 10, the rowing stroke does feel pretty heavy but not like you are lifting weights.
Resistance Overall
When comparing the Matrix Rower vs. Concept2 resistance both are excellent! No users complain about either and they offer top-notch resistance and a very smooth rowing stroke. I want to clear that up first.
There are really just two major differences between them. The Matrix Rower is virtually silent and can have stronger overall resistance. This is great for people who want to row slowly (and still feel strong resistance) and watch TV. It can also be good for weightlifters who want very strong resistance.
The Concept2 Rower has resistance that more closely resembles rowing on water. This makes it great for people who are training for rowing. Its realistic rowing stroke makes it the most popular rowing machine for Crossfit and Olympic athletes. It will also be noisier, which isn't a big deal for most people but can be a deciding factor for some.
Monitor/Control Panel
Now onto the next major difference between the Matrix vs. Concept2 Rower – the monitors!
Monitors can be very important for some people and others don't seem to care too much. I happen to like tracking data, so having accurate information to compare to others and previous workouts is important.
Below is a side-by-side photo of the 2 monitors. As you can see, nothing too fancy, and both a fairly easy to use once you know the navigation.
Concept2 Monitor
Matrix Monitor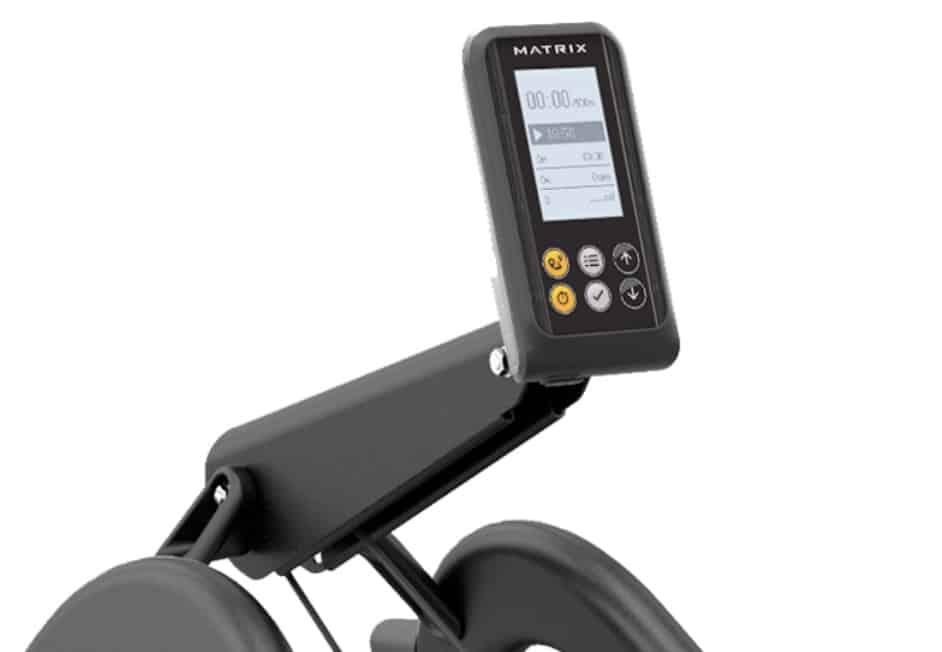 Concept2 PM5 vs. Matrix Monitor
Right off the bat, I will say the Concept2 monitor is more accurate and has more data-tracking features than the Matrix Rower.
The Concept2 PM5 monitor is the most accurate monitor on the market and it's the "Gold Standard" of rowing machine monitors. It's currently the only rowing machine monitor that can be used to submit times in the Crossfit games and be used to set World Records.
If you use another rowing machine or monitor, you really can't trust that your time is equivalent to someone else's time.
The PM5 monitor also has some really cool features such as a force curve (to show how much force you pulled throughout the rowing stroke) as well as a watts graph. These are all just great features to use when training and compare to your previous sessions.
For me, this is awesome and I love it. Other people love it as well, which is why Concept2 has a huge online community of people cheering each other on and submitting their daily workouts.
The Concept2 monitor also has a ton of 3rd party apps that can be used with it. This means rowing against people around the world, seeing yourself rowing on screen, or analyzing your data in different ways.
If this doesn't interest you at all, then the Matrix Rower monitor will probably be fine. It tracks a lot of data points and is very easy to use.
I'm not going to dive into all the little features because that can get lengthy. Please read my individual reviews to get a full breakdown there.
Drag Factor Settings
So as I mentioned, the main difference between the monitors is going to be the accuracy of the data and the amount of data points. The Concept2 wins in these categories but here's why – drag factor.
Here is the definition of drag factor by Concept2:
"Between each stroke, the PM measures how much your flywheel is slowing down to determine how sleek or slow your "boat" is. This rate of deceleration is called the drag factor. On your next stroke, the PM uses the drag factor to determine from the speed of the flywheel how much work you are doing. In this way, your true effort is calculated regardless of damper setting. This self-calibration is what allows us to compare scores from different indoor rowers, making things like indoor racing and the online world rankings possible."
Basically, if you set two Concept2 Rowers on damper setting 3, they may not be exactly the same due to dust build-up, humidity, altitude, etc. The drag factor can detect these nuances and gives a number based on the deceleration of the flywheel.
So a damper setting of 3.5 on one Concept2 and a damper setting of 4 on another Concept2 may both have a drag factor of 130. This means their rowing stroke will feel exactly the same.
Now the Matrix Rower does have a drag factor setting but there is not as much literature on how it works compared to the Concept2. It does mean the monitor is taking into account the deceleration of the flywheel but it probably isn't as accurate as the Concept2 PM5.
Overall
Ok, I hope I didn't lose anyone there. I know some of this monitor stuff can get a little confusing.
In a nutshell, the Concept2 monitor is more accurate than the Matrix monitor. It will have a few more functions for tracking data, it will be highly accurate, and it has a lot of 3rd party apps to use.
The Matrix monitor is still great and has a ton of features. It's most likely enough for the average user who just wants to work out at home and listen to music or watch TV.
Build Quality
When looking at the build quality of the Matrix Rowing Machine vs. Concept2 you know you are comparing two very high-quality rowing machines. Which you should be, considering their cost!
Both rowers are made of high-quality material that can withstand the test of time. There are a few ways you can compare the build quality but I can ensure you, this isn't a feature that should have a large sway in your decision-making process.
One way to measure quality can be the maximum user weight capacity. The higher the limit, the better the quality.
The Matrix Rower has a capacity of 350 lbs, while the Concept2 has a capacity of 500 lbs. Both are good limits, so I wouldn't put much weight on that feature (no pun intended!)
Another factor can be the warranty period. The Concept2 has a 5-year frame warranty and 2-year parts. The Matrix Rowing Machine has a 7-year frame warranty and 3 years on parts. Again, both are very good warranties!
I think it's safe to say that both rowers have great build quality. As I mentioned, I wouldn't let this section sway your opinion too much.
I will say that if you are normally rough on your equipment, you may want to consider the Concept2. I'm positive these rowers can take a beating and they can withstand the test of time.
Check out the video below of the World's Strongest Man beating the 100m rowing record:
Comfort
The comfort section is where we can get into a little more of the nitty-gritty differences. The differences aren't huge but they can make a difference to some people.
As I mentioned in the 'Resistance' section, noise is a big factor when it comes to comfort. The Matrix Fitness Rower will be virtually silent while the Concept2 will make a decent amount of noise.
Seat Comparison
The seats on the rowers both have a different design and function. The Concept2 seat is a bit harder with more contours. This allows for better 'performance' in my opinion. Meaning, if you are rowing a 2K for time, it will allow you to row more efficiently.
The Concept2 is a 'training' rowing machine so it makes sense to have a seat that is optimized for shorter, faster sessions.
The Matrix Rower has a softer, more bucket-like seat. This seat is made so your butt doesn't hurt on longer rowing sessions.
Concept2 Seat
Matrix Seat
A great thing about the Concept2 seat is there are many aftermarket seat cushions designed specifically to fit on a Concept2 rower.
I wrote an article here describing the best rowing machine seat cushions.
Handle Comparison
There are also a few differences in terms of handle features. Again, the Concept2 handle is built for performance. It has a hard rubber coating that allows users to pull as hard as they can on the handle without any 'give' in the material.
The C2 handle also has a slight angle to prevent wrist discomfort (which I really like). There is also a swivel where the handle connects to the rowing chain, which means the force applied to the chain is even.
The Matrix handle is also made from a hard, rubber material but it is a bit softer. The handle does not have an angle and is a straight bar with some additional width for larger users. Having the ability to grip wider may be nice for some people but I don't think it's used much and I'm not sure it would be great hand placement for larger users.
One downside of the handle is the rope loop that attaches the handle to the pull mechanism. The issue is the rope can slide to the right or left, which then makes the pull uneven from one side compared to the other. It's just a bit awkward to have to slide the rope back to the center.
Concept2 Handle
Matrix Handle
Overall, the handles are fairly similar and if need be, you can always pick a pair of rowing gloves.
Footrest Comparison
The footrests are both very similar with easy adjustment and quick-release straps. Both types of footrests are comfortable and can be used with or without shoes.
The major difference is actually the width.
The Matrix Rower footrests are actually separated slightly wider (meaning the distance between your feet) than the Concept2, which makes it a bit more comfortable for larger users who aren't as flexible.
Concept2 Footrests
Matrix Footrest
It's not a huge difference, but some people complain about the Concept2 footrests being close together.
The main reason the Concept2 footrests are close together is to mimic the distance between a rower's feet in a racing shell (on the water rowing boat).
Monorail Height Comparison
One benefit of the Concept2 Rowers is they have 2 models. The Model E has a 20.0″ seat height, which is great for people with bad knees or anyone who has trouble getting on/off the rower.
Most of the time, the extra cost of the Concept2 Model E causes me not to recommend it but since the Matrix Rower is more expensive than the Model D and Model E, it's a great buy if you want a taller seat height.
You can check out my Concept2 Model E review here.
I only recommend the Model E over the Model D if you want the taller seat. The other small difference isn't worth the additional cost in my opinion.
Overall
When comes to comfort both the Concept2 and Matrix Rower are very similar. However, there are a few subtle differences that could help sway your opinion.
Matrix Rower Prices: Check Lowest Price
Concept2 Model D Price: Check Lowest Price
Storage
Storing the Matrix Rower vs. Concept2 Rower is pretty similar but there are a few differences that users may find interesting.
Matrix Storage
The Matrix Fitness Rower stores vertically by simply tipping the rower forward and leaning it upright.
With a slightly shorter overall length, this shouldn't be an issue in rooms with an 8-foot ceiling.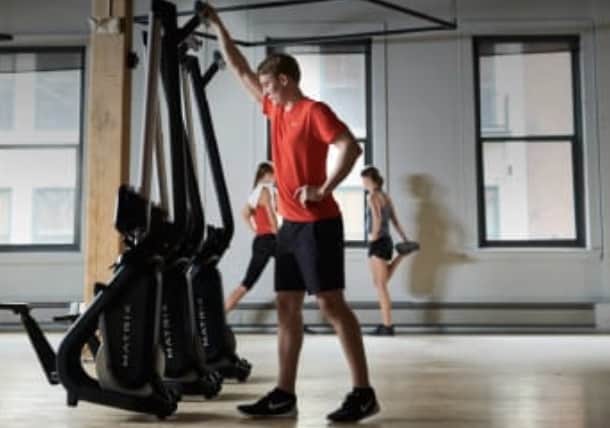 There are built-in caster wheels on the front of the rower to move the unit around easily.
The rower does weigh 152 lbs so it will be difficult to move up/down stairs and it will probably need to stay relatively close to where it is used.
Concept2 Storage
The Concept2 Rowers have 2 different methods of storage.
First, you can store it vertically the same way you can the Matrix Rower. Simply tip it forward and store it upright. However, the Concept2 Rower is 8 feet long so you may have an issue with this method if you have low ceilings.
The second method involves separating the seat rail from the main housing. This can literally be done in 3 seconds. Just lift up near the conjoining sections and the rail will separate. This allows you to store it similar to the photo below and move it up/down stairs or even put in your car!
When separated, the Concept2 can fit in the area of a dining room chair.
There are also built-in caster wheels that allow you to roll the rower around. The Concept2 is also lighter, weighing only 57 lbs in total. So if it's separated, the main housing may weigh around 42 lbs and the seat rail around 15 lbs.
Overall
Both the Matrix Rower and Concept2 Rower can store easily. If you plan on moving the rower around more, the Concept2 is definitely lighter and can come apart easily.
Capacity
If you are a bigger person in terms of height and weight then you are in luck! When comparing the Concept2 vs. Matrix Rower, both have large capacities.
The Matrix Rower can fit users up to 350 lbs and 6'8″ tall. The Concept2 Rower can fit users up to 500 lbs and 6'9″ tall.
If you are taller than 6'9″, Concept2 also offers an extended monorail (an extra 5.0″ of length) for an extra $250. This should accommodate almost every person.
There are also no lower-end limits on these rowers. Meaning, the seat rail can slide forward enough for short users to get their shins vertical (or into a proper "catch" rowing position).
Dimensions
Concept2 Dimensions:
Assembled (L x W x H):
Storage (L x W x H):
Weight:
Matrix Rower Dimension
Assembled (L x W x H):
Weight:
Assembly
There is also a noticeable difference in assembly when comparing the Matrix Rowing Machine vs. Concept2.
When I got my Concept2, I couldn't believe how easy it was to assemble. It comes mostly assembled and I finished in about 10 minutes. It was so fast, that I figured I must have missed a step!
Concept2 has an assembly video with a man putting it together in under 3 minutes! It also comes with a small tool that can assemble the entire rower.
The Matrix Rower is a bit more complicated to assemble and takes about 45 minutes. Now that's a pretty small time investment for a 1-time thing, so it's not really a big deal.
The only thing that annoyed me about the Matrix Rower is that you need to have your own tools for assembly. I figure if you are paying that much for a rowing machine it should come with a few wrenches!
Consumer Reviews
When comparing reviews of the Matrix vs. Concept2 Rowers is pretty clear the Concept2 is the winner!
Concept2 has an almost cult-like following in the rowing and Crossfit community, so they get a ton of positive reviews. They also offer their rower on Amazon and Amazon is great at getting consumers to leave a review.
Matrix Fitness does not offer their rowers brand-new on Amazon so there are not a ton of reviews you can find. There are also some reviews that are left by people who use the Matrix Rower in their gym, so they aren't factoring in the high cost into their review.
The impressive thing about Concept2 is that they have been able to maintain an almost perfect 5-star on Amazon with close to 5,000 reviews! That is pretty insane.
Warranty
Concept2 Rower Warranty:
Frame: 5-Years
All Parts: 2-Years
30-Day Money Back Guarantee
Matrix Rower Warranty:
Frame: 7-Years
Parts: 3-Years
Labor: 3-Years
Both rowing machines offer great warranties on very high-quality items. I have heard no complaints about customer service and both companies have been great to work with in the past.
The 30-Day Money Back Guarantee on the Concept2 is a nice bonus that helps give people some peace of mind. However, a 3-year parts warranty on the Matrix Rower is pretty hard to beat!
Price
Now the section that may be one of the biggest differences – the price! Both rowers are considered expensive but for me, the Matrix Rower is out of my price range.
I cannot list the exact prices here because it's actually against Amazon's terms (basically because prices can move up or down). However, I will say that normally the Concept2 is around $1,000 and the Matrix Rower can cost almost double that!
While these can sound like big numbers, I guess if it's something that is going to change your life and possibly help you live a longer, healthier life – you can't really put a price on that!
Final Verdict: Matrix Rower vs. Concept2
When comparing the Matrix Rower vs. Concept2 there are a few key areas that can help you make a decision.
First, I would see if you can afford either option. The price of the Matrix Rower may just help you decide that you would rather save some money and go with the Concept2.
Second, I would look at resistance. If you want silent resistance that can adjust to feeling very heavy – then the Matrix is better. The Matrix can be found here.
If you want more realistic rowing resistance that is "variable" and great for HIIT exercises – then the Concept2 is better.
Third, I would look at monitor functionality. If you want serious data tracking or if you are training for sports, Crossfit, etc. – the Concept2 is hands down better.
Last, I would take the other smaller factors into play like warranty and comfort.
With such a big decision like this, I would recommend taking the time to read my individual reviews. They are a bit long but this is an important decision and can pay off in the end.
Please check out my Concept2 RowErg Model D review here.
You can then read my Matrix rower review here.
That's it for my Matrix Rower vs. Concept2 comparison! I hope you learned a lot and leave me any questions or comments below!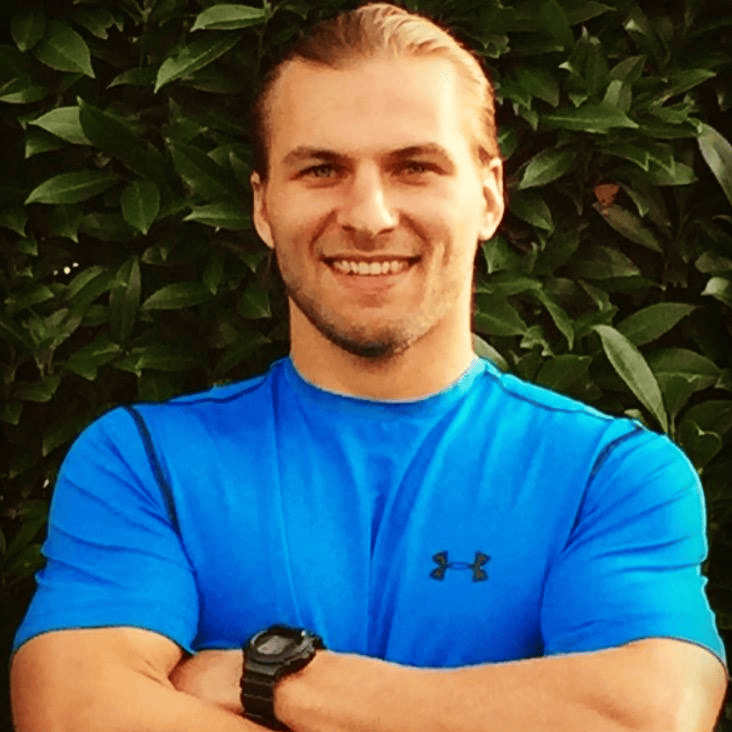 Rowing Machine King Founder and Author.