Stamina 1205 Precision Rower Review
The Stamina 1205 Precision Rower is a hydraulic-piston rower made by Stamina Products, Inc.
A relatively low-priced rower made by a well-known fitness company with a rock-solid frame and great resistance!
What more could you ask for!?
Complete with dual-handles that have their own adjustable-piston, this design allows each arm to work independently of each other.
The frame is solid as a rock, but the unit weighs less than 50 pounds, so it can be moved around easily if needed.
There are plenty of good things about this rower… and a few not-so-good things, too.
This can be a good rowing machine for you but you'll want to understand a few normal drawbacks associated with this kind of rowing machine before you buy.
Check out my full Stamina 1205 Precision Rower review below for all the pros & cons!
Ironcompany.com Stamina Precision Rower
ADJUSTABLE HYDRAULIC TENSION: Turn the built-in dial to adjust the smooth, hydraulic resistance to your desired intensity level.

TRACK YOUR METRICS: The large, easy-to-read LCD monitor displays workout time, distance, stroke count and calories burned. SCAN mode cycles through each of these statistics in real time during workouts.

SUPPORTED BY SMART AUDIO COACHING: This product is fully supported by müüv, the all-in-one app that provides smart audio coaching, a follow-along assembly video, personalized workouts tailored to the equipment you own, and more.

ENGINEERED FOR YOUR COMFORT: Includes smooth ball-bearing rollers, a cushioned seat, padded handlebars, pivoting foot plates with adjustable straps, and floor-protecting end ca
Table of Contents
(click a title to jump ahead!)
1. Resistance Type
2. Monitor/Control Panel
3. Build Quality
4. Comfort
5. Storage
6. Capacity
7. Dimensions
8. Assembly
9. Pros and Cons
10. Consumer Reviews
11. Warranty
12. Price
Resistance Type
The Stamina 1205 Precision Rower a hydraulic-piston rowing machine.
This means resistance is controlled by 2 hydraulic pistons attached to each rowing arm.
Being a hydraulic-piston machine means there are a few pros and cons.
The pros being: low-priced, adjustable resistance, small footprint, and relatively quiet.
The cons being: shocks get hot after use and the rowing resistance/motion is not as realistic as other resistance types.
You can read more about hydraulic-pistons rowing machines and other resistance types in my full overview article here.
Resistance Benefits
The Stamina 1205 Precision Rowing Machine has dual handles that are attached to their own adjustable piston.
This can be a big benefit for people that have unbalanced strength in their arms and upper body.  The dual pistons give the unit the opportunity to customize the strength level of each handle.
For example, if your left arm is weaker than your right arm you can adjust the resistance level on the left handle to offer less resistance compared to the resistance level on the right handle.
While I don't normally recommend you do this, it can be beneficial for certain situations.
The 1205 Precision Rower offers 5 different resistance levels (5 being "easiest", 1 being "most difficult"). They are easily adjusted by sliding and locking tension adjusters on the arms of the handles.
Adjustable resistance is valuable because it enables users of all different strength levels to get a good workout on the same machine. It also allows a user to adjust their workout on the same rower whether they lose or gain strength over time.
It's a little odd that the #5 setting is the easiest and #1 setting the hardest. Sometimes this confuses users who set it on the hardest setting thinking it's the easiest one.
That may have something to do with the few folks who thought it was too difficult to operate this rower. Most, however, said the variety of different resistance levels was sufficient for their needs and they were able to start out easily enough and work their way up to the harder levels over time.
Although it's very easy to adjust the resistance, you might find it beneficial to tighten the knobs with a wrench to keep them from slipping.  Sometimes hand tightening is not enough to keep them in place, particularly if you have a weak grip.
Another great benefit of hydraulic-piston resistance is they make very little noise, so they are perfect for using while watching TV or if you don't want to bother anyone in your house!
Resistance Negatives
There is a trade off in having the ability to fine-tune your workout by adjusting both pistons. Like tires wearing out unevenly on a car, hydraulic-pistons have a tendency to wear out unevenly as well.
When the two sides become unbalanced, simply based on the wear of the shocks, you may need to replace them.
About 6% of users complained their shocks wore out within the first few months. If this happens inside the 90-day warranty period, they will be covered. If not, the cost is about $15 – just something to keep in mind.
For incidents within the warranty period, all affected users noted they received their new shocks promptly and without any issues.
Hydraulic-pistons are the lowest-priced resistance option for rowing machines. The trade-off, for the money you'll be saving compared to the more expensive rowers, is dealing with the pistons.
What exactly do I mean?  Keep in mind that these issues apply to all rowers with pistons and not just the Stamina 1205 Precision Rower.
The pistons on any rowing machine get hot after a good workout session. So hot that a user complained the shocks on the 1205 burned their carpet!
The manufacturer clearly states that the shocks get really hot in their instruction manual. Then again, who really reads the instructions word-for-word, right? There are also stickers on the shocks warning users to be cautious of the hot surface.
So just be careful!
Another issue is shocks can leak oil. Although only 3 users complained this happened to them, I don't want you to be uninformed and unprepared!  I highly advise you keep a mat underneath the rower in case a leak happens to protect your flooring.
A mat like the Stamina Fold-to-Fit Folding Equipment Mat 84-Inch by 36-Inch is cheap, durable, and easy to clean.
Another issue with the pistons heating up is they can lose some of their resistance strength. When the hydraulic fluid heats up the resistance becomes a bit easier so you may have to stop and adjust the level 1 or 2 higher.
Resistance Overall
Overall, I feel the resistance on the Stamina 1205 Precision Rower is good for the price of the rowing machine. Most users felt it was strong, smooth, and quiet!
The problems experienced by some users will happen on all hydraulic-piston rowers and really can't be avoided. So if you feel there are too many negatives, it may be the case you want to look into air or magnetic rowers.
Monitor/Control Panel
The Stamina 1205 Precision Rower comes with a single-button multi-function monitor to help keep track of your workout.
It can track the following workout data:
Time
Speed
Distance
Calories Burned
Stroke Count
As you can see below, the monitor is fairly basic but that should be expected in this price range.
The fitness statistics are displayed one at a time on the LCD display. You can manually toggle through the data or you can use the monitor's 'scan' feature to automatically cycle through each statistic every 4 seconds.
The unit turns on by pressing the button on the monitor or by simply moving the seat. It's powered by a single AA battery and automatically shuts off after 4 minutes of inactivity.
Monitor Downsides
There were a few things that bothered a couple of users such as:
The data might be a little difficult to see in low-lit areas because the display is not backlit.
The calorie-counter estimates calories burned based on an average user's fitness profile. Meaning it's not the actual calories "you" burn but what an average height and weight person would burn. Per the manufacturer, the data "should be used only as a comparison between workouts on this unit".
The calorie counter issue is very common among fitness machines and is still a valuable metric. It allows you to compare the intensity levels of your workouts. So if one day you burn "400 calories" and the next day "300 calories", you will know you worked out harder the first day.
Lastly, the distance rowed is measured in miles, not meters (the most common metric used to measure rowing distance).
Monitor Overall
Despite the minor issues, the fitness monitor does its job of keeping track of vital workout statistics.
Plus, most phones and watches have fitness apps that can track your workout statistics far better than a monitor on an inexpensive rowing machine!
Build Quality
Many users commented on how solid the frame felt on this rower, which is great for a budget model!
The frame is made of steel with an aluminum beam. It feels very sturdy, yet it weighs a lot less than you'd think for something so durable.
One of the advantages of a piston-resistance rower is it's quiet compared to an air or water rower.  It comes to no surprise that this rower is very quiet! The loudest sound you will hear regularly during a workout is the gliding of the seat.
Once the rower settles in, you may hear an occasional squeaking noise from the joints, shocks, or wheels. A little spray from WD-40 will get rid of the squeaks in no-time.
Overall, users felt the Stamina 1205 Precision Rowing Machine was very durable and had high build quality for the price.
You can check the 1205 Rower in action below:
Comfort
Comfort is a major discussion topic when deciding what rower to buy and luckily this model passes the test!
The seat on the Stamina 1205 Precision Rower is one of the best features users love to talk about. It has thick padding and is very comfortable. Even for people who like to row for long periods of time!
The comfort level for seats on rowers have a tendency to diminish over time. However, users who owned this machine for a few years did not mention their seats getting harder. A good sign the seat is not only comfortable but durable too!
The handles are covered with foam to provide a comfortable grip and help prevent any blisters.
I usually read a few comments from users mentioning how uncomfortable the handles are on some models and some users even wear gloves to avoid developing calluses. This is not the case with the handles on the 1205!
The Stamina 1205 Rower has pivoting footplates for added comfort and the foot straps will securely fasten your feet while you row.
The footrests are big enough to accommodate most shoe sizes, but may be too big for some people who like to row barefoot.
The rowing motion on the Stamina 1205 from start to finish (from the catch to recovery) is very smooth. The seat glides up and down the roller track effortlessly due to the ball-bearing roller system and the handles push and pull in one fluid motion.
Range of Motion & Maintenance
The range-of-motion on the handles are limited (can only be pulled back-and-forth), but this doesn't adversely affect the effectiveness of the workout. If you want a rower where the handles can also "swing-out" to the sides, I recommend some models in my final review section.
When dust, dirt, and other particles are on the seat track, the wheels roll on the debris and over time can affect the gliding motion of the seat and cause the wheels to start cracking. Some users complained the wheels on the seat started cracking and it's probable the issue was due to not cleaning the roller track regularly.
To ensure the gliding of the seat remains smooth, this rower requires periodic maintenance. Maintenance includes "cleaning the roller tracks in the center beam with an absorbent cloth".
Overall
Overall, the Stamina 1205 Precision Rower had a lot of positive comments about the comfort features.
Most users felt the rowing motion was smooth, quiet, and strong. This was due to comfortable handles, seat, and high quality bearings on the seat rail.
Storage
The Stamina 1205 Precision Rower does not come with front caster wheels for moving the rower and does not fold for storage.
The footprint is small and weighs less than 50 pounds, so it isn't too difficult to move around if needed.
It's possible to slide the rower underneath your bed but you will need some clearance space. A user recommended your bed has to be at least 7.5" off the floor and the seat has to be removed (it removes and attaches easily).
For those unable to slide it underneath the bed, you can rest the unit against the wall or inside a closet.
Capacity
Per the instruction manual, the weight capacity is 250 pounds.
A user that weighed 300 pounds commented he was able to use the rower regularly without any issues. I don't recommend exceeding the manufacturer's capacity because they set a limit of 250 pounds for a reason, but most manufacturers are conservative!
The Stamina 1205 Precision Rower has a fairly small footprint (and a fairly short gliding track). This could be a concern for taller people.
Based on my research plenty of people over 6.0' (one person as tall as 6'4") were able to use the rower without sacrificing any range-of-motion. However, a 6.0' user did mention that it's a little difficult to get situated in/on the rower.
Height Limitations
One thing to mention is people's bodies are proportionately different (some people have a long torso and short legs and vice-versa) so it's not necessarily safe to assume that since one 6'4" person was able to use the rower that all 6'4" people can use the rower without any issues.
With that being said, it appears it's safe to buy this rower if you're slightly above 6.0' tall, but I would be hesitant if I was taller than 6'4".
There doesn't appear to be a size issue for shorter rowers. Plenty of users around 5'4" had no issues with the rower and a user as short as 5'2" didn't run into any issues either. A user commented that her young daughter regularly rows on the unit.
However, remember that the arms are a fixed length, so if you are very tall or very short, the arms could pull back high or low on your chest.
Dimensions
In-Use (L x W x H) :
Storage (L x W x H):
Weight:
Assembly
The manufacturer recommends 2 people are required to assemble the rower, but plenty of users mentioned they were able to do it alone.
The tools needed for the job are two adjustable wrenches and a phillips screwdriver (not included). You will also need 1 AA battery which is not included.
It's fairly easy to put together and for the users that had difficulty with assembly, the issues were mostly due to poorly written instructions.
One user commented the directions tell you to turn the rower over, but the diagram you have to follow in the manual keeps the rower right-side up!
It appears the length of time it takes to put the rower together depends on your experience and comfort level with assembling things.
Two users were able to put it together in as fast as 20 minutes, but for people doing it alone it took on average 45 min – 1 hour.
Just take your time, go slow, read carefully, and everything will be ok!
Pros and Cons
Pros:  
Heavy-duty frame
Solid warranty of 5 years (frame)
Small footprint makes the rower ideal for smaller rooms
Can be stored underneath a bed or propped against a wall
Dual-handles have adjustable piston to customize resistance on each side
Comfortable seat and handles
Cons:  
Some hydraulic-piston issues
No wheels makes moving rower more difficult for some people
Footrest size and feel can make rowing barefoot difficult
Could make a few squeaking noises after a fair amount of usage
Confusing instruction manual
Consumer Reviews
Based on user reviews, most people really enjoy this rowing machine. A few people were turned-off by the shocks atypically wearing out within a few weeks/months and the occasional squeaking noises.
Overall, it seemed like customers were happy with the product they received at the price they paid.
If you are looking for a low-cost hydraulic-piston rower, then this is an excellent model to consider.
You can read more reviews here: Stamina 1205 Precision Rower Reviews
Average Rating: 3.8
Warranty
Frame: 5-years
Parts: 90-days
While the parts warranty isn't great, considering some people found their pistons to wear out in a few months, the frame warranty is excellent.
If you need Stamina 1205 Precision Rower replacement parts you can contact Stamina Products directly and order new parts. The manual has all the information on this process.
Stamina 1205 Precision Rower Price
The Stamina 1205 Precision Rower is competitively priced for a hydraulic-piston rower and very low priced for rowing machines overall.
Stamina lists their models on a few online retailers but they seem to prefer using Amazon. I think Amazon is a great place to purchase rowing machines because they have good pricing, open reviews, and free shipping on qualified orders. Plus, they act as a layer of protection between the consumer and manufacturer.
Final Thoughts
Overall, the Stamina 1205 Precision Rowing Machine is a great option if you are looking for a low cost hydraulic-piston rower.
There are a few other great hydraulic-piston rower options in the same price range that may be worth a review.
If you want a rowing machine with "orbital free-motion" arms (meaning you can move them in a circular rowing motion), then I would recommend checking out the Stamina 1215 Orbital Rower. You can read my full review here.
You can also check out the Sunny Health & Fitness SF-RW5639 Full Motion Rowing Machine. This is another great model with great reviews. Check out my review here.
If you want to see other low cost options that use a different resistance method then check out my best budget air rower or you can read about my choice for best budget magnetic rower.
Did you enjoy my Stamina 1205 Precision Rower review? Let me know in the comment section below!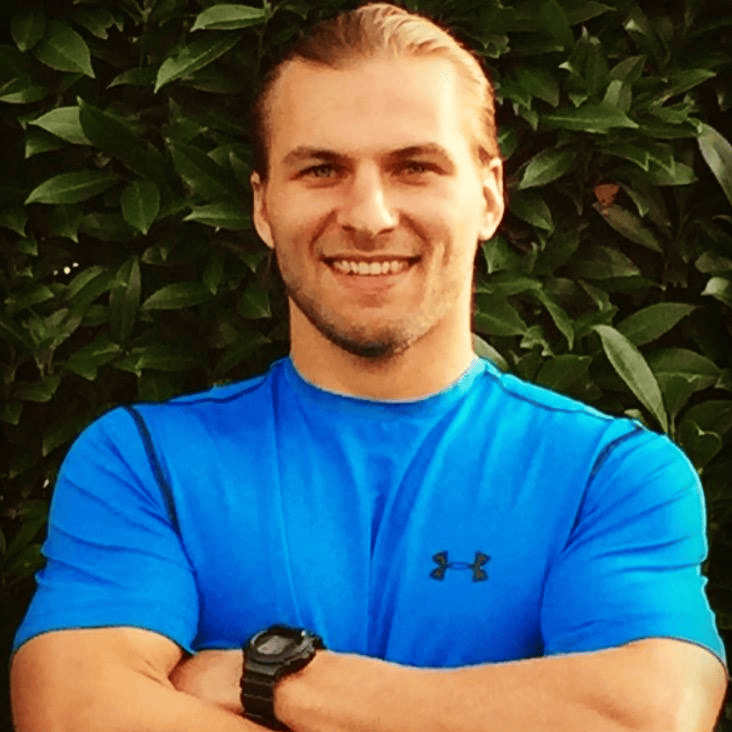 Rowing Machine King Founder and Author.