Sunny Health & Fitness SF-RW5639 Full Motion Rowing Machine Review
The Sunny Health & Fitness SF-RW5639 Full Motion Rowing Machine has been a life saver for some consumers!
With it's low price point and excellent build quality, it has quickly become a hot seller.
Built with hydraulic-piston resistance and "free-motion" rowing arms, users actually feel like they are rowing a boat!
Plus, a 350 lb. weight capacity means it won't feel flimsy or cheaply constructed.
However, this doesn't mean there aren't any issues with the SF-RW5639. Some people experienced missing pieces and there is always the standard hydraulic-piston issues.
I outline all the pros & cons in my full Sunny Health & Fitness SF-RW5639 review below.
Table of Contents
(click a title to jump ahead!)
1. Resistance Type
2. Monitor/Control Panel
3. Build Quality
4. Comfort
5. Storage
6. Capacity
7. Dimensions
8. Assembly
9. Pros and Cons
10. Consumer Reviews
11. Warranty
12. Price
13. Overall Review
Resistance Type
The Sunny Health SF-RW5639 is a hydraulic-piston rowing machine.
This means the resistance is controlled by a single piston located beneath the seat rail.
The hydraulic-piston is connected to the two "free motion" rowing arms. As you pull the rowing arms, fluid is forced through the piston and resistance is created.
To adjust you simply turn the dial and a larger or smaller hole is created, which increases or decreases the resistance.
Due to the resistance being controlled by a dial, we call this "adjustable" resistance. Magnetic rowers are also "adjustable" resistance.
These differ from air and water rowers, where the resistance increases based off how fast you row. This is called "variable" resistance.
You can read more about hydraulic resistance and the other resistance types in my full resistance comparison article.
Resistance Benefits
The Sunny Health & Fitness SF-RW5639 has 12 levels of adjustable resistance, making it great for all types of people.
Users can simply reach beneath the seat and spin the dial to the desired resistance setting.
One great benefit of hydraulic-piston resistance is the rowing stroke is very quiet. Many users love to row while watching TV and it also won't bother anyone else in the house.
Hydraulic-piston resistance is also one of the only resistance types that offers the "free motion" rowing arm motion. So if you enjoy being able to move your arms at different angles, this is the resistance type for you!
You will be able to see in the video below how rowing at different arm angels can target different muscles in your back.
Resistance Negatives
Unfortunately, there are also a lot of negatives that come with hydraulic-pistons. Mainly because they are so inexpensive to manufacture, which obviously leads to more problems.
Sometimes pistons can overheat and leak oil, which is why I always recommend putting down a rowing machine fold-to-fit mat to protect your floors.
Hydraulic-pistons also heat up after about 15-20 minutes of rowing and can be hot to touch. It also means the piston will lose some of it's resistance, so you will have to adjust the level higher during your workout.
There were a few comments about the Sunny Health & Fitness SF-RW5639 not having strong enough resistance. This is a common issue on many hydraulic-piston rowers.
I usually recommend people who consider themselves "strong" or "very fit" to not buy a hydraulic-piston rower due to the resistance strength being a little low.
Resistance Overall
I believe the SF-RW5639 has good overall resistance that is inline with the other quality rowers in this price range.
Most of the problems experienced by users are issues that all hydraulic-piston rowers have and there isn't much you can do about it. It is the cost of buying an inexpensive rower.
However, you are getting a great rower at an extremely affordable price!
Monitor/Control Panel
The Sunny Health & Fitness SF-RW5639 Full Motion Rowing Machine comes equipped with an LCD digital monitor. The monitor can track the following data:
Time
Count (# of Strokes)
Total Count (Total Strokes)
Calories
As you can see, the monitor is fairly basic but that is what to expect in this price range.
The monitor also has a "Scan" mode, which will scan through each data point every 6 seconds. You can also program the monitor to countdown from a certain time, count, or calorie and the monitor will beep when finished.
Simply start rowing to turn on the monitor or press any button. It will shutoff after 4 minutes of inactivity. It runs on 2AAA batteries which are included.
Build Quality
One of the best features on the Sunny Health & Fitness SF-RW5639 is the strong build quality. In this price range this category is always suspect, but not with the SF-RW5639.
With a 350 lb. weight capacity, you know the solid steel frame is sturdy enough to take a beating!
Users also commented how they felt the seat, handles, and footrests were all well-made. Strong velcro foot-straps also hold your feet in place to ensure they won't slip out while rowing.
Some users mentioned a few quality issues like a wobbly seat or weak velcro, but they were not mentioned enough to cause alarm. Unfortunately on lower priced goods there are some "bad apples" due to the lower amount of quality control.
I believe a large majority of users felt the quality of the SF-RW5639 was excellent, which is one of the main reasons they purchased it!
Comfort
Comfort is key when rowing and the SF-RW5639 doesn't fall short in this category. Most users experienced a smooth, strong rowing motion that was quiet and comfortable.
One main comfort functionality is the "free motion" arm mechanism. This allows users to pull back the handles at many different angles and work the various muscles in their back. It also helps switch up the rowing motion so users don't get as bored!
The SF-RW5639 comes with a soft padded seat that won't cut off circulation to your legs and won't cause unnecessary pressure on your sitting bones. The non-slip grip handles also allow a comfortable grip that won't become uncomfortable when your hands sweat.
It has pivoting footrests to flow naturally with the movement of your feet while rowing. Users also felt their feet were held securely in place and weren't slipping around while rowing.
Overall, there were very few complaints about the comfort of the Sunny Health & Fitness SF-RW5639. You can check out more comfort photos by visiting the button below.
Storage
While the Sunny Health & Fitness SF-RW5639 doesn't come with built-in storage features, the overall design makes it very easy to store.
With a compact design and low profile, users can easily store this rowing machine upright in a closet or against the wall in the corner of a room.
The "free motion" arms fold in, which also makes it very easy to move and store.
A few users mentioned they weren't very strong and could easily carry the rower (33 lbs.) into another room or into the corner for storage.
Capacity
For a compact rowing machine, the Sunny Health & Fitness SF-RW5639 has quite a large capacity! This is great for users who are above average size but don't want to spend a fortune. It's also great for people who don't have a lot of space.
The manufacturer recommend weight capacity is 350 lbs. which is the highest for any low-cost rowing machine. You usually don't see the type of weight limit until you get well over $500.
Sunny Health & Fitness also measured the seat rail travel length to be 38.0″. Meaning, if your inseam length is 38.0″ or lower, you will be fine using this model.
There were a few larger users around 6'2″ – 6'3″ and almost 300 lbs. who said they used the SF-RW5639 without a problem.
I do have one concern with "free motion" arm rowing machines and that is with shorter users. If you are too short, the rowing arms can sometimes come up too high on your chest and make the rowing stroke uncomfortable.
For example, in the photo below the woman is 5'8″ and the handles are at a good level. However, if she was under 5 feet tall, they may come too high up on her chest to feel normal.
There was one woman who was 5'2″ who said the handles come to the top of her chest and she felt it was fine. It also depends on your torso length, but this is something to keep in mind if you are a short user.
Dimensions
Assembled Dimensions (LxWxH):
Assembled Weight: 33 lbs.
The shipping box is approximately 51.5″ x 11″ x 8.5″ and around 38 lbs. The seat sits about 11.0″ off the floor when assembled.
Due to the rowing arms being "free motion" or "orbital" you will need a wider space than the given dimensions. One user suggested having between 36″ and 48″ of width for the arm movement.
Assembly
The assembly of the Sunny Health & Fitness SF-RW5639 Full Motion Rowing Machine is fairly straightforward and takes about 30 minutes on average.
There are 4 steps to follow in the instruction manual and setup requires 1 person. Below is a brief overview:
Attach the front and rear stabilizers
Attach the monitor and footrests
Connect the left and right rowing arms
Assemble the seat
All of the necessary tools and batteries for assembly come with the packaging. Users who are not mechanically inclined felt the setup was fairly simple as long as they followed the instructions.
Pros and Cons
Pros:
12 levels of adjustable resistance
Very low cost
350 lb. weight capacity
38.0″ of seat travel length
Comfortable seat and pivoting footrests
Lightweight (33 lbs.)
Compact
Cons:
Resistance can be weak for strong users
Basic monitor (normal in price range)
Some people received missing parts or defected screws
Consumer Reviews
The Sunny Health & Fitness SF-RW5639 reviews have been overall very positive. Users really love the affordable price, high weight capacity, and long seat travel length. For a long time there were almost no options for heavier people looking to buy an inexpensive rowing machine. Consumers also felt the rowing motion was smooth and for the price they were getting an excellent deal!
The negative reviews came from two sets of people. First, people left a poor review if they felt the resistance was too light. Some of these users were just not aware that rowing isn't a weight lifting exercise and others were probably too fit for this model. Second, people who received any type of defective screws (too short/small) or had a quality defect, left a low review. Unfortunately, on lower priced rowing machines this can sometimes happen.
Overall I feel this is a great rowing machine for the right person. It has good build quality and a great price point. Check out more Sunny Health & Fitness SF-RW5639 reviews here.
Average Rating: 4.3
Warranty
Structural Frame: 3-Years
Parts & Components: 90-Days
Model #: SF-RW5639
This model has a great warranty on the frame due to the strong build quality but a standard 90 days on parts.
Sunny Health & Fitness SF-RW5639 Price
The Sunny Health & Fitness SF-RW5639 price doesn't tend to vary and is normally the same wherever it is sold. You can find it at most major online retailers like Amazon, Walmart, Hayneedle, Target, etc.
Currently Amazon has the largest selection of rowing machines out of all the major retailers and has very competitive prices. They also have easy checkout, good customer service, free shipping on qualified orders, and add a layer of protection between you and the manufacturer.
Overall Review
The Sunny Health & Fitness SF-RW5639 is a great rowing machine for the right consumer. It is a great option if you are looking for a good quality, "free motion" arm rowing machine.
If you feel a 250 lb. weight capacity is too low (seen on other models in this price range), then this is a great option as well.
Just understand the downsides to hydraulic-piston rowers, such as lower resistance and higher probability of parts malfunctioning. Also understand that to receive the next bump up in quality will cost around $300.
If you want to check out some other "free motion" hydraulic piston rowers, you can visit my Compare Rowing Machines page and sort by "hydraulic piston". Then you can see the various models and their ratings.
You can also check out my review of the Stamina Air Rower 1399 which is the best budget air rower.
Another quieter option would be to read my review of the Sunny Health SF-RW5515 Magnetic Rower, which is the best budget magnetic rower.
I hope you enjoyed my Sunny Health & Fitness SF-RW5639 review! Please leave me any questions in the comment section below.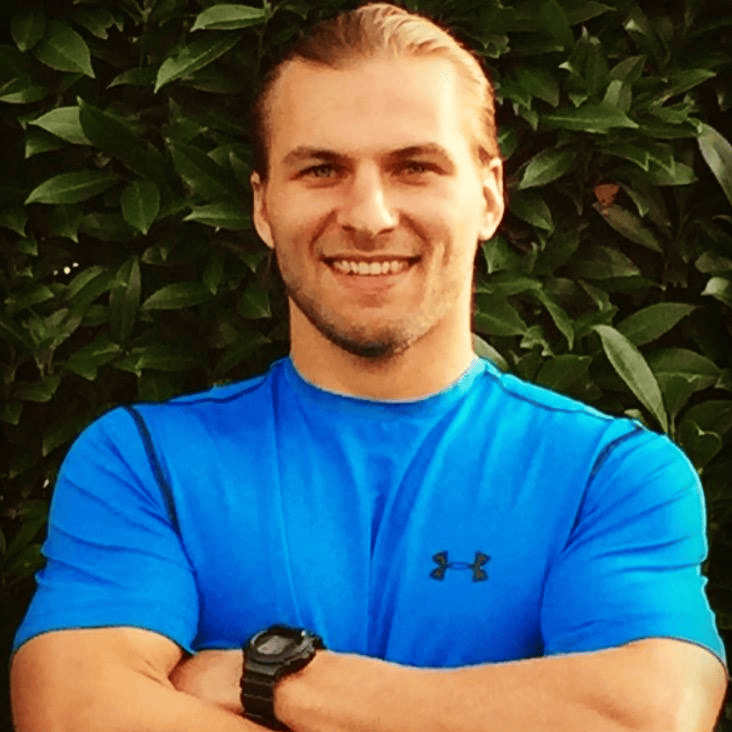 Rowing Machine King Founder and Author.