BodyCraft VR100 Rowing Machine Review
Thinking about buying the BodyCraft VR100 Rowing Machine?
Looking to learn about the different pros & cons?
Well I'll let you know it has strong resistance, a multi-function monitor, and is built by a reputable fitness company.
Plus, we all know rowing provides a great total-body workout, it's low impact, and is an excellent calorie burning machine!
However, there are a few things about the BodyCraft VR100 that aren't easily spotted. Issues with the monitor and even BodyCraft may not recommend this model!
Read the full VR100 review below to find out the whole story and my final buying recommendation.
Resistance Type
The BodyCraft VR100 Rowing Machine is a combination of air and magnetic resistance.
Combining two of the best resistance types gives the VR100 a unique feel and excellent resistance.
Air resistance operates by pulling the handle and spinning the flywheel. The faster you spin the flywheel, the more resistance you feel.
This creates great high-end power by having an increased resistance the faster you row.
Magnetic resistance operates by adjusting a knob that moves a magnet closer or farther from the flywheel. This will increase or decrease the resistance. No matter what speed you row, the resistance will be the same.
This is great for creating low end power while rowing slow.
To learn more about resistance types check out my complete rowing machine resistance article.
Resistance Benefits
The BodyCraft VR100 has 6 levels of resistance (level 1 air-only, level 2-6 air & magnetic). Users can adjust the magnetic resistance by turning a knob on the center console.
Level 1 is 100% air while Level 6 is about 30% air and 70% magnetic.
The 6 levels of adjustable resistance make it great for users of all ages and fitness levels. The rowing stroke was said to be smooth and strong with no lag.
Many users who enjoy difficult resistance enjoyed this rowing machine because it gave them a very tough workout. Some rowers are not challenging enough for strong users but not the BodyCraft VR100 Rowing Machine!
The rower is also quieter than other air-only rowing machines, which makes it better for watching TV. The air vent attached to the flywheel will give you a nice breeze to keep you cool on long, hard rowing sessions.
Resistance Negatives
While many people felt the resistance was overall positive, there were a few complaints from users.
Some felt the lower levels were too easy to give them a good workout but anything over level 2 became too hard. They weren't able to find a good middle ground for moderate rowing.
Other users who have rowed on water before felt the resistance above level 2 was very difficult and did not closely mimic rowing on water. Basically the fan only resistance was too light and the magnetic resistance was too heavy.
A few users who thought they were going to get a very quiet rower were disappointed in the amount of noise it made. While it is quieter than an air-only rowing machine, the fan will still make noise and it will be louder than a magnetic rower.
Overall
The BodyCraft VR100 Rower provides excellent, strong resistance. It is a great fit for users who want to be able to adjust to heavy resistance and don't care about mimicking resistance felt while rowing on water.
Monitor/Control Panel
The BodyCraft VR100 Rowing Machine comes with a very basic monitor that tracks only the necessary fitness data.
The monitor can track the following fitness data:
Distance
Time
Strokes/Min
Total Strokes
Speed
Calories
Heart Rate
Clock (actual time)

As you can see from the photo below, there are 4 workout windows and 8 data points. You can choose which options you want displayed while working out.
The monitor has adjustable height and angle features so you can place it in whatever position is easiest to view.
To record heart rate you must purchase a compatible Polar T34 heart rate monitor.
Monitor Negatives
There were a lot of negative comments about the monitor mainly because users felt that for the price they should be getting something more advanced.
First, many users who purchased the optional heart rate monitor found it to work poorly. When they were at the back of their stroke the monitor was too far from the chest strap to record their heart rate and caused the data to be inaccurate.
I would recommend buying the Polar H10 Heart Rate Sensor for more accurate heart rate recording. It will be compatible with the monitor but will also record on your phone. This will eliminate the issue of the monitor not recording your heart rate.
Other buyers commented how the monitor data was extremely inaccurate and almost worthless. Here were the gripes with data inaccuracy:
Calorie count was way off. The monitor records that you burn 0.6 calories every stroke no matter what variable you change. The resistance level or stroke length do not matter. This is somewhat normal on most rowing machines, as accurate calorie counting requires inputs such as height, weight, age, and heart rate.
Distance is way off. Rowing a set distance is the same no matter the resistance or stroke length. The monitor has a set distance for each time a stroke is recorded. One user took 220 long strokes and then 220 short strokes and each time the monitor recorded 2000m rowed, even though obviously the distances would be different.
Speed is wrong. If distance and power are not taken into consideration then it is obvious that speed, a function of distance and time, would also be inaccurate.
Users were also upset that other rowing machines in this price range had preset workout programs and other more advanced features.
Overall
The VR100 Rower monitor is very basic and has inaccurate data. Other rowing machines in this price range are a lot better and BodyCraft should have put more effort into providing more quality in this area.
While you may not be able to accurately record data, you will still be able to compare workouts using the information provided and purchasing a good heart rate monitor will help.
Build Quality
The BodyCraft VR100 Rowing Machine is crafted with a steel frame and aircraft-grade aluminum seat rail. This solid structure ensures an excellent build quality.
A sealed urethane seat ensures durability as it glides smoothly up and down the seat rail on industrial grade bearings and durable nylon wheels.
The handle and footrests are made from high quality, durable materials that are built to last. The rowing strap is strong enough to endure the hardest workouts and showed no signs of fraying or breaking.
Overall the build quality on the VR100 Rower seemed to be strong and there were no signs of any major flaws.
Comfort
There are few things the BodyCraft VR100 did well with the comfort and others areas where I feel they failed miserably.
I will first say that users felt the rowing stroke felt very smooth with the premium seat rail and precision-bearing rollers.
The soft grip aluminum handle is also very comfortable and the rowing strap ensures a smooth, quiet stroke.
A huge bonus is the large ergonomically designed seat that is the largest one I have seen. Most rowers have small seats that are hard and uncomfortable. The VR100 seems to have gotten this area right!
If you want to know about rowing butt pain, check out my article about curing rowing butt pain!
Negatives
The first downside I will talk about are the footrests. While some rowing machines add pivoting foot pedals to allow users to move more naturally, the position of the foot pedals on the VR100 are just too low.
The combination of the foot pedals pivoting and being too low causes the users feet to be in a bad position for having a good "drive" or push off. More advanced rowers have a fixed foot board to allow a solid structure to push off from.
Pivoting foot rests are usually not a problem if they are placed higher.
The other negative is the position of the flywheel being too close to the user and too low. Having the flywheel too close means that taller users may have to shorten their stroke because if they reach too far forward they will hit the flywheel. Also having the flywheel sit lower means the handle and strap are lower, which can get in the way of a users knees.
The flywheel position is only an issue for some taller users and most people may not even notice the difference.
Overall
There are many positive about the VR100 comfort but also a few downsides. Most users will not even notice the negatives and are mostly noticed by users who have used expensive commercial rowers at the gym and switched to a home rowing machine.
If these comfort issues worry you, I do mention a few alternative options below that don't have these problems.
Storage
Like most air and magnetic rowing machines the BodyCraft VR100 has foldable storage capabilities.
To store, a user just has to turn and pull the clamp knob and lift the rail. Once the rail is lifted, the clamp knob will click back into place.
Folding the rowing machine takes less than 15 seconds.
You can then tilt the rower and easily transport it on the two built-in caster wheels.
The VR100 Rowing Machine can fold to a footprint of 24″ x 16″.
Capacity
Overall, the capacity on the BodyCraft VR100 Rowing Machine is a bit lower than competitors in this price range but should be good for most users.
The seat rail is listed as having 44″ of travel by BodyCraft, but I'm not sure this means it can accommodate a 44″ inseam. One user who is 6'4″ said they were able to use the rowing machine but comes close to the back of the rail.
This would tell me that anyone 6'5″ or taller should try to test one out before buying or look at a rowing machine with a larger capacity.
The manufacturer weight capacity is 250 lbs. which is low for a rowing machine in this price range but suitable for most users. If you are over 250 lbs. do not worry, there are plenty of options in this price range that can handle more weight.
Dimensions
Assembled Dimensions (L x W x H):
Weight:
Storage Dimensions (L x W x H):
Assembly
Assembling the VR100 is fairly simple and like all pieces of exercise equipment you must follow the instructions carefully.
On average it took consumers about 30-45 minutes to complete. All the necessary tools for assembly are included.
Just take your time and everything will be ok!
Pros and Cons
Pros:
Strong adjustable resistance
Dual resistance technology
Large comfortable seat
Easy fold storage
Sturdy construction
Cons:
Basic monitor
Inaccurate data reporting
Does not mimic on water rowing resistance
Poorly placed flywheel and foot pedals
Pivoting foot pedals cause inefficient drive
Low warranty for price
Consumer Reviews
Consumer reviews for the BodyCraft VR100 have been mixed and also very low the past 2 years. It seems this model has been phased out by newer, more advanced models.
While some consumers really liked the strong resistance, others did not. Many users also complained about the low quality monitor in their review.
It seemed like consumers with low expectations really enjoyed this product but people with prior experience or knowledge of other options were disappointed.
You can read more BodyCraft VR100 Rowing Machine reviews here.
Average Rating: 3.9
Warranty
Frame: Lifetime
Parts: 1-Year
Labor: 90-Days
While the 1-year warranty on parts is a little short, it is not too bad. I have seen worse, but other rowing machines in this price range have longer warranties.
BodyCraft VR100 Rowing Machine Price
When the BodyCraft VR100 Rowing Machine was first introduced to the market it sold for $799 and then even dropped to $599 (prices always fluctuate but this is based on historical data).
These prices were lower than the best selling rowing machine of the time so people looked to the VR100 when they were price conscious.
The VR100 is now selling for a higher price because production of new VR100 rowers has stopped. It could also be that BodyCraft is wanting users to purchase their other, better models. This makes them less appealing in my opinion.
I've checked around for the lowest pricing and the BodyCraft VR100 is not sold many places. It is not even sold on the BodyCraft website anymore (more on this below). It is available on Amazon from a few retailers.
Overall Review
While the BodyCraft VR100 Rowing Machine has received some positive reviews, many of them are from a few years ago when the price was lower and there were less options available.
Today, if you look on the BodyCraft website they don't even list the VR100. I reached out to a representative who informed me they are no longer manufacturing this model. They even warned me about buying from other retailers because they don't know of anyone who would have "new in-box inventory".
This would lead me to not recommend this rowing machine.
If you want a BodyCraft model you can check out the similar VR200 Rowing Machine model which includes a few upgrades.
Often consumers compare the BodyCraft VR100 vs. Concept2 Model D. I would 100% recommend the Concept2 Model D over the VR100. The Concept2 is the #1 selling rowing machine and best rowing machine overall in my opinion.
It sells for a similar price, is loaded with great features, and backed by an excellent company. Click here to see my review of the #1 selling rowing machine .
I hope you enjoyed my BodyCraft VR100 Rowing Machine review. If you need any recommendations or have any questions leave them in the comment section below!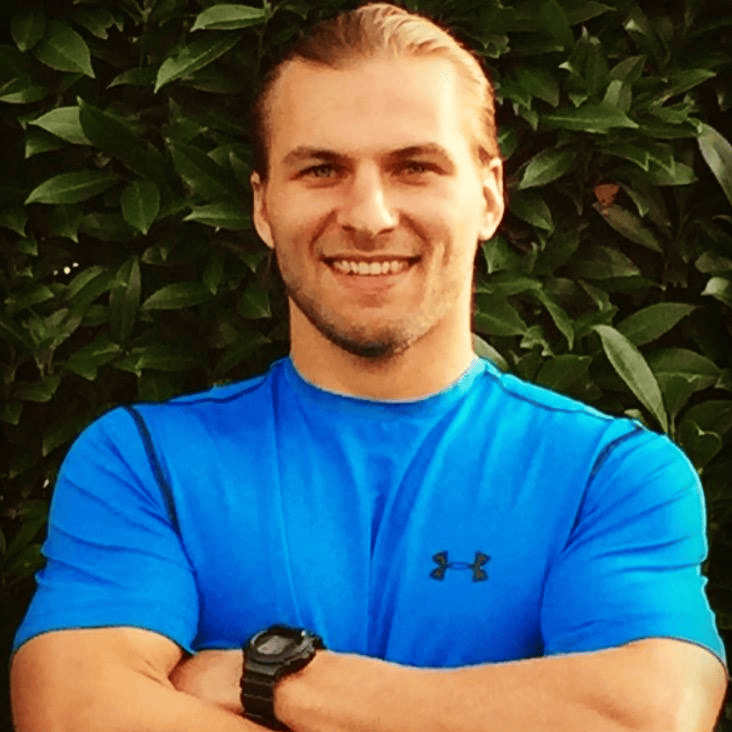 Rowing Machine King Founder and Author.