Dynamic R1 Pro Rower Review
The Dynamic R1 Pro Rower is a great all around rowing machine that combines air and magnetic resistance.
Users looking for very strong resistance will love this dual combination design.
The 16 levels of adjustable resistance make it perfect for users of all ages and fitness levels.
The Dynamic Fitness R1 Pro Magnetic Air Rower provides a quiet, smooth rowing stroke that packs a low-impact full-body workout.
While users credited it with great reviews, we must ask ourselves; does the R1 Pro Rower provide the best value for the price? Find out in the review below.
Resistance Type
The Dynamic R1 Pro Rower is a combination of air and magnetic resistance.
The combination offers the best of both worlds by using resistance from 2 of the most popular resistance types.
Air rowing machines operate by pulling the handle and spinning a fan flywheel. The faster the flywheel spins, the more air is brought into the flywheel, and the more resistance is created.
Basically, the faster you row, the more resistance you create.
Magnetic rowing machines work by also pulling a handle and spinning a flywheel. Inside the flywheel a magnet can be moved closer or farther from the flywheel, thus creating more or less resistance.
Combining these two resistance types adds a lot of benefits to the rowing stroke which I will list below.
You can read more about different resistance types in my full breakdown article.
Resistance Benefits
The Dynamic R1 Pro Rower offers a smooth, strong rowing stroke that is powered by both magnetic and air resistance.
There are 16 levels of adjustable magnetic resistance that can be controlled using the multi-function monitor.
Due to the R1 Pro Rower being both magnetic and air, the noise level is quieter than an "air-only" rowing machine.
Another benefit is the overall greater resistance strength caused by the combination. Air rowers provide more resistance the faster you row, while magnetic rowers maintain a constant resistance independent of your speed.
This allows a user to feel the low-end power of magnetic and the high-end power of air, thus creating a greater overall resistance from other "single resistant" rowers.
Most users agree that the overall resistance strength on the Dynamic R1 Pro Rower is stronger than the Concept2 Model D.
Resistance Negatives
Unfortunately, some of the resistance positives can also be seen as negatives on the Dynamic R1 Pro Rowing Machine.
Typically magnetic-only rowers are very quiet but when you add the air component they become nosier. This added noise is bad for people who favor magnetic rowers but good for people who favor air because it makes them quieter.
The noise on the R1 Pro Rower is not too loud and will not disturb people in another room or neighboring apartment but it will definitely produce some noise.
The Dynamic Fitness R1 Pro Magnetic Air Rower must also be plugged into an electrical outlet to power the monitor, which powers the magnetic resistance.
This really isn't much of an issue but just adds an increased chance that the rowing machine cannot function properly if the monitor breaks. You would then not be able to adjust the resistance and need to have the rower serviced.
Recovery Discrepancy
While not a negative or positive, the strong resistance provided does cause a difference in recovery performance. It is a bit confusing but I will do my best to explain.
Basically when you perform a rowing stroke on air rowers, you start to spin the flywheel. As you recover to perform another stroke, the flywheel continues to spin but slows down some due to the air creating resistance.
As you perform your next stroke, the flywheel is not completely stopped, so the resistance will feel a little lighter but extremely smooth.
This mimics the resistance felt on water. When you row a boat, you pull the oars through the water, and propel the boat forward.
As you recover to perform another stroke, the boat continues to glide forward. The boat will slow down some but as you perform the next stroke the boat is still gliding forward, making the stroke feel a little lighter.
On the R1 Pro Rower the addition of magnetic resistance takes this functionality away. After you perform a rowing stroke, the magnetic resistance will slow the flywheel down more than normal and cause a heavier feeling stroke. Each stroke feels as if the "boat" stops in the water every time.
The difference between the two is most prevalent when comparing split times and distance covered per # of strokes.
Basically, on an air rower like the Concept2 you will travel further on a lower number of strokes and have a lower split time. This is because the "boat" will travel further during the recover phase.
If you favor very strong resistance then this is not an issue but if you like comparing race times then this resistance will cause your times to be incorrect.
Overall
The resistance on the Dynamic Fitness R1 Pro Magnetic Air Rower is excellent and really enjoyed by most users.
If you are looking for a machine that provides strong resistance then this is a good choice. You can also minimize the "recovery discrepancy" by setting the R1 Pro Rower to the lowest magnetic resistance level and it will perform more like an air rower.
If you want to be able to compare times, have accurate race data, and race against other rowers then the Concept2 Model D is a better resistance option.
Monitor/Control Panel
The Dynamic R1 Pro Rower features a user-friendly monitor that displays:
Time
Time/500m (split time)
SPM (strokes per minute)
Distance (meters)
Strokes
Calories or Calories/Hour
Watts
Pulse
Resistance Level
Each of the above listed fitness data is displayed in its own window. The monitor is nicely backlit and adjustable, making it easy to read under any condition. The data is controlled by 6 buttons: START/STOP, UP, DOWN, ENTER, RECOVERY, and RESET.
The monitor is powered by a 6v/1000mA adapter which will fit into any ordinary household outlet.
Monitor Modes
The monitor includes Manual and Race modes, 5 different user profiles, 12 preset programs, 5 target heart rate percentages, watts control, and a recovery function. A great benefit to offer a variety of training options.
Manual Mode

: You can select different functions to target such as distance, time, or calories and begin rowing until your target is reached.

Race Mode

: Users can create a race based off distance and split time and "race" against the computer.
Profile Mode: Choose between 12 different profiles based on different fitness metrics.
Watts Mode: Select a desired watt level to maintain along with other desired exercise levels.
HRC Mode: Choose target heart rate to maintain during a workout.
User Mode: Choose between 5 different user programs that can be stored on the monitor and set for different target goals.
An optional heart rate monitor must me purchased to use the recovery mode and any of the features that require your pulse.
Any heart rate monitor with a 5KHz frequency will work. The most popular one I see being purchased is the Polar H7 Heart Rate Monitor.
Overall
The Dynamic R1 Pro Rower has an excellent monitor with a lot of great options. It provides everything you need to get an excellent workout and track your progress.
Build Quality
The Dynamic Fitness R1 Pro Magnetic Air Rower seems to have fairly decent build quality.
The aluminum seat rail is able to support larger users and there was no mention of things breaking or falling apart.
The handle is attached to a durable nylon strap that spins the flywheel and is made to handle intense rowing sessions. The foot pedals, foot straps, and seat are also made from quality material.
I wasn't able to find anything bad to say about the Dynamic R1 Pro Rower build quality, so I guess no news is good news!
Comfort
While there wasn't much information about build quality there was some good news about comfort. When there is good news about comfort, that usually means the build quality is good.
The Dynamic R1 Pro Rower comes fully equipped with a large comfortable seat that glides smoothly on the lightweight, oversized aluminum seat rail. The seat is made to alleviate any pressure to reduce back pain and one user said it felt soft but very durable.
The seat sits 19.5″ off the ground making it easy for people with joint issues to get on and off the rower.
A soft handle allows for a smooth, comfortable grip and the nylon rowing strap eliminates any excess noise while rowing.
Large foot pedals can accommodate almost any shoe size and can be adjusted easily.
Overall the Dynamic R1 Pro Rowing Machine provides a smooth, comfortable rowing stroke.
Storage
The Dynamic R1 Pro Rower comes with easy storage capabilities so users can vastly reduce the rowers footprint when not in use.
All a user has to do is pull the quick-lock pin, fold the seat rail up, and allow the pin to lock back in place.
Folding and unfolding takes about 5 seconds!
The folded dimensions are about: 54" x 18" x 63" (L x W x H)
The R1 Pro Rowing Machine can then be moved on the 4 built-in caster wheels to wherever it is being stored.
Capacity
The Dynamic Fitness R1 Pro Magnetic Air Rower has a fairly large capacity that should be able to fit almost any size user.
According to the Golden Designs Inc. website (company who handles warranties and customer service) the maximum user weight capacity is 300 lbs..
However the owner's manual, who also lists Golden Designs Inc. as the contact, has the maximum user weight capacity at 180kg (396 lbs.).
This would tell me the rowing machine can handle up to 400 lbs. but Golden Design Inc. is trying to limit the amount of warranty claims by having lighter people use the rower.
Velocity Fitness makes the exact same rower (more on this below) and has the weight capacity listed at 350 lbs..
I believe it would be safe to say that the Dynamic R1 Pro Rower can handle up to 400lbs. but there may be a chance the warranty could be voided.
I was able to contact Golden Design Inc. to ask them about height limitations and they informed me that people as tall as 6'6″ have used this rowing machine with room to spare.
There are no height restrictions for shorter users on the R1 Pro Rowing Machine.
Dimensions
Assembled Dimensions: 97.0″ x 17.7″ x 42.6″ (L x W x H)
Folded Dimensions: 53.8″ x 17.8″ x 62.5″ (L x W x H)
Weight: 83 lbs.
Assembly
Assembling the Dynamic R1 Pro Rower was a little confusing but manageable.
There are only 8 steps to assembly and the confusing part is really just figuring out how to follow the diagram.
One woman noted that it would have probably been easier to just lay out all the pieces and use common sense. Although I advise against doing this!
If you just take your time and follow the directions carefully you should be completely setup in under an hour.
Assembly requires a 14mm open wrench, screwdriver, and allen wrench. Most rowing machines include the tools but I could not find in the manual if they are included and they were not listed on the item checklist. I would have these tools on hand if possible.
Pros and Cons
Pros:
Strong resistance
Dual magnetic/air resistance combo
16 levels of adjustable magnetic resistance
Multi-function performance monitor
Easy fold storage
Quieter than "air-only" rower
Large capacity
Cons:
"Recovery Discrepancy" can cause incorrect data recording
Data on monitor varies a lot from industry standard
Short warranty
A lot of other great options in this price range
Low sales and low consumer feedback is a cause for concern
Consumer Reviews
The Dynamic R1 Pro Rower has a lack of consumer reviews which can raise some concern. Mainly because low consumer feedback means low sales, which means consumers are buying other rowers.
When looking closely you can find consumer reviews on this rowing machine but they are for the Velocity Exercise Vantage Programmable Air Magnetic Rower.  The exact same rowing machine selling for less. 
This would explain the lack of consumer reviews. The Concept2 Model D also sells for less and is the #1 selling rowing machine on the market.
However, I will say that some people still chose to purchase the Dynamic Fitness R1 Pro Magnetic Air Rower and rate it highly. I think some users were able to find it for a good price during flash sales or on sale at Costco which then made more sense to buy.
When reading the Dynamic R1 Pro Rower reviews, I noticed that people really enjoyed the strong resistance it provided. However, this was also the reason some people disliked it. If you have experience using a Concept2 and like the resistance, then the R1 Pro Rower may not be the best option.
Average Rating: 4.3
Warranty
The warranty for the Dynamic R1 Pro Rower is serviced by Golden Designs Inc.. They are not the manufacturer but seem to act as a product rep. They also act as a rep for First Degree Fitness which is another rowing machine company that produces water rowing machines.
I have contacted them a few times before and they have always been fast to reply and informative.
With that being said, the limited warranty is:
While 1-year is ok for some of the smaller, inexpensive parts, the warranty for the frame should be much longer. Other rowing machines in this price range offer a much better warranty.
Dynamic R1 Pro Rower Price
I searched around the internet looking at various big box retailers and most priced the R1 Pro Rowing Machine the same.
Amazon tends to have the lowest pricing with a great return policy and usually offers free shipping. Costco also offers a competitive price for this product but that price is usually the same as the Velocity Fitness Vantage Programmable Air Magnetic Rower.

Overall Review
Overall, the Dynamic R1 Pro Rower is an excellent rowing machine that provides a very strong, smooth resistance. It has a great monitor and can accommodate users of all ages and fitness levels.
My only concern is that there are better options out there for the price.
If you look at the Dynamic R1 Pro Rower vs. Velocity Exercise Vantage Programmable Air Magnetic Rower you will see the exact same rowing machine sold for less.
If you look at the Dynamic R1 Pro Rower vs. Concept2 Model D Rowing Machine you will see the R1 Pro Rower has an overall stronger resistance but does not mimic the actual feeling of rowing on water.
The Concept2 has a better monitor in my opinion, better warranty, better build quality, and cost less. It is also the industry standard when racing on rowing machines, comparing times, and setting world records. So if you are into competitive rowing and tracking data, the Concept2 is for you.
In summary, if you want a very strong resistance choose between the better price of the Dynamic R1 Pro Rower vs. Velocity Exercise Vantage Programmable Air Magnetic Rower. If you want the #1 rowing machine and #1 bestseller, go with the Concept2 Model D.
I hope you enjoyed my Dynamic R1 Pro Rower review! If you have any questions please leave them in the comments below.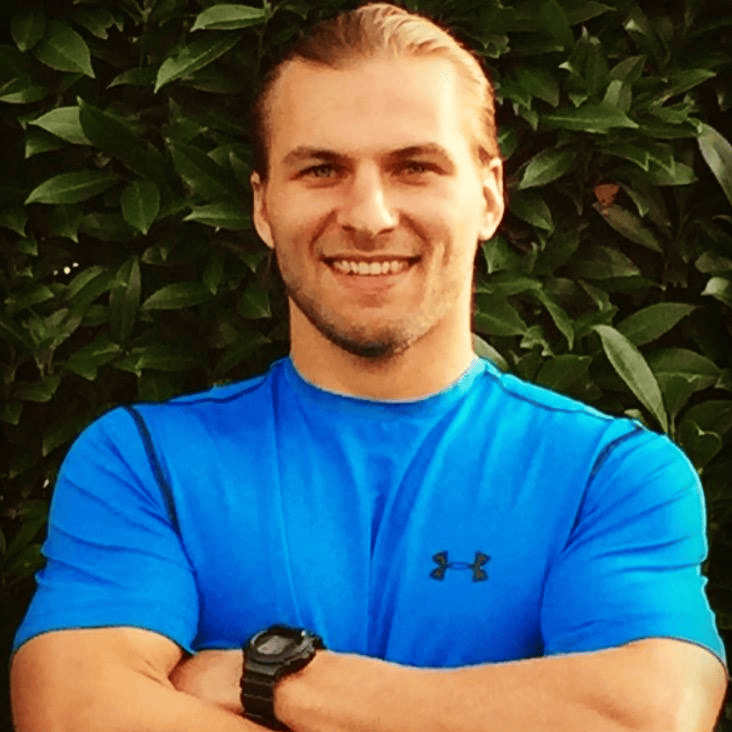 Rowing Machine King Founder and Author.