BodyCraft VR200 Rowing Machine Review
The BodyCraft VR200 Rowing Machine is a great compact rower with excellent resistance!
Complete with both air & magnetic resistance, the dual resistance technology allows users to adjust the resistance to meet all fitness levels and goals!
It also allows them to grow stronger without ever outgrowing the machine.
Users who are tight on space love the compact design and easy fold storage.
The BodyCraft VR200 has one of the easiest and fastest storage mechanisms to help users save space when they aren't using the rower.
While all these features sound amazing, there are a few downsides to the VR200, like having a mediocre monitor and being priced the same as other excellent options.
Read my full BodyCraft VR200 review below to see if this rowing machine is a good fit for you or see my other recommendations in the final section.
Table of Contents
(click a title to jump ahead!)
1. Resistance Type
2. Monitor/Control Panel
3. Build Quality
4. Comfort
5. Storage
6. Capacity
7. Dimensions
8. Assembly
9. Pros and Cons
10. Consumer Reviews
11. Warranty
12. Price
13. Overall Review
Resistance Type
The BodyCraft VR200 Rowing Machine is a dual resistance rower that uses wind and eddy current technology.
In other words, it uses air and magnetic resistance.
This combination gives the VR200 a smooth, strong rowing stroke with both high and low end power.
The high-end power comes from the air resistance. To operate air resistance, a user must pull the handle and spin the flywheel. As the flywheel spins faster, more air is brought into the flywheel housing and creates more resistance.
Basically, the faster you row the more resistance you feel.
The low-end power comes from magnetic resistance. Users can adjust a knob on the center console to create more or less resistance. No matter how fast a user rows they will feel the same resistance.
This is great for when you want to row slow but still feel a strong resistance.
Click here to read more in-depth about the 4 resistance types.
Resistance Benefits
The BodyCraft VR200 Rowing Machine has 6 levels of adjustable resistance. The first level is 100% air while levels 2-6 are air and magnetic. Level 6 is about 30% air and 70% magnetic.
Adjustable resistance makes rowing perfect for all ages and fitness levels. If you are not very strong or want a cardio based workout, just adjust to a lower level. If you are strong or want a strength based workout, adjust to a higher level.
Most users felt the higher levels were strong enough for the most elite athletes and gave them an intense cardio/strength workout. Higher levels are also great for rowing slowly while watching TV.
The added magnetic resistance on the VR200 Rowing Machine makes the rower quiet due to the flywheel not spinning as fast and making less "air" noise. Low noise is a great feature of air/magnetic rowing machines.
Another great feature of this rowing machine is the air vent that helps keep you cool on long, hard rowing sessions.
Placed on the center console, a small vent directs the air resistance towards the user to help keep them cool. As a user rows harder, a stronger breeze can be felt.
Resistance Negatives
There were not too many negative comments about the VR200 resistance.
Some users who thought the air & magnetic combination would be "silent" were upset that the air resistance did make some noise. You should expect to hear a "whooshing" noise as the flywheel spins but it won't be as loud as an "air-only" rowing machine.
Here is an article I wrote about the air rower noise levels.
Other users commented that the resistance at higher levels was a lot stronger than air-only rowers and did not mimic the resistance felt rowing on water.
If you are looking to match the resistance felt on water, I would choose an air-only rowing machine.
Overall
The resistance on the BodyCraft VR200 Rowing Machine has a lot of positive features that many users enjoy.
The combination makes it great for a wide range of users and is perfect if you have multiple people who want to row on the same machine.
Monitor/Control Panel
The BodyCraft VR200 Rowing Machine comes equipped with a multi-function performance monitor.
The easy to read LCD performance monitor tracks the following data:
Total Strokes (all-time)
Strokes (strokes per workout)
Time
Time/500m (split time)
Calories
SPM (strokes per minute)
Distance (Km or Miles)
Total Distance
As you can see in the photo below, there are 6 smaller windows and 1 larger window. A user can choose what data point they want displayed in the large window or set it to "scan" mode to rotate through each one.
The monitor has an easy tilt feature so a user can adjust the angle to the best viewing position.
Monitor Negatives
While the monitor can track many data points it is still a pretty basic monitor for this price range.
There is no PC functionality, meaning it cannot be connected to a computer to play games or analyze workout data.
Unlike other monitors in this price range, there are no built in workout programs and the VR200 monitor can only operate in "manual" mode.
Not being able to record pulse with a heart rate monitor is also a let down and means the calorie calculation is pretty inaccurate.
The owner's manual states calories are calculated by estimating that 0.0126 K/Cal are burned per stroke. This means that calories burned are based on an average user and can only be used as an estimate.
Other monitors in this price range have built in workout programs, PC functionality, and heart rate monitors.
One great way to get some of these features is to buy a separate heart rate monitor and use a rowing app on your phone. The most popular HRM is the Polar H10 Bluetooth Heart Rate Monitor.
You can then use it for other activities such as running, biking, weight training, etc.
Overall
The BodyCraft VR200 monitor is a great basic/middle of the line monitor but is a long way from being considered great.
It can track the necessary workout data but if you are looking for an advanced monitor there are certainly better options in this price range.
Build Quality
The VR200 comes complete with heavy-gauge, powder-coated steel leg supports and a high strength T13 aluminum seat rail.
This strong build quality allows for a sturdy, strong rowing stroke that can handle a lot of physical abuse.
The deep contoured seat sits on top of ultra smooth, industrial-grade bearings housed inside friction-free rollers.
Users pull a padded aluminum handle attached to a premium nylon belt. Some users prefer a chain over a nylon belt because they feel it is stronger and will last longer.
However, the nylon belt on the BodyCraft VR200 is machine tested to 287 lbs. of stress pulled over half a million times. So I can assure you it is durable and long lasting.
You often find nylon belts on quieter rowing machines because it helps to reduce the noise. A metal chain on an air only rowing machine cannot be heard as much because the fan noise overpowers the chain noise.
Comfort
Aside from having excellent build quality, the VR200 Rower also has great comfort. Users felt the rowing stroke was smooth and quiet with nothing feeling unstable.
A well-padded contour seat is comfortable enough for long rowing sessions and the precision bearings allows for a smooth gliding rowing stroke.
The handle is nicely padded to prevent blisters and hand fatigue. The foot pedals fit almost any shoe size and are securely held in place by extra wide velcro straps.
The foot pedals pivot to allow for more natural body movement and help non-flexible rowers. Pivoting foot pedals were a problem on the VR100 model but BodyCraft raised the foot rests higher off the ground to fix this issue.
Another comfort issue that BodyCraft corrected was raising the handle height to allow for a straighter pull to the chest and prevent the strap from hitting a users knees.
The last great comfort feature that I mentioned previously is the built in cooling center. Many users love that as they workout harder, they are able to cool themselves off with a slight breeze from the flywheel.
Storage
The BodyCraft VR200 Rowing Machine comes with an easy-fold design and built in caster-wheels for easy portability.
Storing takes about 10 seconds and only requires pulling a locking knob and folding up the seat rail. It is one of the easiest rowing machines to store.
The folded dimensions are 35.5″ x 17.5″ x 58.0″ (L x W x H) making it great for users who are short on space.
For a demonstration on folding the BodyCraft VR200 check out the video below.
Capacity
The VR200 Rowing Machine has a more compact design than the other BodyCraft models (VR400 & VR500). However, the capacity should still be large enough for at least 90% of the users and is great for people looking for a compact rower.
The seat rail has a travel length of 34.0″ and can accommodate users as tall as 6'4″. This is coming from the BodyCraft website so I'm sure they are being a bit conservative.
Maximum weight capacity for this rowing machine is set at 300 lbs.
There were no issues mentioned for shorter users and children should be able to use it with no problem.
Dimensions
Assembled Dimensions (L x W x H):
Folded Dimensions (L x W x H):
Shipping Dimensions (L x W x H):
Seat Height:
Assembled Weight: 59.5 lbs
Shipping Weight: 75 lbs.
Assembly
Most users are able to assemble the VR200 in about 30 minutes. The directions are well written and the accompanying photos make the assembly simple.
All the tools come with the rowing machine that are required and setup only needs 1 person.
Pros and Cons
Pros:
Dual resistance technology
Strong resistance
Great build quality
Easy fold storage
Comfortable, smooth rowing stroke
Quick, easy assembly
Good warranty
Cons:
Monitor lacking advanced features
No heart rate monitoring
High price point for features
Consumer Reviews
The consumer reviews I read on the BodyCraft VR200 Rowing Machine had a positive overall response. Many users liked the strong resistance strength and compact design.
People felt it gave them a great total body workout and helped them achieve their fitness goals. Many consumers did comment that the monitor was basic and could use a few upgrades.
Overall, BodyCraft VR200 Rowing Machine reviews were hard to come by because there just aren't many of them. The lack of reviews, in my opinion, come from low sales numbers due to the VR200 being sold for close to the same price as the #1 bestselling rowing machine, the Concept2 Model D (more on this in my final thoughts).
You can see more BodyCraft VR200 Rowing Machine reviews here.
Average Rating: 4.3
Warranty
The BodyCraft VR200 comes with 2 different warranties based on the type of usage.
Residential Warranty
Frame: Lifetime
Parts: 5-Years
Wear Items: 1-Year
Labor: 1-Year
Light Commercial Warranty (up to 5hrs/day)

Frame: 10-Years
Parts: 1-Year
Wear Items: 1-Year
Labor: 90-Days
You will only have to look at the "residential" warranty but I thought it was cool that BodyCraft believes their rower is strong enough for light commercial use.
I also want to point out that a 5-year parts warranty and 1 year frame warranty is insane! They are basically guaranteeing the rower will last 5 years or they will replace anything (besides wear-items). So take whatever the sale price is, divide it by 5, and you can decide if it is worth that much in value per year!
BodyCraft VR200 Rowing Machine Price
The price of this rower has the most controversy, as it is a bit expensive and has some lower quality features.
The price is somewhat warranted for the quality provided by the BodyCraft VR200 Rowing Machine. However, not having an advanced monitor should really bring the price down lower.
This model is available in a few online retailers and on the BodyCraft website, but all the prices I saw were the same. I think buying a rowing machine from Amazon is a good idea because they have a large selection of models, offer great pricing, free shipping on qualified orders, and offer a layer of protection between consumers and manufacturers.
I do want to point out that BodyCraft does sell their rowers in some brick and mortar retail stores. These stores can sometimes offer better pricing, so it might be worth checking if any local stores carry this model to test it before buying and to see if it cost less.
Overall Review
Overall, the VR200 functionally is a great rowing machine that guarantees you a great total body workout.
If I was able to find one on sale or was given one as a gift, I would be extremely happy. However, with the monitor being so basic and being sold in the upper price range, it is hard to justify buying this rowing machine.
When comparing the BodyCraft VR200 vs. Concept2 Model D I always tell people that for a slight increase in price you get the #1 selling and best overall rowing machine on the market. Why would you not buy the Model D?
I know I gave the VR200 a good review and I think it deserves it, but it is just unfortunate that it has to compete with the best rowing machine on the market. You can read my Concept2 Model D review and see why I think it is the best rowing machine overall.
I hope you enjoyed my BodyCraft VR200 Rowing Machine review. If you want any other recommendation like other air/magnetic rowers or magnetic only just leave a comment below.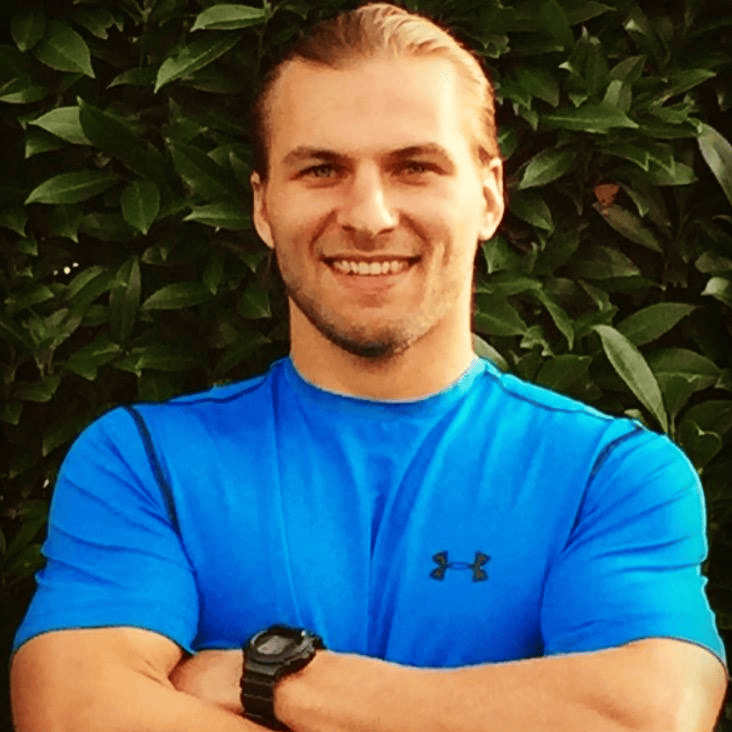 Rowing Machine King Founder and Author.