Echanfit Magnetic Rower Review
Today, we're reviewing the Echanfit magnetic rowing machine. There are two versions of the machine, the R49, and R42, but they're basically the same.
The main difference is that the R42 (silver logo in the above picture) has Bluetooth connectivity and compatibility with fitness apps. Other than that, all info in this review applies to both models.
I had a chance to try the Echanfit, so I have a good idea of how it compares to other options in the same price range, like the MaxKare and Sunny Health and Fitness magnetic rowers.
Overall, the Echanfit magnetic rowing machine offers smooth resistance and a good monitor for the price. Resistance is limited at high speed but above average at low speed. The monitor lacks a few important metrics but tracks more data than most in this price range.
The resistance is plenty strong for a challenging cardio workout. Long-term progress can be made by improving total strokes and stroke rate, etc.
The monitor lacks pre-programmed workouts, but fitness apps are available with the R42 version that offer pre-designed (and customizable) workout options.
For the lowest price, choose a retailer with free shipping.
Echanfit Magnetic Rowing Machine Resistance
Overall, the resistance on the Echanfit Rowing Machine is strong, smooth, and quiet. It's on the weak side for advanced rowers, but adequate for most.
It makes little noise so it's great for watching TV and won't disturb others.
Magnetic resistance is adjustable, not variable (like air and water rowers), so you can turn up the resistance at low speeds. In other words, resistance doesn't rely on rowing speed.
On the flip side, the max resistance setting is limited to the biggest magnet. The stroke doesn't get heavier and heavier with increasing speed as with air and water rowers. Hence, advanced rowers may not find it challenging enough. Stronger magnetic rowers exist (bigger magnets), but they're more expensive.
Here's how it works…
The Echanfit Rower is a magnetic resistance rowing machine. This means it uses a metal flywheel and a magnet to produce the resistance.
As a user rows and pulls the handle, this begins to spin a metal flywheel at the front of the machine. Next to the metal flywheel is a magnet that interacts with the metal.
The closer the magnet is to the flywheel, the more the eddy magnetic currents react with the metal, and the more resistance you will feel. The farther the magnet is from the flywheel, the less resistance you will feel.
A user can control how far the magnet is from the flywheel by spinning a dial (labeled as resistance settings). Due to a user being able to adjust the tension, we call these resistance types "adjustable" resistance rowers.
Magnetic "adjustable" resistance is different than "variable" air resistance rowers. You can learn about the differences in this article.
Check out the video below to visually see how magnetic resistance operates:
Magnetic Resistance Pros and Cons
Magnetic Resistance Pros
You can easily adjust the resistance using a knob on the center console.
The Echanfit Magnetic Rower has 16 levels of adjustable magnetic resistance.
If you want to row slowly but feel strong resistance, then crank it up to 16. If you want to row for a long time at a light resistance, then just lower it to level 5.
Another benefit is the quiet operation. As is common with magnetic resistance, the entire stroke and gliding motion is smooth, strong, and quiet! This is great for watching TV and early morning or late night rowing sessions while others are sleeping.
Magnetic Resistance Cons
Firstly, the rowing stroke doesn't closely mimic the resistance felt while rowing on water compared to air and water rowing machines. Basically, when rowing on water, the faster you row the more resistance you feel.
With magnetic rowers, you'll generally feel the same tension (based on the resistance setting) no matter how fast or slow you are rowing. This is quite different from rowing on water.
Most people don't mind this subtle difference and the quiet resistance (compared to loud air rowers) is worth the trade-off. Magnetic resistance also offers strong resistance at slower rowing speeds, which is great for people wanting more of a strength-based workout.
The other downside is that the top-end resistance can become inadequate as you get in shape. This is generally the case on most budget magnetic rowers (I've seen comments about low resistance on every single magnetic rower in this price range).
If you are very strong or an advanced fitness enthusiast, you may want to bump up to the next price range for stronger resistance.
I will say the Echanfit Rower did have fewer reviews complaining about resistance strength than other models, so that is a good sign!
Bottom Line
If you are looking for very strong resistance, then you'll need to bump up to the next price range to get strong magnetic resistance.
Otherwise, you'll get plenty of resistance from this machine. You'll still get a great full-body workout.
Monitor/Control Panel
The Monitor Tracks the Most Important Fitness Data
The Echanfit Rowing Machine tracks lot of useful fitness and rowing metrics:
Time
RPM (strokes per minute)
Count (strokes taken for the session)
Distance (miles)
Calories
Total Count (total strokes taken all-time)
Scan (scan through metrics every 30 sec)
As you can see here, it's fairly basic but very easy to use. You can also adjust the monitor for the optimal viewing angle.
You can also see in the photo that there is a built-in phone holder which is nice for people who want to use a rowing machine app or watch Youtube videos while rowing.
As usual, you have to move the phone out of the way to view the monitor metrics.
The monitor uses batteries to operate and turns off automatically after being inactive.
As always, take "calories burned" with a grain of salt. In order to accurately calculate calories, you need to measure heart rate, age, and a few other metrics.
This means the monitor just calculates an average calorie burned per stroke so it might be far off from what you actually burned. Check out my article on how calories are burned on a rowing machine for more details.
Awkward Feature: the Distance Readout is in Miles (Not Meters)
This is a bit odd because everyone in the rowing community uses meters to measure distance. So, it's only relevant for the sport/hobby of indoor rowing. It has nothing to do with fitness and conditioning.
Monitor Overall
Overall, the monitor on the Echanfit Magnetic Rower is basic but easy to use, delivering what you'd expect in this price range. There aren't any pre-designed workout programs, which means you'll need an app for that if it's something you're interested in.
Most generic rowing apps are meant for the Concept2 and similar machines. Some brands make rower models that come with/are compatible with their own apps.
So, for pre-programmed workouts, your best bet is to get the R42 model that comes equipped for use with specific rowing apps.
Build Quality
The Echanfit Magnetic Rower has good build quality and it's in line with all the other models in this price range.
In this price range, you are basically purchasing budget rowers, manufactured in China, that are using many of the same quality parts. So cosmetically they look different, but quality-wise they are very similar.
This rower has a strong, sturdy rowing beam that can hold users up to 350 pounds. It has front and back supports for a sturdy rowing stroke. Plus, a center support beam to ensure there is no movement of the machine while rowing.
The footrests are wide and sturdy, holding your feet firmly in place.
Overall, the Echanfit rowing machine has good build quality and is no better or worse than any other model in this price range!
Comfort
I found the Echanfit rowing machine to be comfortable when using it for half an hour. From what I've read online, owners find it comfy for longer rowing sessions.
Smooth Rowing Stroke
The rowing stroke felt smooth throughout the entire motion. I didn't hear any of the annoying squeaky noises common to low-quality rowers.
Padded Seat
Rowing means prolonged sitting, so a good seat is needed to row comfortably. The cushioned seat is comfortable overall. The first thing that struck me was the odd-shaped seat–most rowing seats are more square-like.
The shape is meant to reduce pressure on your hamstrings when your legs are fully extended but some people feel it makes the seat too small.
The seat is nicely padded and the ball-bearing rollers allow for a smooth rowing stroke.
The seat rail is slightly inclined which makes for a comfortable return back to the start position. Also, there's a water bottle holder which is kind of neat.
Foam Handlebars
The handle was well padded and shouldn't cause hot spots or blisters, especially for those with recent rowing experience (hands have to toughen up a bit).
Adjustable Footrests
The footrests are a bit flimsy and you can't adjust the strap up or down so your shoe size will determine where the strap goes over your shoe.
The footrests do pivot which is nice for people who aren't that flexible because it allows them to slide further up on the seat rail.
However, pivoting footrests don't allow for as strong of a 'drive' as rowing machines with fixed footrests because you don't have a fixed, strong base to push off.
Again, this is a personal preference but just know there are pivoting footrests and fixed footrests. Most budget rowers use a pivoting footrest style.
Overall, the Echanfit provides a smooth, comfortable rowing stroke that should not disappoint.
I found a decent video going over some of the features of the Echanfit Foldable Indoor Rower and the noise volume of the machine:
Storage
The Echanfit is a pretty compact rowing machine and has transport wheels, so moving and storing the rower is easy. Most budget rowing machines store easily and use little floor space compared to other exercise machines.
The Echanfit Rowing Machine folds up nicely. Simply unscrew the center locking knob, pull out the pin, fold the seat rail up, then reinsert the pin and locking knob.
That's it! It should take no more than 30 seconds and it's almost impossible to mess up!
You can then roll the rower around (in the open or folded position) on the built-in front caster transport wheels.
The folded dimensions are 40.00″ x 19.29″ x 46.06″ (L x W x H).
Max User Height and Weight Capacity
Older models only held 246 lbs. Nowadays, both Echanfit models (the R49 and 42) have a max weight capacity of 350 lbs., which is slightly above average for rowing machines in this price bracket. It's not uncommon for budget rowers to hold only 250-300 lbs.
Expensive rowing machines hold much more–anywhere between 500 lbs (the Concept 2) and 1000 lbs (the WaterRower).
I asked customer service, and they said the rowing machine should be suitable for those up to 6'3″ tall, though it will depend on inseam length.
With the footrests positioned that far in front of the handles, getting into the catch position can be more awkward for rowers above 6 feet. But once you get going, you won't have issues with elbows smacking your knees.
Just be aware that the rowing stroke is limited for tall users on a lot of budget models. If you can imagine yourself sitting on the rower with your legs all the way bent forward and your arms fully extended, you will see that the handle might well smack the front housing.
This means if you are tall, you may not be able to complete a full rowing stroke as you would with a high-end rower. On the advanced rowers, you will see the handle can move very far in front of a user's feet.
Dimensions
Assembled Dimensions:

75.20″ x 19.29″ x 15.75″ (LxWxH)

Folded Dimensions:

40.00″ x 19.29″ x 46.06″ (LxWxH)

Package Dimensions:

44.50″ x 25.50″ x 8.75″ (LxWxH)

Product Weight:
Assembly
Assembly is easy since much of the rower comes pre-assembled. It should take 30 to 40 minutes, max.
In fact, in the video posted below, a man assembles the rower in 4 minutes! As a mere mortal, I usually take about 30 minutes to assemble exercise equipment and I'm below average in the DIY department.
As always, just clear out space, lay everything out neatly, follow the instructions, and take your time.
Pros and Cons
Pros:
Smooth, quiet rowing stroke
Good price point
16 levels of resistance
Phone & tablet holder
Small footprint
Easy to assemble
Folds for storage
Cons:
Limited resistance
Basic monitor
Pivoting footrests (can be pro or con)
Warranty
According to Echanfit Customer Service, the warranty info is as follows:
Parts and Frame: 1-Year
Refund for Quality Issues: 30-Days
Model: R49 and R42
They also mentioned that customers can contact their customer service department at service@camelonfit.com.
Echanfit Rower Price
One of the main perks of the Echanfit Rowing Machine is the price, as it can usually be found for under $350.
Of course, the total price will depend on whether shipping is included.
The Bluetooth version is apparently an upgrade but tends to be about the same price.
Echanfit R49 vs R42 (Model Comparison)
Before, there was the R49 (or CR49), and R49 Pro. The Pro version had a slightly different frame design, a different monitor design, a bigger seat, and thicker/more robust foot pedals. The frame looked a bit more robust but had the same weight capacity, so apparently not.
Other than that, there were no differences in resistance or performance settings, rowing or fitness data tracking, weight capacity, etc.
It seems they've swapped out the R49 Pro for the R42 which has Bluetooth capability and fitness apps (ZWIFT, FitShow, Kinomap, etc.).
With the R42, you can link with Kinomap app and ZWIFT app via Bluetooth to follow workout programs or create workouts.
The R42 and current R49 now have a higher weight capacity compared to previous models (up to 350lbs. from the previous 265lbs).
Echanfit Magnetic Rower Rowing Machine Review: Conclusion
Overall, the Echanfit Rower is a great budget magnetic rowing machine, making it one of a handful of budget magnetic rowing machines on the market worth buying.
You'll get good quality, a smooth, quiet rowing stroke, a sturdy frame, and a decent monitor. Limited resistance and basic data tracking are common for rowers at this price, so it's a fair tradeoff given the low price tag.
There are two versions, the R49 (standard) and R42 (upgraded). The upgraded version has Bluetooth connectivity and compatibility with rowing apps. The two models vary in price but not much and sometimes one is cheaper than the other.
For more options, check out the following reviews:
They are 3 really great options that many of my readers have enjoyed.
If you are looking for a different resistance type, like air resistance, then I would check out the Stamina Air Rower 1399.
I hope you enjoyed my Enchanfit Rower review and please leave any comments or questions below!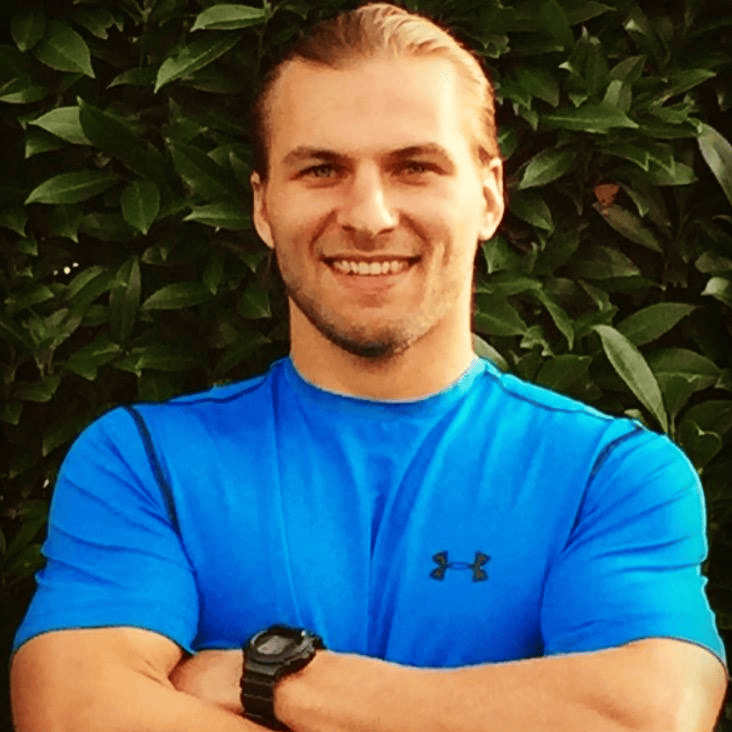 Rowing Machine King Founder and Author.