WaterRower Slider Dynamic Rowing Machine Review
Want to learn more abut the WaterRower Slider Dynamic Rowing Machine?
Well you should because it is one of the best dynamic rowers on the market.
It provides excellent air resistance, a smooth rowing stroke, and great build quality.
Plus, it comes equipped with an advanced training monitor and built-in leveling system.
There aren't many negative things to say about the WaterRower Slider Dynamic Rowing Machine.
However, there are a few shortcomings to some features. There's also another dynamic rower setup you may want to research before buying.  I provide all this and more in the review below.
Due to this being a dynamic rower, I included a small section about how this model operates and feels. Plus, I have a link to my article comparing stationary to dynamic rowing.
You can find this information in the 'Comfort' section by scrolling below or using the Table of Contents to jump ahead.
Table of Contents
(click a title to jump ahead!)
1. Resistance Type
2. Monitor/Control Panel
3. Build Quality
4. Comfort
5. Storage
6. Capacity
7. Dimensions
8. Assembly
9. Pros and Cons
10. Consumer Reviews
11. Warranty
12. Price
13. Overall Review
Resistance Type
The WaterRower Slider Dynamic Rowing Machine is the first model where the name doesn't give away the resistance type.
Even though this rower is manufactured by WaterRower, it is in fact an air resistance rowing machine.
Air resistance operates by a user pulling the rowing handle and spinning the fan flywheel.
As the flywheel begins to spin, it must "move" the air in front of it, which causes the resistance.
The faster the flywheel spins, the more air it must "move", and the more resistance the user feels.
In short, the harder you row, the more resistance you will feel.
We call this type of resistance "variable" because you can control the resistance on the fly by how fast or slow you row. Plus, there is an unlimited amount of resistance levels you can create.
This differs from "magnetic" or "hydraulic-piston" resistance, where a user must make an adjustment to feel stronger or weaker resistance.
You can read more about how "air" resistance works and how it compares to "magnetic" resistance in my Air vs. Magnetic comparison article.
Resistance Benefits
The WaterRower Slider Dynamic Rowing Machine has one of the best resistances on the market. It is very comparable to the Concept2 Rowers.
Users can adjust the damper to create a "heavier" or "lighter" feeling rowing stroke and also electronically view the "drag factor" (more on this below).
A damper setting may sound like a "resistance setting" but it actually doesn't change the resistance. It is comparable to changing gears on a bike, where a higher gear feels "heavier" than a lower gear but doesn't actually change the resistance.
Users felt the Slider Dynamic resistance was smooth and strong, with no lag anywhere in the stroke.
Air resistance is the chosen resistance type by Olympic Rowers and professional athletes around the world.
This is how you know it is the most beneficial. It is also proof that air resistance very closely mimics the resistance and feel of rowing "on the water".
Resistance Negatives
There are really no negatives about the Slider Dynamic resistance and everything operates great.
The one downside, which is a problem for all air rowers, is the noise created by the flywheel.
Due to the fan being spun at high speeds, users will hear a loud "whooshing"/ "vroom" noise while rowing.
It is not enough to disturb other people in a house or neighbors, but it may be able to be heard slightly in another room.
You can check out my Concept2 resistance noise level article for an idea of how air rowing machines sound.
Overall
There are pretty much zero negative aspects about the Slider Dynamic rowing machine resistance. It operates very similar to all the other top rated air rowers on the market.
The Slider Dynamic is used by Olympic Rowers and in boat houses across the world, so you know you are getting excellent resistance.
Monitor/Control Panel
The WaterRower Slider Dynamic monitor is considered an advance monitor but it does have a few shortcomings.
First, let's review all the data it can record:
Time
Stroke Rate
Time/500m
Distance
Watts
Drive Ratio
Stroke Length
Heart Rate
Drag Factor
As you can see, the monitor tracks all the data points you need for an excellent training session. It also calculates many other data points like the averages of all these numbers for your entire workout.
Key Features
Besides including all the normal data points of an advanced monitor, the Slider Dynamic training monitor includes a few unique features.
Drive Ratio
The first is the "Drive Ratio". This feature records and compares your drive time to your recovery time.
For example, if your drive time is 1 second and your recovery is 2 seconds, the monitor would read 1:2. If your drive time was 1.5 seconds and your recovery was 4.5 seconds, the monitor would read 1:3.
This is extremely valuable for people trying to find a good rhythm or see that optimal 1:2 drive/recovery ratio.
Stroke Length
The second cool feature is "Stroke Length". This feature tells you an easy to read number that is based off the amount of flywheel revolutions from the start to the finish of the drive.
Users who are looking to increase stroke length and row "long" will be happy to have this feature.
Heart Rate & Drag Factor
Other notable features are heart rate and drag factor.
Users can purchase the WaterRower heart rate monitor or other ANT+ technology heart rate receivers to record and display their pulse on the monitor.
Users can also display the drag factor on the monitor which is a universal way to compare one Slider Dynamic to another.
The drag factor calculates the deceleration of the flywheel during every stroke. This helps calculate a more accurate speed.
It also helps account for any difference in machines like dust build up or atmospheric conditions. This is important because a resistance setting of 5 on one Slider Dynamic could be equal to a resistance of 4 on another.
The only way to tell would be to ensure the drag factor is equal on both. This then creates a fair rowing and racing scenario.
Other Features & Benefits
There are really a ton of features on an advanced monitor and it is impossible to touch on them all.
I wanted to go over some of the more unique features that aren't seen on every monitor.
For a full list of features you can visit the online owner's manual.
Monitor Negatives
One major downside of the monitor is the memory function. The Slider Dynamic can only store 1 previous workout before it is deleted after your next session.
I like to go back and review old workouts, so this is a major pitfall for me. Other rowing machine monitors can store 100's of old workouts from many months before. I'm not sure why WaterRower decided to skip on this feature.
The training monitor also does not have a pace boat feature to race against. This is a common feature that many people enjoy but not something crucial.
Another negative is the monitor can sometimes not display all the data a user wants to see. For example, a user can only view one of the following data points at a time: drag factor, heart rate, stroke length, drive ratio.
There are many times where a user may want to see heart rate and stroke length while they are rowing but it is not possible.
Many times the Slider Dynamic monitor is compared to the Concept2 PM5 monitor. This is due to the PM5 being the gold standard of rowing machine monitors.
Many users felt the PM5 was superior to the Slider Dynamic training monitor, but it did not fall too far behind.
Overall
The WaterRower Slider Dynamic Rowing Machine monitor is an advanced monitor that can track all of the necessary training data.
It has a ton of data points and features that will enable the best workouts and feedback.
While there are a few negatives, none of them are big enough to deter someone from purchasing this model.
Build Quality
This is a fairly easy section to discuss because the WaterRower Slider Dynamic Rowing Machine has top of the line build quality.
Basically, people should know any model that is a WaterRower has very high build quality.
WaterRower has been manufacturing their rowing machines since 1988 in their Warren, Rhode Island warehouse.
They are truly "Made in America" and sold around the world.
The Slider Dynamic is constructed from the highest quality material and shows no sign of weakness.
They are used by boat houses and university crew teams, so you know they can withstand a beating and be used in a commercial setting.
The dual rail design adds extra support that can hold any type of user and adds an incredibly strong base.
Every user said the Slider Dynamic Rower felt strong and sturdy. From the seat, to the handle & rowing chain, to the footrests – everything was built from high quality materials.
The Slider Dynamic Rower even comes with a built-in spiral leveling system with adjustable legs. This ensures the rowing machine is optimally placed and balanced for the perfect rowing session.
It also means the Slider Dynamic can be used anywhere and adjusted perfectly for the optimal row.
Overall, there is nothing bad to say about the build quality of the Slider Dynamic Rower.
It is backed by one of the most reputable rowing machine brands in the world and a very good warranty.
Comfort
The comfort section can be broken down into two pieces. First I will discuss the general comfort and then I will talk about the "static erging" comfort.
In general, the Slider Dynamic provides a smooth, comfortable rowing stroke that every user enjoyed.
There was no lag in the resistance and everything flowed seamlessly.
The seat is comfortable for long rowing sessions and is very sturdy. There is a wooden handle which is coated in a rubber grip to help avoid blisters and maintain the wooden WaterRower feel.
Users will notice the foot boards closely represent the footrests found in actual racing sculls. Meaning, your feet are placed slightly closer together than some other rowing machines.
This is great for users who are training for "on the water" rowing. However, if you are a heavier set user, this could be a bit uncomfortable.
Overall, the consensus on the general comfort of the Slider Dynamic Rowing Machine was positive and there were no serious issues.
Static Erg Comfort & Stroke
As you probably know, the WaterRower Slider Dynamic is considered a "dynamic" rowing machine.
Meaning, the user stays in place while the flywheel moves back and forth. This is opposite than a static rowing machine, where the user moves back and forth, while the flywheel remains stationary.
You can read my Static vs. Dynamic Rowing Machine article for more information on both.
The Slider Dynamic has an excellent dynamic rowing stroke and feel. User complimented the smoothness of the slides and the fluidity of the rowing stroke.
There are many testimonials by professional rowers and university coaches that can attest to the quality and comfort of the dynamic rowing stroke provided by this model.
Users commented the Slider Dynamic Rower felt very natural and was able to provide a good rhythm out of the catch and finish.
One feature mentioned is the Slider Dynamic's ability to reward good rowing technique. Which can be good and bad.
Basically, some dynamic ergs have mechanisms to keep the seat "in place" and prevent it from moving around too much if your technique gets sloppy.
However, the Slider Dynamic does not have this feature, which means you need to focus on good technique all the time. Otherwise you may be sliding all around!
The Slider Dynamic Rower also has the feature to lock & connect to other Slider Dynamics for crew simulation. Crews can row as a pair, four, or eight!
Below is a great video of the WaterRower Slider Dynamic Rowing Machine in action.
Using the Slider Dynamic as a Stationary Erg
I also contacted WaterRower to ask if the Slider Dynamic Rower could be used as a stationary rowing machine in the locked position.
If you watch the video, at about the 0:55 second mark you can see the user taking a rowing stroke in the locked position. This makes the Slider Dynamic turn into a static rowing machine.
My thought was if you you just use the lock, you could change between dynamic and static rowing.
However, WaterRower replied that constant use at full force will wear on the locking mechanism and cause it to break.
They did say that users could perform light rowing with the locks in place but any rowing with force should be done in the dynamic mode.
Storage
Storing the Slider Dynamic Rower is extremely easy and great for people who want upright storage.
First, you must ensure the slides are in the locked positions. All you have to do is align the top and bottom slide frames and engage the locking mechanism.
Then you can lift the rear of the Slider Dynamic and move the rower using to two front wheels.
Once the machine is in the proper storage place, lift the back until the rower is upright.
The Slider Dynamic Rower stands 7ft. tall when stored.
Capacity
Due to the WaterRower Slider Dynamic Rowing Machine being used by crew rowers and Olympic athletes, the capacity has to be fairly large.
I contacted WaterRower just to ensure I was getting the right capacity because the numbers differ around the web.
They stated, the weight capacity is 700 lbs. and it has been used by members of their team who are 6'8″ and 6'9″.
Both rowers were able to row at full stroke length with no problem.
Basically, this rowing machine can be used by anyone.
There are also no lower-end height restrictions. As long as you aren't a very young kid, you won't have an issue using the Slider Dynamic Rower.
Dimensions
Assembled Dimensions:

127.0″ x 22.25″ x 38.0″ (L x W x H)

Storage Dimensions:

38.0″ x 22.25″ x 84.0″ (L x W x H)

Weight:
When in the locked position the WaterRower Slider Dynamic is 7 ft. long. However, it requires about 10.6 ft. of space to operate due to the slides moving forwards and backwards.
Assembly
The WaterRower Slider Dynamic Rowing Machine will come shipped in two separate boxes.
Please make sure to have a large, clear area to begin your assembly. This way you can be organized and ensure everything goes together smoothly.
The assembly can be done with 1 person but it is recommended to have a second person to help with the lifting stages of the assembly.
Complete assembly will take about 30 minutes. You will need a phillips head screwdriver along with the already provided 5mm ratchet.
The directions are fairly easy to follow but there is quite a bit of assembly to complete. If you know someone who is handy, it may be a good idea to invite them over for lunch while you are assembling this rower :)
Amazon also offers an assembly service for about $80.00 if you don't want to be bothered with this task.
Overall, the assembly will take some time and concentration but there were no complaints of missing pieces or parts not fitting together properly.
Pros and Cons
Pros:
Smooth dynamic rowing stroke
Authentic "on the water" feel
Damper settings & drag factor
Advanced & unique monitor features
Very strong build quality
Built-in leveling system
Comfortable seat & handle
Upright storage
Backed by very reputable manufacturer (WaterRower)
Inexpensive for a dynamic rower
Cons:
Requires large space to operate (10.6′)
Monitor has some shortcomings compared to Concept2 PM5
Footplates can be positioned too close together for larger users
Heavy and more difficult to move
Slightly complicated assembly
Consumer Reviews
Overall, the WaterRower Slider Dynamic Rowing Machine reviews have been positive. While most reviews and testimonials come from more advanced rowers, there are a few "home-gym" users who really like this model.
The Slider Dynamic has a smooth, dynamic rowing stroke with great air resistance. The build quality and comfort is also excellent and the monitor is better than good. There weren't many negative things to say about this model.
However, the only concerns from consumers are whether or not they need/want a dynamic rower, have the space to use one, or want to choose a different model dynamic rower. I touch on this more in my final thoughts section.
Check out some WaterRower Slider Dynamic Rowing Machine testimonials by clicking here.
Average Rating: 4.8
Warranty
WaterRower Slider Dynamic Rowing Machine Price
When reviewing and looking at other dynamic rowing machine models, the first thing you will notice is price.
Dynamic rowers are far more expensive that static rowing machines. The least expensive dynamic rowers cost as much as the most expensive static rowers.
Luckily, WaterRower has helped bring a lower cost dynamic rower to the market and help build some competition against their competitor, Concept2.
Looking around the internet, it seems the WaterRower Slider Dynamic Rowing Machine is offered for the same price on every website.
If you are a fan of Amazon, you will usually receive free shipping and a layer of consumer protection against any accidents.
Overall Review
The WaterRower Slider Dynamic Rowing Machine is an excellent choice if you are looking for a dynamic rower.
It has great resistance, excellent build quality, a smooth rowing stroke, and is backed by a reputable manufacturer.
There are not many bad things to say about this model and there are only a few reasons for not choosing it.
First, would be cost. It is on the high-end of price so you may not be comfortable paying this much for a rowing machine. However, if you want a dynamic rower you will not find any models that are cheaper.
Second, would be if you actually want/need a dynamic rower. Most people who use dynamic rowers are training for "on the water" rowing. If you are just training for personal fitness goals, you may find a stationary rowing machine will meet all your needs.
One option to think about would be to purchase a Concept2 Rower to use as a stationary rowing machine. Then you can buy a pair of " Concept2 rowing machine slides" which you can add/remove anytime you like and change your Concept2 into a dynamic rower.
If you are not familiar with this setup I suggest you read my complete Concept Model D review and then read my rowing machine slides article.
This will give you the full picture of how you can have a stationary and dynamic rowing machine in one.
I hope you enjoyed my WaterRower Slider Dynamic Rowing Machine review! If you have any questions please leave them in the comment section below.
I'd love to hear your feedback on what rowing machine you currently use and your plans for the future!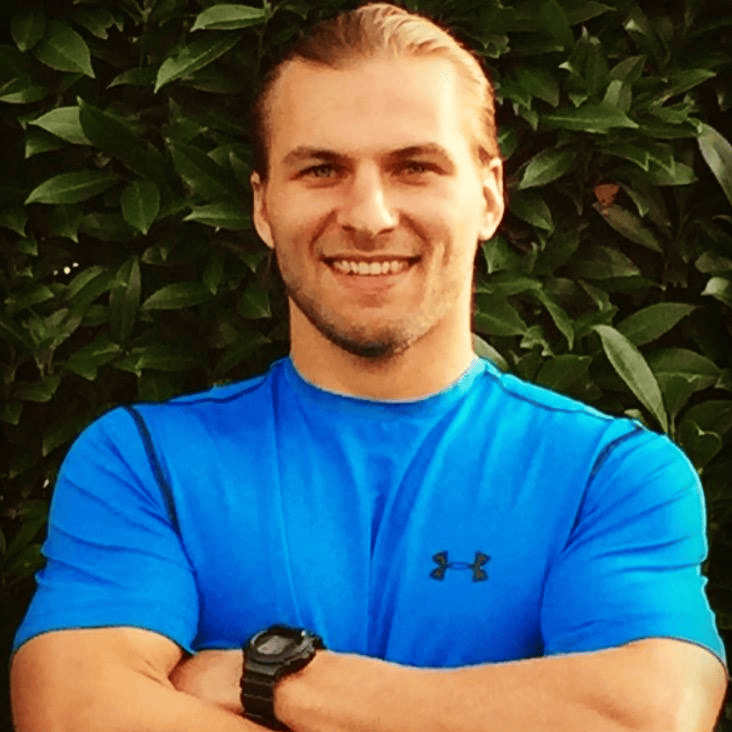 Rowing Machine King Founder and Author.