Stamina 35-1405 ATS Air Rower Review
This Stamina 35-1405 ATS Air Rower Review dives into all the pros & cons of this model.
By the end of this review you will be able to decide if this Stamina Air Rower is for you or not!
Many users say this is an excellent home rowing machine and even compare it to the Concept2 Model D.
However, there is some controversy with the last statement!
Some users say it is a great discount rower, while others say it has its fair share of issues.
Rowing is best known for being a great full body workout that is very low impact. It can burn up to 800 calories an hour and could very well be the best fitness machine for losing weight.
If you are looking for these benefits, the Stamina 1405 Air Rower may be the rower for you!
Built by one of the leading fitness manufacturers, the Stamina Air Rower 35-1405 is a great rowing machine at a fair price.
At less than half the price of the Concept2 Model D, it is a great bargain for people who cannot buy the higher end models.
However, buyers must know that a lower cost rowing machine is going to have its shortcomings. This model has some mixed reviews but many users found it to be a perfect fit.
If you are in the market for a new rower, then the Stamina ATS is definitely worth considering. Listed below is my fair assessment of the rowing machine with all the pros & cons.
Table of Contents
(click a title to jump ahead!)
1. Resistance Type
2. Monitor/Control Panel
3. Build Quality
4. Comfort
5. Storage
6. Capacity
7. Dimensions
8. Assembly
9. Pros and Cons
10. Consumer Reviews
11. Warranty
12. Price
Resistance Type
The Stamina 35-1405 ATS Air Rower is exactly what the name implies – an air resistance rower.
Air resistance rowers are the most popular resistance type among elite athletes.
Air rowers operate by pulling the handle, which causes the "flywheel" to start spinning. The spinning flywheel creates wind, which in return creates the resistance.
While you will see many users comment that air rowers are not adjustable, they are adjustable in a way.
In order to create more resistance with an air rower, the user must row faster or harder. The faster the flywheel spins, the more wind is created, and the harder the resistance becomes.
To learn more about the different resistance types read my article about each kind: check it out!
You can also check out my comparison of Air vs. Water Rowing Machines which are both 'variable' resistance rowers.
Resistance Benefits
Air resistance rowers, like the Stamina ATS Air Rower 1405, have many great benefits over other resistance types.
First, they are great for HIIT (high intensity interval training) workouts due to their 'variable' resistance. HIIT exercises require you to row intensely at a high resistance and then slow down to catch your breath at a lower resistance.
Due to the Stamina 1405 being 'variable' resistance, you don't have to stop to dial down the resistance. Just row fast when you need high resistance and row slow for lighter resistance.
Air resistance is the chosen resistance type by Olympic Rowers and the only resistance used in Crossfit gyms. This is due to it most closely mimicking the resistance felt while rowing on water.
Another feature on the Stamina Air Rower is the inclined seat rail. Having an inclined seat rail can be seen as a feature of resistance because you are essentially having to push your body-weight up a slight incline and control your body as you return to the catch position.
It doesn't add a lot more resistance, but it is a nice addition to help with the overall fluidity of the entire rowing motion.
Resistance Negatives
One shortfall with the Stamina 35-1405 ATS Air Rower is that it does not include a "damper". This is one feature included on the higher-end air resistance models such as the Concept2.
The damper can be thought of as gears on a bike. It is an adjustable cover that can control the amount of air allowed into the flywheel. This affects how the rower "feels" but does not directly effect the resistance.
Not having a damper is not a deal breaker, but it is one feature that separates the Stamina ATS 1405 Air Rower from the higher-end models.
Air rowers are also the loudest of all the resistance types and make a "wooshing" noise as you row.
I have never been disturbed by the noise of the air rowers but some people who live in small apartments, have roommates, or sleeping children may require a quieter machine.
If you require a quieter rowing machine, a magnetic or hydraulic-piston rower may be a better fit.
Listening to music or turning the TV volume up a few clicks will drown out any noise created by an air rower.
Resistance Overall
Overall the Stamina ATS Air Rower 1405 is a standard air resistance rowing machine. The resistance is great for the average person looking to get into shape, burn a few calories, and build some lean muscle.
If you are an extreme athlete looking to get the most intense workout, then spending the extra money on a Concept2 Model D may be the best option for you.
Most complaints about the Stamina 1405 were from people wanting an advanced rowing machine but decided to buy the less expensive model.
Monitor/Control Panel
The Stamina 1405 ATS Air Rower has a single button multi-functioning monitor. The unit displays the following data:
Strokes per Minute (SPM)
Count (number of strokes)
Distance (miles)
Speed
Time
Calories Burned
The monitor displays 3 functions at a time and can be changed by pressing the mode button.
The monitor is very basic and really only has the essential information for rowing. Basic monitors are typical for mid to low end rowing machines and is one feature that sets them apart from the higher-end models.
Most users feel this type of monitor is all they need to have a great workout and track their progress.
It should also be noted that some of the data such as calories burned and distance are not entirely accurate and should only be used to compare between workouts and not used for exact calculations.
To calculate calories burned accurately, you need to have a heart rate monitor, which is not included with this Stamina ATS Rower.

To find more information about calories burned and rowing check out my article here.
Overall, the Stamina ATS Air Rower 1405 has a basic middle of the line monitor that tracks only the basic rowing data. Some people use their phone and heart rate monitor for more advanced data tracking
Build Quality
Stamina is a company known for building high quality products and standing behind their brand.
The Stamina 35-1405 Air Rower is no different and comes fully equipped with an oversized chrome seat rail and metal rowing chain for extra strength and durability. The flywheel is made of strong plastic and is encased in a metal cage.
Stamina opting to use a metal chain is a big bonus because many budget rowers use a nylon strap that can wear out over time or fray.
As you can see from the photo, the chain is securely attached to the rowing handle with a steel bolt.
In it's earlier years the 1405 ATS Rower had its fair share of problems with the chain getting stuck and falling off the sprocket.
After countless user complaints, Stamina reported they have redesigned the housing and fixed the issue. There are less complaints about the chain falling off the sprocket but it does still happen sometimes.
When reading reviews, remember the ratings could be brought down from negative reviews about the chain issue from prior years. I would always suggest filtering reviews by newest first and reading reviews from the past year to get a more accurate feel for consumer sentiment.
A small percent of users mentioned parts wearing out earlier than expected but were able to get them replaced by Stamina quickly and free of charge.
While I think these small problems can happen and may be caused by defects, I feel it is comforting to know that Stamina customer service will help get replacement parts to owners quickly and free of hassle.
Check out a video of the Stamina ATS Air Rower 1405 in action below.
Comfort
The Stamina 35-1405 ATS Rower comes with a comfortable foam padded seat that glides smoothly along the seat rail. The molded seat enables rowers to be comfortable during their longer workouts.
Large adjustable footrests with straps, allows a users feet to be held securely in place while rowing.
The foam grip handle allows users hands to become less fatigued and provides a comfortable grip. If your hands are not used to working out, you may want to supplement the padded handle with some workout gloves.
Smooth air resistance allows for a smooth rowing stroke that has no jarring or jerkiness.
Check Lowest Pricing
(Back to Top)
Storage
The Stamina 35-1405 ATS Air Rower can be stored by folding the fan assembly back onto the seat rail.
To do this all you have to do is remove two pins, fold the fan, and reinsert the pins.
Folding the rower shrinks the overall length by about 2.0 feet.
The Stamina ATS Rower has wheels for easy portability, so you can fold it and wheel it into a corner.
There are also floor protectors to help protect any surfaces when moving and to prevent skidding in your workout area.
The ATS Air Rower 1405 does not have the ability to be stored vertical.
Capacity
One benefit of the Stamina 1405 Air Rower is the capacity has the ability to fit almost every user.
Stamina certifies the rowing machine for users up to 250 lbs., but people have commented they have used the rower and weighed 300+ lbs.
I would be comfortable saying a user weighing 300 lbs. would not have a problem using the Stamina 1405.
For users worried about their height, a Stamina Rep confirmed the rower is able to fit users up to 6'5″ tall.
There were no lower-end capacity restrictions and the Stamina ATS Air Rower 1405 can be used by children.
Dimensions
Assembled Dimensions: 

78.5″ x 19.75″ x 31.5″  (L x W x H)

Folded Dimension: 

55.0″ x 19.75″ x 36.0″ (L x W x H)

Shipping Dimensions: 

53.25″ x 9.25″ x 27.5″ (L x W x H)

Product Weight: 

63 lbs. (Stamina website)

Shipping Weight: 
Assembly
The Stamina ATS 1405 Rowing Machine comes partially assembled with all the necessary tools to complete the rest.
A Stamina 35-1405 ATS Air Rower review stated the process would be easier with 2 people because some parts require being held in place while the other person tightens the screws. However, only 1 person is required.
On average, the assembly took about an hour to complete.
It is very important to follow instructions carefully because missing or performing any step incorrectly can lead to the rower not functioning properly. It is also very important to tighten down every screw securely to ensure a strong finished assembly.
2AA batteries are included for the monitor, so once you receive your rower there should be no need to buy anything else to start rowing.
Just follow the instructions carefully and everything should be great!
Pros and Cons
Pros:
Great value
Smooth & strong air resistance
Clean look & design
Good customer service
Strong build quality
Wide range for capacity
Easy-fold storage
Perfect for HIIT workouts
Cons:

No heart rate monitor
Some weak parts (footrests)
Basic monitor
Chain can have issues with falling off sprocket
Consumer Reviews
The Stamina 35-1405 ATS Air Rower is a well rounded rower that is a great purchase for a mid-range rowing machine. Many users love this model and comment it is one of the best pieces of workout equipment they have purchased.
Some users who use Concept2 Model D Rowers at their gym, buy the Stamina ATS Rower for their homes, and say they are "comparable". Now the problem arises when people hear "comparable" and think it means they are the same.
You must take into consideration the Stamina ATS Air Rower 1405 is less than half the price of the Concept2. In the rowing machine world, you get what you pay for.
Read full Stamina 35-1405 ATS Air Rower Review here.
A lot of negative consumer reviews come from users who thought they would get a Concept2 for half the price. If you understand this difference and feel the 1405 ATS Air Rower is a good fit, then I am certain you will be happy with your purchase.
Average Rating: 4.0
Warranty
Frame: 3-Years
Parts: 3-Months
Stamina customer service is very easy to deal with and happy to help replace any broken parts.
You must register your rowing machine when you purchase to initiate the warranty. The full model # is: Stamina 35-1405 ATS Air Rower.
Stamina 35-1405 ATS Air Rower Price
People looking for a good quality air resistance rowing machine in the mid-range price category will love the Stamina ATS Air Rower 1405.
It is usually priced slightly higher than the budget air rowers, but much lower than the high-end models.
The price is usually similar on different retail websites and is offered on Amazon.
Amazon has great prices, good customer service, consumer protection, and an easy order system. They also have a ton of consumer reviews you can review before buying.
Final Thoughts
The Stamina ATS Air Rower 1405 is an all around great mid-range rowing machine.
As long as you understand you are not buying a Concept2 quality rowing machine for half the price, you will enjoy this model.
Stamina also offers some other very good mid-range and budget rowing machines.
The Stamina X Air Rowing Machine is very similar to the Stamina 1405. It has a different color and pivoting footrests. You can read my full Stamina X Air Rower review here.
Stamina also offers the Stamina 1402 Air Rower. This model has a slightly different design and different handle entry point. Check out my full Stamina 1402 Air Rower review here.
Last but not least, one of the bestselling budget rowing machines on the market. The Stamina 1399 Air Rower is the lowest priced Stamina Air Rowing Machine. It has a nylon rowing strap and a more basic monitor, with the same great resistance. Read my full Stamina 1399 Air Rower review here.
I hope you found my Stamina 35-1405 ATS Air Rower review to be useful and informative. If you have any questions please leave them in the comment section below or send me a personal email!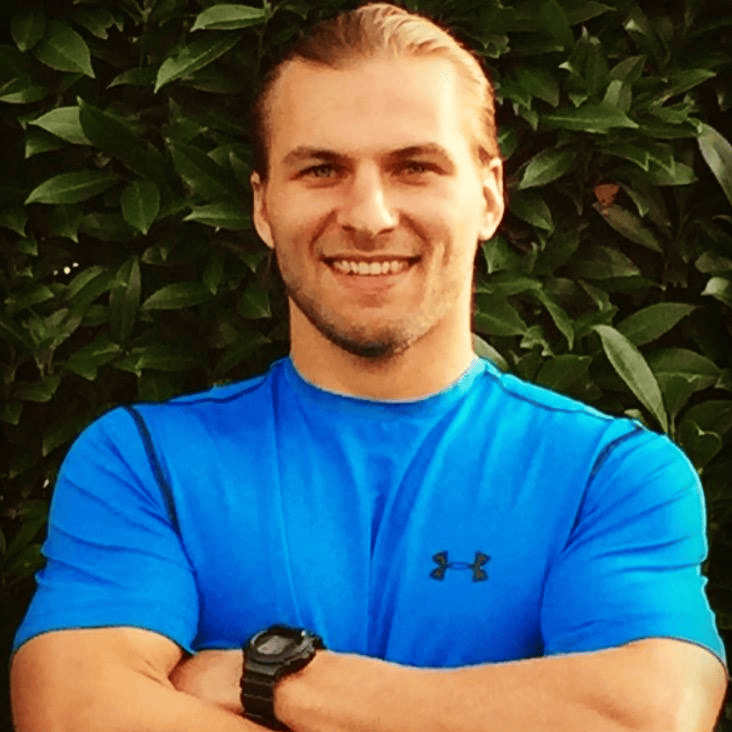 Rowing Machine King Founder and Author.