The Merax Water Rower is one of the top-rated mid-range water rowers. Its inclined water tank creates more resistance, giving you a more effective cardio session.
Ergonomic handles and contoured molded seats increase your overall rowing performance. The ergonomic design of the Merax Water Rower eliminates discomfort and decreases your risk of injury.
Many people flock to this water rower because of its 330-pound weight capacity. Most of the rowers limit you to 300 pounds. Not this mean machine!
Although there are many pros to the Merax Water Rower, there are still some cons. Keep reading for the most detailed Merax water rowing machine review around!
Resistance Type
Merax Water rowers operate using a water resistance mechanism. This rowing machine uses a water flywheel, also known as a paddle, inside the water tank to create resistance.
When you start rowing, the paddle will rotate in a circular motion creating a drag. This so-called "drag," is what leads to resistance. The faster you row, the more resistance you get.
You can learn more about 'variable' resistance rowers here (air and water rowers).
Resistance Features
You can't get a good rowing exercise without good resistance! Here are the resistance features on the Merax Water Rower:
45-degree inclined water tank
6 level markings of resistance
Quiet resistance
Consistent and smooth resistance
Merax water rowing machines carry their water tanks at a 45-degree angle. This steep incline gives you more resistance compared to other water rowers with water tanks that lay flat.
If you're worried the resistance will be too strong, put those worries aside. The resistance levels on the Merax Water Rower are adjustable.
Fill the water tank to six different levels to achieve your desired resistance. Level 1 is the minimum resistance and is great for people new to rowing. Level 6 is the maximum resistance and is recommended for expert rowers.
For a medium resistance, add two gallons of water to the water tank. Two gallons will bring you to level 3 resistance.
Most users agree on the noise and consistent rowing experience they get from the Merax Water Rower. The resistance feels smooth and the quiet sloshing of water is therapeutic.
Resistance Determinants
A common complaint relating to resistance is the increased noise level over time. Some users mentioned their Merax water rowing machine started quiet, but around six months it started getting louder.
A couple of kind users gave us suggestions on preventing and fixing this problem. One user mentioned the noise could be coming from a loose flywheel.
Another user mentioned changing the water every three to four months. Although Merax provides you with water purifying tablets, the water will get dirty and cause resistance and noise problems.
Resistance Overall
The key to long-term quiet resistance is regular maintenance and upkeep for this particular rower. Make sure the flywheel isn't loose and the water isn't dirty/moldy. Hopefully, this advice from other helpful users can fix your noise and resistance problems too.
Overall, the Merax Water Rower generates a powerful resistance. The paddle glides smoothly through the water and creates a good drag for an effective cardio workout.
Monitor/Control Panel
The Merax water rowing machine is built with a large 8.0″ x 5.0" LCD screen. If you are looking to add a phone holder to your rower, it may be helpful to know that the screen is 1.5" in diameter.
Monitor Pros
The metrics tracked on the Merax Water Rower are:
Duration
Strokes/Min (SPM)
Distance
Strokes
Calories
Pulse heart rate (HRM not included)
Time
Room temperature
Competitive race mode
Most users say the majority of the metrics tracked are accurate. The Merax water rowing machine is battery-operated. Battery operation can be a plus because it allows you to move your rower anywhere without needing a plugin outlet.
Merax water rowing machines also offer a competitive race mode. This mode is exciting and competitive, allowing you to challenge yourself and beat previous records!
Merax Water Rower monitors come with a six-button control panel. The six control buttons are:
Recovery
Reset
Start/Stop
Enter
Up
Down
With these six buttons, operating the monitor is extremely easy. The words on the buttons are easy to read.
Monitor Cons
One iffy metric that may not be accurate is the pulse, or heart rate metric. Some users resort to using fitness watches like Apple, Garmin, or Fitbit, for better heart rate tracking.
Another metric that is inaccurate is distance. Most distance readings on mid-range rowers is inaccurate because distance is recording using and average distance per stroke. How much force/power you put into each stroke is not calculated and this type of reading is only shown on higher-end models.
Some users experience a short battery life, requiring them to change out monitor batteries at least once a month. While other users mentioned replacing batteries only once in two years.
Battery life is a hit or miss. Here are some reasons your battery life may be cut short:
Bad batteries
Old batteries
Faulty display
Program running in the background when not in use
Even when you aren't using your water rower, the machine stays on and displays the time and temperature. Users suggest removing your batteries after using the Merax Water Rower.
The monitor and control panel to some users seems outdated. The monitors don't come with a backlight, making rowing in lowlight conditions difficult to see numbers on the screen.
Some folks had issues with flickering screens. They were able to fix the problem by taking the batteries out of the monitor and reinserting them.
Monitor Overall
The monitor and control panel offer a variety of tracking metrics and buttons to easily select options. If you own a fitness watch and monitor your batteries, then the Merax Water Rower is still a positive and good rowing machine option for you.
Build Quality
Build quality is good on the Merax water rowing machine. The frame is built with a sturdy alloy steel material.
The seat is durable and ergonomically designed. Two rollers hold the seat in place allowing it to glide quietly and smoothly along the bar.
You can tighten or loosen the nut and bolt for a smoother and steadier glide. The nut and bolt are located on the left-hand side, just below the seat.
12.0" non-slip durable PVC footrests come with heavy-duty velcro straps to prevent average to large feet from sliding out.
For most users, the water tank is solid and doesn't leak. Most water tanks are perfectly intact and the whooshing of the water makes people feel like they're out on the lake.
Quality Problems
A consistent quality problem mentioned is the poorly designed footpad. The footpads themselves are of decent quality material, but they were designed with the average or large foot in mind.
The footpads don't hold smaller-sized feet very well. One user mentioned wearing size 7 shoes, and even after tightly securing her upper feet with the velcro straps, her heels would slip out.
Some users noticed oil dripping from the adjustable round knob when it's positioned and stored vertically. People also heard a strange clicking sound on hard rows. They were not sure where it was coming from.
Another user mentioned their water tank was cracked and ordering a new one is not easily done. New water tanks are ordered from Merax and ships from China, taking them nearly six months to arrive. The other downside was the instructions that came with the replacement water tank were in Chinese.
Quality Overall
The overall quality for the most part is still good. A few people had some issues, but an overwhelming majority felt the quality was fantastic and the cost was reasonable.
Comfort
An overwhelming amount of users enjoy the comfort they get from the Merax Water Rower. They enjoy the 20" ergonomic handle and how easily it slides.
The 12.5" x 10.0" contoured ergonomic seat is a huge comfort favorite in this rower. Long row workouts don't leave riders with sore bottoms because of their special cut-out design for your tailbone.
The 12.0" footrests have a comfortable 5.0" gap leaving a good amount of space between your legs, preventing knees from knocking.
Although the foot pedals are listed as pivoting footrests, many users say they do not pivot. One user said the foot pedals do move slightly, are comfortable, and still hold his feet well.
If your feet are a size 7 or smaller in female shoes, then your heels will most likely slip out the back at higher speeds. Sorry ladies!
The velcro foot straps feel snug and comfy. These velcro straps hug your feet like you do your best buddy.
Merax water rowing machine noise is at a comfortable level for your ears.
The display monitor is adjustable at the screen and base. This feature lets you set your monitor up in alignment with your height.
Overall, the Merax Water Rower is incredibly comfortable with little to complain about in this section.
Storage
Storing Merax water rowing machines is super simple!
You can either leave them sitting out and ready for your next row or stand them upright, in a vertical position. They come with easy-rolling, high-density, non-marking rubber wheels to prevent those unsightly black lines on your floors.
Do you want to know the best part about storing this rower? You don't need a second person to help you!
The compact footprint and built-in wheels let you roll your water rower up, down, and around to your storage closet. Easy peasy, lemon squeezy!
Some users were disappointed that the rower wasn't able to fold up. Though most users did appreciate its ability to stand up to store to save floor space.
The standing storage footprint dimensions are 20.0" x 25.5" x 78.0" (LxWxH).
Capacity
One of the main reasons people are buying this water rower over others is its additional 30-pound weight capacity limit. Many water rowers recommend a maximum weight capacity of 300 pounds.
If you're a tall lad and you are right on that 300-pound cusp, then you probably don't want to risk a max weight capacity rower at 300 pounds. Eating one extra chicken leg could put you at 301!
Manufacturers don't recommend anyone over 6' tall to use this rower. Though, Merax water rowing machine reviews say otherwise.
Some users standing at 6'4" tall with a 34" inseam fit perfectly with no problems. They were also able to straighten their legs out in front of them with some space to spare.
Reaching your arms out in front of you isn't a problem on this machine. You won't hit the front housing at the catch position. If you are tall with very long arms, then this may happen.
When it comes to short people, rowing on this water rower shouldn't be a problem. The only issue that arises is if your feet are as small or smaller than a women's size 7 shoe.
Dimensions
Assembled Dimensions (L x W x H):
Stored Dimensions (L x W x H):
Assembled Weight: 72 lbs.
Shipping Weight: 120 lbs.
Assembly
Assembling the Merax Water Rower is easy. Though a couple of parts require extra loving.
Try not to throw the seat out the window! It took one user 30 minutes to properly assemble and adjust the seat. Though in the end, it was worth the time.
Surprisingly we were unable to find an actual manual on how to put together the Merax Water Rower! We easily found the Merax air rower manual, though the water rower manual is nowhere to be seen.
Even after searching on their website and through Merax water rowing machine reviews, we found nothing. We did, however, find a customer service number, 626-912-8886 Ext. 100, and email at CSR@MERAX.COM.
Some users mentioned they received an assembly manual when they first purchased the Merax Water Rower. If this is the only method of retrieving an assembly manual, then hold on tight to those papers for the rest of your rower's life!
We did find some information regarding certain parts and their assembly.
One Person Assembly
You don't need two people to assemble the Merax Water Rower, but an extra set of hands never hurts. On average, it takes 30 minutes for one person to assemble the whole rower.
Some people were able to assemble the rowing machine in 15 minutes, while others took closer to 45 minutes. One user did say it gets heavy to move.
Expert Assembly Assistance
If you don't want to hassle with the instructions, you can buy your Merax Water Rower with expert assembly assistance at a decent price.
Expert assembly consists of:
Assembly of 1 Merax water rowing machine per product instructions
Adding water to your rowing machine
Clean up of the work area
Take packaging to customer's trash bins on request
Moving the product after assembly is not included
It does not include hauling away products or trash
Adding Water
You can add water and remove water to the water tank to increase or decrease water resistance. Users suggest filling your water tank to the first level and then adding more when you are ready for more resistance.
Adding water and removing water doesn't seem to be a messy or hard process. Although, most people agree that constantly changing the water levels can become tedious.
Manufacturers include a siphon pump, hose, and funnel mechanism to help you add and remove water from the water tank.
Handle Assembly/replacement
Handle assembly was briefly touched on. The handle is attached by a flat 1" wide strap that feeds through three slits in the handle and then folded upon itself and stitched closed.
If you wanted to remove and replace the handle with a different one, you would need to undo the stitching on the strap. Then you would have to figure out a way to attach the new handle to the strap.
Assembly Overall
Assembly overall is still muddled. The manual or assembly instructions are nowhere to be found online.
We are still bewildered that the company doesn't even offer the water rower on their website. Let alone an assembly or manual for the water rower online! That's the biggest disadvantage in the assembly section.
Though from what we gathered from user reviews, assembly is easy, and Merax Water Rowers are shipped with the assembly instructions.
Pros and Cons
Pros:
Inclined tank for stronger water resistance
Quiet and soothing sound
6 level adjustable water tank resistance
Multi-feature monitor
20" long ergonomic handlebar
12.5" x 10" comfy ergonomic seat
330-pound weight capacity
One person assembly
Cons:
Outdated monitor
Inconsistent battery life
Non-existent assembly/manual online
Not suitable for size 7 (or smaller) women shoes
Consumer Reviews
Merax water rowing machine reviews are mostly positive. Most people enjoy this water rower, though some people have come across a few issues.
If the foot pedals were suited for women with shoe sizes 7 or smaller, then they would probably get more customers and have higher and more positive reviews.
Overall, users were highly satisfied with the comfort and quality of the Merax Water Rower.
Check out more Merax water rowing machine reviews here.
Average Rating: 4.6
Warranty
Like the assembly search, the warranty search came up with next to no information. Luckily, we found some customer reviews mentioning warranties.
Frame: 6 months (unconfirmed)
Parts: 6 months (unconfirmed)
Labor: 1 year (unconfirmed)
Users mention a 1-year warranty, though it doesn't say specifically if the 1-year warranty is for the frame, parts, or labor. Since the warranty information is wishy-washy, most users who love this rower purchase a warranty protection plan separately.
A recommended protection plan for Merax Water Rower is ASURION. ASURION offers a 2-year protection plan for a great price.
Merax Rower Price
Price – something we are all wondering about! Will the Merax Water Rower be the flip of a coin or cost an arm and the leg?
Luckily for you, the cost is smack dab in the middle! Most rowers will cost you anywhere from $250 to $1,150.
If you are looking for a high-quality rowing machine, you most likely won't find it very cheap. On the opposite spectrum, you could be going overboard if you are paying too high on a rowing machine.
The Merax Water Rower, being mid-range on pricing, is both fair and competitive. Amazon has typically been the best place to buy rowers because they offer great pricing, act as an additional layer of consumer protection, and offer free shipping on qualified orders.
Overall Review
Wow! What a review journey for sure!
After everything is said and done, the Merax water rowing machine is still a terrific option. Even though there were some cons, the pros still outweigh the cons.
If you aren't sold on the Merax Water Rower, then here are three other water rower options for you:
In my opinion, I would lean more towards the Sunny Phantom Hydro as it has slightly more favorable reviews and is sold by a more reputable company.
Check out our article, "Best Home Rowing Machine 2021," to see what rower we awarded first place!
We hope our Merax water rowing machine review gave you a better idea of the pros and cons that come with it. Please keep any questions or comments below.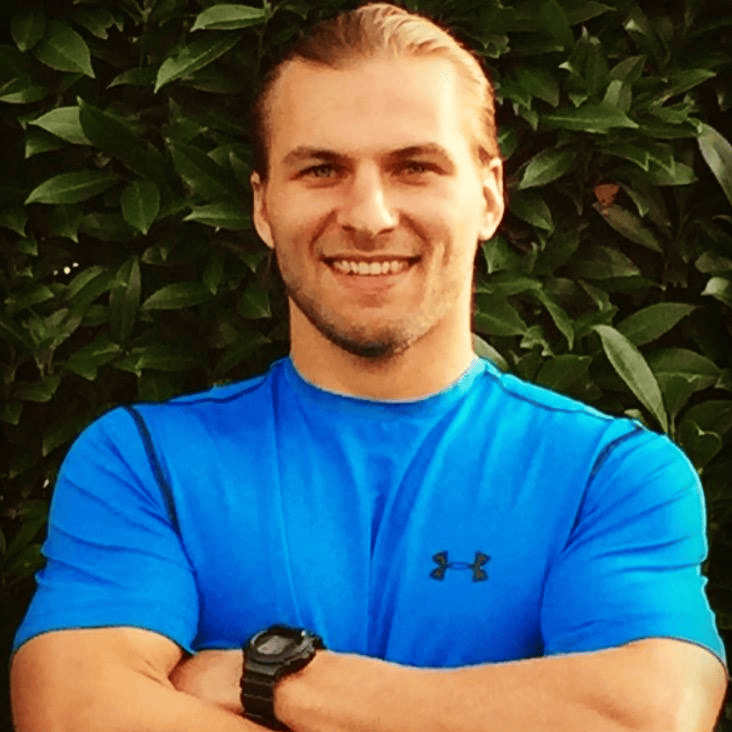 Rowing Machine King Founder and Author.