LifeCORE R88 Rowing Machine Review
The LifeCore R88 Rowing Machine is a great combination of resistance styles.
The combination of both air & magnetic resistance makes this a truly unique piece of exercise equipment!
Users enjoy the benefits of each resistance type such as the resistance being both 'variable' and 'adjustable' and also being less noisy.
With strong build quality, easy storage, and an advanced monitor, the LifeCore R88 Rower is an excellent all around rowing machine!
While these features all sound great, there are a few small issues users mentioned which I describe throughout this review.
For a full list of pros & cons, plus my alternative recommendations in the final section, please read my full LifeCore R88 review below!
Table of Contents
(click a title to jump ahead!)
1. Resistance Type
2. Monitor/Control Panel
3. Build Quality
4. Comfort
5. Storage
6. Capacity
7. Dimensions
8. Assembly
9. Pros and Cons
10. Consumer Reviews
11. Warranty
12. Price
13. Overall Review
Resistance Type
The LifeCore R88 Rowing Machine is a combination of both air and magnetic resistance.
Air and magnetic resistance are two very popular resistance types used when constructing rowing machines and their combination offers a very unique style.
Air rowers create resistance by pulling the rowing handle and spinning a flywheel. As the flywheel spins faster, more wind is created, and thus more resistance.
The harder and faster your row, the more resistance you create.
Magnetic rowers create resistance by pulling the rowing handle and spinning a metal flywheel. Near the flywheel is a magnet that when moved closer or farther away will create more or less resistance.
The closer the magnet is to the metal flywheel, the more resistance. The farther the magnet is away, the less resistance a user will feel.
Combining both magnetic and air resistance provides a fantastic rowing stroke that brings out the best of both worlds.
I have a great comparison of magnetic and air rowing machines here. Reading the article will give you a good understanding about both resistance type and how they compliment each other.
Resistance Benefits
The Lifecore R88 Rowing Machine has 6 levels of adjustable resistance (some of their material says 8 but I double checked and it is 6).
Level 1 starts with just air resistance and 2-6 use both magnetic & air. You can change the resistance levels by simply turning an adjustment knob just beneath the rowing handle.
A great benefit of the air & magnetic combo is that the resistance is designed to maximize a strong, smooth rowing stroke while minimizing noise.
Users love the Lifecore R88 resistance because they can set it to a higher resistance level and row slowly while still feeling strong resistance. This is unlike an air-only resistance rower where in order to feel strong resistance, you must row fast.
However, you will still get a boost in resistance if you increase your rowing speed because of the extra wind resistance created by the flywheel.
Simply, the Lifecore R88 really does give you the best of both worlds!
The fan flywheel not only gives you that high end resistance but it can also cool you off from all that hard work. The R88 has a built in adjustable cooling vent that takes the airflow generated by the flywheel and can direct it towards your body.
Just open the vent if you want a nice breeze or close it to work up a sweat.
Resistance Downsides
The one complaint the Lifecore R88 Rower did receive was the exact thing that it is built to minimize. Noise level.
The magnetic resistance is added to an air rowing machine to help make less noise. However, for magnetic rowing machine lovers, it is still noisier than magnetic-only rowers.
So it really comes down to what you prefer. If you use air rowers, you will think it is quiet, but if you use magnetic rowers, you may think it is noisy.
Most users commented the R88 Rower is fairly quiet and a lot quieter than the Concept2 rowing machines.
People in another room should not be able to hear you working out and music or TV volume will only need to be increased a little.
Overall
The Lifecore R88 Rowing Machine provides a smooth, strong rowing stroke that combines two excellent resistance types.
The 6 levels of adjustable resistance makes it great for people of all ages and fitness levels.
Monitor/Control Panel
The LifeCORE R88 Rowing Machine comes fully equipped with a large LCD monitor. The adjustable monitor can be adjusted up or down making it easily visible for any size user.
As shown below, the console will track various workout data in multiple workout windows.
Program Window
The program window will display either "Manual" or "Race" based on your selection.
Manual programs can include choosing targets such as: time, distance/meters, strokes, calories, or pulse. When the target goal is reached your workout session will end.
A user can also choose the race program and set up a competition between themselves and the computer. The user will be able to set the speed of the computer and distance of the race.
The race program is essentially a pace boat program.
Dot Matrix Profile Window
The matrix profile window in the center of the monitor will display your pace vs. the computer pace boat during the race program.
The matrix will also track your resistance and progress during a manual program workout. As you get closer to your goal you will see more of the Dot Matrix fill up until you are complete.
Data Display Windows
The display windows will show the following fitness data:
Time (can count up or down)
Time/500m (split time)
SPM (strokes per minute)
Distance
Strokes
Total Strokes
Watts
Calories
Pulse
The monitor can track pulse and pulse recovery if a compatible heart rate monitor is used. Monitoring your heart rate is excellent for maintaining workouts in certain target zones for fat burning or cardio.
The Polar H10 Heart Rate Monitor is the most popular compatible HRM that can connect with the Lifecore R88 fitness monitor.
According to the manual any 5k chest strap will work and there are plenty of options available!
Monitor Complaints
There were not a lot of complaints about the R88 monitor except for small things such as batteries wearing out fast. Usually the monitor will need 2AA batteries every 3-4 months.
Some users felt the monitor was hard to read in low light workout areas.
Overall
The R88 Rower monitor is an excellent accessory on this rowing machine and offers a lot of different features.
While it is not considered a top of the line monitor, it is far from the bottom. It can even boast being the least expensive rower to have a pace boat feature built into the monitor.
Build Quality
The Lifecore R88 Rowing Machine is a well-constructed rower with extruded aluminum frame and steel supports.
A solid frame ensures a smooth rowing stroke with no clicking or odd noises from cheaply made parts.
The foot pedals and foot straps securely hold your feet in place and provide a strong base for delivering a powerful drive. A nylon strap, made from the same material as seat belts, attaches the handle to the flywheel so there should be no concern about it fraying or coming loose.
LifeCore Fitness believes so highly in their quality they back the rowing machine with a 2-year warranty, which is not seen on many rowers.
The video below highlights some of the build quality features of the Lifecore R88 Rower as well as other key attributes:
Comfort
The Lifecore Fitness R88 Rower is designed for comfort and has very few flaws.
The large, ergonomically designed seat glides smoothly up and down the seat rail. The user pulls a padded handle that is curved to a natural hand placement of 10 degrees and is connected to a "belt drive" system instead of a chain.
The "belt drive" allows for a smoother, quieter rowing stroke and adds to the overall comfort of the rowing machine.
The seated position is comfortable and most users felt the seat was more comfortable than other rowers. Your feet sit comfortably in foot rests designed for any shoe size and the foot pedals pivot when you row for additional comfort.
The R88 Rower sits about 15.0″ off the ground which is not considered high off the ground but not too low either. It really just depends on your preference.
The one complaint the R88 did receive was from the placement of the foot pedals. The foot pedals are placed lower than the seat rail which can be a little low for some users. The lower foot pedals help people who are larger in size or less flexible to get into the "catch" position (where the knees are bent).
However, on other rowing machines, such as the Concept2 Model D, the foot pedals are a little higher which is more optimal for a powerful leg drive.
Besides the placement of the foot pedals, the comfort of the Lifecore R88 Rowing Machine is excellent.
Storage
The R88 features a quick release frame lock system for fast and easy storage.
Simply turn the locking knob and pull, fold up the seat rail, and that's it!
The rower can then be rolled on the built in caster wheels to wherever it is being stored.
When folded the Lifecore Rower R88 takes up a footprint of about 18.0″ x 24.0″ or the same size as a kitchen chair.
Capacity
A nice feature of the R88 Rowing Machine is the large capacity it is able to handle.
The R88 is certified to accommodate users up to 300 lbs. and as tall as 6'6″.
The seat rail is about 44″ in length but there are stoppers that limit the distance to about 39″- 40″. So if your inseam length is shorter than 40″ you should be fine.
There are no minimum height limitations and will be fine for anyone under the upper capacity limits.
Dimensions
Shipping Dimensions (L x W x H):
Assembled Dimensions (L x W x H):
Folded Dimensions (L x W x H):
Shipping Weight: 78 lbs.
Assembled Weight: 67 lbs.
Assembly
Assembly of the Lifecore R88 Rowing Machine is fairly straightforward and should be able to be put together in about 30-45 minutes.
Some reviews mentioned the instructions were easy to follow and two "senior" females and one 12 year old boy found the assembly to be a piece of cake!
Everything needed for assembly is included in the packaging. Just follow the instructions carefully and there should be no hiccups!
Pros and Cons
Pros:
Air & magnetic combination
Great build quality
Multi-functional fitness monitor
Cooling fan
Smooth, comfortable rowing stroke
Great warranty
Easy storage
Cons:
Louder than magnetic-only resistance rowers
Low foot pedal placement
Price can be considered high
Consumer Reviews
Overall consumer reviews on the LifeCORE R88 Rowing Machine have been positive. People looking to purchase a high quality rowing machine with the benefits of both air and magnetic resistance have really enjoyed this rower.
Many consumers were happy to save almost $250 (subject to change) by purchasing the R88 instead of the Concept2 Model D. However, some people who found the foot pedals to be too low or didn't like the resistance combo wished they would have spent the extra money.
You can see more LifeCORE R88 Rowing Machine reviews here.
Average Rating: 4.3
Warranty
The warranty on LifeCORE Fitness products are one of the most attractive features. Knowing the product is backed by a 30-day money back guarantee and lifetime warranty on the frame is very comforting.
Frame: Lifetime Warranty
Labor: 90-days
Parts: 2-years
30-day money back guarantee
When calling for customer service just remember to reference item model number: LC R88.
LifeCore R88 Rowing Machine Price
The Lifecore R88 Rowing Machine sells for a decent price and is slightly more affordable than the high end rowing machines.
I've checked the pricing on a few different websites and they all seem to retail for the same price. 

I think Amazon has the largest selection of rowing machines and very competitive pricing. Plus, they offer free shipping on qualified orders, a great return policy, and they act as a layer of protection between the consumer and manufacturer.
Overall Review
The R88 Rowing Machine is a great purchase for people looking to save a few $100 from the high end rowers. If you are a price conscious buyer and can't afford to spend $1,000, then this is a great rowing machine.
It is also great for people looking to buy an air rowing machine but want something a little quieter with adjustable resistance.
If you can afford a more expensive rower and can handle a bit more noise, then the Concept2 Model D Rower is the best option. It is rated the #1 bestselling rowing machine and has a ton of 5-star reviews.
If you want another option in the same price range, then the Stamina Avari Magnetic Programmable Rower is another great magnetic rowing machine.
I hope you enjoyed my LifeCORE R88 Rowing Machine review! Drop any questions or comments in the section below.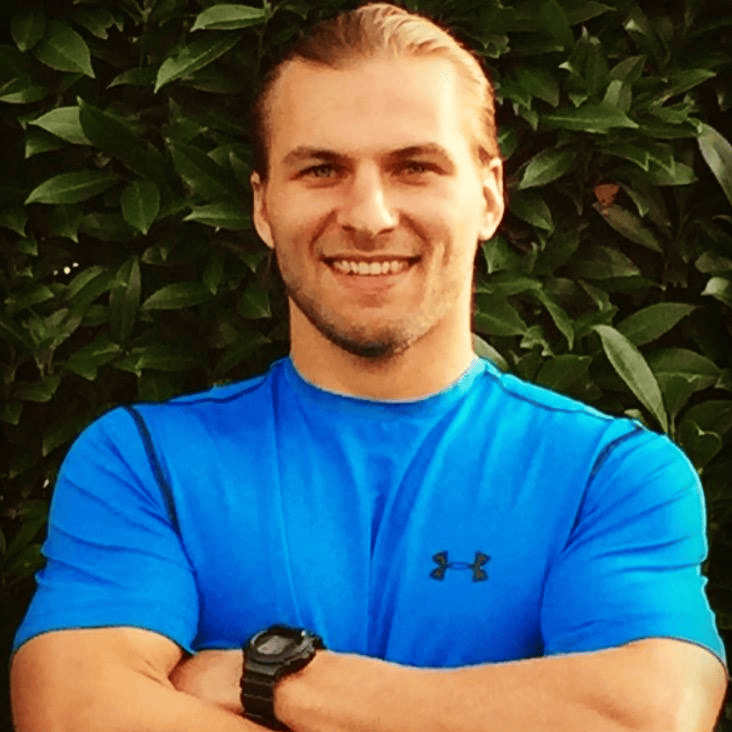 Rowing Machine King Founder and Author.