Stamina 1110 Magnetic Rowing Machine Review
This Stamina 1110 Magnetic Rowing Machine review details one of the best low-cost magnetic rowers on the market!
If you want magnetic resistance without all the bells & whistles, this could be the model for you!
Complete with 8 levels of easily adjustable tension and a fully functional fitness monitor.
Plus, it has a super comfortable rowing stroke and great build quality!
Use it for 20 minutes a day and you will be on your way to a thinner, leaner, healthier body.
However, like all budget rowing machines, the Stamina 35-1110 isn't perfect. I outline all the pros & cons of each feature in the review below.
Feel free to jump ahead to a section using the 'Table of Contents' below.
Stamina Multi-Level Magnetic Resistance Rower, Compact Rowing Machine
EFFICIENT CARDIO WORKOUT AT HOME: The Stamina Magnetic Rowing Machine 1110 provides an affordable and convenient cardiovascular exercise routine in the comfort of home. Ideal for burning calories, toning the lower body and boosting heart health.

SMOOTH MAGNETIC RESISTANCE: Turn the dial to adjust between any of the eight levels of smooth, quiet magnetic resistance

MULTI-FUNCTION MONITOR: Tracks total strokes, strokes per minute, workout time, distance and calories burn
Table of Contents
(click a title to jump ahead!)
1. Resistance Type
2. Monitor/Control Panel
3. Build Quality
4. Comfort
5. Storage
6. Capacity
7. Dimensions
8. Assembly
9. Pros and Cons
10. Consumer Reviews
11. Warranty
12. Price
13. Overall Review
Resistance Type
The Stamina 1110 Magnetic Rowing Machine is as the name suggests, a magnetic rower.
This means the resistance is controlled by moving a magnet closer or farther from the metal flywheel.
Moving the magnet closer to the flywheel will increase the resistance, while moving it farther away will decrease the resistance.
To control the resistance, a user will rotate a knob on the center console.
We call this 'adjustable' resistance control because in order to increase or decrease the resistance, you must change the setting.
This differs from air or water resistance because the resistance levels are mostly controlled by how fast or slow you row. We call this type of resistance 'variable'.
You can learn more about the 4 main resistance types here or read my magnetic vs. air resistance comparison article.
Stamina 1110 Resistance Benefits
Due to the Stamina 1110 being magnetic, the entire operation will be virtually silent. A huge positive for someone looking to have a quiet rowing machine.
Users will be able to exercise early in the morning without waking anyone up or row while watching their favorite TV show.
Switching between the different levels is also extremely easy. Users just need to twist a knob and match the arrow to their desired resistance level.
With 8 levels of adjustable resistance, users will be able to find the perfect level to accommodate their strength or desired workout.
Many users mentioned the resistance felt smooth and strong with no jarring or jerkiness.
Only a few seasoned rowers mentioned the highest resistance setting wasn't strong enough for them. However, most users felt it was adequate.
Overall
The Stamina Magnetic Rowing Machine 1110 provides excellent magnetic resistance that is great for most people.
It's also extremely quiet and perfect for anyone requiring a silent rowing machine.
Unless you are a gym rat looking for very high resistance, the Stamina 1110 should fit your needs.
Monitor/Control Panel
The Stamina 35-1110 Rowing Machine comes fully equipped with a multi-function LCD monitor. The monitor can track the following data:
Strokes (current session)
Time
Distance (miles)
Calories
Strokes/Minute
Total Strokes (all time)
For a basic monitor, the amount of data points is fairly good and all the necessary workout data is able to be calculated.
Just move the handle or press a button to turn on the monitor and the monitor will turn off automatically after 4 minutes of inactivity.
The monitor is very intuitive and easy to operate.
Due to it being a basic monitor, not all the data will be extremely accurate. For example, calories burned is calculated based on an average person and is not specific to the actual user. However, it is good for estimating and comparing between different workouts.
Accurate calorie calculation would require weight, age, and heart rate input of the user. You can purchase a heart rate monitor like the Polar H7 Bluetooth Heart Rate Sensor, but it is expensive compared to the price of the rower.
The only complaint I came across with the monitor is that it makes a faint beeping noise every stroke. Most people said their music or TV volume drowned the noise out but I still don't understand why Stamina included this feature. I talk more about this in the 'Comfort' section.
There were not many other complaints about the monitor functionality, besides it being basic. In my opinion, I feel it is a good monitor compared to some other rowing machines in this price range.
Build Quality
The Stamina 1110 Magnetic Rowing Machine is constructed with a heavy-duty steel frame and aluminum rowing beam.
This ensures a strong, steady base with a smooth rowing motion.
The handle is crafted from a soft but durable foam and is connected via a strong nylon strap, approximately 1/2″ wide. A nylon rowing strap is excellent for durability while also producing no noise.
Users feet are securely held in place by strong Velcro straps on oversized footplates. The footplates are constructed from heavy-duty plastic and had no issues with breaking.
The ball bearing rollers and seat also have zero mentions of quality issues and are constructed from high quality materials.
I also like how the rear supports have stabilizers to help protect floors and create a more stable base while rowing on carpet. There is also a center support beam underneath the console that adds additional strength and stabilization.
Below is a video of the Stamina Magnetic Rowing Machine 1110 in action.
Comfort
The Stamina 35-1110 Rowing Machine has a smooth, comfortable rowing stroke with many supporting features.
Firstly, the soft padded molded seat glides smoothly up and down the seat rail on high-grade ball bearing rollers.
A user also grips a foam padded handle which prevents blisters and hand fatigue.
Another great feature is the pivoting footplates which allow for a greater range of motion and more comfortable rowing position.
View larger, more detailed images of the photos above by visiting the Amazon sales page here.
As previously mentioned, the rowing stroke is very quiet so users can relax while rowing or enjoy watching TV at a normal volume.
In addition to the incredibly comfortable rowing stroke, Stamina included a phone/water bottle holder on the center console for your convenience. This way you can change music, grab a sip of water, or have your TV remote handy!
Comfort Negatives
While there are many positives about the Stamina 1110 Magnetic Rowing Machine comfort, there were a few negatives.
First, users complained about the monitor making a beeping sound after every stroke. I'm not sure why Stamina included this feature because it adds no benefit.
Most users said playing music, watching TV, or even having a fan blowing on you will drown out the noise. So it isn't a big issue.
Second, people complained about the velcro foot straps being uncomfortable. Users felt they were too thick and too difficult to get on and off. Basically, Stamina made them too good!
There isn't much people can do to fix this issue and many people just dealt with it.
Lastly and probably my biggest concern, is the ability to fully extend your arms forward. If you look closely at where the handle begins, you will see it starts right above the footrests. This means you will not be able to extend your arms any further than the end of your feet.
For most people this is as far as they can reach anyway, but to perform a proper rowing stroke you would have your arms full extended and torso leaning forward. This would put your arms and handle past where your feet rest.
Most users will not even notice this issue but if you are an experienced rower or have experience on higher-end rowing machines, just make sure you are aware of this issue.
Overall
The comfort of the Stamina 1110 Rowing Machine is fairly good and in line with most other models in its price range.
Lower cost rowing machines will always have their share of issues but just make sure you are ok with any of the above problems.
The only major concern I have with this model is the ability to extend your arms forward, which is seen on a lot of budget magnetic rowers.
Storage
Storing the Stamina 1110 Magnetic Rowing Machine is extremely easy!
Just grab the rear stabilizers and lift the seat rail until the rowing machine is standing vertical. That's it!
Then store the Stamina 35-1110 in the corner of the room or a closet with enough clearance.
You can also roll the rowing machine around on the built-in front caster wheels.
The rowing machine is very lightweight so moving and storing is very simple and perfect for small living spaces.
Capacity
For a very inexpensive rowing machine, the Stamina 1110 has good size capacity and has been used by a fair amount of larger people.
The recommended manufacturer weight capacity is 250 lbs. However, people have commented that they have used the rower weighing 285 lbs. and 270 lbs. without an issue.
While it is not recommended to go over the weight capacity, it does show that people heavier have used the rowing machine without any problems.
A Stamina Representative commented the length from the footrests to the end of the beam is 46.0″. However, there is a stopper on the seat rail so to be safe we can say 44.0″.
Other users who were 6'2″ and 6'1″ said they had no issue using this model.
If you are taller than this you may want to sit in the rowing position and have someone measure your inseam and outseam.
The Stamina 1110 Magnetic Rowing Machine had no lower end limitations and any person under the weight and height limitations can use this rower with no issues.
Dimensions
Shipping Dimensions (L x W x H):
Assembled Dimensions (L x W x H):
Weight:
Seat Height/ Clearance:
Assembly
After reading through the instructions I wouldn't call the assembly easy but it's also not difficult.
There are 9 steps in total and the directions are fairly straightforward.
Just make sure to have a clear space to lay out all the pieces and take your time when following the instructions.
All the tools necessary for assembly come with the packaging except the 2 AAA batteries. This is a bit annoying but just make sure to have batteries handy.
The package is just one box weighing 45 lbs., so there should be no issue carrying it up stairs.
Average assembly time is about 30-45 minutes.
Pros and Cons
Pros:
8 levels of adjustable resistance
Multi-function fitness monitor
Holder for iPhone, water bottle, TV remote
Solid construction & rowing base
Great price!
Lightweight & compact
Cons:
Monitor beeps every stroke
Batteries not included
Cannot extend arms fully forward
Velcro foot straps can be uncomfortable
Consumer Reviews
The Stamina 1110 Magnetic Rowing Machine reviews have been mixed overall with a slight favor towards the positive side.
People looking for a basic magnetic rowing machine to exercise with for 20-30 minutes a day were happy. As long as these users were beginners or intermediate rowers, they didn't notice any of the lacking features from the higher-end rowers and gave this model a positive review
More advanced users may notice some of the lower quality features of the Stamina 35-1110 but this is expected when this model cost almost 8 times less!
Some of the negative Stamina 1110 reviews came from users who had a quality issue or realized they could not extend their arms past their feet.
You can read a full Stamina 1110 Magnetic Rowing Machine review list here.
Average Rating: 4.1
Warranty
Frame: 3-Years
Parts: 90-Days
Model #: 35-1110A
After receiving your new rowing machine, make sure to register your model online or mail in the warranty card. This will ensure you will receive any warranty replacement parts without an issue.
While the parts warranty is fairly short, unfortunately, this is common in this price range.
Stamina 1110 Magnetic Rowing Machine Price
One of the best features about the Stamina 1110 is the price! Users love how they can purchase a magnetic rowing machine for under $200 (subject to change).
It is also currently one of the lowest priced magnetic rowing machines.
Stamina seems to prefer to sell through Amazon but does offer their product through other online retailers.
I think purchasing on Amazon is a great choice because they have a very large selection of rowing machines, offer competitive pricing, usually offer free-shipping on qualified orders, and act as a layer of protection between the consumer and manufacturer.
Overall Review
The Stamina 1110 Magnetic Rowing Machine is an excellent low-cost option. It is great for someone who wants a magnetic rowing machine but doesn't want all the bells & whistles and doesn't want to pay a high price.
If you are a more experienced fitness enthusiast who has used rowing machines before, then you may feel the Stamina 35-1110 lacks some of the more important features on the higher-end models. Like having a more advanced monitor and ability to extend farther forwards.
If you feel the Stamina 1110 is a little too basic, you can check out a slightly upgraded magnetic rowing machine called the Sunny Health & Fitness SF-RW5515.
This model is the best selling budget magnetic rower but does cost more (depending on the current pricing of both models).
You can also browse my full comparison list of rowing machines here and sort by 'resistance' and 'price'.
If researching rowing machines is making your head spin, then let me choose a rowing machine for you! Just fill out the form on my Personal Rowing Machine Concierge Page.
I hope you enjoyed my Stamina 1110 Magnetic Rowing Machine review! Please leave any questions in the comments below.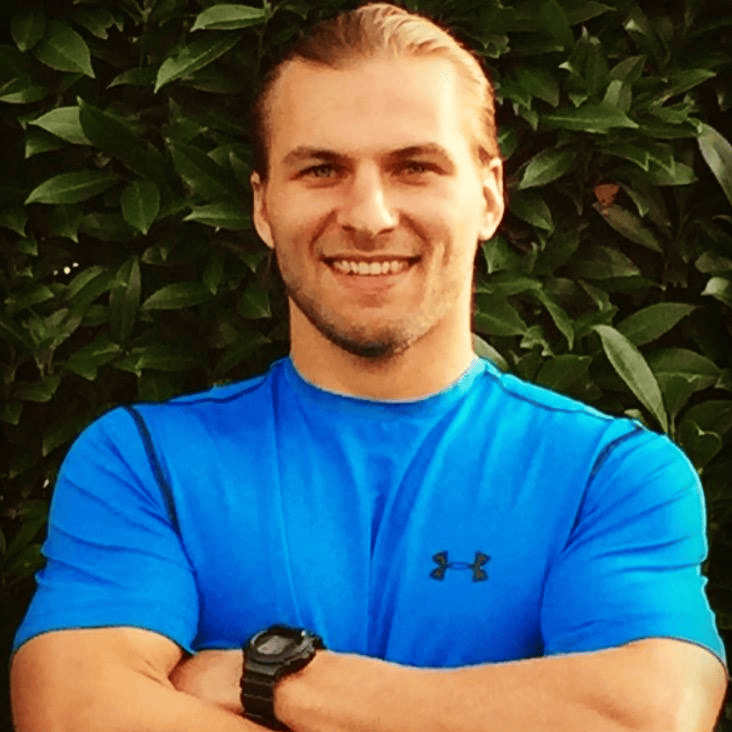 Rowing Machine King Founder and Author.